Stray is coming to Xbox, according to this new ESRB rating
The PlayStation and PC-exclusive cat-centric adventure game, Stray, may be coming soon to Xbox.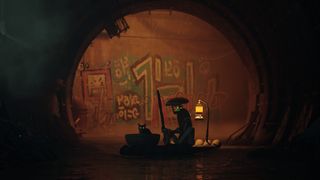 (Image credit: Annapurna Interactive)
What you need to know
Twitter users "Idle Sloth" and "MACOS380" have reportedly spotted an ESRB listing stating that the previously PlayStation / PC-exclusive title, Stray will be coming to Xbox consoles.
Stray will be rated Everyone (+10) with scenes containing animated blood and fantasy violence.
Stray is an action-adventure game where you play as a cat trying to survive in a futuristic dystopian city and reunite with its family.
---
Update: The ESRB has removed the official rating page for the Xbox version of Stray.
Original:
On May 16, 2023, Twitter users "Idle Sloth" and "MACOS380" uncovered a new ESRB rating for Stray, a game released in 2022 for the PlayStation 5, PlayStation 4, and PC via Steam.
This outed listing states that Stray will be coming to Xbox consoles including Xbox One, Xbox Series X, and Xbox Series S. In addition, Stray's ESRB rating will be "E10+" (Everyone +10) containing scenes of animated blood and fantasy violence.
(FYI) Stray has been rated for Xbox O|X|S by the ESRBSource:https://t.co/DMPPGlu3tQCredit to @MACOS380 for the find 👏 pic.twitter.com/NTR39hZlxmMay 16, 2023
The ESRB is an parental advisory organization created by the United States to monitor and rate a media's content, videogames in particular. The full ESRB rating for Stray is as follows:
This is an adventure game in which players assume the role of a stray cat trying to escape a mysterious city. From a third-person perspective, players traverse alleyways, rooftops, and rooms while solving puzzles and interacting with robotic inhabitants. Players sometimes encounter parasitic blobs/mice-like bots that can attack and kill the cat. Players can access a UV light to defeat the mice-like bots, causing them to explode and emit splashes of colored liquid.
Stray's publisher Annapurna Interactive and developer BlueTwelve Studio, have not given official statements as of yet on if Stray's Xbox ports are true. With Summer Games Fest and the Xbox Games Showcase fast approaching in June, we may get official confirmation very soon, so stay tuned.
Stray is an action-adventure game that tells the somber story of a stray cat separated from its family. Players must help guide the stray cat back to its family by navigating through a dystopian cyberpunk city, interacting with the quirky robot locals, and sneaking past dangerous creatures that live within the city's darkest depths.
We at Windows Central reviewed Stray last year on PC and praised it for its creative story-telling, subversive gameplay, and visually-gorgeous level design. If Stray's Xbox ports are proven to be true then it would be an excellent addition to the Xbox's list of upcoming titles, especially if this game joins the Xbox's ever-growing library of Xbox Game Pass games.
Get the Windows Central Newsletter
All the latest news, reviews, and guides for Windows and Xbox diehards.
Alexander Cope is a gaming veteran of 30-plus years, primarily covering PC and Xbox games here on Windows Central. Gaming since the 8-bit era, Alexander's expertise revolves around gaming guides and news, with a particular focus on Japanese titles from the likes of Elden Ring to Final Fantasy. Alexander is always on deck to help our readers conquer the industry's most difficult games — when he can pry himself away from Monster Hunter that is!