GDC 2015: The Windows 10 and Xbox One event in-depth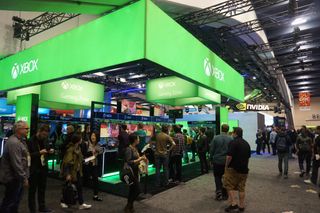 Since Windows 8, Microsoft has had the vision of creating a unified Windows experience that reaches from your phone to your television. Part of that vision allowed consumers to take a game or app with them wherever they go.
Back in January at the Windows 10 event, Microsoft teased this experience with Windows 10 coming to Xbox One. However, they left us wondering how exactly it would work. Well, today at GDC, Microsoft went in depth about how Windows 10 will help transform Xbox One and gaming on PCs.
Microsoft started out today's GDC talk with announcing that the Windows 10 Store and the Xbox Live SDK will allow developers to bring their games to phones, computers, and even the Xbox one. Their mission is to help developers reach their consumers from anywhere and everywhere. Microsoft stated that gaming used to be a core part of Windows and then it somehow lost its way.
Windows 8 App sales are abysmal, and Microsoft sees it as nothing short of a failure. So with Windows 10 they want to change that and make gaming an optimal part of the Windows once again. First off, Phil Spencer detailed that if you develop for Windows 10 you are essentially developing for Xbox One as well. This is due to all of Microsoft's devices sharing the "Windows Store."
The Windows Store will allow consumers to buy a game or app and have it at the ready with another device. So no more worrying about buying a game twice since the store now fully supports cross-buy. Some of these games include Shovel Knight, Cuphead, and Swordy that all have worked with ID@Xbox on Xbox One. This program for indie developers will also extend its reach out to devs that want to build games to its other Windows 10 devices such as phones, tablets, and even HoloLens.
Windows 10 will also allow cross-platform play so that anyone on PC can play an enabled Xbox game against their friends in games such as #IDARB, Gigantic, and Fable Legends.
All of these things will be possible through the XDK, (Xbox SDK) which begins its staggered launch starting today. Remember when the Xbox Live SDK leaked a couple of weeks ago, and Microsoft didn't mind. Well, this is probably why they didn't. The XDK is special in that it has universal app binaries that target all devices for each CPU architecture. That just means that no matter what device you develop for it will run optimal even if it is on a phone.
This procedure also means that developers no longer have to port from one Windows device to the next since they all are built on one app platform, and they share the same code. As for the certification process, it will take as long as usual with things on Xbox One and HoloLens being a little longer with them having unique certification processes.
All in all Microsoft is taking all of the right steps to become an even bigger presence in gaming with its 1.5 billion devices that will be upgradeable to Windows 10. They expect to see stronger developer interest in developing for Windows 10 more than any other console to date.
As for consumers, we have consistently wanted to run our favorite games from our TV to our phones or tablet all while saving progress and having little interruption. Well, Windows 10 seems to be the answer for that.
We'll have more info regarding the news that released today, when we go hands on tomorrow at a special event. Keep it tuned here to Windows Central for more news surrounding Windows 10 and GDC!
Get the Windows Central Newsletter
All the latest news, reviews, and guides for Windows and Xbox diehards.