Gears 5 is part of a 'saga' not a trilogy, according to Rod Fergusson
Rod Fergusson, Head of the The Coalition, says Gears 5 isn't necessarily the middle part of a trilogy.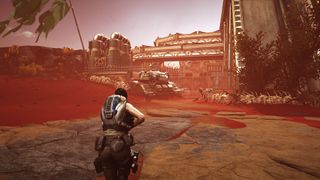 What you need to know
Gears 5 is the latest third-person shooter in the Gears of War franchise, developed by The Coalition.
In an interview with VentureBeat, Rod Fergusson, Head of The Coalition, says that Gears 5 is not necessarily the middle game in a trilogy but rather part of a saga.
Gears 5 is available right now for $50 on Amazon

(opens in new tab)

.
Gears 5 has released and the standard edition is available worldwide. Gears 5 is a sequel to Gears of War 4, continuing the story with Kait, JD and Del. According to Rod Fergusson, Studio Head of The Coalition, this isn't necessarily just the middle act in a trilogy.
In an interview with VentureBeat, Rod explained that "We're trying to get out of the trilogy mindset. The word I like now is "saga." Just the idea that we don't want to limit ourselves to a beginning, middle, and end, one-two-three thing. "Oh, this is the Empire Strikes Back game." That kind of thing. For us it's just about where the story can take us and what stories we can tell. This is just a continuation of the saga."
The next Gears of War game that has been announced is Gears Tactics, which will shake things up by entering a new perspective, one of turn-based combat similar to XCOM. With the Gears of War franchise continuing to evolve and Rod Fergusson now saying Gears 5 isn't just the middle game in a trilogy, the future is full of potential for the series.
Related: Gears 5 review: An evolved formula brings home a big win for Xbox
Kait's journey
(opens in new tab)
Bound by blood

Gears 5 promises to be the biggest Gears game yet, with five different modes and the most massive campaign of the entire series. With Campaign, Horde, Versus, Escape, and Builder all ready for players to dive in on at launch, there's never been a better time to be a Gears fan.
Covered in ice
(opens in new tab)
Gears 5 Limited Edition Xbox One X Bundle
The best experience

Featuring the Omen submerged in ice and snow, the Gears 5 Limited Edition Xbox One X Bundle is available for preorder today. This bundle features the limited edition console, the Kait Diaz Limited Edition controller, and past games.
Samuel Tolbert is a freelance writer covering gaming news, previews, reviews, interviews and different aspects of the gaming industry, specifically focusing on Xbox and PC gaming on Windows Central. You can find him on Twitter @SamuelTolbert.
Well who said it was going to be a trilogy at all?

No one, this is just a poor excuse for a reason to publish an article that will likely get clicks. All the gears info WC is posting lately could form 1 or 2 very in depth, informative and interesting articles, similar in vein to Eurogamers output, which used to be the reason I loved reading WC stuff. Now it's just click bait and advertising. So sad..

Did you read our 3,000-word Gears 5 review, and lineup of lengthy exclusive interviews, with Rod Fergusson, campaign leads, multiplayer leads, and technical leads? :)

You know what the article was about yet still clicked on it and now you're complaining? You're sad...

ofc there will be loads more gears. Gears 6, 7, 8, 9... Isn't that why Coalition exist?
343i -> do Halo
Coalition -> do Gears
Turn10 -> do Forza

This just in, the fifth (sixth technically) instalment of a series, isn't part of a trilogy, consider me shocked.

Also shocking to realize it's already part of a saga! I wouldn't have come to this conclusion without this article.