How to buy, craft, and destroy cards in Gears of War 4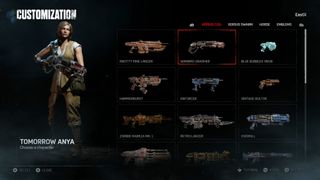 Gears of War 4 is currently chainsawing up the charts on both Xbox One and Windows 10. Everything players loved about the Gears series returns in the latest entry, plus a brand new card system. This guide breaks down the new card system, including how to combine, destroy, and create the cards.
The new card system
Gears of War 4 has six types of cards to collect:
Characters: Unique characters and character skins usable in Horde and Versus modes
Weapon Skins: Unique weapon skins usable in Horde and Versus modes
Emblems: Personalize your nameplate that appears on the main menu and in multiplayer lobbies.
Versus Bounties: Earn bonus rewards by completing objectives in Versus mode.
Horde Bounties: Earn bonus rewards by completing objectives in Horde mode.
Horde Skills: Equippable skills for Horde mode.
These come in varying rarity levels, from least to most rare:
Blue
Green
Purple (Epic)
Gold (Legendary)
Store
The primary way to get new cards in Gears of War 4 is by opening Gear Packs. You get these packs by buying them from the in-game store. Every player starts with a few packs, so you'll want to visit the Store early on. To get there, simply select Store from the main menu.
You can get these cards from the following Packs:
Horde Booster: Includes four Horde Skills and a consumable Horde Bounty card
Versus Booster: Contains five consumable Versus Bounty cards
Operations Pack: Includes five random cards including Bounties, Class Skills, and at least one customization card (emblem, weapon, or character)
Elite Pack: Contains five random customization cards, including one guaranteed rare or better item with a greater chance of a legendary.
All four Gears Packs can be bought with either credits earned from Horde and Versus games or real money. If you want to open your wallet for Gear Packs, Airdrops offer bundles of packs at a discount.
Don't think that this Gears of War has been bogged down with microtransactions, though! Since you'll earn credits just from playing, you never have to spend money on Gear Packs if you don't want to. You can also accelerate the speed at which you can buy more packs by using Horde and Versus Bounties that provide Credit bonuses.
Bounties
Bounties are consumable cards that provide rewards for completing specific goals in Horde and Versus modes. You must equip a Bounty card in order to use it. After completing the objective, you'll receive the reward at the end of the match. If you don't complete the objective, the card remains active and doesn't get consumed.
To view your Bounty cards:
Select Versus or Horde from the main menu.
Pick Manage Bounties.
From the Bounties menu, you have the following options:
Press the LB or RB buttons to toggle between Versus and Horde Bounties.
The Y button toggles between Show Owned and Show All. Use Show Owned to select from the cards you actually have.
Highlight a card and press the X button to access the Craft menu.
Crafting and destroying cards
Although you can get cards by buying Gears Packs from the Store, many of them can also be crafted from scrap. You can craft all six types of cards, although some exclusive cards (such as preorder bonuses) can't be crafted. The amount of scrap it costs to create a card depends on that card's rarity level.
Once you have enough scrap to make a card:
Highlight the desired card and press the X button to access the Craft menu.
Pick Create Single to make the card.
To craft cards, you'll need scrap. You get scrap by destroying other cards. In general, it's better not to destroy non-Bounty cards unless you have duplicates of those cards. Bounty cards are inherently non-permanent, so destroying extra or unwanted Bounties makes the most sense.
To destroy a card for scrap:
Highlight the desired card and press the X button to access the Craft menu.
Select Destroy Single to destroy only one copy of that card.
Pick Destroy Duplicates to destroy all duplicates of that card, leaving only one remaining.
The current amount of scrap you possess will be displayed in the bottom-left corner of the screen whenever you highlight a card of any type, as well as at the top of the crafting menu.
Horde Class Skills
Gears of War 4's Horde Mode features five classes:
Soldier
Sniper
Engineer
Heavy
Scout
Each of these classes can equip Horde Class Skill cards to receive unique bonuses. Cards of the Any category can be equipped by any class. Class Skills will remain in the player's inventory unless destroyed or used as upgrade materials. The number of Class Skills that can be equipped at one time depends on the level of the class itself.
Class Skills can be leveled up in order to increase their effect. This requires duplicates of the same Class Skill card. The number of duplicate cards needed to level the skill is shown at the bottom of the card.
To level a Horde Class Skill:
Select Horde Mode from the main menu.
Pick Class Skills.
Select a Class Skill card for which you have enough cards to upgrade.
Press the X button to access the Craft menu.
Select the Upgrade option from the bottom of the list.
Customization
Customizing your character is a great way to stand out from the crowd during multiplayer games. Gears of War 4 has three types of customizations: Characters, Weapons, and Emblems. You can equip, craft, and destroy customization cards from the Customization menu. Characters and weapon skins must be equipped independently for Versus and Horde modes.
Things you can do from the Customization menu:
Press LB and RB to select Versus Cog, Versus Swarm, Horde, and Emblems
Select the character on the left side of the screen to manage characters
Choose individual weapons to manage their skins.
Select Emblems to manage your multiplayer Emblems.
Equipping, crafting, and destroying customization cards works the same way as Bounty cards. Craft the cards you need to fill out your collection and destroy the duplicates, as they serve no purpose.
Prepare for War
Gears of War 4 is the latest in the popular third-person shooter series from Microsoft and The Coalition. It features 2-player campaign co-op, 12-player versus modes, and 5-player cooperative Horde mode. All of these modes support 2-player split-screen, too.
As an Xbox Play Anywhere title, Gears 4 supports cross-play and cross-save between Xbox One and Windows 10. Buy the digital version to get the game on both Xbox One and Windows 10. Third-person shooters don't get much better than Gears of War!
See on the Windows Store (opens in new tab)
Paul Acevedo is the Games Editor at Windows Central. A lifelong gamer, he has written about videogames for over 15 years and reviewed over 350 games for our site. Follow him on Twitter @PaulRAcevedo. Don't hate. Appreciate!
I am Pissed, preordered this, was excited, then the damn thing launched once and never again. Now it just shows the gears of war logo for a sec and cuts out, there is a thread in the official forums with tons of people experiencing the same issue with no fix in sight (PC Version)

Sorry to hear that. Hopefully they'll figure it out soon.

That sucks. When I used to PC game back in the 90s this kind of crap happened all the time. One of the many reasons I just stick to the console. Too many conflicts can occur on PC.

What version of Win 10 are you running? There is a known issue with insider build 14936 which i've also found true for builds newer than that as well. Windows Insider Build 14936
Insider Build 14936 of Windows has a known issue with UWP games. If you wish to play Gears of War 4 you will need to temporarily roll back until the next Insider Build is released.

I am playing on PC, but never had a problem,
make sure you are running the latest windows 10 stable update, not an insider build, and the latest graphics drivers, also try turning off antivirus programs if any, other than that , if you can like reset windows 10, or re install it if you are desperate for a solution. best of luck

No win10 for 512mb users.All app ,games just launching for windows 10 no one cares for 512mb users. Even those app are also been removed which was there before like amazon ,eBay. You don't know nothing. I know why you people decided not to launch windows 10 for 512mb bcoz many more apps. There is nothing for 512mb users bcoz all 512mb phone was made by Nokia than after Microsoft bought it. And Microsoft was wanting to let world know that we only made 1gb rams only.haha but not to worry.they say na
Haha ROFl, but but god of phones and god of companies is coming . Time to say goodbye to "microsoft" bye bye . "microsoft"awwww.... NOKIA is coming with its all new C1 and A1 android and was waiting for something like this. I even got frustrated when microsoft directly decided not to launch win10 for 512mb users. Haha I wish no one buyes Microsoft phones. Lol this phone will be a plaything for my dog now. Even he is a HERO

That has absolutely nothing to do with Gears of War 4. Please don't make off-topic comments.

You bought a cheap phone from a few years back with very low specs. You shouldn't be hurt or surprised that technology has moved on.
MS can't support everything for ever, otherwise W10 would be made to run well on hardware from a decade ago.
W10 moved forward, your phone couldn't. The same will be true of literally any piece of tech you buy, they don't last forever and they need replacing if you want the latest things.
Its off topic on this article, but pulling the game into it, how many buyers of this game do you think are truly expecting this game or their console/PC to last forever?

TL DR Posted via the Windows Central App for Android (LG V10 or Nexus 5x)

Your right... No one cares. Spend 30 dollars on a Lumia 640 GoPhone and upgrade or dont and get over it.

Dude take your meds and play Gears 4 it'll help you get that frustration out of your system.

Didn't know about the card system, it's a great feature for customization and it kinda make ppl want to play more so they could get more packs open? Will buy this soon~

Looks like I need to check out that menu :-)

Everything has cards meow

Everyone needs to STOP quitting in Horde after completing wave 20!!

Blame the bounties for that.

How does that affect the game? I was curious since I have been in several matches where people suddenly quit after the boss level.

There's bounties for only getting to wave 10 or 20, since you can't change your bounty mid-game, people quit to choose a new one and start again. It's why Gears 3 had the perfect medium and why Gears 4's card system is ruining the online experience.

This game does everything worse than Gears 3. I'm a huge gears fan so it hurts to admit that, but its true.
Windows Central Newsletter
Thank you for signing up to Windows Central. You will receive a verification emai