Gears of War 4 for Windows 10 is free with select NVIDIA GeForce GTX 1080 and 1070 cards and PCs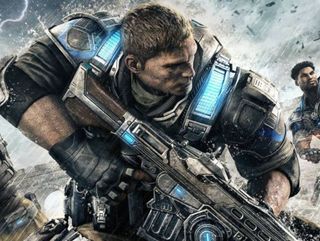 NVIDIA is bundling a download code to get the Windows 10 digital version of Microsoft's sci-fi shooter Gears of War 4 for free with select GeForce GTX 1080 and 1070 graphics cards, along with desktop and notebook PCs that have those cards inside.
NVIDIA says (opens in new tab) the Windows 10 PC version of Gears of War 4 includes support for 4K monitors and 21:9 resolution displays. It adds:
Keep in mind that if you get the digital version of Gears of War 4 for Windows 10, you will also be able to get the digital version of the game on the Xbox One console for free as well as part of the game's support for Xbox Play Anywhere.
Check out where to get the GeForce GTX 1080 and 1070 Gears of War 4 offer (opens in new tab)
Need more? Don't miss our other coverage of Gears of War 4 including:
Now, this does make it tempting to go ahead and upgrade my GPU a bit earlier than expected, because I want to buy this digitally on Xbox One anyway and it's £50. Will need to check if this offer includes UK of course. EDIT: Just checked and it is indeed in the UK - Thing is I was going to buy a GTX 1060, so really it's costing me £100 more to go to the 1070 instead of the 1060 when you factor in the £50 I would have spent on gears anyway

I wish Nvidia would bundle this with the GTX 1060 as well, since that's the most I'm willing to buy at this point.


In the past they've done 2 x games with x70 and x80 cards and a single free game with the x60 cards but looks like that might not happen until down the line

What card do you have now?

A GTX 660. A 1060 would already be a massive upgrade over it and I'm only playing at 1080p and I don't really mind lowering some visual settings. A 1070 or 1080 cost WAYYY too much than what I'm willing to spend.

Gtx 1060 can easily play all games in ultra setting in full hd settings

Of course. I didn't say that it couldn't in the first place, I just meant that I wouldn't mind dropping down Image Quality settings to get smooth gameplay.

Just make sure to get a dual fan 1060. The single fan ones run hot.

Me too. I don't need the top tier card. I just want something that is better than what I currently have with great performance at a good price.

Dagnamitt!!! I just bought a gtx1080 a week ago. This suck balls

Bet you're loving that useless in game credit they've been giving away though right? lol

I sniped Doom and witcher trilogy for $30 each, so I'm not crushed. ;)

i didnt even redeem the paladin thing. the thing looks stupid just like overwatch.

Any chance of gears copy being used on both Xbox and pc?

My EVGA NVidia GT 780 SC ACX died 2 weeks ago...it is covered under my 3 year warranty, for about 5 more months. Looks like I'll be getting another 780. One day....when my bank accound agrees, I will join in on the 1080 Snowboarding fun!

Time to break open the piggy bank! *destoys piggy bank with hammer* *Stares at contents* Awwww... I don't even have enough here to buy a new piggy bank. Posted via the Windows Central App for Android

No love for 1060. Just bought the amp! edition from Zotac. :(
Windows Central Newsletter
Get the best of Windows Central in in your inbox, every day!
Thank you for signing up to Windows Central. You will receive a verification email shortly.
There was a problem. Please refresh the page and try again.