Get 12 free hours of Windows Developer Training from Liquid Daffodil and WintellectNOW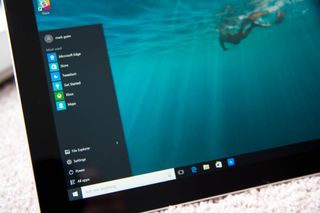 Developer Liquid Daffodil is teaming up with WintellectNOW to offer 12 free hours of online training as an exclusive for Windows Central readers.
Liquid Daffodil has created a number of Windows Phone apps, including ones like Bandsider that work with the Microsoft Band fitness wearable devices. Now the developer is teaming up with WintellectNOW, which offers on-demand training on Windows tools, for the free offer:
In order to get your 12 hours of training, just go to the WintellectNOW sign-up page and then type in the promo code "LIQUID-NOW" to get your free classes.
Sign Up for the 12 free hours of Windows Developer Training from WintellectNOW
Just signed up!! Thanks alot Scott for this offer.

cool beans thanks for this

This is a very good thing that Windows Central is doing . :) Nobody else does that. I like how Windows Central treats itself not just as fan centric news site but also goes more technical in articles and does stuff like this. Keep up the good work.:)

Signed up! Looking to start getting more technical with Windows. Thanks!!!

will those classes be one sided or conversation like on skype or something??

These are full length recorded session you can view or download to your device at anytime. Very convenient! :)

Liquid Daffodil has lost my respect. I understand that they now provide good backend solutions for other developers, and I do appreciate that. However, when apps was their business, near the end, they put out so many incentives for people to buy into their entire suite of apps, and then suddenly stopped supporting those apps, within a few months of the promotion starting.

Jeemo, let me see if I can help. Liquid Daffodil has always only been one developer. Me. In real life I develop apps for the Corporate world, and have created around 30 apps for the Windows platform, 17 of which have been top-rated and top download paid apps over the years. We still actively have a number of apps, like fanband, Bandsider and Cortanium that are active apps and we maintain and support them daily. My guess is your post is referring to the Liquid Subscription model we tried to implement a few years back, which worked wonderfully and gave alot of our fans the opportunity to get all our apps for a low price. We loved it and our fans loved it. The problem is, Microsoft made changes to the Store that PREVENTED us from doing it anymore, and although we tried working with them for about 6 months, they refused to allow it. Since that time, ANY fan that wanted a refund got it immediately, AND we gave ANY fan promo codes to STILL get all of our apps for FREE for the inconvenience. We STILL offer this today. For example, if you were to email us RIGHT NOW at our support email address, we would provide you with promo codes for any apps we have available. We offer this to anyone. I only create apps because I enjoy it, and most people seem to love what we do. Let me know if there's anything else I can do. Sincerely!

I REALLY appreciate your response here, especially in such detail. I apologize for making the false accusations, and I will edit my post to correct the record (when I get home). Yes, I was referring to the Liquid Subscription, and I loved the software that came with it and was using your twitter solutions long before the subscription came out (I even participated with frequent bug reports, IIRC). I was not aware of the generous refund/promo opportunity that you provided, which I would say is sufficiently ample. My main reason for saltiness was the drop of maintenance for the twitter apps, because you had the best solution available at the time. Fortunately, I've since adapted to a UWP app with similar functionality. Again, I'm very sorry for the false accusations that I made

No worries! It's tough to always get all the information out to fans. We still get requests every day for use to bring our Twitter apps up into the Windows 10 world, and I keep considering it...and only pause because there are already so many great options today, unlike a couple of years ago.

What's the link between Liquid Daffodil and somebody at Android Central? I was reading any article over there and somebody was going off on one in the comments about some connection between the two but they didn't really make 100% sense. Does somebody at Liquid Daffodil write at Android Central or something?

No. That's strange. The only time I know of Android Central doing anything with Liquid Daffodil was to announce that fanband was now available for Android. I am just a developer and have created a large number of apps for Windows and Windows Phone...that's it! :)

...and not sure on the comment, but I (Liquid Daffodil) has no connection to anything at Mobile Nations...we've just created more top apps than any other actively developing 3rd party for Windows, so have alot of history.

Thought that would be the case. It's the internet after all so the guy who posted it was talking rubbish

Probably so...I can't find anything like that on Android Central, but would love to help if I know where to look! :)
Windows Central Newsletter
Get the best of Windows Central in in your inbox, every day!
Thank you for signing up to Windows Central. You will receive a verification email shortly.
There was a problem. Please refresh the page and try again.