Get up to 75% off Square Enix-published games on the Xbox Store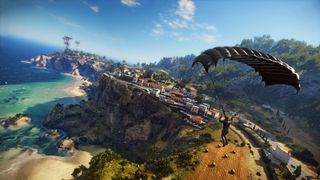 (Image credit: Square Enix)
Square Enix is currently holding a sale on a number of the games that it publishes on the Xbox Store. The publisher is offering up to 75% off of games for both the Xbox One and Xbox 360, including titles like Just Cause 3, Tomb Raider, and Deus Ex: Human Revolution.
There are the games that Square Enix has on sale for the Xbox One:
And for Xbox 360:
See on the Xbox Store (opens in new tab)
I just wish they'd bring FFXIV to Xbox One already :(

It's coming! Don't you worry! I'm gonna reserve my copy as soon as money has found its way into my account. Sigh.

Is there a link? All I could find is from a year ago, that SE was in "talks" with MS, and we all know how that goes :P. Sent from my Lumia 950 XL

Son of a biscuit. I literally bought Just Cause 2 full price a DAY before this sale began. Grrrr.

Is Lara Croft and the temple of Osiris good? I'd play it with my wife so I would not buy if it isn't good in co-op.

It's a nice and enjoyable game. Best played with partners so if you're interested, I'd say go for it. Has some nice mechanics, action and puzzles to keep you interested and pleased with it.

75% of 59.99 is not $30.00. That's 50%.

"The publisher is offering up to 75% off of games..."

Life is Strange so tempting but then... I had a PS4 ..huh

I pulled the trigger on Life is Strange. Looking forward to playing through it.

Picked up Just Cause 3 XL for $47 (CDN). Been waiting for a good sale like this to come along! :)

I'm awfully tempted to get Just Cause. Heard I was pretty fun.

I played it a bit on my buddy's PS4 a little while ago, super fun. You can pretty much do anything you want, and the map is huge. Lots of hours are gonna go into this game... :)

Eh, I'll get Just Cause when it hits $20.

This game is holding it's value way longer than most! I've been waiting for$20 for a ling while now
Windows Central Newsletter
Get the best of Windows Central in in your inbox, every day!
Thank you for signing up to Windows Central. You will receive a verification email shortly.
There was a problem. Please refresh the page and try again.