Get to know Bloodhound in the upcoming Apex Legends Old Ways event
New skins and a new game mode are making their way to Apex Legends this April.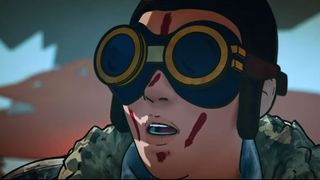 (Image credit: Respawn)
Bloodhound has always been a bit of a mystery for Apex Legends players. and considering they live behind a mask that isn't surprising. Respawn is giving players the chance to learn a little about the hero with The Old Ways event, which is set to hit Apex Legends from April 7-21.
This event, up the top, includes a Bloodhound town takeover with Bloodhound's Trials. Here, players can team up in a squad to take down prowlers (creatures that in lore invaded World's Edge), which will give them high-tier loot. However, they'll have to take down each other to get the best loot.
What does this have to do with Bloodhound? You can check out some good story stuff in the new Stories from the Outlands video linked above. In short: it tells of a child who's sent out into the wild to complete a rite of passage but runs into a number of dangerous creatures. It's also about the conflict between the so-called "old ways," not relying on technology, and the new, which especially comes into play when the child finds an energy weapon.
Like i most events, this'll come with with daily challenges and the chance to unlock event-exclusive cosmetics, which includes legendary skins. Of course, you can pick them up in the shop with in-game currency. According to the post on EA's website, this includes skins for Bloodhound (of course) but also Wattson and Crypto.
In addition to the Bloodhound-centric features, Apex Legends will also be bringing back Duos, which will exist alongside the typical Trios mode. There will also be a permanent map rotation so players can engage on either Kings Canyon or Worlds Edge.
The game is also bringing back the Legendary Hunt skins for a limited time. They'll be available to purchase in the store.
We still have a few days until the event begins, so there's plenty of time to prepare. You can also check out more on the event, including item schedules, over at EA's website.
Carli is the Gaming Editor and Copy Chief across Windows Central, Android Central, and iMore. Her last name also will remind you of a dinosaur. Follow her on Twitter or email her at carli.velocci@futurenet.com.
Windows Central Newsletter
Thank you for signing up to Windows Central. You will receive a verification email shortly.
There was a problem. Please refresh the page and try again.