Get your Windows 10 Skype UWP app questions answered by Microsoft on Sept. 13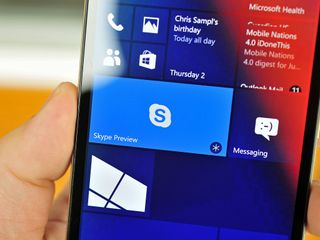 Microsoft will host a community Q&A with members of its Skype Windows 10 UWP app team on Tuesday, Sept. 13. This will be a way for Skype user on Windows 10 and Windows 10 Mobile to ask questions, provide feedback and offer suggestions to the team behind this version of the VoIP app, which was launched as a public preview earlier this summer.
Details of the Q&A were posted earlier this week on the Skype forums (opens in new tab) (via Winbeta.org):
What questions are you planning to ask the Skype Windows 10 UWP team? Let us know in the comments!
Download Skype Preview in the Windows Store (opens in new tab)
Windows Central Newsletter
Get the best of Windows Central in your inbox, every day!
My only question will be when will Skype and Microsoft accounts be merged? It's such a confusing mess right now with all of my contacts showing different profiles in different clients, etc. Needs to be taken care of ASAP.

This multiplied by infinity.

Yeah, its been a couple of years already that Skype is part of Microsoft, not a seperate company anymore. Skype accounts should've been merged by now since it doesn't make sense to keep them seperate and have confusion among users to Make "Skype Account" when Skype is a messaging platform of Microsoft (though sometimes it doesn't even feel like MS really push Skype as messaging platform). Skype is loosing the mainstream mindshare and MS just letting it slip to Facebook, Google, Apple, etc. Even Skype is still known for video calling, other services already offers similar thing with their favorite messaging service such as Facebook. Not because they're better feature-by-feature, but because people are already comfortable enough with those messaging services and having similar video calling is a big convience for them. While those things happens, Skype doesn't offer much compelling things why it should be used not just for video calling, but as their primary messaging service for everything matters for the users. Oh well, I don't even have much suggestion about it anyways but to think Skype needs fun features and actually market it to be use for messaging. Skype is cross-platform already and people are familiar with it. Only the problem is most now don't see much value of it aside for video calling which is not everybody always use, thus can be easily forgettable when their favorite messaging apps offers similar video calling even though its basic.

As long as you can you a different account for public-facing interactions (Skype, email, etc.) I'm all over the fixing of MS's account setups. The absolute worst, though is the way Xbox accounts are managed. I have family members that have messed up MS account-Xbox account linkages, and getting that fixed has been a royal pain. Make one misstep in the process and you have to wait a full month before starting all over again.

How is it confusing? Link your old Skype account to your Microsoft one and then you can just use your Microsoft credentials to log in. I've been logging into Skype with my MS account for years. Also Microsoft has already tried forcing everyone to merge their accounts, but everyone hated it and wrote feedback agaisnt it... so there you go.


Oh they already know the question they need to answer: where the HELL is messaging everywhere?

It's coming soon. The feature is there in the latest internal builds of the app.

a lot of use it will be when you cant even delete conversations though right?

Why wouldn't you want to after a long time ?

I rather have my history complete

You are such a ******* contrarian. You seriously trying to pretend not being able to delete conversations is OK? GTFO

Can't delete conversations, can't remove old contacts.. Ugh...

You can remove old contacts with the Preview app - just removed some yesterday! I'll second the deleting conversations part, tho.

I kind of need that. I work somewhere where we communicate with children, so to be on the safe side we use apps that can not delete conversations.

If messaging anywhere includes SMS, then the ability to delete conversations in a must. There are far too many services that use a random number for every message they send you. Eventually, your history is filled with meaningless numbers for one-off, time-limited alerts.

Maybe they will move it to it's own app again. Just to keep us on our toes! /s

To be able to delete conversation

Yeah! I've been able to close conversations but they stay in history.

i actually feel like monkeys work on this app. This has been an issue for years, and noone has thought for one second that deleting a conversation might be wanted? I dunno, EVERY other app that involves conversations does this.

It doesn't seem to be a frequently asked addition then?

Give users the option, sorted. ;).

so if no one asks for a backspace function they wont add one?

Grasping for straws much? If a feature is not wanted by customers, companies do not implement them.

again, going by that logic, no forced windows update system would be implemented

Wow! There is a distinct difference between fixing bugs, patching security and implementing new features...

so they they havent inserted new bugs(webcams) and have not removed features by doing that? lol, go on

Sure, that happens to all software. Note that we can manufacturers that FOLLOWED the development guidelines were not affected. Anything else I can help you with today?

learn to form correct sentences

Oh, no argument. Go attack the person to try and save face. Hint: It never works.

@Giddora, the principle remains. There is demand, as there is demand for a stop button. Just because a person doesn't need or want xyz doesnt mean everyone else shares the same view. Granted a line must be set as otherwise it becomes a case of too many chefs at the mixing bowl. .

If the demand is big enough they will implement it. That's for sure.

Take Microsofts **** out of your mouth for one minute. Please.

****. Off. You are actually delusional.

That's why Tipex was invented!

There is something you forget: In many countries you are forced to keep a history of company communiction (like emails, etc) by law. (at least 5-7 years depending on the content of the mails here in germany for instance). If skype wants to be for business communication, it could be and would make sense to be one reason why they don't allow it to delete conversations... Otherwise admins would need to be able to deactivate that feature for their users on business networks, which is harder to do for an app.

Yes, such a feature can be set by group policy. A blanket enforcement when previously you could delete history... is just absurd.

If that is the case, why desktop skype has the option to delete chat history???

I like the new Skype app on mobile, but it's not complete until I can turn off notifications for specific chats within the app. Hopefully it gets updated soon.

You can do this. Although the interface suggests its for the person so don't know if this works for a group chat. Just click view profile and then turn off notifications.

Oh I have a few! 1) When can I delete a goddamn conversation? huh? that would be, i dunno, a BASIC DAMN FEATURE. You'd think that would go in build 1. 2) Whats up with the extremely low volume on skype calls on the UWP app on mobile? its a joke. I cant even hear the other person. 3) Why the slide out dialer on mobile? If this is going to eventually have SMS support and merge with the phone app, wouldnt a full screen dialer more similar to the phone experience be better?

When is messaging everywhere coming back

Probably with the build after this one through Skype.

What I would love to see on the new skype UWP app;
1) Swipable hamburger menu.
2) Deleting conversations
3) When opening the hamburger menu, profile picture should be on top, like on android, it makes the app beautiful.

Idk why your comment is downvoted...but yeah the Hamburger menu on UWP who use the pre-built ones should be all swipable exactly like how the Windows Central app does and from Android. The way Hamburger behaves on W10M is like from a mobile webpages or even forgotten Gingerbread-era Android apps (and I remember that Hamburgers even swipable back then). It seems salty fanboys doesn't want to be reminded of shortcomings that actually needs to be addressed for improvements. These things isn't even alien and exist already.

Actually, someone should ask about Skype for Business. The Skype guys really cant sort their crap out. W10 has been out for a year and we are still stuck with the windows 8 LYNC app, and a rebranded lync 2013 for windows phone 8. It's really a travesty.

I agree. I asked about the Skype for Business during a S4B community call and there was awkward silence and shuffling of feet. They are doing something but 'no news to share at this time'.

Yeah they won't even entertain the question at the moment. I really hoped they had something in the works for the Elite X3 launch, if they had the best mobile S4B experience for the launch it would be one extra point to include in the advertising on the MS Store site. Also it just makes sense w/ Continuum now that there's a high spec business focussed phone running W10M - Use it on your phone screen, use it on the big screen.

I assume the S4B features in Surface Hub are built on UWP, so hopefully they have some sort of basis for a UWP app from that

Not sure why this was downvoted. As a business user I really want a Skype for Business UWP experience. The HP Elite X3 really needs it IMO - The kind of companies that will embrace the Elite X3 are likely already using S4B

Anyone having problems with notifications not appearing on Windows 10 Mobile? I have to have the phone on and the app running in order to see notifications come in.

Yes, you are not the only one. Hopefully they have taken notice of this. Skype is almost useless to me without the notifications.

They're gonna get grilled with complaints because Skype is BROKEN.

Only one... transparent tile - WHY do we still NOT have it years after it's been "invented". I mean WTF, it's literally changing one word to another, it's 2 seconds of work.

I really felt skype integration as a cool feature. Still don't understand why it was removed.

I really don't understand why MS needs feedback. Don't they use their own software? Don't they have a brain anymore? Its stupid when one big company does not know what to do or think that they rely on feedback to make something great. What a waste.

Exactly !! Why the hell don't they use the bloody FEEDBACK HUB for such things ?!!! Idiots. Project Islandwood - They don't use it for garage apps.
Feedback on products - They don't use their own Feedback Hub.
Better Office apps on W10M - Nope. Because even Android has password protected docs. -_-

I like getting text notifications on my pc from android phone and being able to reply is nice, but I don't like getting the same notifications for every email that comes through. As of now, I don't think there is a way to disable one without the other.

I'd love to know if the Skype for Business team has tapped them for their experience and knowledge of UWP for a new Skype for Business app. I feel like it's something the HP Elite X3 would be perfect for. Thought they might have secretly been working on it for release at the same time/right after the X3 launch but the S4B team won't even entertain the questions from users at the moment.

I would like to know why the speaker is not automatically enabled during the video call

Just ask them whether any of them use Windows product or not. If they beat around the bush before answering with some kind of pr speak then you know they are just doing this to try to appease the fanbous and you can see right r through them

My question to MSFT and Skype-team: would skypt and microsoft consider laying down the arms warfare over social groups market share wars and start collaborating so that skype users can communicatie with for example whatsapp users without having to leave the platform? For example by adding a whatsapp bridiging extension to expand contactslist and communications with skype? (reason for this question): skype has become and increasingly integral part of the windows platform, but in reality the local market most of the national community mainly use whatsapp. This is a development that has grown over time, and the groups don't change that quickly if things work fine. Each global region seams to have similar trends and this is harming the skype-windows experience and usability because of understandable social group behavior to stick with a social messaging solution they are accustomed to and have grown with over time, making switching a more difficult proposition. I think the skype expereince with windows could be vastly improved if skype could somehow communicate with whatsapp users without users having to switch platform. It would help bridge the gap of social fencing due to cross platform communications and bridging limitations. It would be relatively easy if microsoft could support an bridging extension to open lines of communications from skype when a largest social group is using whatsapp when maybe one a few are using skype and left out of the conversation due to lack of this platform bridging. Communication is a humann basics, it doesn't alwyas adhere to one single platform globally.

I just took a quick at the comments here. This is not going to be a Q&A. It's going to be a firing squad execution.

1.why not go the modern mesagging way of registering using phone number?

Because skype can be used on the desktop and other non-phone-nr devices as well?
And espcially for business you do not always want to share your phone nr with the customers, otherwise they may call you in your freetimr too.

Microsoft's problem is that they're just as capable of creating a really great application as they are at creating complete crapware and sometimes even destroying a once very capable communication platform. I quit using Skype soon after MS aquired it because of the constant changes to the design interface and feature set. In hindsight, Skype would have been much better off as an independent software vendor.

Skype is actually run independently. One could argue that such independence is why we have had such a poor skype experience to date. Personally i would have rather seen them make rooms into a app and grow that to encompass skype and groupme. But of course Rooms was just too awesome for that...

Wow, many good suggestions here yet. Then I go for some minor ones. Will the be a giphy support or similar things? Will they build bots to connect to other messaging platforms? Will they better integrated into Xbox and gaming? Will they combine with groupme?

My Q is why does my contact in people hub don't show up in my skype preview?

Honestly at this point who even cares about Skype. It has been how long now & we still have separate accounts. Why is there Skype and Skype for business??? 2 apps for the same crap!!! What ever happened to SMS integration? Their support is absolutely horrible, worthless as **** on bull... MS needs to come up with a game plan and actually for once, stick to it and see it completely thru, not make changes every other week!!

The only thing I wanna know is when will the app allow us to completely delete conversations/chat history and set it to never save conversations across all devices including Xbox one and windows 10 phones. Currently, this can only be done on pc.

I'd like to know why users of Outlook Mail are having Skype integration forced down their throats. At least give an option to integrate Skype or not, a lot of people don't use it or want it. I certainly do not want my Microsoft Account associated with Skype period!