Deadpool game will get an Xbox One version on November 17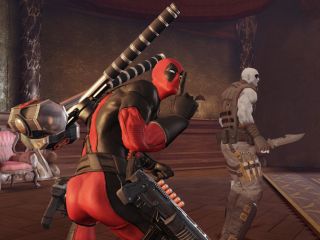 The Xbox One and PlayStation 4 consoles are getting yet another HD game remaster, but this one's from an unexpected source. Retailer GameStop started taking pre-orders this week for new Xbox One and PlayStation 4 versions of Deadpool, the third-person action game from Activision based on the popular Marvel Comics anti-hero. The games were first released for the Xbox 360 and PlayStation 3 in 2013.
The "M" rated game from developer High Moon Studios will include the two extra levels and two alternate suits for the famous "Merc with a mouth" that were offered as post-release DLC packs for the original Deadpool game. GameStop appears to have an exclusive on selling the new Xbox One and PlayStation 4 versions of Deadpool, which it is selling for $49.99 ahead of its November 17 release date. The game will be available a few months before the Deadpool feature film, starring Ryan Reynolds, hits theaters in February 2016.
Check out Deadpool for Xbox One (opens in new tab) ($49.99)
Source: Gamestop (Twitter)
Dat badass trailer though...

I'm touching myself tonight.

Don't make the suit green or animated ;-)

Does Reynolds voice Deadpool in this game?

Nolan North, who has voice Wade in Marvel vs. Capcom 3, the Marvel Ultimate Alliance/X-Men Legends series, and on the Marvel shows on Disney XD, does the voice in the game. Ryan Reynolds does have a cameo voiceover in the game, though.

Alternate suits for Deadpool? He'd laugh at the very idea himself.

Just make the 360 version backwards compatible and forget a $50 rip off port.

This kinda seems like a confirmation that Activision won't be participating in backwards compatibility.

Considering you can pick up the last gen versions for next to nothing, $29.99 seems like the price that it should be at most. Definitely a cash grab considering the movie is comeing out a few months after.

$50?! At least make it $30 or $20 for an old game...

Yep I'm buying this! Posted via the Windows Central App for Android

Is this a disc only exclusive that Gamestop is selling? I've long since made the switch to digital downloads, and can't see myself going back. So if it is disc only, I'll take a pass, if not, then might grab it at some later date. This fall is just too loaded with great game releases, and would need to clear some of those off my list first before digging into a port.

Also digital! Posted via the Windows Central App for Android

Nope. This is bullshit. Enough with these remasters already. If it was $30 it would/should be a hard sell.

And now we see why Activision isn't doing BC. They are going to do tons of half-assed ports for cash grabs.

Man... Deadpool was pathetic... Personal opinion though..

Yep I don't agree Deadpool video game was awesome! Posted via the Windows Central App for Android

I was really excited about playing this game originally and it ended up just being a big mess. The story and cut scenes were great, but the gameplay itself was both repetitive and riddled with bugs. The point I threw in the towel was when there was a bug in which a lift was meant to activate, but never would. I looked around online and it turned out my save was corrupted. I had no way to resolve it without playing the game all the way through again. I personally would advise anyone to save their money or give it a rental first to see if it's worth it, especially when the price tag is this high. Such a shame too as I love Deadpool as a character. Posted via the Windows Central App for Android

Needs more than included DLC for that price. Hell, even Gears of War Ultimate is $10 LESS and gives you 4 complete remastered games AND they're previous generation varints as digital downloads. $50 for this is a bad joke even Deadpool would avoid.

They're just doing it as a lazy cash grab in the build up to the film. Posted via the Windows Central App for Android

Activision? Expect same graphics, barely upscaled, and for the great price of $59.99

Timing is great. Pricing is not.
Windows Central Newsletter
Thank you for signing up to Windows Central. You will receive a verification email shortly.
There was a problem. Please refresh the page and try again.