Globe brings carrier billing to Windows Phone owners in the Philippines
Globe Telecom in the Philippines has announced support for carrier billing on Windows Phone. The carrier has expanded its Direct Carrier Billing service to include those who are rocking Microsoft Lumias.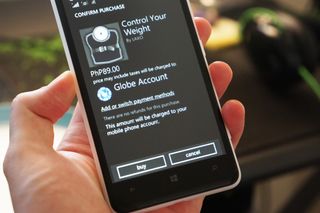 As highlighted already, Globe bills this move as the first telecom in the Philippines to introduce Windows Phone carrier billing, enabling consumers to download and purchase content from the store using their mobile accounts, as opposed to using a payment card.
Griselda Go, Vice President for Content at Globe, commented on today's announcement:
See the full press release below for more details on today's announcement.
Thanks, pdplatypus, for the heads up!
Philippines' number one mobile brand Globe Telecom continues to lead the country's digital revolution as it recently expanded its Direct Carrier Billing (DCB) service to include customers on Microsoft Lumia smartphones running on the Windows operating system (OS).
With Globe being the first telco to bring the service to the Philippines, the new Windows Mobile Store direct carrier billing service gives Microsoft Lumia and Windows phone users an easy, convenient, and secure channel to download and purchase their choice of mobile applications and in-app content without the need for a credit card.
Rolling out starting June 18, 2015, the service will allow all Globe Postpaid, Prepaid and TM customers to charge their Windows Mobile Store purchases straight to their postpaid bill or prepaid load.
"This new innovation that will benefit our customers using handsets running on Windows OS is another testament to our thrust to bring the country to the global digital landscape. The expansion of our direct billing service to cater to purchases via the Windows Mobile Store now presents a truly hassle-free and content-rich mobile experience to all our customers using Windows phone devices," says Griselda Go, Vice President for Content at Globe.
The Windows Mobile Store app comes pre-installed on all supported Windows phone devices with OS 7.5 and above, and is pinned to the Start screen within the App List. Premium content available for download and purchase includes games, in-game items and goods, virtual currency and points, virtual goods from social networks, subscriptions for granted access for games, and even E-books.
To access the Windows Mobile Store, users must first set up their device's location to determine which Windows Mobile Store catalog and payment options will be made available on the device. The app will automatically recognize Globe as the mobile phone's carrier and will determine it as one of the payment methods available.
Once phone setup is complete, users can login using a Microsoft account (formerly Windows Live ID) and must accept the Windows Mobile Store Terms of Use and Privacy Agreement. Users can then open the Windows Mobile Store, select the app they wish to purchase, await purchase verification, and confirm their mobile phone account or Globe account as their chosen method of payment.
Go pointed out that the Globe direct carrier billing service for the Windows Mobile Store forms part of the company's initiatives that will cater to the country's ever-growing digital landscape. Other initiatives in the pipeline include the launch of Single Bill service which will expand direct carrier billing beyond mobile applications by allowing customers to purchase applications and in-app items for Desktop/PC and Xbox.
Globe Telecom has maintained its dominance in mobile data business in the first quarter of the year after posting mobile data revenues of P4.4 billion, double the combined revenues of its competitors at P2.2 billion. As of March 2015, Globe mobile data revenues significantly grew by 58% from previous year's P2.8 billion and by 8% from previous quarter's P4.1 billion. Meanwhile, combined mobile Internet revenues of Smart and Sun rose by 19 percent to P2.2 billion from P1.9 billion in the same three months of last year.
Windows Central Newsletter
Get the best of Windows Central in your inbox, every day!
Rich Edmonds was formerly a Senior Editor of PC hardware at Windows Central, covering everything related to PC components and NAS. He's been involved in technology for more than a decade and knows a thing or two about the magic inside a PC chassis. You can follow him on Twitter at @RichEdmonds.
Microsoft said in all windows 10 devices we can buy apps with carriers billing, true?

Yeah they said that, its so awesome!!!

Oh great, because in my Country, This feature its not available

Why there's no globe payment option for me? Using lumia 1320

Now that that's done, they should start stabilizing their 3G/4G service, which is LONG overdue.

Why? Globe data service is better than the others in all the places i went to.

All our carriers are not realiable regarding data connections, your beloved GLOBE isn't an exception. Better doesn't mean best or good. Imagine when you are on a middle of an attack, deployed your heroes then suddenly got disconnected. Aside from unrealiable service, Call, SMS and specialy Data charges are too high.

I want to believe this sadly this isn't true at all. I'm a Globe subscriber and my dad's Smart LTE offers better speeds and reliability but the reception is far better than last year so I'm going to take little improvement to none.

You're one of the lucky ones that Globe hasn't let down yet. Calls get dropped, text messages don't get sent, data is deceptive (4G is available but no internet connectivity). I get that it doesn't happen all the time, only when I need it to work that it decides not to.

Sweet. Unfortunately, after my contract expired with Globe, I immediately applied for SMART line since their LTE coverage is far great than Globe's. Nevertheless, this is a good news for peeps with Globe rocking Microsoft Lumia.

I agree with you. However in my experience Globe's LTE is faster than Smart's.

"Philippines' number one"??? Hmmm.. I wanna hear what Smart can say about that.. Hehehe.. In fairness to Globe they are trying very hard to compete with Smart despite their bad reputation...

Smart too has a bad rep. Im a postpaid sub and every month, there are unknown charges on my bill.

Hahaha! I know right? In fariness to Globe they are #1 on "postpaid" but if we go back to the total number of subscribers, obviously, SMART is the #1 network. It's all part of PR Jedi :D

AIRTEL, PLEASE BRING CARRIER BILLING TO INDIA!

This has to happen. I want to buy Aeries :D

Finally. But im on Smart. But of course they will follow the train.

I don't think so. The only Lumia they have in their online portfolio is the 532. But hey, I may be wrong, :)

How about the people that are using prepaid sim? Not all of us can afford postpaid sim. It will only add one more for my monthly bills.

Did you read Ms. Go's statement?

you can re-read the article :)

Both prepaid and postpaid, Globe and Touch Mobile is supported.

Read the article again. You will be able to charge your prepaid account, however, you'll need to have the funds already available before you can charge something to your account.

Its not available in the store just yet. I checked and there's no globe payment option

We need it in Bangladesh desperatly!!

Indian providers please......buck up!

Tata DoCoMo India.... Are you sleeping.....?

I guess they are waiting for NTT DoCoMo to have a Windows Phone first before they do the same. hehe

Even prepaid subscribers can enjoy this.

Idea cellular has this feature in India, I have a dual sim 730 and use the idea sim only for this purpose

How about Smart Telco? Any news?

Great for Pinoys back home. Now for us here in Saudi Arabia, haist... Ok... I better enrol my credit card so I can finally purchase an app.

Nice! I read this today on newspaper - Inquirer and I was happy. Funny thing is that I'm on the other network (Smart). Maybe time to get another phone with Globe to take advantage of this. Hope Windows Mobile 10 gets more users. Mabuhay!

Globe all the way. Thanks

Hooo emmm geee... So no need for amex virtual credit card already. Thank you Globe:D

I hope Globe will also carry flagship phones. If my memory serves right, they didn't even carry any of the flagships (920,1020,930,1520, etc).

Thats right! they only have the mid-low enders while having Samsung Edge. Boo! :)

I'm due an upgrade since February and I will gladly upgrade if they offer flagship Windows phones.

yay! pwede na kong bumili ng app using my prepaid load!!!

They don't even offer WP handsets anymore. I hope they'll get the Windows Mobile 10 ones. My contract with them will expire soon.

They actually offer the Lumia 735 LTE as well as a couple of low-end Lumia phones. They just don't advertise it. They push the Samsungs and the iPhones because these companies KNOWS how to MARKET their phones. But you can ask the reps in their business offices and they will tell you they do.

And while we're at it, there will be a Microsoft Store in SM North EDSA soon!

Vodafone hope you are listening! :)

This is a joke! Globe doesn't even offer any Windows Phones! Neither does Smart. After 10 years of hassle with Globe I switched to Smart last year. But either way, you get a free iPhone or Samsung only. You need to buy your Lumia through the Nokia/MS stores.

they do offer windows phones but the lowend ones. I got the Lumia 625 thru their contract. they are also showcasing 535 on their stores

I think I made a right decision by choosing Globe as my postpaid. I'm currently rocking a 1520. But it's too late, I have already signed in for their VirtualPay... :( my only gripes on this network is their inconsistent internet speed... :)

I tried using my globe prepaid to purchase but it didn't work.. whenever I clicked buy, it shows an error msg - "Can't Connect. We're having trouble connecting to store right now. Try again in a little while." :(

Now it works, I just need to turn on my mobile data connection. :)

Ito rin lumalabas sakin pag bibili ako Ng games... I'm using WiFi connection... Need b tlga n on ung mobile data?

how?pls help Posted via the Windows Central App for Android

Same question here. And, do i need to set my phone region to Philippines first? Or is it okay to use US region?