Gameloft's next huge game pits the Gods of Rome in all-out battle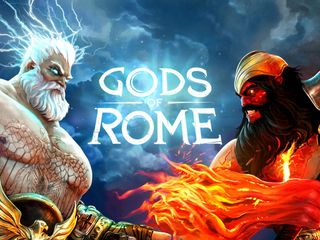 Gameloft has announced its next major mobile game title, and it's in the fighting genre that pits members of Roman mythology against one another. The game, called Gods of Rome, will be released for iOS, Android and Windows platforms.
Here's a quick breakdown of the game:
"Lead the world's mightiest warriors in the fight against an ancient evil that threatens to enslave their souls! Gods of Rome is an epic game set in an age of myth and legend that shows you exactly what your mobile device is capable of."
Stunning next-gen 3D graphics and art
Intuitive tap & swipe controls
Summon the world's greatest warriors
Fight to BECOME A LEGEND
Interested players can pre-register at the official Gods of Rome website so they can unlock some rewards when the game is released, including characters like Spartacus, Atlas and Zeus. Gameloft has yet to announce a specific release date for Gods of Rome.
Source: Gods of Rome
Yeah... No thank u GL! Why not freekin support OAC2 more first. Money grubbers.

Yeah and not the fact it's a cheap ass rip off of smite. Lack of imagination douchebags....

This is not a rip off of smite. Literally nothing like smite. If anything its a rip off of marvel contest of champions. Only thing this game has in common with smite is God's lol. Incredibly stupid comment.

Can't wait for solid WP support after release! Oh wait...

I've been happy with their March of Empires game. I still feel like they are giving better Windows phone support than many, which is appreciated. My exposure may be limited, however.

I love this game, it like God of war.

But I don't so much like game that need internet connection, and I hope not. But so much enjoy my dungeon hunter 5

Yes gameloft has been good to WP lately, they keep dragon mania legends up to date with other platforms. And it's one of the best games there in my opinion

Gameloft always give WP a good support.

No it doesn't. The windows phone version of the gameloft game pastry paradise has 120 levels. Hasn't been updated with new levels since early 2015. The android and ios versions have 300 levels.

That's just the crust of things :P

About that support...play dungeon hunter 5 if you can. Worse game experience ever.

I play it on ipad... Oops

Hopefully,this will lead to other fighting games like this, such as the Marvel game recently.

If your thinking of Contest of Champions, then I'd look elsewhere as Kabam doesn't see windows as a platform that can house it's AAA titles. This game does look very similar to CoC tbh.

They give good support with alot knock off games lol that are freemium. No thanks.

When I play a king game (candy crush or candy crush soda) on my windows phone there is an obvious way to back up my progress. With gameloft game pastry paradise I have no idea how to back up my progress. The lack of new levels on windows phone pastry paradise that are available on other platforms coupled with having no idea how to back up my progress makes me reluctant to try another gameloft game.

Once again Gameloft, fails to impress.
They are the worst gaming developer out there. Their in app purchases, for their games are always much to expensive. They hurt the gaming industry, buy using this antiquated system.
Also they can't even setup the game properly.
They're mixing Greek mythology with Roman mythology. Get it right will you!
Rename the game.
Gods of Mythology.
This way they screw up any mythology. WAY TO GO GAMELOFT

Awhhhhh yeah Clash of the Togas... Pass

Hey Gameloft
Van you please put some if your sports games on windows phone

God of Rome or gods of Greece?

My thoughts exactly when I saw "Zeus" lol

at least they are releasing games for this platform

Seems like Gameloft's version of Injustice... With Gods for fighters. Posted via the Windows Central App
Windows Central Newsletter
Get the best of Windows Central in in your inbox, every day!
Thank you for signing up to Windows Central. You will receive a verification email shortly.
There was a problem. Please refresh the page and try again.