Grand Theft Auto: San Andreas getting Xbox 360 re-release on October 26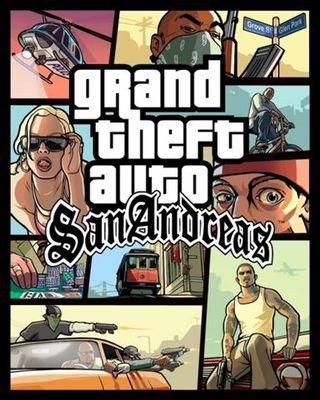 Grand Theft Auto: San Andreas is being re-released on the Xbox 360 on October 26. The open world action game was released on the first Xbox in 2004, making its way to the 360 as an Xbox Original. This new release will have some enhancements, including better graphics and achievement support.
San Andreas on the 360 will feature 720p resolution and better draw distance, rendering far-away landmarks and objects better. It will also have 33 achievements, including 11 secret achievements. San Andreas will be a part of Games on Demand on Xbox Live.
This new release will be completely separated from the Xbox Originals version. Saves will not transfer between the two. Owners of the Xbox Originals version of San Andreas will still be able to access it, in addition to downloading the Games on Demand release.
Will you be getting the Games on Demand version of Grand Theft Auto: San Andreas? Let us know in the comments.
Source: Rockstar
hope its less then $6.99.

Agreed. They'll milk it I'm sure. It's awesome how popular this game really is.

I hope its free for people who already purchased the original Xbox version from games on demand..at least discounted hopefully

Probably $20 and that will be to much

No, that's a fair price for such a huge and fantastic game.

But why are they re releasing it if they have already released gta iv and gta v

Because San Andreas, GTA 4, and GTA 5 are all significantly different from each other. Some people like San Andreas better than the others. I like GTA 4's story best but I think San Andreas has the most fun gameplay.

All you have to do is to follow that damn train CJ!

You can't stop me! You buster named Carl! Lmao classic

Omg one the worst missions ever challenging yet easy but challenging lol catch 22

Um... There is/was a need/market for this release? Seems like a waste... Especially if saves are non transferable...

I dont know .. Most People playing The pc Version though :D or ps2

Makes sense saves aren't. Since they've incorporated achievements.

Its the 10th anniversary for the game ... San Andreas is the best selling game of all time on Playstation 2

@IceDree I'm not trying to downplay how epic the games is...but with the push from MS for their XBOne next Gen, and V... Plus what @BertramHein said... O oh well, to each his own, no doubt those that buy it will enjoy...

Pretty pointless release, agreed. Just get it on PC if you want to buff San Andreas.

PC version doesn't have Xbox achievements.

Yeah it's the 10th anniversary edition release after gta3 and vice city's 10th anniversary

Multiplayer mod available??

Haha! There's a multiplayer mod for PC called San Andreas multiplayer

What can we do with san Andreas multiplayer

Play multiplayer lol.. Deathmatches, role plays, stunts etc. There are many servers to choose from. Some are boring, some are good.

Bow chicka bow wow... Haha still have it for my ps2 :3

Brown chicken brown cow. ;) ​

I never played this series really. I want to give it a go

San Andreas is a great place to start!

Booo. Xbox One please, mr. Microsoft.

Sweetttt! Playing the Mobile version on my Surface & talking about it on Twitter with a friend as I type this.
I really want to get it, but I got the Xbox Originals & I couldn't play it because it was region locked :(

Why are they putting it on the 360? I thought MS just made a new console called the Xbox One......

Because everyone bought a ps4 and they still have their old 360s lying around.

LOL +this is epic #truth!!!

Now they just need to add acheivements to the Windows Phone and Windows 8 versions and i'll have to play it 3 times.

Here I was thinking the WP / W8.x version was getting an update...

So if you buy once can you play it across all your devices?

If they're all Xbox 360s, then yes.

Who wants to pay again when you can play it on your Windows phone with Miracast and streaming it to a TV.

U gna have to pay for better graphics as they said on the article

I'm not positive because I haven't played GTA 5 but I heard it is basically a remake of San Andreas with a different story. Why have 3 versions of San Andreas for Xbox 360?

You heard wrong. It takes place if an a fictious California setting like San Andreas, but it's in no way "a remake".

GTA V is the best one so far IMO. You can't compare the two. San Andreas came out 2 generations ago. There's obviously new tech in 5 that wasn't possible back then.

Well yeah they are exactly the same in the sense that there's a protagonist who does stuff and there are vehicles and it's set in a world and happens over a period of time ;)

It'll be great if they release it on wp #LOL

Yesss!!! Best / funnest game to ever land on PS2

I'm just waiting on the GTA V PC version. San Andreas? I have this one on my 1520 and my Surface 2

Meh, their milking it a bit, and why 360? Why not release it on the One instead?

Because most people have yet to switch to the one fully or just don't have the one yet. I think by the time Christmas rolls around though, alot more people will have the one. IMO.

It gives people less of a reason to switch across though, oh well, not my problem.

Meh. At this point SA is so cheap elsewhere or you could borrow it from a friend so I'd hope they'd incorporate PC mods like superman or whatever. Why would I want to play the exact game I already own? I'm still waiting for GTA V DLC.

We don't have gta sand Andreas on windowsphone. do we ?

Yup sure do. Came out a few months ago

Great idea instead of working on and releasing heists for our current game lets, put out an old game!

Wouldn't a Xbox one release be more logical?

I have played and completed it like for 10 times and for just improved graphics I won't be playing it.

I played San Andreas back when it first came out but never beat it. I don't actually own an Xbox 360 since I thought it was redundant because I have a gaming PC. Nevertheless, I do plan on getting an Xbox one eventually. I would love to see an Xbox one port of this classic. It's available on steam but it doesn't have proper gamepad support which is not ideal. I think I'll probably buy it for PS3 which I'll keep around for a while.

Awww. Rockstar should have released "Grand Theft Auto III," "Vice City" and "San Andreas" along with the portable games as one HD re-mastered collection for the One/360. I guarantee that it would've been a top seller.

Any publisher who still releases games for old consoles should be put against the wall. Why isn't this an Xbox One release????

Lol I have this on my android

HD upgrade ? I guess i will have to see how well the HD looks on it. Dont get me wrong, epic game, no question but the graphics of the original is just too dated for me now... And the fact of the matter that I did 100% on it on the PC when it was first released

Yes I will!! Die-hard GTA player here!! :DD

How about sorting it out on steam, so that the 360 controller works without any work arounds???? Otherwise, great game!

Please make it free download
Windows Central Newsletter
Get the best of Windows Central in in your inbox, every day!
Thank you for signing up to Windows Central. You will receive a verification email shortly.
There was a problem. Please refresh the page and try again.