The great Virtual Reality buyer's guide
Pick the experience that best suits your needs.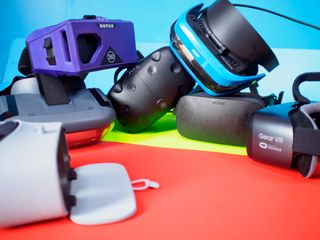 Don't let this secret slip out, but there's actually no such thing as "the best VR headset" right now! There are new things in hardware and software being built almost every week, and while it's easy to look at the newest or shiniest thing and slap a blue ribbon on it there's a lot more going on.
At the same time, there are a lot of folks eager to try VR or AR and want to know where to best spend money, and we're here to help. This guide contains all of the most compelling strengths for each of the headsets you can buy today, as well as links to our ultimate guide to getting the most out of those experiences.
Ready? Here we go!
The Most Immersive VR Headset — HTC Vive
HTC Vive for Room-Scale immersion See at Amazon
If you want to really feel like you're in another place while enjoying VR, you want to check out an HTC Vive. The headset, and nearly every app and game for it, has been designed for room-scale interactions. That means every step you take in the real world is a step in the virtual world, and when you reach out your arms while holding the included Vive controllers, you can interact with anything in that world as though it were real.
HTC Vive can also be upgraded to support wireless movement in your VR environment, and through special tracker accessories you can pick up real-world things and use them in VR games. Nothing else comes close to this level of immersion right now, so if you want it to feel more real this is where you start.
Check out our Ultimate Guide to HTC Vive for more!
The Most Comfortable VR Headset — PlayStation VR
PlayStation VR for long-term comfort See at Amazon
Where many VR headsets involve elastic straps which tightly press lenses against your face so you're completely immersed in the experience, Sony's solution is a great deal more elegant. PlayStation VR is designed to cradle the top of your head and hang the display over your forehead to your eyes. This design keeps pressure off of your face entirely, which makes it much easier to enjoy VR for much longer than.
If you're already sold on VR, but you're looking for the most comfortable way to game, Sony's PlayStation VR is it. The headset is sturdy and fits every head much faster and easier than the competition. It's a well-designed system, one that is slowly being adopted by the competition.
We've got everything you need to know about PlayStation VR in our Ultimate Guide!
The Most iPhone-friendly VR headset — Merge VR
Merge VR for iPhone-friendly design See at Amazon
You can use your iPhone in a lot of different VR headsets, but almost all of them are built around the standard Google Cardboard design. That means they're simple, and materials are usually a little on the cheap side. Merge VR stands out not just because it's bright purple, but because the headset is made of a super durable foam and the whole headset is built to be adjusted to your specific needs.
It's a solid headset, but Merge has plans for much more than just a container to put your iPhone in when it's time to look at fun photos. Merge also has an Augmented Reality accessory called the Cube, which allows you to do a lot of very interesting things with your iPhone for very little extra cash. The bottom line here — if you want a great VR headset for your iPhone you want a Merge headset.
Looking for some great apps to go with your VR headset? These free VR apps for your iPhone will get you started!
The Most Android-friendly VR headset — Daydream View (2017)
Daydream View for Android-friendly design See at Google
There are a ton of VR headsets out there with support for Android phones, but Daydream View is by far the most interesting. On top of being ridiculously comfortable compared to just about everything else, it's the first mobile VR headset with a heat-sink built in. This means you can play for longer and not worry about your phone getting warm, which is great for tons of different games and apps.
Google Daydream works with most of the best phones running Android today, but not every Android phone. This is built on creating a great experience, and some display technologies don't work well with that concept yet. As long as your phone works with Daydream, you'll be able to enjoy hundreds of movies and games all from inside this comfortable little headset.
Be sure to check and see if your phone works with Daydream before buying!
The Best Headset for Windows Mixed Reality — Dell Visor
Dell Visor with Controllers See at Dell
Microsoft has many partners for Windows Mixed Reality hardware right now, but the most compelling option you can buy right now comes from Dell. While this headset meets all of the same basic headset requirements from Microsoft, Dell went out of its way to make sure the Video was extra comfortable to wear for extended periods of time. The added padding around the "halo" head strap is designed to handle sweat and more evenly distribute the weight of the headset, making it ideal for extended gaming sessions.
The Dell Visor also does a great job standing out in the Mixed Reality crowd with its design. Not only is it it the only Windows Mixed Reality headset that isn't some shade of grey or black, the whole design is clean lines and curves. It looks nice resting on a desk, and it's a clean look when it's on your face. Plus, when paired with the Windows Mixed Reality controllers the $449.99 price tag won't break the bank.
Check out more of our Windows Mixed Reality coverage here!
The Best Headset for Augmented Reality — Star Wars: Jedi Challenges (Lenovo Mirage)
Star Wars: Jedi Challenges Lenovo Mirage See at Best Buy
Lenovo and Disney teamed up for an excellent series of Augmented Reality games where you get to pick up and authentic-feeling lightsaber and battle the best villains in the Galaxy. Best of all, these games live inside the Lenovo Mirage AR headset. This means you can see the real world the whole time you game, making this hands-down the most exciting AR experience you can get today.
Star Wars: Jedi Challenges currently includes three amazing game modes. You can fight in lightsaber duels, command armies in big Galactic battles, or sit down to a game of HoloChess. It's the best Star Wars experience you can buy today, and this headset works with just about every phone made in the last couple of years. Not bad for $200!
Check out our full review of the Star Wars: Jedi Challenges experience!
The VR Headsets With The Best Games — Oculus Rift with Touch
Oculus Rift with Touch Controllers See at Amazon
The explosive popularity of its Kickstarter campaign, followed immediately by being bought by Facebook, put Oculus in a position to make a lot of incredible deals for upcoming games. This means many of the best VR games either come to Oculus Rift first or are exclusive to the platform entirely. Oculus doesn't have a single "best" game, but a spectrum of incredible experiences that are currently best enjoyed through the Rift headset with Touch controllers.
If your goal is to enjoy some incredible VR games, Oculus is going to have a lot of unique and amazing things for you to try first for quite a while. Everything from shooters to adventure games and no shortage of art and music experiences as well. Plain and simple, Oculus Rift has the best games.
Our Ultimate Guide to Oculus Rift is all you need to have the best time in VR!
The VR Headset With The Best Value — Samsung Gear VR
Samsung Gear VR the best value in VR See at Amazon
It only plays nice with Samsung's best phones, but the Gear VR has access to hundreds of unique games and dozens of experiences you can only find on this headset. Samsung and Oculus have worked together to create a portable entertainment system entirely in VR, something you can drop your phone in and disappear into another world for hours if you choose. And now, with the included Gear VR Controller, many of these experiences can be enjoyed through the convenience of a motion controller.
The things that really sell the Gear VR are its pricing and availability. You can try out a Gear VR just about anywhere Samsung phones are sold, and the headset is a fairly inexpensive add-on when buying the phone. It's a value you can't get with any other phone, and its also a great VR experience on top of that. If you own a new Samsung phone, the Gear VR is an obvious choice for VR experiences.
Make sure you get the most out of your Gear VR with our Ultimate Guide!
Updated January 22, 2018: This guide has been updated with all of the latest options for every kind of VR user!
Get the Windows Central Newsletter
All the latest news, reviews, and guides for Windows and Xbox diehards.
Russell is a tech nerd who chases the best of everything, from phones to game consoles to laptops and everything glowing or beeping. He's the Managing Editor of gaming content for Mobile Nations and can be found contributing to all of the Mobile Nations sites. Reach out on Twitter!