GTA V hits Xbox Series X, PS5 this November with new features and enhancements
Get ready for those next-gen (current-gen?) enhancements.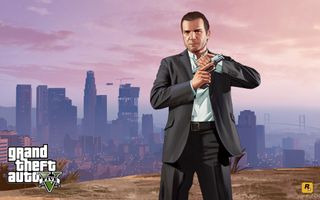 (Image credit: Rockstar Games)
What you need to know
Rockstar has revealed that GTA V is coming to Xbox Series X and Xbox Series S on November 11, 2021.
The standalone version of GTA Online will release on the same day.
This summer's GTA Online updates are set to include special benefits for players to incentivize them to purchase the enhanced versions on Xbox Series X and S.
Rockstar has not fully detailed the enhancements and new features that GTA V will receive.
We knew GTA V was coming to Xbox Series X and Xbox Series S at some point, but now we finally have a date. Rockstar has revealed that it and GTA Online will come to Microsoft's newest consoles on November 11, 2021 with new features and enhancements in tow.
Rockstar hasn't detailed the exact enhancements that it will receive, but it did previously say (via Polygon) that it will feature "a range of technical improvements, visual upgrades and performance enhancements to take full advantage of the console's powerful new hardware, making the game more beautiful and more responsive than ever." Knowing what the Xbox Series X is capable of, GTA V should look absolutely stunning, and run just as well.
Unfortunately for Xbox players, only those on PS5 can access GTA Online for free during the first three months. PS Plus members on PS4 also get GTA$1,000,000 every month until its launch on PS5. No such offer is being made on Xbox.
The company also teased that it has some fun surprises in store for fans to celebrate the 20th anniversary of Grand Theft Auto III, and the weeks ahead will be filled with even more news and updates.
Initially released on the PS3 and Xbox 360, GTA V is one of the best-selling games of all-time, crossing 140 million sales as of February 2021. It's one of the best Xbox games to ever come out, and Rockstar clearly sees more potential in it.
Windows Central Newsletter
Get the best of Windows Central in in your inbox, every day!
Jennifer Locke has been playing video games nearly her entire life, and is very happy Xbox is growing a stronger first-party portfolio. You can find her obsessing over Star Wars and other geeky things on Twitter @JenLocke95.
How is this allowed? I thought Microsoft's policy was that devs could not sell Series X|S versions of games separately from One versions. They had to be offered as Smart Delivery upgrades or completely new titles.

Nope, it's far from the case. Titles like Call of Duty and FIFA had already broken away and delivered paid updates/detached Series X|S versions in 2020. Seems to the same case here.

It's not mandatory, it's up to the developers. They can sell them as two 'different' games, something like a pseudo-remaster. For example, see Control ultimate edition.

No, they gave the TOOLS for publishers and devs to provide these patches for free, but they weren't forcing anyone to do anything. We all knew that greedy publishers like Take 2 would do this. I actually expected more price gouging from EA too.

I already paid for this game twice, once for my 360, and again for my One. Not a third time for my Series X. Are they mad?

Is this not a Smart Delivery game? Does that mean I have to buy GTA again to play enhanced features? Is this just like the move from 360 to Xbox One? I've already bought this game 3 times, on PC, on 360 and Xbox One do they expect me to buy it again? A marginal upgrade fee is one thing, buying again at full price is something completely different. I hope they don't pull an Activision.

Yes you have to buy it again another separate edition listing there not using smart delivery, consider it a enhanced port you have to buy in

No FiveM mod, which breathes brand new life in to 8 year old game, that everyone has already played, though... FiveM is currently the no.1 most watched game on Twitch for past 5 months, and will continue to be with every NoPixel release, as all the biggest streamers are heavily invested in it; XQC averages 100,000+ viewers watching him play GTA FiveM.
Consoles will never get it, because they are closed platforms. PC will always be a better platform for RP servers, and gaming in general.
Windows Central Newsletter
Thank you for signing up to Windows Central. You will receive a verification email shortly.
There was a problem. Please refresh the page and try again.