Grand Theft Auto V for Xbox One now available for digital preorder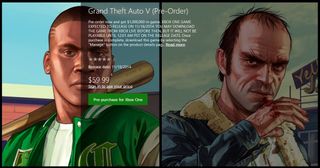 The enhanced version of Grand Theft Auto V for Xbox One and Playstation 4 looms near. It launches next week, in fact. Fans of open-world games and crime dramas have likely placed their preorders by now, with the promise of one million in-game bonus cash sweetening the deal. But so far those preorders have only been available through retail, not the online Xbox store.
Today Rockstar and Microsoft have rectified the situation. You can now hop onto Xbox.com or your Xbox One and digitally preorder Grand Theft Auto V. The download costs $59.99 in the US, the same price as the retail version. Digital preorders include the in-game bonus cash and allow pre-installation of the game so that it will immediately be playable on November 18. Read on for quick game details and preorder link!
Welcome to GTA V
The fifth numbered Grand Theft Auto features a sprawling campaign and a sprawling online mode known as GTA Online. The campaign stars three protagonists: Michael De Santa, Trevor Philips and Franklin Clinton. All three are criminals who engage in a number of seedy activities, and their stories will intersect as the game unfolds. Players can switch between the main characters at any time outside of a mission, and some missions will involve the entire trio.
As for GTA Online, the multiplayer mode places 30 players (up from 16 on Xbox 360) in a shared open world. From there, each can participate in missions and races in order to accumulate wealth, purchase a home and vehicles, and unlock new content. Online players who attack others will eventually be open to attack with impunity, creating an incentive to play cooperatively instead of antagonistically.
The Xbox One version of Grand Theft Auto V will reward gamers who played the Xbox 360 and Playstation 3 versions with bonus content like new vehicles and activities. The entire game has been revamped with remastered graphics, a first-person mode, denser traffic and crowds, enhanced damage and weather, and over 100 new songs and mixes on the in-game radio stations.
Are you guys picking up GTA V on Xbox One? If so, will you go with retail or digital? Digital all the way for me.
Get the Windows Central Newsletter
All the latest news, reviews, and guides for Windows and Xbox diehards.
Paul Acevedo is the Games Editor at Windows Central. A lifelong gamer, he has written about videogames for over 15 years and reviewed over 350 games for our site. Follow him on Twitter @PaulRAcevedo. Don't hate. Appreciate!
Thinking about it, just got an email from MSFT sweetening the deal by adding a $15 credit with XBox Live Rewards.

actually just got that. I was confused if it was 15,000 rewards credit worth $15 dollars or are we geting both?

You get $10 and 15K Reward credits if preordering the physical version through the Microsoft Store. Shame they don't offer those bonuses on the digital preorder!

welp after 2 hrs of procrastinating.. i missed out. sold out already.

Actually you only get one or the other. If you sign in with your rewards info you don't get the $10 also. Says so right in the email.
"Xbox Live Rewards members qualifying for the Offer will not also qualify for the $10 Xbox Gift Card promoted on http://Microsoftstore.com."

Bought and downloading. The attention to detail in GTA is unmatched by any game

Waiting for hard copy, will be easier to sell or trade-in.

How big will the pre order download be I've only got a 5 meg connection

42.4GB as it is now. I don't think there'll be any patches before release, so it should be the final size!

What if I have a x360 version, is there a voucher to swap it out for Xbone??

No, but you get in-game bonuses for having played the old version.

Which is not that great an inceito sway me. Would have preferred discount.

To expensive for a game I played last year

Pretty cool but I've never been a die hard fan of GTA though. Weirdly,I liked just cause and driver(driver 3 and driver san Francisco) more.
But I have never watched GTA V live or streamed before.Any plans,Paul? ;)

I wasn't a huge fan of GTA game either, but after playing through GTA V, it quickly became a big contender for the best video game ever made.

That's how I feel about every GTA when it comes out. It delivers on story, environment, gameplay, variety. Just a great, engaging series of games that allow you to enjoy it for a long time without really getting bored.

If I get it, I'll probably stream it. I think Richard Devine will be reviewing it for our site though. :)

The story though isnt as good as vice city or san andreas. Not enough movie references. Even gta4 was forgettable.

If you like Driver (especially early Driver) then you may want to check out The Crew.

Such a great game but I don't think its worth buying again just for better graphics, more cars, weapons, animals, traffic, and a first person mode. I beat the PS3 version to 100% completion, I've put in enough time.

Download? No way as long as there's no opportunity to sell or give away the copy!!

Can you change the date and time on Xbox one to play it immediately or does it rely on internet time servers?

If you set your date/time to November 18, you should be able to play it right now.

No, it's locked to the store you buy it from. You can't play it until that store releases a small update to the game that makes it playable. Nothing to do with the time and date on your console.

Lol probably internet time servers would be nice though

GTA V pretty much the best game ever in my book.

FINALLY I am going all digital on my XB1 & actually got MS to give me digital copies of my launch day titles that I had purchased.

Ordered. Digital of course

Retail for me Gamestop Power up rewards pro member

I'm getting it. Going all digital.

Haven't had the best of luck with some digital downloads (COD:Ghosts and NBA 2K14) so I preordered the physical disc instead. If anything goes wrong with the game reinstalling from the disc is just easier.

Is the pc version releasing too? From what I know, the pc version was supposed to release somewhere in Jan 2015

PC release date is January 27th, 2015 if I recall correctly. This is the digital download for XBOX and PS.

I hope the retail PC version will include DVDs. Don't want to have to download this big of a game; already downloaded the 50GB NBA 2k15 and it's just far less convenient than purchasing from a brick & mortar store. Plus, I'm screwed if I ever have to clean install my computer.

Anyone know if you can preorder the PC version (for January of course) and get the $1,000,000 in game cash?

Meh, this game lost its luster on 360 and I'm afraid the new features aren't enough to make me want to buy it on Xbox one. They slowly killed GTA online, with bogus patches and never releasing the heists.

Bout time, pre loading as we speak.

30 players online for Xbox One, not 16.