Hands on with Windows 10 build 15002 showcasing new features and improvements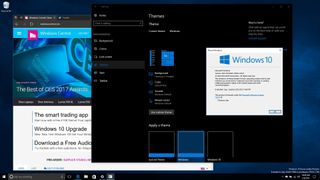 Windows 10 Build 15002 is the first official Windows Insider release for 2017 and it doesn't disappoint. With new features showing up all over the place, build 15002 gives us our first proper look at what the Creators Update will include when it rolls out in a few months. Not only that, but considering this build has a number of new features, there are several new bugs to take not of as well.
Because of that, we thought it'd be a good idea to compile a walkthrough video showcasing all the noteworthy changes in action so you don't have to go through the hassle of installing this build yourself. This build includes improvements to Start, Edge, Settings, Personalization and a whole lot more.
There's much more to this build that we'll be covering in-depth shortly, so stay tuned to Windows Central for that. In the meantime, if there's any smaller changes you've noticed and you want to share them with us, let us know in the comments and we'll include them in our next walkthrough video!
Get the Windows Central Newsletter
All the latest news, reviews, and guides for Windows and Xbox diehards.
Zac Bowden is a Senior Editor at Windows Central. Bringing you exclusive coverage into the world of Windows on PCs, tablets, phones, and more. Also an avid collector of rare Microsoft prototype devices! Keep in touch on Twitter: @zacbowden.
A few things I've noticed in this build*:
- in the volume control on the taskbar, there is a new "spatial sound" option.
- selecting playback devices, then configure, spatial audio is now an option (at least for headphones and built in speakers)
- Windows Holographic runs further and I get a prompt to make sure I have an HMD connected. Connect a HoloLens via USB does nothing to change this (wouldn't expect it to since HL is stand alone). It no longer faults the USB as not being 3.0 (it is) and takes me to a scene with floating diamonds and landscape/stairs. *may have been like this in the prior build but I just noticed Tested on Surface Pro 4 i7. Would like to test Oculus Rift to see if it takes me into Holographic Shell but only my desktop runs VR and I won't risk insider build.

Nice catch! If you ever tested Oculus Rift, let us know (and tip it to WC guys) especially if its also capable for gaming purposes and if you can able to use the Vive Controllers. Just a tip, you can install Insider Build on same machine if you have another partition. If not then its too many hassle and time.

Even easier then creating another partition, just create a quick 100 gig VHD and install the OS on there. Once done go to msconfig and remove the test os from the boot tab and delete the VHD.

Thank you! I didn't even thought about this before. This is going to be really handy for testing purposes. :D Why you don't have many upvotes? XD

Yeah it works pretty good. Only issue/downside is the new build update process does not work so you need to use an ISO image to update to new builds.

Is there a place with a little more detailed instructions on how to do this? I'd like to give it a try.

Sorry to forgot to provide a link. Here it is: http://www.techrepublic.com/blog/windows-and-office/dual-boot-windows-7-... I have to test it out too with this method.

http://www.zdnet.com/blog/bott/how-to-use-a-vhd-to-dual-boot-windows-8-o.... These are the steps I follow

I'm new to windows , how can I tell which version of this os have I installed on my PC? I'm not an insider by the way.

Settings -> System -> About -> OS Build

Right-click on the START button on the bottom left corner of your screen. Select SYSTEM. There you go.

in Search box type winver

Hit the Windows key, type "About" and hit enter. (Let the down votes begin)

Windows key+R > type "winver" without the quotes > Enter key.

Also notice fading\disappearing scroll bar in this build(UWP APPS). Is that something new? I haven't use the last couple insider builds because of signing in to google services didn't work.

Disappearing scroll bar has been there since Windows 8. I know, because I hate it.

I'm thrilled the Photos app is working again!

What's new share keyboard shorcut, it was Win+H?

Windows Hello still broke. RealSense cam inop in 3D mode.

Finally the Tab/Session management is here. The question is (if I ever missed) is where is the Tab syncing though or if it actually syncs to another Windows 10 with same build? This is important especially that this functionality is been missing since first introduction to Edge while IE and most other modern web browser have this feature as a standard these days. It's sad that we don't have W10M new builds which could take advantage of Tab syncing (if it ever come this Creatorss Update" on W10M). Gladly that they fix that long-time UI render issue when resizing a window. They also mentioned they fixed it even for UWP/RT apps which sadly not on the video demo. Hopefully, there is still more UI polish and "completeness" to come especially Task View still missing sliding animation when hovering nor clicking the desktop thumbnails. On tablet mode, Task View still possess the disjoint feeling of fade animation instead of same zoom animation on desktop mode.

Edge has always done this through your Windows live id. My bookmarks are even synced on my Xbox. Just log in with your email and password any time u use Windows and boom everything syncs.

Yes on bookmarks and Reading List, I knew this for ages. Tab syncing is not at all, there is no menu or anything that allows you to open Tab or session from another Windows 10 device in Edge. I already use MSA Since Windows Live days integration to Windows 7. This is why my comment about the concern the missing functionality of Edge that kept not being implemented since it's inception, especially when it replaces IE that does have one and other web browser essential features.

Can you drag to resize the window from the left margin? That's the real issue

Dragging from the left edge of a window resizes it to be wider on the left side.

You are right, but under the hood, the windows keeps just the coordination of the top-left corner and the size of the window. Resizing from the left, windows has to resize the window from right and move it to the left. That's why resising from the left it's a bigger issue than resising from right. (and right now it has an even worst 'animation')

Edge is broken. Most pages indicate as "not responding".0I left feedback. Already some posts in the hub, so it's being experienced by others.

having that here and not installed 15002 yet. most perculiar.

Interesting, I have to use Edge further to check if I get similar issue. My most obvious issue with Edge is some websites kept freezing the tab or the whole browser. Though some related issue is connected to ad heavy sites, but the fact other web browser works just fine without ad blocker indicates there is still a underlying performance issue with Edge. Here in Windows Central and other Mobile Nation sites, the comment system cause the Edge to keep refreshing the tab which doesn't happen on other web browser including IE.

Edge is great for HD video playback on older machines. That's it.

Totally broken on my testbed laptop. Device Manager had several duplicate entries for quite a few different devices which was taking too many resources to allow other devices to work. Rolling back now.

Had to rollback to 14986 due too many GSOD after login!

Im having to rollback too. Start menu doesn't work and no UWP apps will launch - including settings.

Did you try a Refresh first?

Yup that didn't work. I ran DISM, I ran the start menu troubleshooter, tried reinstalling packages, scf...so many other things...If it weren't for a post I found on here I would be back on the previous release. The thing that did the trick for me was to disconnect my external monitors and then reconnect. That made the difference. Before, I couldn't run uwp apps and the taskbar was frozen...

Hmmm....Maybe Edge will be usefull.... Neat features even tho I wont touch it till released... Nothing but problems with Edge...

This is the first build that failed for me. During the install it was on "Getting things Ready" screen for a good 40+ minutes . When the OS finally finished and the desktop loaded up the system was broken. The taskbar showed no icons, couldn't run the start menu, windows+? and other shortcuts failed, right clicking the desktop - display settings brought message "settings cannot run". Even after a clean reboot or a safe mode and sfc & dism scans nothing changed. Had to revert back. My current installation has nothing special that I would think it would affect the install. At least, nothing that they probably haven't tested internally. I will try it again later. But, still a little disappointed that I wont' be able to play with all these new features for a while.

I bet they love it when they get feedback on known issues. I know I would! That said, I would love it if I didn't have 5000 duplicates of my favorites.

Whats weird. I was having issues with my action center and with my start menu after I installed 15002. I rolled back to my previous windows preview build and reinstalled 15002 now my action center works fine

This has been on-going for as long as I can remember. I've built and rebuilt machines. It has something to do with synchronization.

My issue is rather different but related. Sometimes it won't synced at all which leave some items missing to each device. Duplication do happens but rarely on my case. This seriously need fixing which kinda wonder if they actually even noticed to themselves personally that the some other issues seems ignored.

With all of the issues people are having with 15002, I wouldn't expect a new mobile build this week.

Likely, especially that it said we will have a feature locked by this month. I'm afraid we won't have anything significant on W10M. Redstone 2 is really minor in comparison to RS1 and "focus on mobile" is indeed moot.

By focus on mobile it seems they are only improving Continuum. But who knows. We'll get Edge 15, maybe project Neon, apps will continue to get updated, blue light reduction, maybe a Cortana look refresh. I'll apreciate all those features.

The one thing I am really excited about on mobile are some of the new back end tech improvements to Edge (improvement to web element response, etc)

Yes, Action Center also DOA. No highlights of what is enabled and no selection of anything allowed. Like it's just grayed out and dead.

Update: Edge has started to work again without crashing tabs, etc. Maybe it needed to soak in a bit. Action Center still dead and grey.

Hello, I'm using Nokia Lumia 925 win8 version I need to update it to win 10 help me to update my phone I tried through windows insider but couldn't find any update...

Older phones aren't supported by Windows 10 Mobile anymore. I don't know why you would want to install W10M on a 925 anyway because it wouldn't work very well.

L820 works actually decent on RS2.

Initially wanted RS1 but decided to be adventurous.

You cannot, those phones aren't compatible. You can hack it tho.

You need to hack it. Check on XDA

Sorry but x20 series except for 1520 isn't supported anymore for W10M. You can install up to TH build but that's it, end of the line. We don't recommend to install newer W10M builds unless you really want to do just for the sake of experimentation, which can be fun. Practically, avoid W10M on those devices which even us with supported devices are having a problems.

L925 ran better on RS1 than TH2 actually.

The changes are good. But I have problems with the taskbar being unusable. The only workaround I found was to unplug and plug again my external monitor. Also HTML5 video playback gaves me GSOD. Workaround for YouTube was to use apps like myTube. Also the are no longer glitches when resizing but it's slower. Hopefully the fix those things soon.

THIS HELPED ME TREMENDOUSLY

It seems this build is a bug-fest. I haven't installed the build but I'm 50/50 at the moment. Though since that feature locking is imminent, I think I'll just have to. My Insider builds anyways are on separate partition, so I can simply nuke it out when everything goes wrong. Expect bug bash after this and the rest of the months before the supposed release date to be but fixing and hopefully polish. Hopefully the final release would be really stable and reliable which is going to be tough since it's only few months.

The update turned my volume down button on the Surface Pro 4 to now act as ctrl alt del lolol, the bugs are real

I use HDMI through my ATI R9 for vid/audio and it works at first but then after watching a movie or whatever, when try to watch something else later, no audio and have to reboot to get it back. I'm going to try the MB audio jacks and see if it still does it. At least I don't get the critical_process_died bug ... yet. lol

Update just killed my laptop - got to end and then nothing happened - Screen went blank and now I can't even switch on.

This is definitely the most buggy release to date, Network settings don't work, Action Center is caput, battery flyout doesn't work, overall quite laggy as well. I'm sure there will be an update to this soon, but hey we're beta testers so can't really complain.

I think this is the reason of the delay. If we get this earlier it could've been worst. But yeah this build seems the buggiest build so far. The first buggiest build this fresh new year! Lol This is why Insider builds must not be used for primary use especially anything remotely related to get things done because Insider builds are too risky. Hopefully before the final release it will be a solid one which is yet to happen on the course of Windows 10 era yet. Safer bet is just hoping for least buggy release as possible, even polish is a bonus.

Edge crashes for me whenever I click on Advanced Settings. I've tried on 3 PC's, and it's the same on each.

Did anyone notice new scroll bar animation in Settings? Or this change was made in past builds?

I noticed it. Looks good. But it's not just in the settings app. Works across other apps too.

Any idea when this will be flighted to Mobile

Seems slow to download. Taken me several attempts after it seemed to stall. Anxious to check this out.

Seems like something went wrong with this update. My remote test machine at work never came back online via Teamviewer. I will have to test this build out tomorrow.

People who are adventurous but don't want to bother with the bugs should really stick to the Slow Ring though.

Hmmm...i wonder what, if any, new features will be coming to the Mobile version?

For me interesting food for thought is how Microsoft would want to create a one voor experience. In this event build folder tile are finally supported, essentially stalking the desktop and mobile experience. But the stay menu ALS has it's native folder sections in the start menu. This makes the experience feel like unrefined double, essentially organizing your start menu into double folders (folders in folders). I think for the experience this will become annoying as one has to dog deeper into menus again, starting the point of quick and organized access. Don't they're it's still no news by Microsoft about support for pinning all file types as live tiles, much like what is currently possible on the desktop with shortcuts. We can pin folders and office files. This makes the use of live tile folders useful among others.
Lastly switching folder sections to folder tiles would allow more degrees of freedom to organize live tiles the way we want on a larger canvas in tablet mode. This would ultimately complement the one core experience with the mobile start screen. It would be great to see this development come to fruition and feel like a more well rounded experience regardless of which windows device one uses.

Too many bugs. It seems we get (post-holiday) alcohol edition.

When will they start updating Microsoft Edge from the Store?

Hello Windows Central last night I tried to update the pc from the 15002 to 14393.594 version to see if you have resolved the installation problem but nothing is
yet only present that to me it freezes at 16%, however in this case the screen is green without the name of the file that caused the problem ... Better describe the steps to download the update has some problems because download an update package from 2.2GB in just about a minute and in fact if you go in
Folder Software Distribution Download the ESD file from the build 2.2GB it is not present then makes a feint pre-installation and then again this round to the real package download
at this point ends the download and commenced drawing the pre-installation of update always with Windows 10 operational and active and I assume that has completed asks me why
restart your PC, after the command to restart the PC, and part of the update configuration that to go from 0 to 100% puts us almost 20 minutes of shots
very substantial load (from 9% to 32%) then you restart the computer and install the part where it warns you that your PC can be restarted REPEATEDLY, reaches up to 16%
(For some even to 22%) you lock the screen and then exit the screen, however, green BSOD with error DPC whatch DOG VIOLATION and then restores the previous version I currently have Windows 10 14393,594 build on an x86 machine and the thing that makes me think it's just a problem
the update package that Microsoft provides is the fact that all updates from 14393 to 14393,594 are
installed correctly from the PC without the slightest problem

Paid Wi-Fi cellular available demoed in WinHEC

Could someone answer me this, I keep seeing it and can not figure out why Microsoft would do it. Between Windows 10 Home and Pro, the start menus are different. Why?!?! Is there a setting in Pro that I am missing to change the start menu or is it for Home only?

great video showing the new features, appreciate it! i'm on slow ring but slow work day today so i may update.

Cool Informative Video. Thanks... Now waiting for this update as currently playing safe rather than going on preview builds...

Had to rollback. Tablet Mode was just too erratic. Action center rarely worked. Often got NO live tiles, just a wallpaper and no desktop. Made my Surface 3, unusable

Same here. Build 15002 renders my Surface 3 close to unusable. Action center is a mess, access to the wireless networks via the system tray doesn't work, and, and, and. Looking forward to the next build.

I am one of the users who would have seen the change in the resize behaviour. I don't know why, but I see many graphical glitches in Windows. Mostly the Fullscreen -> Window and vice versa animations are "eye-cancer". Somehow those really piss me off.

did not see anybody else above here with the problem I have but will give it a try anyway to see if somebody has an answer... I have a surface pro 3 that until now was able to install any previous build but with this latest build I stumble over a problem. Able to find and download the update (stayed on downloaded 100% for at least half an hour) the preparing for install went ok but after the reboot it only gets to 23%. Left the machine on all night to find it this morning still at 23%. After that I turned it of, rebooted and it reinstalled the previous version. I did check if there where problems with windows update so I used the update troubleshooter that found a problem with the database but was able to fix it. I let it download the update again but when installing after the reboot it still hangs on 23% Anybody had this problem?

Had this problem for ages - eventually found the issue was having the MicroSD card in the device. If you remove it while you go through install, it should work.... also, remove any other usb devices during install. Hope this helps.

This, for me, has to be the least stable release. Edge is very flaky, especially with YouTube etc. Some suggest using in an inprivate window. Starts off OK, then goes the same way. Sound also gets killed. Advance settings crashes Edge altogether. Settings...doesn't want to know. Had to come at it via control panel. I can foresee a fresh release will have to be rushed out. Hopefully soon.