Windows 10 preview build 15002 rolling out to Fast Ring Insiders on PC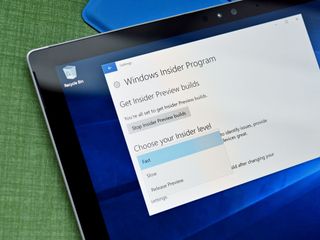 (Image credit: Windows Central)
The long wait is finally over: a fresh Windows 10 Insider build is rolling out to Fast Ring Insiders on PC today with build number 15002. Windows Insider chief Dona Sarkar announced the release on Twitter, making it the first Insider release of 2017.
As noted in the full release notes, this update is big, bringing along new features for Microsoft Edge, accessibility tweaks and the previously leaked out of box experience (OOBE) featuring Cortana. Of course, there's much more included in this build as well, so check out the full patch notes below for more. And keep in mind that this is only for PC, as Sarkar noted on Twitter that the team opted not to release a mobile build today so they could focus on feedback for the massive PC release.
Microsoft Edge Updates
Tab preview bar: It's easy to lose track of what's in your tabs, especially when you have many tabs from the same site, with similar titles and icons. Tab preview bar allows you to easily glance at a visual preview of every tab you have open without leaving your page. You can scroll through the list with touch, mouse wheel, or a touchpad. Just click the chevron icon next to your tabs to get started. Give it a try and let us know what you think!
Set these tabs aside: We often hear that it's a headache to keep all your tabs organized, and to pick up where you left off. Sometimes you just need to set everything aside and start from a clean slate. We've added two new buttons next to your tabs in Microsoft Edge to help you quickly manage all your tabs without losing your flow.
Jump List for Microsoft Edge: You can now launch a new window or new InPrivate window for Microsoft Edge straight from its Taskbar icon. Simply right-click or swipe up on the Microsoft Edge icon in the Taskbar, and pick the task you want!
Component UI: This release introduces a new UWP architecture for Microsoft Edge's multi-process model, including a new visual tree and new input model. These changes will help improve stability and input responsiveness and make the browser UI more resilient to slow or hung web page content. Be on the lookout for any issues with tab launches and activation or input (including keyboard, mouse, or touch) and share feedback in the Feedback Hub if you have problems!
Flash Click-to-Run: Microsoft Edge will now block untrusted Flash content is now blocked by default until the user explicitly chooses to play it. This means better security, stability, and performance for you, while preserving the option to run Flash when you choose. You can learn more about this change on the Microsoft Edge Dev Blog: Extending User Control of Adobe Flash with Click-to-Run. We will be evolving this experience in upcoming flights to make the option to run Flash content more contextually obvious.
Web Payments: Microsoft Edge now has preview support for the new Payment Request API, which allows sites to make checkout easier using the payment and shipping preferences stored in your Microsoft Wallet. This is currently in a preview state for developers and will not process payment information until a future flight. You can learn more about Payment Request on the Microsoft Edge Dev Blog.
Start and Shell Improvements
Tile Folders in Start: As part of our ongoing effort to converge experiences across devices, and to address your feedback, we're excited to let you know that with today's build you will now be able to group your Start tiles into folders. Tile folders are a way for you to organize and personal your tiles in Start, and we're happy to now bring this to Windows 10 PCs. To get started, drag and drop a tile on top of another tile in Start to create a folder.
Updated Windows Share experience: We have redesigned the Windows sharing experience to be more app-focused and integrated with where you are sharing from. The new Windows Share experience will pop-up the new share flyout within the app you are sharing from and give you a list of applications you can share to. This list changes based on your usage.
Capture a region of your screen: OneNote 2016's popular screenshot feature is now built into Windows 10! You can use Win + Shift + S to capture a region of your screen and copy it to the clipboard for pasting into OneNote for Windows 10 or any other app. Please note that this feature replaces the one in OneNote 2016.
Improved high-DPI support for desktop apps: Continuing from our work with Build 14986, Build 15002 brings more goodness in the way of high-DPI support. First, much like we did with Microsoft Management Console (MMC), we've updated Performance Monitor (Perfmon) to now be more crisp on high-DPI PCs. Second, while we've enabled these improvements by default for some Windows desktop apps, you can now enable them yourself for other GDI-based applications, too! To do this, you'll need to find the application's .exe file, right-click on it, and select Properties. Go to the Compatibility tab, and turn on System (Enhanced) DPI scaling, and click OK. This setting overrides the way that applications handle DPI scaling (which sometimes uses bitmap stretching and can result in applications rendering blurry) and forces them to be scaled by Windows. The setting that was previously labeled Disable display scaling on high DPI settings is now referred to as Application scaling. This works only for apps that use GDI.
Smooth Window Resize: One of the things we've heard from Windows Insiders is that the animation when resizing windows isn't always smooth. We've taken that feedback, and Insiders should see improved performance and smoothness when resizing GDI-based Desktop applications (such as File Explorer, Task Manager, and Notepad) and UWP apps (such as Groove Music and Outlook Mail). In addition to this work, we've also updated our code so that when rapidly resizing UWP apps, the window frame background will be transparent as the app adjusts, rather than a flat base color.
Desktop Icon Placement and Scaling Improvements: We've heard from you that sometimes desktop icons aren't scaled or arranged as expected, particularly after docking/undocking your device, working with monitors that have different DPI, or projecting your monitor. We want users to feel that desktop icons are stable, scaled properly, and move predictably when changing monitor configurations, so we've made changes to how this logic works in order to address your feedback. Now when you change your multi-monitor configuration, dock/undock your device, project your display, add or remove monitors, or otherwise make changes that affect the icon scaling, you should see an improvement in how the system adjusts the layout of your desktop icons. Try it out and let us know how it goes!
Simplified and faster VPN access: A much requested feature from our VPN users, we've updated the Network flyout so that after selecting a VPN, you can now click connect from within the flyout rather needing to open VPN Settings. We appreciate the feedback and look forward to what you have to share next! If you encounter any issues, you can still connect to VPN from the VPN Settings (and please log feedback letting us know about it!)
Improved sign-in dialog for apps: We have improved the app sign-in experience for users with multiple accounts. The new sign-in dialog shows your available Microsoft, Work, or School accounts and gives you the ability to add new accounts to Windows.
Lunar Calendar support for the Taskbar: Those of you who follow the Simplified or Traditional Chinese lunar calendar can now use the taskbar calendar to quickly check the lunar date alongside the current Gregorian date. Special holidays are called out in accent-colored text. Go to Settings > Time & Language > Date & Time to pick which additional calendar you'd like to see. Thanks to everyone who sent in feedback requesting this!
Improving our notification experience for app developers and everyone: App developers are increasingly facing scenarios within their applications where they require more flexibility to organize notifications to provide the desired user experience. That flexibility is changing with Build 14993! To provide a more relevant and crafted experience to Windows users, we will now provide app developers a way to create custom subgroups for their notifications in Action Center. Also, to address issues where notifications might have the wrong time stamp (for example, if your PC was asleep when you received a cross-device notification from your phone), we're enabling app developers to override the notification timestamp. If you're an app developer, please check out the Tiles and Toasts blog for coming posts about how you can leverage these new features.
Windows Ink Improvements
We have updated the Windows Ink pen, pencil and highlighter control to now visually indicate which color is selected. You can try this out now in the Windows Ink Workspace. Other apps can take advantage of this with future updates of the Windows 10 Creators Update SDK.
In addition, thanks to your feedback, we've added point erase to the Windows Ink Workspace's Sketchpad and Screen Sketch. This means that now you have the option of deleting your whole ink stroke or erasing only pieces of it. You can select your desired option by tapping the eraser icon, where you'll find new options to switch between eraser types.
We've also updated our taskbar logic, so that if you have the Windows Ink Workspace icon on your taskbar, it displays the taskbar of every monitor. Clicking it launches the Windows Ink Workspace on that monitor.
More Cortana improvements
Easier discovery of Cortana's app-specific commands: Many of our awesome app developers have been adding commands for Cortana to help you get where you need to go even faster—for example directly launching radio stations, playing movies, or searching for recipes. For apps that support these commands, we will now bubble up suggested commands as you type the app name in Cortana. Clicking a particular suggestion launches the app with that command. Once you know the command, you can also trigger it by simply saying it to Cortana. Not sure which apps have added this feature? Check out this handy Store collection: Better with Cortana! Once you've downloaded an app, you'll need to launch it once. Wait a few hours, and everything will be all good to go.
More recurrence options for Reminders: We've heard your feedback, and with this build of Windows we've added a new option to set recurring time-based Cortana Reminders for "Every Month" or "Every Year" —great for bill payment or anniversary reminders!
Keyboard shortcut change for invoking Cortana: The keyboard shortcut to invoke Cortana in listening mode is changing to WIN + C. This shortcut will be off by default. If you'd like to use it now, head to Cortana's settings and you'll find a new option to enable it. WIN + Shift + C will be used to open the App Charms menu, seen in the title bar of Windows 8 apps.
Accessibility Improvements
A more inclusive experience out of the box: The Windows Out-Of-Box-Experience (OOBE) Team has been working to reimagine how people set up their PCs for the first time. Our goal is to make this simpler and more accessible so every person powering on their new PC can independently set it up. While we have made numerous improvements in past releases to achieve this goal, we now want to take it to the next level where people can listen and respond to Cortana verbally (when asked questions*) to further simplify and make the setup process more accessible to even more people.
This new experience is still a work in progress, so there are some places that still include the older OOBE pages and Cortana is unable to help you get your PC fully set up. We plan to continue to do more work on this so stay tuned! While you can't access the Feedback Hub during OOBE, please take a moment once you've reached the desktop to complete the Quest and log feedback in the Feedback Hub.
Narrator support for WinPE and WinRE: This build also now supports the use with Narrator from WinPE for installing Windows as well as troubleshooting options with WinRE. When we make the ISOs available for this build, you'll be able to try this out by building a bootable USB drive or other bootable media and using the ISO files. After booting into WinPE, wait 15-20 seconds and then use the keyboard shortcut CTRL + WIN + Enter to launch Narrator. You will need to restart Narrator to use it after any reboot during the install process.
Braille support in Windows: Not too long ago, we mentioned Braille support was coming to Windows. That work is starting to appear in builds, and you will find a new button that offers the ability to download support for braille via Settings > Ease of Access > Narrator. While this button is present, the feature doesn't work yet so hold off on giving it a try for now. We'll let you know in a future post when braille can be used.
Narrator users please take note that the Narrator keyboard shortcut is changing: To help reduce accidental launch of Windows Narrator, we have updated the hotkeys to be more intentional from WIN + Enter to Ctrl + WIN + Enter.
Narrator Improvements: We've made several improvements to Narrator for navigation when using Scan mode. You can now navigate to headings of a specific level by typing the number of the heading level you want e.g. 1 for the next heading level 1. Add shift for the previous heading. In addition, Narrator's Scan Mode now allows you to press Home and End to move to the start and end of a line of text respectively when pressed. Finally, when in Scan Mode you can press Ctrl + Home and Ctrl + End to move to the start or end of the web page or other content you are reading.
Improved legibility for UWP apps in high contrast: As part of the Windows 10 Anniversary Update, we improved the legibility of many websites viewed in high contrast by showing an opaque layer behind the text. We recognize that similar to the state of websites on the Internet, many UWP apps have not been tailored to present an optimal experience for users who need increased contrast. So, we're taking a similar approach to improve how UWP apps look in high contrast. We've updated the XAML framework to now display an opaque layer behind the text and coerce semi-transparent UI to be fully opaque. This addresses the most common issues in apps like in the before/after screenshot below. These adjustments are applied by default in high contrast and apply to all XAML Store applications that run on Build 15002 and higher, whether they explicitly target this build (with the SDK) or not. However, applications that render their own text on something such as a SurfaceImageSource do not receive the automatic adjustment from the framework. If you find any issues with this work, please log them here, and as always, you can reach out to @MSFTEnable on Twitter at any time about accessibility problems and requests you have for accessibility in Windows.
Windows Defender Improvements
New options to run quick, advanced, or full scans.
Device performance and health scans give you a report on your PC's health.
Family options has visual improvements and links you to great content/applications on the web to set up a family or view device information.
Settings pages to change configuration on the app or learn more about it
General bug fixes and improvements.
Additionally, we are introducing Refresh Windows on-demand in Windows Defender. If your PC is running slow, crashes or is unable to update your Windows, this option may help you. This option starts fresh by reinstalling and updating Windows, which will remove most of your apps but keep your personal files and some Windows settings. For more details – see this forum post

(opens in new tab)

.
Settings Improvements
Helping you find the setting you need in Settings: One of our ongoing goals has been to make Settings easier and faster to navigate. Previous updates towards this have included improved Settings search, and adding icons uniquely associated with each Settings category. Based on feedback, we've made a few more design tweaks with this build:
Settings pages now contain additional information on the right or bottom (depending on the window size) providing links to support, feedback, and any other related settings if available.
Since our System Settings list was getting quite long, we've moved app related settings out of System into a new category called Apps.
You will notice that the header on the landing page of each Settings category will now stay in place as you pan the page.
Updated device settings: The new device settings experience combines the Bluetooth and Connected devices pages to offer a single place to manage your devices/peripherals. Bluetooth accessories, wireless docks, Xbox Wireless controllers, and media devices can all now be discovered and managed from the same place using the same familiar UI on both the desktop and mobile. We've also listened to your feedback and added the ability to disconnect and reconnect your Bluetooth audio devices directly from this Settings page. Try out the new page and let us know what you think through the Feedback Hub!
New Display Settings options: Based on feedback of the most commonly used settings, we have updated the Display Settings. In the refreshed display page, numerous changes have been made to make the page clearer and easier to use, including now being able to change resolution straight from the main Display Settings page.
Lower Blue Light: Windows can now automatically lower the amount of blue light emitted from your PC at night. Settings to turn this functionality on or off and use a local sunset and sunrise or custom schedule are in Settings -> System -> Display. If you need to quickly override the schedule or always want manual control, you can enable this quick action in Settings->Notifications & actions. Use this capability for a couple nights and send us feedback through the Feedback Hub, we'd love to know what you think!
New per app Surface Dial settings: App developers have the option of providing custom tools for the Surface Dial when using it within their app. In addition to this, Windows Insiders with Surface Dials will now be able to customize the default tool set for individual apps starting with this build. Setup the keyboard shortcuts most meaningful for specific apps – like Ctrl + Delete in Word 2016, or CTRL + Tab in Sticky Notes. Head to Settings > Devices > Wheel today to try it out and share your thoughts! We've also updated the custom tool creator to now enable you to set keyboard shortcuts that include a number of common symbols.
Windows Personalization now supports recent colors: We understand how important colors are for personalizing your Windows experience, and that sometimes it takes a few tries to find the perfect one to match your background. Sometimes you pick a new color, close Settings, only to discover that the color you picked wasn't quite what you were looking for. We have a solution! With Build 15002, we've added a new "recent colors" section to Settings > Personalization > Colors, so you can easily pick between the colors you've decided on in the past.
Windows Theme Management in Settings: As we've mentioned in the past, one of our ongoing efforts is to consolidate Settings and Control panel, and we use your feedback to prioritize the convergence into Settings. We're happy to unveil the next piece of this project: Management of themes has now moved out of Control panel and in to the Settings app. It can be found, along with all your other familiar personalization options, under Settings > Personalization. Pick one of your recent themes, or create and save custom new ones. How would you like to see Settings evolve next? Let us know in the Feedback Hub!
Improved Cross-Device Experiences Settings: With the Anniversary Update, we added the ability for app developers to create cross device experiences. Users could enable or disable this feature for their account via Settings > Privacy > General "Let apps on my other devices open apps and continue experiences on this device". With Build 15002, we've moved this setting to its own page – a new entry under Settings > System, called "Cross-device experiences", and we've added a new dropdown to allow you to switch between My Devices or Everyone. If you're interested in learning more about experiences an example experience that app developers can create with this, check out this blog post.
Metered Ethernet Connection Support: Based on your feedback, we've added the "Set as metered connection" option to the Ethernet (LAN) connections in Settings > Network & Internet > Ethernet. Just like mobile broadband and Wi-Fi connections, this option helps you to restrict background data usage from some applications and gives you more control over how data is used over the Ethernet connection.
Improving your precision touchpad experience:
Adjusting the volume control experience: When assigning three or four-finger swipes to control volume, the volume control UI will now appear as you're changing the volume. We have also fine-tuned the gesture, so it now takes less swipes to adjust the volume by a significant amount
Polishing the Touchpad Settings page: Based on user feedback, we have made some UI improvements to the new touchpad settings page, including creating two new groups for three and four finger swipes, updating search terms to make them more discoverable, providing more flexibility to control how taps work, and fixing an issue where Touchpad Settings wasn't showing an icon next to the name.
BSOD is now GSOD
In an effort to more easily distinguish Windows Insider reports vs the reports of those on production builds, we've updated the bugcheck page (blue screen) to be green. Released versions of Windows 10 will continue to have the classic blue color, including the final release of the Windows 10 Creators Update.
Quick Virtual Machine Creation in Hyper-V
Hyper-V Manager has a new page that makes it faster and easier to create virtual machines. Just open Hyper-V Manager and click 'Quick Create'. The simple wizard will help you set up a VM in just a few clicks. After the virtual machine has been created, the confirmation page will allow you to connect to it or enter advanced settings.
Improving your update experience
We've already made a number of updates based on the feedback you've shared with us and today we're happy to let you know there are some more headed your way:
We've added an option that will enable you to pause updates on your computer for up to 35 days. To pause your machine, go to the Advanced options page of Windows Update Settings. This capability will be available on Professional, Education, and Enterprise editions of Windows.
We've added an option that will now allow you to decide whether or not to include driver updates when you update Windows. This capability will be available on Professional, Education, and Enterprise editions of Windows.
We've added a new icon to the Windows Update Settings page to make easier to see your update status at a glance. This update status and experience is consistent with the experience you'll find in the new Windows Defender dashboard.
We've made some improvements to our logic to better detect if the PC's display is actively being used for something, such as projecting, and avoid attempting to restart.
Windows Insiders with the Home edition of Windows will now also be able to leverage the increased 18 hour max window for Active Hours.
Windows Information Protection improvements for business customers
Placing Work Files on Removable Drives: Some enterprise customers have found that saving Work files to a removable drive would prevent them from accessing the files on a different device due to encryption. We've added a prompt to let you choose what you want to do in this case, which should make it easier to transfer work files to a removable drive:
When copying Windows Information Protection (WIP) encrypted files to a removable drive, we now ask if you want to keep your files as Work, convert them to Personal, or cancel the copy operation.
When saving Windows Information Protection (WIP) encrypted files to a removable drive, we now ask if you want to keep your files as Work, convert them as Personal, or save to a different location.
Open Dialog for Work Files in Personal Apps: We protect companies using Windows Information Protection (WIP) by displaying a warning message when opening work files in un-allowed applications (in other words, applications that are not on the whitelist of approved apps that can be used in an enterprise setting). When opening WIP files in un-allowed applications, we now inform the customer that the file is a work file and cannot be converted to personal in un-allowed applications.
Power usage experiments on select Windows 10 devices
We are running experiments on a small set of Insider devices to evaluate an upcoming Windows 10 Creators Update feature which helps improve Windows battery life. Depending on the experiment configuration, you may see one or more applications reported as "throttled" in the task manager (see insert). The experiment should have no noticeable impact on your user experience and we look forward to hearing your feedback. Please share your experience with us through the feedback hub (under "Power" category & subcategory "throttled Applications"). In support of this experiment, some of you will also see a new power slider in the battery flyout; we're still experimenting with these power modes that this slider sets. Stay tuned for more updates mid- February 2017.
Input Method Editor (IME) Improvements
Improved access to Microsoft Pinyin IME settings when using the language bar: We've heard your feedback – with Build 14986 it was going to be easier to access the appropriate settings with the IME mode indicator. This week we're happy to announce that the same will be true for those who prefer the language bar, as we've updated the settings icon to now directly open IME settings.
New settings page for Microsoft Pinyin IME: To go alongside with the new customization options we're adding for the IME, we've revamped the Microsoft Pinyin settings page – now divided into 5 categories so you can more easily find what you're looking for. Have a look through the new settings and setup your IME experience the way that feels best to you!
Hotkeys for the Microsoft Pinyin IME: We've added some new features to improve the keyboard experience when using the IME. Including candidate window switch keys configuration, Chinese/English punctuation switch, default punctuation mode, Full/half width switch, default full/half width mode, Simplified/Traditional Chinese output switch and 2nd/3rd candidate submission. Learn about this new option in Microsoft Pinyin settings > Keys. We've also added a new hot key to open the emoji panel (Ctrl + Shift + B), so you can open it directly without having to first have the candidate window visible.
Roaming self-learned phrases: In the last build flighted to Insiders we mentioned that the Microsoft Pinyin IME now supports imported and exporting self-learned phrases. This week, we're happy to announce the natural extension of that work: If you have an MSA connected to your device, your self-learned phrases will now roam between all of your MSA connected PCs.
The Microsoft Pinyin IME emoji panel gets a redesign, new predictive emoji, and stickers: Since their conception, emoji have become an important tool for quickly convey thoughts. Along with our new keyboard shortcut (CTRL + Shift + B), we've updated the look of our emoji panel to make it easier to find the emoji, kaomoji and symbols you're looking for. We've also added a totally new section: Stickers! The stickers tab will appear for apps that support sticker input. In addition, based on the words you type, we will now bubble up suggested emoji and stickers. Simply type something and then click on the face icon in the candidate pane (or use the new hotkey, tap the thought bubble, and the emoji predictions will be presented to you.
Making it easier to type complex input faster: Since there isn't any pinyin starting with U or V, previously the Microsoft Pinyin IME would primarily just give English suggestions in that case, Knowing that about how pinyin is written, we've taken the opportunity to add two new modes: U-mode and V-mode. U-mode can now be used for advanced input features, like inputting complex characters, and V-mode can be used to input content which normally is not easy/quick to type (for example, 2016年6月6日", "十三时三十分", or "壹仟贰佰叁拾肆"). Try these new modes out today and let us know what you think! Once you start typing "u" or "v" with the IME on, a tip will appear displaying all the available options.
Name input mode: Since most names are not commonly used words, it can be difficult to type with the IME because the correct candidate will appear far down the list (or not at all). In order to solve this problem, we're introducing a new name input mode for the Microsoft Pinyin IME. When you enter name input mode, instead of your normal candidate predictions, all candidates will be from a dictionary of names, thus making it more likely you'll find the one you want. Press the ";" key (in double pinyin mode, press "Shift +;" key combination) and then press the "r" key to enter the name input mode. Name input mode can be disabled or enabled in the Microsoft Pinyin settings page.
Custom double pinyin schemes: Double pinyin is a method for creating shortcuts that speed up typing. With Build 14993, Microsoft Pinyin IME users can now add, edit, or delete custom double pinyin schemes, so you can create the one that feels best to you. To do this, go to the IME > General settings, and switch the pinyin style from Full to Double. You will then be presented with options for setting up the scheme of your choice.
Japanese Input Method Editor (IME) Improvements:
When the IME is turned on or off (by you or an application), we will now display a large indication of the current mode in the center of the screen. This is to help be more aware of active mode and avoid unexpectedly typing in the wrong mode. This large indicator can be turned on or off in the IME Properties.
We've changed the length of the composition string to now show 3 predictive candidates by default. This will not impact those who have previously adjusted the length. If you'd like to change the length, there is an option to do so on the IME's Advanced Settings > Predictive Input page.
We've changed the logic to show English words more frequently as predictive candidates so that IME users can input English words more easily if they choose to leave the IME on.
Windows Insider Program website updates
We are starting to update the Windows Insider Program website with new content, first starting with the landing page. We would love to hear your feedback on other changes that you would like up to plan for future updates at https://www.windowscentral.com/e?link=https%3A%2F%2Fclick.linksynergy.com%2Fdeeplink%3Fid%3DkXQk6%252AivFEQ%26mid%3D24542%26u1%3DUUwpUdUnU45886%26murl%3Dhttps%253A%252F%252Fwww.microsoft.com%252Fen-us%252F%253Fref%253Daka&token=4iw-buMH
Other changes, improvements, and fixes for PC
The 3D Builder app has been moved to the "Windows Accessories" folder on Start.
We fixed an issue where the display brightness keys on some devices weren't working as expected.
We fixed an issue where the display may stay black after resuming from sleep if a USB display is connected.
We fixed an issue where opening an app that uses the camera, such as the Camera app, would sometimes result in a bugcheck.
We fixed a crash in the RPCSS service which in turn was resulting in some Insiders experiencing CRITICAL_PROCESS_DIED bugchecks on recent builds.
We fixed an issue for touch keyboards sometimes requiring multiple clicks to invoke on non-touch PCs.
We fixed an issue where Disk Cleanup would sometimes unexpectedly show 3.99TB worth of Windows Update Cleanup files.
We've updated our logic so if the Microsoft Edge window is narrow and Cortana has a tip, Cortana will only appear as an icon in the address bar. If you expand the window, you'll see the full suggestion as before.
We've updated tooltips for the Microsoft Edge favorites bar to wrap around for longer website names rather than truncate.
We fixed an issue where Touchpad settings page via Settings > Devices > Touchpad wasn't displaying an icon next to its name in the navigation pane.
We fixed an issue that may have resulted in a recent drop in Action Center reliability for Insiders.
We've updated the Speaker Properties dialog to now allow you to configure Spatial Audio for different endpoints. If the current playback device has Spatial Audio enabled, the volume icon in the notification area will now indicate this.
We've made some tweaks to the backend for how users connect to devices, such as Miracast displays and other PCs. Use the Connect UI (WIN+K) as you normally would, and file feedback if you encounter any issues.
We've removed the rerouting of mspaint.exe to Paint 3D – appreciate everyone who's shared feedback on the Paint 3D experience, please keep it coming.
We fixed an issue Insiders may have experienced on recent builds where navigating to OneDrive folders could unexpectedly result in popup saying there had been a "Catastrophic Error".
We fixed an issue that could result in a Visual Studio crash when trying to open, add, or save a file.
We fixed an issue resulting in some Insiders using PCs with certain older chipsets from seeing colored boxes in the place of text and various other UI in UWPs apps.
When you use Miracast to a device that supports input (for example, an Actiontec Screenbeam or Miracast-enabled Windows 10 PC), you will now see a toast notification to help you enable input (touch, keyboard, etc) on that device.
We fixed an issue where the Home and End keys were unexpectedly not working in certain Settings pages, for example "Apps & features".
Fixed an issue that could cause some progress indicators in UWP apps to appear to wobble or glitch.
Known issues for PC
Opening Battery settings page via Settings > System > Battery will crash the Settings app.
The option to enable the Virtual Touchpad is missing from the taskbar context menu.
Cortana's cross-device scenarios won't work on this build (including notification mirroring, missed call, share photos, share directions, low battery, and find my phone).
Some websites in Microsoft Edge may unexpectedly show "We can't reach this page". If you encounter this, please try accessing the site from an InPrivate tab.
Dragging apps from the all apps list to pin on Start's tile grid won't work. For now, please right-click on the desired app in order to pin it.
Using CTRL + C to copy in Command Prompt won't work.
When projecting to a secondary monitor, if you set the connection to "Extended", Explorer.exe may start crashing in a loop. If this happens, turn off your PC, disconnect the secondary monitor, then restart your PC.
The touch keyboard button may be unexpectedly missing from the taskbar. If this happens, open the taskbar context menu, and select "Show touch keyboard button".
You may see an error from Windows Hello saying "Couldn't turn on the camera" on the lock screen.
Brightness changes made via Settings > System > Display will unexpectedly revert after closing the Settings app. For now, please use either Action Center, power flyout or brightness keys to change the brightness
The list of apps in the Surface Dial "Add an app" page via Settings > Devices > Wheel may unexpectedly be empty. If that happens, tap the "Browse for an app" button at the bottom of the screen to pick the desired app instead.
Miracast sessions will fail to connect.
The Netflix app may display a black screen rather than the expected video content. As a workaround, you can use Microsoft Edge to watch video content from Netflix.
On certain hardware types (e.g.: Acer Aspire), the Netflix app crashes when starting a movie.
3rd party UWP apps would crash on devices if the DPI settings on the machine are >=150% (Generally people do this on high resolution devices – Surface book etc.)
If you upgrade from Windows 8.1 directly to Build 15002, all your store apps are lost during upgrade process but you can go and re-download all the lost apps from the Store.
When using Microsoft Edge with Narrator, you may hear "no item in view" or silence while tabbing or using other navigation commands. You can use Alt + Tab when this happens to move focus away from and back to the Edge browser. Narrator will then read as expected.
Saying "Hey Cortana, play [[ item ]] on [[ appname ]] " doesn't work immediately after installing the app. Wait 5 minutes for indexing to begin and try again.
If you're an Insider in the Fast ring, you should be able to pull the update down now (or relatively soon) via Windows Update. Be sure to give us a shout in teh comments and let us know what you think!
Get the Windows Central Newsletter
All the latest news, reviews, and guides for Windows and Xbox diehards.
Dan Thorp-Lancaster is the former Editor-in-Chief of Windows Central. He began working with Windows Central, Android Central, and iMore as a news writer in 2014 and is obsessed with tech of all sorts. You can follow Dan on Twitter @DthorpL and Instagram @heyitsdtl.
So when will be for mobile?

Dona said on Twitter than there's no Mobile build today (and, honestly, probably the next couple of days too) because they wanted to dedicate the team to track feedback on the massive changes the new PC build brings. Hopefully by Friday we'll get a new one.

Hopefully there is really tangible new things in W10M. Things like the promised desktop-like experience on Continuum and other requested improvements that we've been looking for such as split-multitasking especially for phablets and the existence of W10M tablets, Windows Ink (chicken egg thing since we don't have pen-enabled W10M devices around), and all other stuff. Though what's more important is hopefully the stability and reliability of W10M and its apps which is been lately became feels worst even on production builds.

The even longer wait for mobile build is still continuing. I am forced to stay at almost 40 builds ago on my Lumia 650.

Forced? You mean like someone is holding a gun to your head forced?

We need mobile. Current fast build is horrendous.

The last fast build completely broke my Lumia 950 - i had to get a warrenty replacement at a MS store. It wouldnt boot, wouldnt charge, etc. I think it had to do with so many resets, and battery pulls. Anyways - im not touching a fast build with a 10 foot pole until i get a suitable replacement flagship (which may or may not be Android/IOS if a Surface Phone doesnt get leaked, and or shown soon).

I think the closest chance of a leak is October/November. I don't foresee a phone this year. Think Snapdragon 840-850 territory. As for mobile builds, the best ones, by a long way, were the RS1s. They were actually really solid. Current fast ring for mobile is not great, for me.

Strange, because my 950 is running perfectly with build 10.0.14393.594

Do the Outlook mail and calendar live tiles work properly?

No problem with them on on my 950

They never work properly on my Lumia 930 when on Production Ring. After some time they just fail to show and update any kind of information, especially the calendar tile.

10.0.14393.594 isn't Fast ring, though, it's Production. Am I right?

More likely poor build quality control. My wife and I have had 3 headsets replaced and each had battery and power problems. They seem to start ramping up around 4-6 months in and get worse and worse. Even happens when not on Insiders. My two 1520s have exhibited no problems on fast ring ironically.

It seems if that's the case too, the last series of Lumia are rushed which is not surprising since they are in frenzy to write it off. It's apparent that many things are not right and deliberately toned down some things like color options, chosen hardware aesthetics despite the possibility of other prototypes we will never know. Anyways, good thing that they still at least replace the devices at least for those who are near to Microsoft stores. Hopefully Microsoft is really concerned about this and don't let the poor quality control slips away if they ever make their own W10M device in the future.

Maybe you should just stay on the production build? Just a thought.

I think just completely avoid fast ring builds unless you really want to contribute to the development of W10M and provide very useful feedbacks, also another smartphone you can use primarily whether it's another W10M (which does help to compare things in between), or Android or iPhone. Fast Ring can be really that erratic that can cause major issues not just to the experience but actual hardware of the device installed with it. Heck even regular Production or Released Preview Build do still have some major and random issues. Stability and reliability isn't really a strong point anymore in W10M, nowadays became more common (not counting Insider builds which is naturally buggy because of testing purposes) that it used to be just a more isolated issues or just simply rare. TLDR: Just avoid fast ring and use recovery tool to reinstall to non-Insider build. It's not perfect but issues are less and likely more optimized. You can even go to Release Preview if you still wish to participate on Insider program.

This is the precaution of running fast ring

Official mobile build needs an update too,alot of freezing issues especially with the notification area.VPN doesn't work

Yes, especially vpn problem didn't fixed for a long time.

Try reinstalling the VPN client. I use Juniper Pulse Secure, and reinstalling the app worked for me.

Well downloading on PC, will see how it goes :)

This is one huge update. Reading the update log alone takes some time. Lots of stuff here!

It is still a long update, as time and data? It is a full reinstall of Windows?

Not just reset windows is enough?

hesitant because I use miracast too often.

Hopefully the RealSense issue is fixed.

Shame Cortana's cross-device sync'ing isn't working. I'm really looking forward to getting that sorted. Cortana has so much to offer...I hope.

Can someone check to see if you can log into Citibank.com with this build. Users could never log in because the "username" was always blocked out or missing.

I've been waiting for Edge jump lists.

Not going to install this until it gets some cumulative updates or a new build. Too many bugs introduced.

Especially on my new Surface Book. Don't wanna stress the system at all.

Finally the changelog insiders have always asked for.

This build won't install on my SP3 running 14986.

Me too. Stuck at 24%..trying again after clearing all cache files

You have to remove your SD Card and then it works immediately. This bug exists since many builds.

Keep me updated if you get it resolved before I do.

I did not remove SDCard, After sitting on 24 % for 10 minutes, I unplugged My dock station, replugged in again, screen flashed, rebooted and came up to 32% ,now at 52% and slowly progressing. Now at 58%.....
I have programs installed on my SD so I always leave in....at65% so I think is working...

First thing I always do is remove SD Card. I'm at work now and not connected to my Surface dock & the 15002 install restored to previous build (14986) twice.

All done..not a smooth update.. had to power off at 100% and at the will be ready soon screen.
Now appears ok...

Great for you. I'll take a crack at it again after work. By the way, how was your battery life on Build 14986?

Honestly didnt do much on Battery..docked most of time..sorry

I couldn't wait, cleared the previous build download & started the process again which took 45 mins to complete a successfull installation.

i just get the green screen of death after the first reboot sequence

Amazing long changelog. If we then can have the same for Mobile.

Bunch of new features ! Great !!!

BIGGEST update in recent time!!! In terms of changelog. Way to go Microsoft!

Excited to see the path Microsoft is going! They have been and continue to listen to user feedback and add the feature and changes people want. Big change from just adding new feature and not flushing everything out. I'm especially excited for native night mode, flux doesn't work that well on windows IMO, the edge changes are very welcome, especially the stability enhancements, and ever improving high-dpi and Cortana is wonderful to see! Great work on them for improving high-dpi and not just passing the blame to developers, which honestly is very valid! They are going above and beyond. I don't run preview builds, but love seeing where they are going, makes me excited for the stable release future!

I have three different computers of which all have downloaded to 100%. It took at leat 15 minutes to finally start the second stage of "preparing to install". So, I guess, you have to be patient if it looks like your are stuck at 100% download and nothing is happening.

Same thing here; happened on two of my devices, I thought they were stuck. However this build is working well for me now. I can get to Google sites using Edge now, where in last build they were blocked. YouTube works better too.

Eagerly waiting for hands on

This update killed Windows Hello login (camera doesn't start), but the worst is the action center stops working after first use after reboot and then the start menu no longer works. Same issues on SP4 and SP3 (except windows hello - no camera on sp3). This is so bad I'm rolling back the SP4.

14986 killed Hello for me. It's still dead.

I'm having the same issue with Action Center on SP4. Submitted feedback.

Wow 😲, that's alot of work over the holidays 🎄

It been ages since mobile build been out.what the delay now

Now installed. Crashed out several times on opening Edge...until I uninstalled Kaspersky Internet Security. Issues with third party AV products appear to be reintroduced.

I guess the problem there is that the third party needs a chance to adapt their software to the update. There will be people at Symantec, Kaspersky, AVG, Panda, etc etc all running fast ring to try to keep up, the problem with builds like this is LOTS has changed so any one of the little changes could break something on third party software, not just antivirus, but antivirus software is involved with the OS on a much deeper level so more likely to go wrong, hence why we have the options of slow ring and release preview. incidentally i'm downloading now so hope it doesnt break

No face recognition at lockscreen on Microsoft Surface Pro 4 in build 15002

Well, at least they fixed the pinned website tiles problem.

Wow - what a mess. Surface Pro 3 - just about everything broken. Action Centre tiles all greyed out, Cortana crashes, can't select a network, then everything locks-up. Never had this bad before.

It's broken pretty bad on my wife's SP4, too.

Why is everyone complaining about the wait for new builds? They take off and celebrate holidays too you know.

Blocking driver updates through Windows Update!!!!! Amazing!! It was so annoying to have it install the entire old version of the Bluetooth driver and application package, just to have the proper/new installer uninstall the old version and install itself. So dirty!

Had to rollback to 14986 due too many GSOD after login!

So far, I've found the following issues: 1. Configuring an SP4 to duplicate its display to an external screen no longer properly sets the resolution, nor do you get an option to change it. You can ONLY see correctly on a second display if you are set to EXTEND the display. 2. Turn on Adobe Flash in Edge doesn't actually turn it on--or, at least websites don't recognize it. Again, saw this on the SP4. 3. On SP4 this build apparently broke the ability to consistently change browser from full to windowed mode and wont' allow you to move it to a second screen unless you right-click, choose MOVE and then use the arrow keys. I've already submitted these to the Feedback Hub (for all the good it will do).

Update just killed my laptop - got to end and then nothing happened - Screen went blank and now I can't even switch on.

Great ,Lots of new future coming on this build 15002.

Only thing I've noticed so far is that the spinner in "Working on updates" was replaced by a static box (I noticed it at stage 3).

Having lots of problems. Right fly out doesn't work, or quick actions. Start menu is patchy. Audio problems. How did this get released ?!

I said the same earlier and got down voted. I recognise the gotchas being fast ring insider but I do kinda expect the basics to still work and have been tested before release - especially on MS's own devices. Same situation with the mobile build on an MS Lumia 650.

On my Surface 3, I'm having problems with Action Center opening. Also, many apps will not fully open. Tried shuting down and it works for awhile, but then the problem comes back. You just have to expect things like this to happen when on the Insider Fast ring.

Very welcome changes although I'm not an insider.

Installation failed build 15002 BSOD stocode : DPC WHATCH DOG VIOLATION

Well I didn't find the benefits of Universal Update Platform: the update size didn't seem reduced by any percentage. It is still around 3.26 GB, same as each update! Anybody found any difference?

The install gets to 95%, then restarts and restores previous version. Anyone else have this issue and resolved?