A quick look at Windows 10 Mobile build 15240 from feature2
Let's check out some of the most noteworthy new changes and improvements to Windows 10 Mobile with the latest feature2 builds.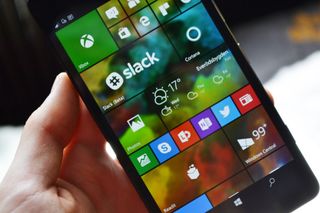 (Image credit: Windows Central)
Microsoft has released several new Insider Preview builds since the Windows 10 Mobile Creators Update was finalized, however not much has changed on the surface. Microsoft, with its feature2 branch of Windows 10 Mobile, is focusing on bug fixes and under the hood improvements rather than any new features, which is disappointing for some.
Still, there are a few noteworthy changes that have been introduced to Windows 10 Mobile feature2 builds, and we've had many of our readers ask us to do a hands-on with the latest Windows 10 Mobile Insider Preview builds. So here's our thoughts after spending some time with Windows 10 Mobile build 15240.
Now, considering that nothing much changes between builds, we're going to be taking a look at a handful of changes that have been introduced throughout all the feature2 builds since 15204. There are only two new changes on the surface, with the rest being minor tweaks, fixes and changes.
In fact, there are a total of 61 bug fixes and improvements in testing with the latest Windows 10 Mobile build 15240, and we have a full changelog that you can view here:
There is a new privacy page to the Windows 10 Mobile OOBE experience that allows you to quickly and effectively make common privacy changes while setting up the device. (This change was backported to the Creators Update.)
Fixed the issue where the keyboard would sometimes not appear when a text input field is selected in Microsoft Edge.
Fixed an issue where Continuum would stop working when HP Elite X3 case is closed.
Fiixed an issue where Continuum would hang or render incorrectly after disconnecting on devices like the Lumia 950.
Fixed an issue with Microsoft Edge where you might get into a bad state after opening a new Microsoft Edge windows and screen off with the JIT process suspended.
Fixed an issue with where the device screen might stay black when disconnecting from a Continuum dock after screen has timed out normally.
Fixed an issue with backup and restore which impacts users with slower network connection.
Fixed an issue around Microsoft Edge reliability.
Fixed an issue where some Insiders were unable to open both the Connect UX page and/or the "Add Bluetooth or other devices" setting on the Bluetooth Settings page.
Fixed an issue resulting in an unexpected extra ~20 sec being added to the phone shutdown process due to a deadlock if you tried to shut down soon after switching from one network to another.
Fixed an issue with the Glance screen where the time was not updating.
Fixed the token issue so when your device syncs to the service, text messages should show back up.
Fixed an issue where the Battery Settings page caused the device to become unresponsive and appear to have hung.
Fixed a general issue where certain background tasks were being incorrectly starved under resource contention. This issue would impact music and video playback.
Under low memory conditions, additional app launches will cause the OS to run out-of-memory and the device will restart unexpectedly to recover. This fix detects the condition and blocks app launches until memory is freed up.
Fixed an issue with Microsoft Edge which prevented the phone from entering Connected Standby which caused battery drain.
Fixed an issue where the word auto-correction service would crash.
Fixed 2 issues causing the device screen to stay off when unplugging from the Continuum dock after screen has timed out normally requiring the device to be rebooted to recover.
Fixed an issue with the Notifications Settings page which made the UI appear unresponsive.
Fixed an Enterprise MDM issue where the policy could hide all pages except the Work Access page.
Fixed an issue where the Call audio did not move to speaker after removing the headset on some phones.
Improvements to power and performance for apps, such as Fitbit, for pair, connect, sync and notifications.
Fixed an issue where notifications would not be mirrored to the user's PC and Cortana's cross-device settings would not persist.
The copyright date is correctly showing 2017 now under Settings > System > About.
Fixed an issue where WhatsApp would not launch after updating to the latest Mobile builds.
Fixed an issue with using the Japanese 12 Key soft keyboard where the "right arrow" key did not input a space
Fixed an issue with the Bulgarian keyboard localization for the HP Lap Dock in Continuum.
Improvements to the reliability of notifications for apps with a paired Bluetooth device, such as Fitbit.
Improved the Time & Language settings page UX for Speech and Keyboard language downloads. Previously, the status would show "Downloading" for speech and "Installing" for keyboard. Unless, the user tapped on the language or navigated to the Update & Security settings page, there was no indication that a restart is required to complete the installation. Now when the update reaches the reboot pending state, a "Restart Required" is displayed under the language.
Fixed several enterprise device management issues.
Fixed an issue where notifications and Cortana's cross-devices settings on your device were not being mirrored to your PC.
Fixed an issue where only the first VPN profile was being displayed in the VPN settings page via Settings > Network & wireless > VPN.
Fixed an issue where a meeting Time Zone was garbled in Chinese or Japanese.
Based on Insider feedback, this release has changed "Phone Update" to "Windows Update" under Settings > Update & security.
Fixed an issue where some apps could not subscribe to SMS receive notifications.
Fixed an issue for Windows Insiders where some binaries stopped working when transitioning from Insider Preview builds to officially released builds.
Fixed an audio issue with Bluetooth headphones after Cortana reads an incoming SMS message to the user.
Fixed notifications (SMS, Calendar) with all Fitbit trackers.
Fixed crashes reported while using Photos app.
Fixed a deployment issue in where if an admin uses ActiveSyncCSP to provisioning email account on device running the Windows 10 Creators Update without providing a valid password, and the email server enforces a limited number of denied access retries, then the server will lock out the email account.
Improved battery performance by fixing a bug in a scenario where 30% more power was used during Camera app preview and capture mode.
Some Insiders provided feedback that playing video on phone resulted in a black flash and/or stuttering when in landscape mode. Microsoft has fixed this issue.
Improvements to Bluetooth connectivity with Garmin Wearable devices.
General improvement in reliability of phones by fixing top crash issues.
Fixed an issue where VPN profile appeared to be always ON.
Fixed a notification issue between the Bluetooth Support Service and device background services for fitness bands.
Fixed issues with Caller ID matching in Japan & Denmark.
Fixed an issue where downloading large apps could report out of disk space when there is sufficient space available.
Fixed an issue where installing apps (particularly games) from the Windows Store would sometimes fail with "Error, see details".
Fixed an issue where a device could not be unlocked after removing/turning off Windows Hello.
Fixed an issue where Cortana would not provide the region when saying "Your region is set to" and then "Is that right?".
Fixed a Turkish localization issue where the string "We need to fix your Microsoft account before you can use shared experiences …" was shown in English.
Improvements to the Field Medic Store app, where we fixed an issue with collecting Watson crash data, enabled spell checking when editing a report, and updated the PowerOn/PowerOff profiles to include additional battery info.
Fixed an issue where the screen would occasionally flash black after launching or rotating the Camera app.
Fixed an issue with the HP Elite X3 reporting that the SD card had been removed from the device when it had not.
Fixed an issue with Continuum where, after the attached monitor is unplugged, occasionally the mobile LCD does not power off and the mobile battery could be drained.
Fixed an issue with the Windows inbox NFC driver where occasionally the wrong card type data was reported.
Improved the Cortana resume-from-suspend behavior to enable a Cortana skill to be authenticated before the user interacts with the skill.
Fixed an issue with the behavior of the hardware search button in countries where Cortana is not available. In this case, the OEM provides the search app or URI.
Fixed the issue where trying to update Windows Store apps saved to your SD card resulted in an 8007000B error. Apps installed on SD cards should update without any issue.
Fixed an issue where there was no icon shown for Windows Update for either new notifications or on the settings page under Settings > System > Notifications & actions.
Let us know what you're hoping to see get added to Windows 10 Mobile with this feature2 branch!
Windows Central Newsletter
Get the best of Windows Central in in your inbox, every day!
Zac Bowden is a Senior Editor at Windows Central. Bringing you exclusive coverage into the world of Windows on PCs, tablets, phones, and more. Also an avid collector of rare Microsoft prototype devices! Keep in touch on Twitter: @zacbowden.
Listening to music via Bluetooth is horrible when you scroll your photos or on Bing maps app ... My 950 is so slow since the CU update and feature 2 doesn't make it better! Can someone push those feedback post? I would appreciate this. Everything else is ok. Could be more stable sometimes but it is fast ring so ok ...

Agreed. Listening to music is awful over bluetooth on a 950 with build 15063 and so many other previous builds. Any activity on the phone interferes with the music, emails, scrolling, opening apps. Microsoft cant seem to do 2 things at once. Ive have a similar issue with Skype text message notifications interfering and even stopping podcasts, very frustrating. If you are in Skype and receive a text it will stop playback of your podcast. Then you have to hope that the podcast starts up again when you hit play because the play button doesnt always works, just like the skip buttons. And half the time it simply gives you an error and other times it picks up at an earlier point in the podcast. This has been going on for over a year, cant wait to ditch Windows OS.

Agreed, I've had issues with Bluetooth for quite a while, my music suddenly stops and I have to pause and unpause from my bluettoth headphones for it to come back again. Since getting a new fitness band having it and audio connected at the sametime causing the audio to stutter if I even look at the phone the wrong way. It is rather frustrating.

Absolutely no issues with playing audio over W10 15063 (release version, not insider) for me, on a selection of BT devices. No issues there. A bit of unreliability when switching to BT internet sharing, but audio works flawlessly. Have you tried a factory reset of your devices? Something is very wrong there. At least, I can confirm that W10 15063 is perfectly capable of playing BT audio without difficulty on a Lumia 950XL.

I'm surprised that the Massively Screwed-up dys-Functional Team (MSFT) hasn't been sued yet for causing a car accident due to their wonky Bluetooth implementation! Songs cut out. My 950XL takes on about 10 seconds on average to figure out if I say "Read it!" or "Ignore it!" when a text message comes in. Over half the time, when I'm on a call the call drops but my phone stays connected to my car stereo but I'm just getting a hissing sound coming out of my speakers. Random disconnects aren't getting so random anymore, they just seem to happen on almost every call. If this is the Massively Screwed-up dys-Functional Team's approach to mobile devices, I'm not sure going to WoA is going to make any difference. Just plain crappy implementation.

I will comment that BlueTooth drops have become more common again... Connecting often takes multiple times. There does seem to be a bit of regression introduced as far as bluetooth is concerned with the latest feature 2 updates.

If you are running Insider Build then your complaint is not valid. However, I agree with you that it's disappointing in regards to the Bluetooth issues.

Bluetooth sucks arse on the release build, as that is what I have.

C'mon now, be nice! Jim, Dave and Sandy are the only three people at Microsoft working on Windows 10 Mobile. They're doing the best they can! :-)

Yes, there's no current devices, none in the pipeline and OS development stopped months ago. Microsoft has probably sold more Galaxy S8's than they did HP X3's... It's like the dead parrot sketch from Monty Python but with phones...

Umm, they've just released a new phone? Sure there are issues, but there are at least two current devices. One of which has just hit the shelves.

None of this is exciting or useful. How about reroute of navigation based on traffic?

Nothing to do with the OS, the app itself should support it.

After long time to see hand on video of windows mobile build

Emojis for seventh grade girls, they already have IPhones.

Why are you hanging around seventh grade girls?

maybe he's a middle school teacher? and helicoptor parents insist their children keep their iPhones on at all times. hey, I'm just trying to offer an alternative to He's creepy...

How about just a regular parent with a kid that,s welded to their phone the same as most kids that age.

You mean our own daughters? Because we're their parents?

I assume it's still traditional for 7th grade girls to have parents Dan? Perhaps things have moved on in this modern age. I feel old (43 today...).

Just to stand on my soapbox for a moment, but its getting to be a real problem to be a dad with a young daughter. People are far to quick to question why a man might be buying pink PJs in a department store, and if you need to buy then underwear then its safer to do it online these days. So jokes about creepy old men are about as welcome as jokes racial jokes. But, yes most girls are glued to their iphones it android phones so why Microsoft feels the need to put more emoji on an adult handset is rather strange.

Good question, Daniel. You actually get better results by going to a store, heading to the household paper products, and saying to a hot chick that puts some toilet paper in her cart, "Hey baby, I know what you're going to do with that later!"

Yeah, why put in features aimed at teens in phones aimed at adults. Seems like a total waste.

Clearly this OS has come in maintenance mode. I wonder if they read my 100 feedback messages on mobile regarding the keyboard and DLNA...

Noone cares about your spam which you've sent as "feedback" old man

No one cares about your fangirl comment to said "old man" crybaby.

What have I said wrong? WM10 is in maintenance mode. And yes, I did post a lot of feedback on WM10, using my NOKIA 1520 and my Lumia 950xl. Which I still IN use by the way, replaced the battery because it is a great phone. But MS silence is not normal on WM10. And being a windows insider, the program is a joke when it comes to WM10.

The silence is very normal for MS. Any chance to snub customers is fair game for them.

They seem to have broken all workout apps that uses GPS (Runtastic, Caledos etc) with the latest update. Microsoft Band still works and syncs.

That's not this Build. 15063 does for some apps. I normally use Cyclometer. GPX Viewer and Recorder works though. So, I'm using GPX Viewer and Recorder now.

Bad news... Cyclometer now broken too. I used to get excited when a new good app arrived in the store. Now I get excited when apps still work.

My third band2 broke a long time ago. I moved on to the charge2. and haven't looked back I've also moved on to an iPhone 6s+ and the transition was little rough but I've settled in. I'll be watching the new windows on arm

That Gear Fit Pro or whatever it's called that Samsung is coming out with looks really cool. True waterproofing to 5atm for swimming...

Yeah, I replaced my Band 2 with a Charge 2 and it's just so much better, actually having every function work is a Godsend. It also seems to be more accurate in my opinion as well, steps definitely are at least.

Runtastic was one of the few apps that i used and valued on a consistent basis. Now they have broken that and taken it away from me, but at least we have new emojis. Thank you Microsoft!

Cycle Tracks GPS, an app I have used for years, is no longer operable, crashes immediately after opening. Tested about TWENTY apps with the same results. This is a HUGE f-up and Microsquash is completely silent about it, just like that uncle who always farts the nastiest gas during Thanksgiving dinner and then acts like he doesn't know a thing about it.

Fixing the SD card bug was BIG. Thanks, Microsoft!!

Introducing the SD card bug and taking an age to notice was pretty BIG too. What a great experience! Thanks Microsoft!!

I really MISS Windows Mobile. Seeing these videos makes me sad, as a now Android user. I miss the user interface and just how everything worked well. I dislike iOS (treats me like a baby) and Android is just a mess from a usability standpoint. I hope Microsoft can find its way back to mobile.

Same here. That's why I kept my Lumia 950.

Yep. From my cold, dead hands.

Totally agree with you. I can't stand Android at all... it's such a mess of an OS, but I'm only using it for the apps. I hope whatever they have planned next will work out. I really miss all the seamless integration with Windows and all my services and the better UI design.

When has W10M ever worked well? My 950 XL hardly works. I can't wait to jump ship to Android at Christmas.. I have been with Windows Mobile since the launch of the HTC Surround (WP 7) and MS has seriously pissed me off. They sold us an unusable OS at the launch of W10M which still has insane amounts of bugs that prohibit the phone being used as a phone. Edge doesn't work, BT sucks donkey and constantly disconnects, cell service is volatile and the thing CONSTANTLY reboots (and I'm not even on insider builds!). The ONLY good thing I can say about my 950 XL is that the battery is a beast. Microsoft, you have lost me as a loyal mobile customer; I won't be coming back. Huawei Mate 9 here I come.

my 950 sucks to. everything closes on it's own and my phone shuts down constantly.

what are the issues with the XL? Constant reboots? If so I recommend you to get a new battery, mine was like that and after replacing the battery is working great. I'm not an insider for mobile as in my opinion is useless.

My camera autofocus is screwed, I get occasional reboots, the screen still sometimes wakes to black and I have to lock the phone then open it again. My front facing camera broke about 6 months ago due to an update and still hasn't been fixed, as a result I cannot use Windows Hello because it lost my iris information (don't know how) and required a reset of the scan, but I cannot complete said scan because my ffc doesn't work. Suffice to say, I am having a lot of issues with this phone now and cannot wait until my plan is up in November.

My comment wasn't really about Windows 10 Mobile, it was about Windows Phone -- the version that I ran and enjoyed was Windows Phone 8.x. I left when Win10M started rolling out and the problems began. I had a 950XL for a brief period of time and it didn't go so well. I returned it a week later, sadly.

Your post perfectly summarizes my experience with W10M, particularly your comment about the OS being all but unusuable at launch. Sweet baby Jesus it was horrible out of the gate and somehow it remains a worst-in-class experience even today. Two years ago Panos Panay had the temerity to stand on stage and basically lie to all of us, Microsoft's most faithful users, about how great the 950 and 950 XL were. Sure, they have two antennas, "Why two? Who puts two?!" he asked rhetorically during the reveal event. This innovation must make for an AMAZING phone, right? Hmmm, mine drops Wi-Fi all the friggin time, has crappy Bluetooth connectivity and cell service that's sketchy at best. If ******* off fans and driving potential customers away was your goal, way to go, you're the best in the business! The number of deal-breaking faults that STILL exist in this OS is unfathomable, like the broken glance screen, an all but unsuable Instagram app, heat and battery-drain issues and much more. Some will blame faulty hardware for the woes I continue to face, and to their credit the refurbished handset I got from AT&T as a replacement for my original 950 may be a clunker, but still, what the actual f***? Ther's NO EXCUSE for how horrible the overall experience is. Instead of loving my phone I absolutely loathe it and regularly have to restrain myself from throwing it in disgust onto the ground. My friends laugh because everytime I try to do something with it it fails. Need me to find directions? I can't because Cortana isn't working. Oh, you wanted to meet at 7:00? Sorry, I can't make it because your call never went through; maybe I'll get the voicemail next week. I'll take a group photo! Whoops, looks like the camera app crahsed and now the entire handset needs to restart. New iPhones **literally** cannot get here soon enough because I'm done with Microsoft forever.

watch out, you can fall into Google ocean when jumping the ship. Many before you did :)

Constant reboots may be a battery problem rather than an OS one.

Agree with the IOS treats me like a baby. But I can't imagine 85% of smart phone owners put up with something worse than windows phone. Android can't possibly be as bad as windows phone is right now. Case in point. Read your comment on my 640XL release preview. Edge reloaded the web page twice before I could finish reading just your comment and the replies. Hit the reply button. Nothing. Repeat above step 14 times. No reply box, no keyboard. Edge reloads 3 times while trying to hit reply button. Jumped to the windows central app. Opened twice because it crashed on opening. 10 minutes later the dots are still scrolling across the top, comments are still unavailable. Jumped to computer WC app. Worked flawlessly, or so I thought. Typed all this out only to have the send button not work. Copied text, opened Google chrome. Navigated to article and your comment. Pasted text. Hit comment, and...(if comment is posted it worked in chrome) Nothing could be as bad as WP. Even if WP had the apps, which it doesn't. Believe me you aren't missing anything.

26 minutes to post the above comment. (as verified by the comment I left below) I only continued because I wanted to prove a point. Point well proven in my opinion. This is why I hate windows phone, I'm hoping to leave windows phone very soon, and I won't be coming back. Been burned WAY too many times for far too long with Windows Phone.

I am able to post comments fine on edge browser fine without any issues.... Yes I used my Lumia 640 to post this!

Same here, my Lumia 640 posts perfectly.

Why you don't try Windows 10 Mobile then? Windows Phone is old and outdated now. Windows 10 is way better and very reliable. Sure there's still some bugs, but Microsoft is activelly working on them all the time.

Everything was posted on windows 10 release preview. Edge is so buggy it is impossible to do just about anything on the web. And with the lack of apps, it's pretty much a phone with solitaire.

Sorry to hear all of your problems, friend. I also left for valid reasons. I won't go back to Windows Phone until something changes, and W10 Mobile is not just a bone being thrown to the people who have a Lumia or Elite x3. But I do miss it a lot.

Install launcher 10 and the interface is back. Not only for notification bar and settings. But the live tiles are there... You can also install always on ON amoled if you have amoled display to get glance screen. Honestly android is better. I hate to admit it, but it's true. It can be modified to look like anything you want, it's fast, it has more features and is more reliable. I will keep an eye for phone running windows, but I will use it only as a taster and just for curiosity. For the real use there currently is only android that can deliver all I need.

Can't agree more...I miss Windows OS soooooooooo much!

Confirmation (if we ever needed it) that Windowphone is dead

The irony is my windows experience has never been as good as it is now. My HP Elite x3 on the latest production build runs flawlessly. Everything works as it should, so it's definately bittersweet to know this is probably the end of the road for Windows Mobile as we know it.

Agree. My X3 is almost 100% (still have hiccups with Bluetooth connection at times in car). Seems as though the thrust of builds has been skewed toward X3 at the expense of other phones. I got a Samsung Galaxy Tab S2 to access some apps and absolutely HATE the OS. Of course IOS is the same type of interface. I will continue to use my X3 until they totally abandon W10M or the "ultimate mobile device" that has been suggested exits vaporware into reality.

Mine does too, (950XL), however, how fast do apps open? I mean WhatsApp, Zomato etc? For me, the apps are a bigger issue than system apps (calculator/message etc).

I have been very critical of Windows Mobile recently and apparently switched to android after 6 years of WP use. But every time I see a new handson type video, I get excited. True, the platform is pretty much dead for regular users but heart still belongs to Windows Phone :) Just do something good and I'll be one of the first ones to come back. Good luck Microsoft Mobile efforts :)

Please fix the bugs in the camera app. The camera is almost unusable in my 650. It crashes after one photo. It gets stuck in Saving mode and you have to reboot your phone. It saves images as thumbnail.jpg.

Had that on my 640. The only solution I found was either to use a different App, to backup and do a factory reset. After the reset my hand set was faster and more stable than ever. It felt like a new phone again.

Mines fine. Back up and reset your phone under settings > system > about..

Night light, edge features, camera stability, and a statement saying they are ending support for mobile. I feel like a significant other who can't read the signs. Microsoft should do the humane thing and finally force the breakup. I know this will probably get me down voted, but I am not here complaining about the lack of apps or app updates. I knew there was no gurantee about that when I moved to the platform. I am complaining about the lack of os support on the phone I paid $500 for. As the #6 biggest tech company in the world, they should be embarrassed.

Did you really expect support from Microsoft? They have never supported their mobile platforms!

Well, everything is in order. It said feature2, and that's exactly what we got: 2 features. /s

I am not running this build but I thought that emoji search was built into the regular keyboard...? For instance if I typed "Pretz"Zac,... the kayboard would suggest the completed word "Pretzel" along with the pretzel emoji. Can anyone confirm this?

it should work but the word you think is in context is not always the word. for example if you type coffin, you won't get the coffin emoji

You'll get a reflection of the phone you're holding in your hand.

Well I dislike updates, they screw up all my interfaces such as bluetooth pairing of the phone and my vehicles. I want trouble free not hope and change. The Hope is always out of reach and the change is always worse.

Bluetooth still sucks big time. Just imagine for how many years Microsoft deals with Bluetooth and they still can't get it right. .

so when are they going to fix Edge constant reloading? Been a horrific bug for years now. But quite frankly, I'm done. I'm done championing a phone whose own creator hates. I'm done waiting for the next update. Got excited for Windows on ARM until it was the typical windows we-have-this-great-new-product-that-might-be-available-someday. I'm done. I'm heading to android and i won't be coming back to Windows for any phone. I can't trust that the next product will be any better. I don't have faith they will conquer the smart phone market and by extension, AR or VR market.

...would have loved to finish, proofread, edit then place the above comment, but alas, my Windows phone took the keyboard away and refused to show the keyboard. Hit the edit button 7 times and the phone did nothing. Yet another reason i don't trust Microsoft will get it right the next time. I'm done with Windows Phone. Forever.

I'm using this build on my HP Elite X3 and my Alcatel Idol 4S... It runs wonderfully on the X3.. Not so wonderfully on the Alcatel... I wanted to love the Idol 4S... But all it does is look pretty.

Maaaaaaannnn... Everytime I see someone else use Win10 mobile it's just so beautiful. Smooth, looks clean, live tiles and the background behind the tiles... Just so great. If only this thing had taken off! Ugh. Lightyears ahead of Android and iOS in terms of visual appeal

It's a proper adult phone, the others target teenagers too much.

I read these things with sadness. I use an Android device as my daily phone and basically dislike doing so. I do it because I use apps that are not available on Windowsphone. I want to see a sucessful phone. At this point there is a Windows 10 Mobile market. It's small. A few million devices a year. Like many small Android makers it should not be beyond Microsoft's skillset to use a Chinese manufacturer to do an annual Windowsphone refresh for people who want that kind of device. It can be an ongoing platform for development and evolve over time. Rebooting to the "Surface Phone", "Surface Pocket PC" etc is not really the answer. Most Surface devices are not as popular as OEM devices. They make some money but market share is also on the 2% range compared to the HPs, Lenovos etc. The problem Microsoft had was Apple envy over the iPhone. Microsoft have to get out of the mindset of a device that will conquer the world. Instead do phones. More modestly that Google or Apple. A far smaller player. Rebuild rather than reboot. Articulate a mobile app strategy that makes sense - for example web wrappers and progressive web apps. Developing the super secret Andromeda device and just revealling it as the next reboot doesn't seem to me to be sensible. This will be reboot 4. After 3 times it should be clear that rebooting and trashing everything before is probably not going to work .... again.

I really doubt they're rebooting it again in the way they have before. They're likely either going for somewhat of a niche/enterprise device or integrating Android or something (MS & Google both working on a mobile platform called Andromeda... Maybe coincidence, maybe not). While they have immense resources, the billions of dollars they've burned on mobile has to come to an end at some point.

I was having lots of irritating issues with my 950xl until I did a hard reset. Now the only thing that bugs me is that the WC app still freezes when opening and on refresh for 10+ seconds

Zac is wrong in his video about not being able to search for emoji. You can search for emoji on the Windows 10 Mobile keyboard. You just type what you're looking for and it comes up as a suggestion. In many respects, Windows Phone has had it for a very long time, dating back to Windows Phone 8.1. So the desktop has this feature too now, no reason to bash my precious Windows Phone for having features before the desktop *Hisses at Zac like an angry cat*

Should I expect Fitbit notifications when this Build goes Public?

Going back to 8.1 was refreshing.

Absolutely. The very best Windows Phone. Sadly we can't go back to 8.0.

A quick look at a zombie :D

Com'on man...everything you try on Android slows it in the first place and then the oS becomes power hungry....launchers, third-party always on implementations...all suck! The only features that work well in Anrdoid are the ones that come with the stock OS...and trust me Android OS is far more naive when compared to Windows...Windows rocks!

Here are some caveats of the Stock Android OS: You can't change the color scheme of Android to Black like in Windows... I mean why? No live tiles....and Yes widgets are not replacements to live tiles because they are ugly and power hungry No double tap to wake as a built-in function No Always On No way to hide the contents of the push notifications .....

wow by the time Windows 10 mobile OS is totally retired in 2018 it will be a very stablle smart phone operating system. The big question is? folks will the new Windows 10 Andromeda OS mobile devices be ready for the market place by Sept 2018 just before Windows 10 mobile is retired. if Microsoft software Engineers cannot get this new Windows 10 Andromeda Operating system working right. Microsoft should extend Windows 10 mobile's OS life at least 2 years and add some new features

Yes when it stops updating I will have a stable happy time and keep using my 950XL. Looking forward to it.

I have given up on Win Mobile/Phone and couldn't be happier. I know you guys love to bash the iPhone but this thing just works. So far, it looks like Satya is going to fail on mobile as well.

Stil i have daily crahses, hangs, lags in both of my 4 Lumia 950 XL , 950 , 640 , 535 except some other lumia models that is ok.

I'm curious why ppl said Windows is no longer bother the W10M anymore? What i see is MS keep updating their almost dead mobile OS like bugs fixes, creator update... that's something i like about MS, they trying to maintain the service for they mobile fans, although it's actually doesn't matter.
I'm using android all the while, the problem with Android is the manufacturer will not give any update after a year or less. they are very quickly drop support on their phones because the life circle of andoird is very very short. There's ton of new phone coming out every single month, and the value of your android is drop significantly fast.
All android user must admit that no matter what brand you bought it will just become out dated after few months, like the phone i currently own, still sticking with android 6.0 while the official Android 8.0 is coming out soon.
That's why i like MS M10W to success, i like MS that keep their old device as long as they can...i'm looking forward to the ultramobile-pc from MS soon later this year maybe.
Windows Central Newsletter
Thank you for signing up to Windows Central. You will receive a verification email shortly.
There was a problem. Please refresh the page and try again.