Hands-on with the Windows 10 Spring Creators Update (video)
Let's go hands-on with the upcoming 'Windows 10 Spring Creators Update' to showcase the best new features and changes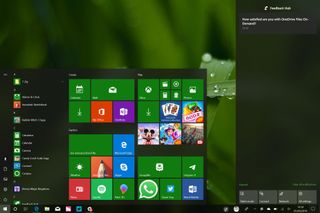 Microsoft is about to release a new feature update for Windows 10, known as the "Spring Creators Update" (that name's not official yet, but we're confident it's right), that has lots of new features, enhancements, and changes. Microsoft likes to release two major updates to Windows 10 each year, and the Spring Creators Update is the first release for 2018.
As always, we went deep into the upcoming Windows 10 update and made an in-depth video walkthrough showcasing all the noteworthy new changes and features that are coming in the update.
The biggest noteworthy changes include updates to Task View that add a new feature called Timeline, which lets you resume apps and documents across devices up to 30 days in the past. There are also lots of improvements to Microsoft Edge, the UI of Windows, and the Settings app.
The Spring Creators Update isn't a huge one, but it has enough small improvements that it feels really well rounded. This is an excellent update to Windows 10 that improves things a lot, and users are going to appreciate it.
What are you most looking forward to in the Spring Creators Update? Let us know in the comments.
Windows Central Newsletter
Get the best of Windows Central in your inbox, every day!
Zac Bowden is a Senior Editor at Windows Central. Bringing you exclusive coverage into the world of Windows on PCs, tablets, phones, and more. Also an avid collector of rare Microsoft prototype devices! Keep in touch on Twitter: @zacbowden.
10:00 Is that what your website is like without an ad blocker!? Jesus.

What looking forward to the most are the improvements coming to Windows Mixed Reality

Zac, you missed the fact that WDAG now works on Microsoft Edge outside an Enterprise. It does have to be switched on as an optional component and is only in Pro not Home.

Ugh, hate all the transparency effects and the lighting crap. I miss the metro days, where content and clarity in the delivery of it was paramount. Now it just looks like aero all over again. Like it's 2005.

Then turn it off, Zac even mentions you can turn it off in the video!!!!

Nothing in there to get exited about. A lot of users will probably not even notice these changes.

I really do not see how
if you have transparency effects on you will definitely notice all of the acrylic/reveal especially tablet users using the on screen keyboards. then there's task view icon change and timeline and setting changes. the performance improvements over FCU are worth it alone :)

Yes, Windows eliminated Homegroups. I didn't think that would be a huge deal since I had created a home network with shared files and folders previous to Windows 7. What I didn't expect was that my four Win10 computers would simultaneously stop finding each other on the network. After much effort and fiddling I got my one Win7 machine to see the Win10 machines and see their shared content, but the Win10 machines only see the Win7 device on the network and are told they don't have permission to access the machine. Two attempts to get support from Microsoft on this issue failed completely because their own apps crashed when trying to access my machines. So ... if you use a home network, look out.

Don't you mean if you use Home groups look out?
I do and now I'm screwed. It seems more like a case of they couldn't figure out how to make it reliable enough and so just chucked in the towel. It worked most of the time though. So now I'm going to have to find an alternative, sigh!

Are Cortana's Lists related to Microsoft ToDo?

Hope It works, In the beginning the fall update was a joke, but slowly improved.

Meh, no new File Explorer makes it a not-so-substantial update. We still don't have any options to have a dark mode for the File Explorer, which makes having one in just a few places not so effective.
And if you don't use Edge, there's not much to look forward to in this update. How about a new Volume Mixer, Microsoft? We need a smarter way of managing audio streams on a PC than the old awkward mixer. Something that is easier to access and has better organisation of audio sources. If you want to silence a particular program now you have to sometimes scroll to the right, because every extra program you start seems to overflow outside of the boundaries of the volume mixer, instead of just making that window auto-size itself based on contents. There's no fast way of silencing only one particular application on Windows 10, which for me would be an important feature that would be very helpful.
Not to mention that I think the last update (the Fall Creators one) removed the "minimize" button from the title bar, if I'm not mistaken. You can't even minimise it anymore if you need to get it out of the way, but still keep it open. Audio management in Windows 10 seems like an afterthought, anyways, which is why so many professionals use macs for music production. This is one practical area in which Microsoft has a lot of things it needs to improve, but it doesn't seem as interested as in making all sorts of UI sprinkles and fluff that don't have much of an impact on practical things.

Not holding my breath for anything exiting, if there was a transparent slider to go for fully transparent might turn it on again, this acrylic design just looks poor, people want speed not blurry effects

The New function timeline.

Nothing interesting in this update. The transparency design (whatever the name is, I don't recall it now and I don't care to go looking for it) is still a good concept terribly executed. The use of dark greys instead of black is really stupid and the inconsistency annoying. Timeline is useless.
And so is that dumpster fire Microsoft calls a browser. Maybe the Autumn Creators Update 2018 will bring something better (like the cloud copying they keep delaying)