I have used Corsair's iCUE 5000T RGB for a year now, and the mid-tower case has everything I'm looking for in a high-end chassis. The design is exquisite, there's more RGB lighting here than in just about any other case, and it can house the largest video cards and custom liquid cooling setups without any issues whatsoever. The downside is that it costs $369, but if you want a flagship case to show off your gaming hardware, I can't think of a better option than the 5000T.
Pros
+

Sublime design with more RGB lighting than you'll ever need

+

Plenty of space for large video cards or custom water-cooling setups

+

Four USB-A and one USB-C port at the front

+

Hassle-free cable routing
Cons
-

Bundled fans could have been better

-

Costly
Why you can trust Windows Central Our expert reviewers spend hours testing and comparing products and services so you can choose the best for you. Find out more about how we test.
I don't tend to switch between a lot of cases, and for the last three years, I've used a variety of Corsair's mid-tower cases. While the iCUE 465X and 4000D series of cases were great in their own right, it was only when I moved to the iCUE 5000T RGB that I realized just how different it was from Corsair's other offerings.
We've already reviewed the iCUE 5000T RGB back when it launched last year, so if you're interested in seeing photos of the case pre-build and getting a better sense of its dimensions, I'd suggest reading that post first. In this article, I'm going to talk about what it's been like to use it for over a year.
iCUE 5000T RGB: Price and availability
For starters, the 5000T is absolutely massive — while it's still technically classified as a mid-tower chassis, it looms over all of the other cases I have at home. It is 40mm taller and 10mm longer than the recently-launched 5000D case (I'll be reviewing that shortly), and it easily commands attention on your desk.
I got the white variant of the case, and it looks absolutely stunning. That's a given considering how much the 5000T costs; it debuted at $399, and you can get your hands on it these days for $369 from Corsair's website as well as Amazon. That's nearly three times the cost of most mid-tower cases, so what exactly does the 5000T offer?
iCUE 5000T RGB: Still perfect
Image 1 of 4
Well, the main reason why I haven't switched away from it is the sheer space and the RGB lighting. Corsair went overboard with RGB lighting on this case, and there are a total of 208 RGB LEDs; 160 LEDs on the light strips and 48 on the bundled fans.
You'll find light strips just about everywhere — two at the top, two at the front, and two at the bottom, and they look striking — particularly on the white color option. The dynamic lighting gives the 5000T the kind of presence that you just don't get with any other case today.
The large glass side panel allows you to show off your gaming hardware in style, and there's a nifty cable cover that hides the motherboard and video card cables. The front panel has four USB-A ports in addition to a USB-C port, and I used the latter more than I thought I would.
Image 1 of 4
And as for the space, the 5000T has enough room to house the largest radiators, video cards, or motherboards. This case can accommodate an E-ATX motherboard, and it housed my RTX 4090 GPU comfortably. It can also fit a 360mm radiator at the top or front, and if you're going the custom route or considering Corsair's Hydro X series, there's enough space inside for an elaborate setup.
While the aesthetics are clearly a differentiator, it's the accessibility that has made a bigger difference over the course of the last year. Now that I'm covering more hardware, I routinely switch out parts and make modifications, and the 5000T solves a lot of pain points.
Both side panels swing outward and have a toolless design, making it that much easier to access the internal components, and the mesh covering at the front is easily removable — allowing you to switch out the fans should you need to.
Image 1 of 4
The top section also comes off easily enough, although it needs a little more force than the front panel. This made a big difference when installing Corsair's H150i Elite LCD XT cooler and the 360mm radiator slotted in at the top with plenty of space to spare. Another plus point for the 5000T is the cable management; Corsair did a magnificent job in this area, and the case lets you easily route and tidy up all the cables at the back.
With RGB being such a key focus for the 5000T, the case includes Corsair's Commander Core XT module, which has the potential to power and control the lighting of six fans in total. It ties into Corsair's iCUE software and does a stellar job of syncing lighting effects throughout the case.
Image 1 of 2
Corsair overhauled iCUE earlier this year, and the software is one of the best around for controlling RGB lighting. You get extensive options to tweak just about every facet of RGB lighting in this case, and I had a lot of fun customizing the lighting configuration over the course of the last year.
The only issue I have with the 5000T is Corsair's choice of bundled fans. You get three LL120 fans at the front as standard, and these don't quite cut it on such a high-end case. They're loud and don't deliver the best airflow in Corsair's portfolio, and the brand should have included QL series fans at the least — or the excellent new AF120 RGB fans — considering what the 5000T costs.
That said, there's plenty of ventilation and airflow, and I didn't have to worry about overheating issues or dust.
Image 1 of 4
A year later, I don't see myself switching to another case. Yes, the 5000T is costly and isn't a good value, but it isn't meant to be — this is a flagship case that's designed to grab attention, and it delivers on that front in a big way. If you want a large case that'll house all your hardware with ease and has excellent RGB lighting, the 5000T is among the best mid-tower cases you can get today.
If you don't mind the cost, the iCUE 5000T RGB is one of the best cases you can get today. The design is incredible, Corsair put a lot of thought into cable management, you get excellent airflow and ventilation, and the case's RGB lighting is second to none.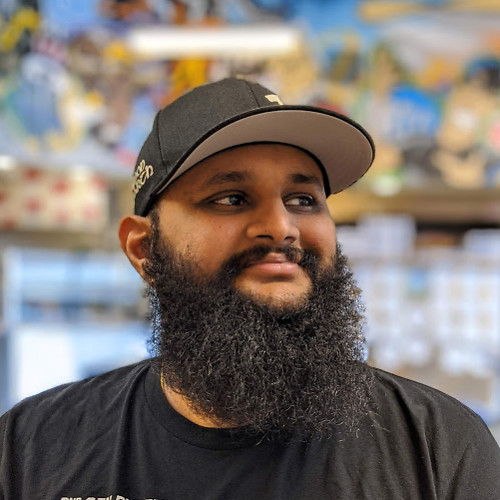 Harish Jonnalagadda is a Senior Editor overseeing Asia for Android Central, Windows Central's sister site. When not reviewing phones, he's testing PC hardware, including video cards, motherboards, gaming accessories, and keyboards.