The ZBook Firefly 14" G10 is HP's thinnest and lightest workstation PC, and combines enterprise features with plenty of power and discrete graphics. An awkward touchpad, boring design, and below-average build quality aren't enough to make this PC any less enjoyable to use.
Pros
+

Rock solid performance in a thin package

+

Bright, colorful, and responsive display

+

Comfortable, well laid out keyboard
Cons
-

Touchpad suffers from some weird issues

-

Build quality feels below average
Why you can trust Windows Central Our expert reviewers spend hours testing and comparing products and services so you can choose the best for you. Find out more about how we test.
For professionals that need proper power, enhanced security, and enterprise-level features on the go, HP's ZBook line is here to deliver. A more powerful counterpart to HP's popular EliteBook family of business-class laptops, ZBooks bring discrete graphics while still staying portable. The Firefly 14" G10 is the latest and greatest variant of HP's thinnest and lightest ZBook, and it's pretty great.
Sure, it's not a looker, and its build quality suffers from flexing, creaks, and seams, but this is a powerful, reliable, and comfortable laptop that is strangely fun to use. The HP ZBook Firefly 14" G10 is a prime example of not judging a book by its cover, as the base experience offered is great. With endless options to configure the laptop through HP (complete with frequent major discounts), the ZBook Firefly 14" is an excellent option for the mobile professional.
Disclaimer: This review was made possible by a review unit provided by HP. The company did not see the contents of the review before publishing.
ZBook Firefly 14" G10: Specs, build quality and design
HP doesn't advertise the ZBook Firefly 14" as being the most premium built or designed laptop, and that's because it isn't. It's made to be highly functional and feature-packed, and that's exactly what it is. The Firefly 14" is clad in an all-aluminum chassis, and also makes use of a ton of recycled materials. The aluminum shell is 50% recycled, and the bezel is 75% post-consumer recycled plastic. The keycaps are 50% post-consumer recycled DVDs and CDs; even the speaker enclosure uses 5% ocean-bound plastic. The packaging is also 100% sustainable, with next to no plastic anywhere in sight. It's what I like to see.
Reviewed configuration
Price: $3,708 (discounted to $1,780 at time of review)
Display: 14-inch DreamColor IPS, 2560x1600, 500nits, 120Hz, anti-glare, non-touch
CPU: Intel Core i7-1365U vPro
GPU: NVIDIA RTX A500
RAM: 32GB, 5,200MHz DDR5
Storage: 512GB PCIe SSD
Battery: 51Whr, 65W USB Type-C charger
Size: 12.42 x 8.8 x 0.78in (315.6 x 224.3 x 19.9mm
Weight: Starting at 3.2lbs (1.45kg)
Overall, the ZBook Firefly 14" isn't that interesting to look at, though. While it is pretty thin (just under 20mm) and light (starting at 3.2 lbs or 1.45kg), its combination of squared corners and rounded sides is generic and makes the laptop look more bloated than it is. While a plastic bezel makes sense for a non-touch laptop that potentially needs to withstand a beating, it certainly doesn't look amazing.
More important than the looks, though, is how everything fits together. The ZBook Firely 14" has plenty of flexing panels, creaking, and noticeable seams. Putting any pressure where you'd naturally hold the laptop (where the lid closes, in the center) results in a concerning snap sound, while the laptop cover, keyboard deck, and bottom vent flex quite easily and visibly. The bottom panel also doesn't cleanly flow into the aluminum chassis, resulting in a sharp lip all along the bottom edge of the laptop, especially at the squared corners.
The HP ZBook Firefly 14" doesn't look or feel very premium, especially not when considering its price, but it's still made to be as durable as possible. This laptop passed 19 MIL-STD 810H durability tests and underwent over 120,000 hours of testing in HP's labs. The hinge is rock solid (and the laptop can be opened smoothly with one hand) and the keyboard is spill-resistant, hopefully helping the laptop survive years of travel and day-to-day wear and tear. The bottom panel is easily removable to access the swappable storage and memory. Strangely enough, I'm not worried about this laptop's durability. Its fit and finish don't match the price tag, but it also didn't affect my ability to use the laptop.
Specifications and features
There's a nice number of ports for a laptop this compact (including an optional SmartCard reader if needed). HP places an older Type-A 5Gbps port on the left side, a full-sized HDMI 2.0b, and two Type-C with Thunderbolt 4, which are also used for charging. You also get a headphone/microphone combo and another Type-A 5Gbps port on the right.
HP uniquely offers optional Intel 5000 5G Solution WWAN Broadband Wireless on select configurations for those who want to stay connected wherever they go without needing Wi-Fi.
Up top, you get the 5MP full HD webcam (with optional IR sensors for Windows Hello), and you can get a fingerprint sensor on the keyboard deck in the bottom right. A vent on the bottom of the laptop brings in cool air to keep things running smoothly, and a vent hidden on the rear of the laptop behind the hinge spits out all the hot air. Nothing is missing, and if you need a feature, there's a good chance HP offers it in its very in-depth configurator. You may have to make compromises for some combinations (for example, more powerful Intel P-series processors can't be paired with NVIDIA's A500 GPU), but you at least have the options.
A quick note on pricing and availability. HP offers dozens of configuration options through its website. Seriously, you can customize nearly every part of this laptop. You can swap out the Intel CPU for an AMD alternative, although it'll rely on AMD's integrated graphics rather than NVIDIA's A500. HP lists this laptop as starting at over $2,000, but I couldn't find a configuration that wasn't extensively discounted, usually by over 50%. The configuration HP sent to me is very well-balanced and more than powerful enough for my usage, and while HP quotes it at nearly $4,000, it's actually available right now for less than $1,800.
At full price, this laptop is much harder to recommend, even for enterprise work. Still, it seems HP made the retail price purposefully high to entice you with big sales (and at those discounted prices, the laptop is far more reasonable). If you're buying this laptop for work and do not need Intel vPro (be sure to ask before you pull the trigger), that's an easy way to save a bunch of cash.
Recommended configuration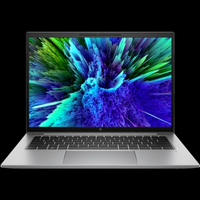 Core i7-1365U | RTX A500 | 32GB RAM | 512GB SSD | 120Hz DreamColor
You'll have to configure it yourself at HP, but the above foundation is a great place to start. You can change anything you want to fit your needs or save some cash, like dropping vPro support or lowering the RAM amount. Everything you might want to tinker with, you can do so at HP.
View more configurations at: HP
ZBook Firefly 14" G10: Display
There are many display options for the HP ZBook Firefly 14" at various price points and use cases. Need a touch screen? There's an option. Don't need a high resolution or max brightness? You can save some money and scale down. Fortunately, HP sent me the most interesting display option for this laptop, the 14-inch DreamColor IPS display. It's crisp with a resolution of 2560x1600, bright with up to 500 nits brightness, fast with a 120Hz refresh rate, and color accurate with a rated 100% of the DCI-P3 color gamut.
This display looks amazing on paper but delivers in reality, too. Sure, my testing returned 97% of the DCI-P3 color gamut rather than a full 100%, but this display is still sharp and color accurate, and it gets even brighter than HP advertises. A 100% brightness of 542 nits makes the Firefly 14" easy to use even in sunlight, but it gets dim enough to use in near blackness, too. A taller 16:10 aspect ratio makes this laptop great for productivity and makes the 14 inches feel more spacious.
Swipe to scroll horizontally
| Setting | Brightness | Black | Contrast | White point |
| --- | --- | --- | --- | --- |
| 0% | 26.5 | 0.03 | 970:1 | 6,000 (0.323, 0.318) |
| 25% | 54.1 | 0.04 | 1,320:1 | 6,000 (0.322, 0.319) |
| 50% | 129 | 0.11 | 1,170:1 | 6,100 (0.321, 0.320) |
| 75% | 285.8 | 0.25 | 1,150:1 | 6,200 (0.319, 0.320) |
| 100% | 541.8 | 0.48 | 1,130:1 | 6,400 (0.316, 0.321) |
Honestly, though, there's just something about this display that's so nice to look at. It's not the most vibrant or awe-inspiring display I've ever laid eyes on (Microsoft's Surface displays still look more "poppy" than this), but the combination of an anti-glare coating on the screen and this natural, well-balanced color profile makes the ZBook Firefly 14" a joy to use. Adaptive refresh rate (adjusting from 60Hz to 120Hz as needed) helps preserve battery life, and HP also bakes in an adaptive color mode to help adjust the display according to your environment. Still, I kept that off for most of my review.
I typically scoff a little when companies needlessly brand things, but this display's very specific blend of features and specs almost deserves the DreamColor name. I feel like I can look at this display for hours without eye strain, and everything looks exactly as I expect it to. There's also minimal light bleed, and what is there is soft and spread out, so brightness is uniform across the entire screen. It's just so... Comfortable. That's not a word normally ascribed to a display, but it's true.
Of course, it's not perfect. The contrast could be better, as this display's contrast ratio is about average for an IPS panel. At this price point, I'd expect better than average. Viewing angles also aren't the greatest, but that may be due to the anti-glare coating on the screen. You also don't get full HDR support if you work with HDR content — all you get is HDR video streaming. All-in-all, though, I really like this screen; it's my favorite out of all the laptops I've used.
ZBook Firefly 14" G10: Performance
Image 1 of 6
The biggest differentiator between HP's EliteBook and ZBook enterprise families of laptops is the option for discrete graphics in the latter. The ZBook Firefly 14", the lightest and most mobile of all the ZBooks (starting at just 3.2 lbs), is hardly a powerhouse, but it is more powerful than your average Ultrabook for creative workloads. HP gives you several options for configurations, but the most common will likely be an Intel 13th Gen U-series CPU and the NVIDIA RTX A500.
If you haven't heard of the A500 before, that's understandable. This GPU has a different focus from NVIDIA's consumer-facing GeForce line of gaming GPUs. Rather than specializing in gaming and media consumption, the A500 is tuned for creative work in video and photo editing, 2D and 3D models, AI, and more. On paper, it's similar in power to an RTX 1650, but it doesn't reach even those heights in gaming. While it's still better than Intel's integrated Iris Xe graphics, keep in mind what this GPU is designed for.
So, how does the ZBook Firefly 14" perform? My model came equipped with an Intel Core i7-1365U, a slightly higher-clocked version (with Intel vPro support) of the more common i7-1355U found in many Ultrabooks. You still get a 15W platform with 10 cores and 12 threads, but it's clocked to 1.8GHz instead of 1.7GHz, and can Turbo up to 5.2GHz instead of 5.0GHz. I also got the aforementioned NVIDIA RTX A500. Other models of the Firefly 14" may ditch the dedicated GPU for Intel's more powerful P-series processors if you need more CPU oomph than GPU. For the first time, HP is also offering the 14" variant of this laptop with AMD processors, which still support Thunderbolt 4 and have ISV certification (but also drop the RTX A500).
In benchmarks, the HP Firefly 14" performed as I expected, with a few surprises. When comparing the ZBook's performance to laptops Windows Central has tested with similar or even higher multi-core performance, the ZBook's single-core performance would standout — For example, the HP Elite Dragonfly G3 with a 12th Gen Intel Core i7-1265U bests this laptop in multi-core performance (6,608 vs. 6,510) in Cinebench R23, but not single-core (1,746 vs. 1,894). Overall, though, the ZBook Firefly 14" tested very well, often besting laptops with more powerful on-paper processors like the 28W Intel Core i7-1360P.
In real-world use, this laptop ran like a dream. I never encountered any stutters or issues, and 32GB of RAM is more than enough for my workload. HP touts this device as being good for video and photo editing, 2D model work, and viewing 3D model files when on the go, and I believe it.
The SSD is fast, too, with read speeds of 6,640 MB/s for read times and 3,992 MB/s for sequential write. The read speed is among the best we've seen from modern SSDs short of high-powered gaming PCs, but the write speed is on the average side for PCIe 4.0 (which makes it no less impressive in use). This laptop kept up with me whatever I did, and it never slowed down over time. It can get a bit hot, especially around the top where the laptop body meets the display, but it was never too hot for me to comfortably use the device, even in my lap.
I will repeat, though, that this is not a gaming laptop. HP doesn't advertise it as such, and the NVIDIA A500 doesn't fill that role. It performs slightly better in games than Intel's newest integrated graphics would (4GB of VRAM probably helps with that), so you could play lighter games like Minecraft without much issue, but don't expect to play Elden Ring or Cyberpunk 2077 on this laptop. It's just not going to happen. This laptop has three focuses: portability, enterprise and creative workloads, and security, and it does all of those things well, with all of its hardware very carefully selected to meet those focuses.
ZBook Firefly 14" G10: Battery life
With a 51Whr battery, the HP ZBook Firefly 14" is well-equipped to survive a day of workflow, especially with 65W fast charging through its two Thunderbolt 4 USB Type-C ports to give you a top-off when needed. On the flip side, this laptop packs a discrete GPU as the NVIDIA RTX A500 professional graphics card and a bright, high-resolution, high refresh rate display.
The result? The ZBook Firefly 14" boasts greater endurance than your average gaming laptop, which prioritizes performance over battery life, but can't keep up with the longest-lasting laptops in this size class. In the PCMark 10 battery test, which cycles a varied workload of Microsoft Office, web browsing, video conferencing, rest periods, and more, this laptop clocked exactly 6 hours of use. This was with the display set to its default adaptive 120Hz refresh rate (which moves between 60Hz and 120Hz as needed) and approximately 150 nits of brightness.
In my experience, 6 hours is a fair metric for this laptop's battery life. You can drain it faster with a higher display brightness (especially with the display's max brightness of over 500nits) or with intensive workloads like creative work or light gaming, of course. I wouldn't quite describe it as an "all-day" battery, as HP does, but I also wouldn't stress about taking this laptop out of the house for a few hours without a charger. Plenty of other laptops last longer in PCMark 10's test but are far more inconsistent in real-world usage — I've always been able to rely on the ZBook Firefly 14" to get 5-6 hours of solid, continuous usage every time.
Generating a Windows Battery Report showed that my tendency to crank the display brightness up during the day often dragged the estimated battery life down to five hours instead of 6. If you keep the display brightness only as high as you need it, you can improve your endurance. Switching off the default 120Hz refresh for the display and going down to a more traditional 60Hz can also help you eke more life out of the battery, at least 90 minutes for some laptops. ZBook Firefly 14" enjoys decent standby life, with the Battery Report showing the laptop losing an average of 8-9% battery life for every 16 hours in standby, for around 188 hours of total standby time.
Plugging in, the 65W charger does its job and charges the ZBook Firefly 14" pretty rapidly, up to 50% in 30 minutes according to HP (from 0% and when the laptop is closed and asleep). There's a helpful indicator light on the side, but I've noticed it's a little inconsistent (it tends to just not turn on at times). With two Type-C ports capable of charging the laptop, you can be plugged in without sacrificing connectivity. You can also take advantage of the space you'll save in your bag thanks to the laptop's svelte chassis for a portable battery pack if you need extra life when away from an outlet.
ZBook Firefly 14" G10: Keyboard and touchpad
Like all the biggest PC manufacturers, HP knows how to build a great laptop keyboard. The ZBook Firefly 14" is the perfect example. This keyboard is roomy, well laid out, has plenty of helpful shortcuts in the function keys row, and is very comfortable to type on.
Each key provides dependable tactile feedback, and everything is easy to find and read. It's a fantastic keyboard for a 14" laptop, and it's exactly what any professional will want. There is backlighting here, but it's only one stage. HP also advertises the keyboard as spill-resistant, but I did not test that claim for obvious reasons.
However, the touchpad below the keyboard doesn't quite earn the same unreserved praise. While it is a good size and has a lovely, smooth glass texture, using the touchpad is strangely compromised. It does use Windows Precision drivers for gesture support, but I experienced two issues with the touchpad. For one, it sometimes "goes to sleep" after a few minutes of no usage, requiring that you touch it before it responds. It's a minor frustration, but I've also never seen this behavior on any other laptop. The touchpad should always respond instantly.
The second issue is a little more annoying, though. This touchpad has, strangely, slightly lower sensitivity than I expect from a modern touchpad. That means doing small, precise movements at low speeds results in jagged, erratic cursor movements. I partially improved this by raising the cursor speed overall, but it still made it annoying to resize windows, edit photos, fix typos in articles, and other things.
ZBook Firefly 14" G10: Camera, audio, and more
A laptop like the Firefly 14" needs to be able to do it all with no exceptions, and HP certainly packed enough features into this laptop to give it a fighting chance. Up top, you get a 5MP, full HD camera with a physical shutter for privacy and the option to augment it with IR sensors for Windows Hello facial recognition. Should you do that, signing in with your face is fast and reliable on this laptop.
The camera itself is... okay. It's not bad by any means, successfully reproducing a decent amount of detail and color, but HP's camera struggles with dynamic range. It's easily blown out by any light sources like sunlight or even a monitor that may be visible in the frame. HP does offer ways to enhance the camera with features like auto framing, background blurring, and more, as well as ways to control multiple webcams at once, which is all nice. At the end of the day, though, this webcam is average.
The mics, however, are surprisingly good. It's your classic dual-array setup, with the mics doing a great job of picking up your voice and filtering out all background noise. My colleagues here at Windows Central reported that I sounded very natural and clear. When lawn work outside my apartment made it difficult for me to hear myself, my colleagues informed me they couldn't hear it at all. It still won't approach a dedicated mic or some of the best headset mics like on the Razer BlackShark V2 Pro (2023), but it's good for a laptop.
Audio comes in the form of dual, bottom-firing speakers tuned by Bang & Olufsen (common in HP laptops). These speakers are quite loud and sound decent even at high volumes, but they're understandably very short on bass and can sound tinny with highs. I had no issues using them for video conferences, videos, or even casual music listening. However, they are easy to muffle on a soft surface like your lap or a couch, dramatically reducing their output.
On the software front, every new HP ZBook comes equipped with Windows 11 Pro instead of Home, providing additional security and remote management features. HP also includes a ton of pre-installed apps and software on this computer. I counted 19 of these programs, with most coming from HP. Intel and NVIDIA have typical apps to view hardware information, update drivers, etc. There's also an annoying web link for Adobe offers and Spotify.
I can forgive this laptop over others for all these apps, as most of it comes down to the extra functionality and security HP bakes into its EliteBook and ZBook enterprise-grade laptops. Many of these smaller functions could be combined to clean up your apps list (there are separate apps for documentation, system information, a program to help you physically clean your computer, and more), especially into the hub-like myHP app.
There are many extra features that benefit enterprise work, though, mostly on the management and security side of things. HP's Wolf Security platform helps keep the computer secure, working with Windows Defender and the physical hardware features detailed above. There are controls and additional features to help you manage your webcams, your audio, your laptop's battery and charging, and much more. Most people probably wouldn't need most of this, but this is all a large part of HP's EliteBook and ZBook lines. All models are also ISV certified, guaranteeing this laptop will work with a wide variety of important, popular enterprise apps and software.
ZBook Firefly 14" G10: Competition
The HP ZBook Firefly 14" is thin and light enough that it's easy to compare it to premium ultrabooks. There are a ton of great 14-inch ultrabooks on the market, and many of them best the HP ZBook Firefly 14" in several ways, like design, build quality, value, and battery life. Just look at our list of best Windows laptops, and you'll see plenty. Want a convertible laptop with a touchscreen? The Lenovo Yoga 9i 14 is one of our favorite Windows laptops of all time. Need that with Intel vPro support? HP has it covered with its incredible HP Elite Dragonfly.
If you'd prefer a traditional clamshell design, the Dell XPS 13 Plus is also a gorgeous, incredible machine. These laptops best the HP ZBook Firefly 14" in some ways, but not all. None of them come with a discrete NVIDIA GPU, for example, and only the HP Dragonfly mentioned above comes with Intel vPro. Most of the laptops that do everything the Firefly 14" can are much bigger and heavier than it, leaving this laptop in a unique position. Generally, none of these laptops are truly built for enterprise users with those important additional security and management features (save for the Elite Dragonfly).
Lenovo does have an expansive array of enterprise-focused ThinkBooks and ThinkPads, though, which will go toe-to-toe with HP's EliteBook and ZBook lines. The ThinkPad P14s Gen 3 fits the bill with a 14-inch display including full HD, 2.2K, or even 4K options and a range of Intel vPro processors. Pricing starts at $1,291.
Dell also boasts a huge lineup of enterprise computers. Dell's Precision laptop line is its workstation offering, and the Dell Precision 5480 offers similar configuration options in a 14-inch chassis starting at around $2,200.
One of the biggest competitors for the HP ZBook Firefly 14" is its bigger sibling, the 16" variant. The ZBook Firefly 16" is identical to the 14" model on paper (it has all the same internals and features) but with a larger screen, bigger battery, and possibly better thermal performance. You even get a number pad if you care about that. For those who want portability but like more screen real estate, the 16" version of this laptop may fit the bill. There are no AMD options (Update: There are options with AMD Ryzen and Radeon graphics), though, and the DreamColor display on this laptop is replaced with an attractive OLED option on the 16".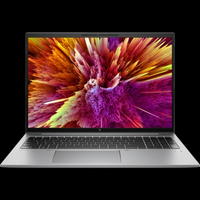 Few laptops tick all the boxes that the ZBook Firefly 14" does, like Intel vPro, a thin and light design, and discrete GPUs in one package, but the larger 16" variant does it all and does so with a roomier screen.
View more configurations at: HP
ZBook Firefly 14" G10: Should you buy it?
You should buy this if ...
You need a compact, enterprise-ready laptop with extra security and management features.
You need a creative-focused NVIDIA GPU in a smaller laptop.
You want an ultraportable laptop that can still handle your entire workflow.
You should not buy this if ...
You don't need the extra, enterprise-focused features.
You want a compact laptop for gaming.
You care a lot about the look and feel of your laptop.
Most people don't need this laptop. Most people will be better served by something with a little less power, a little less security, and a little less remote management features. Most people will prefer something more premium, flashier, or versatile with a convertible design. For the people who need all of these features and capabilities, though, the HP ZBook Firefly 14" is a great laptop. Great, but not perfect.
It's not the most attractive laptop, but I'm more concerned with the flexing, the creaks, and the sharp seams. The touchpad is also finicky with its low sensitivity and tendency to go to sleep. Finally, battery life isn't exceptional on this laptop, even if it is consistent. Suppose you can forgive those weaknesses, though. In that case, HP has crafted a highly portable, compact enterprise-ready laptop with plenty of power and endless options for customization in HP's in-depth configurator.
The HP ZBook Firefly 14" (G10) is a perfect example of not judging a book by its cover, as this unassuming chassis disguises a laptop that is a joy to use day-to-day. It performs flawlessly, the keyboard is comfortable, the screen is incredible, and everything just worked. I don't need many of the extra features and capabilities HP shoved into this laptop, but those who need it for their work will likely be happy with what HP has built here.
HP ZBook Firefly 14" (G10)
For enterprise workers that need power, security, and remote management features on the go, the HP ZBook Firefly 14" is a fantastic device. Just ensure you're buying it at the discounted price, not HP's overinflated retail prices.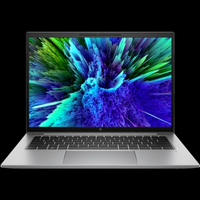 Core i7-1365U | RTX A500 | 32GB RAM | 512GB SSD | 120Hz DreamColor
You'll have to configure it yourself at HP, but the above foundation is a great place to start. You can change anything you want to fit your needs or save some cash, like dropping vPro support or lowering the RAM amount. Everything you might want to tinker with, you can do so at HP.
View more configurations at: HP