I would never have expected that one of the most exciting laptops on my desk this year would be a 2-in-1 Lenovo ThinkPad. Still, this plain-looking steel slab features a massive toolset that genuinely makes my working days easier than ever, and I don't want to return to the sleek-looking alternatives I'm used to. The X1 Yoga went everywhere with me this week, and I struggled to strongly criticize it in practically any scenario, thanks to its phenomenal battery and versatile touchscreen.
Pros
+

Tremendous all-day battery life.

+

Versatile input methods perfect for travel.

+

Fantastic combination of Windows 11 and Lenovo apps.
Cons
-

Standard IPS model struggles in brighter daylight.

-

60Hz panel is slightly blurry in motion.

-

Iconic TrackPoint nub feels pointless.
Why you can trust Windows Central Our expert reviewers spend hours testing and comparing products and services so you can choose the best for you. Find out more about how we test.
Lenovo is an undeniable force in the laptop category, serving as an instantly-recognizable name to anyone who ever needed a portable notebook for business. That's not to say they haven't expanded into other areas since its Legion subbrand still enjoys success with gamers, but the company undoubtedly flexes its strengths in the productivity department. Ask almost anyone about Lenovo laptops, and they'll at least recognize the infamous TrackPoint wedged into their keyboards.
The notorious red nub is still here, but this 8th Gen refresh of the X1 Yoga convertible laptop promises efficient multitasking for workers on the move, reliant on all-day battery life. Its 360-degree hinge offers a unique set of use cases, primarily advertising its benefits to those regularly signing digital documents, but the advantages go much further than that. I spent the week traveling around town for my Lenovo ThinkPad X1 Yoga Gen 8 review to test it in various environments, and it's won my admiration as a remote worker.
Disclaimer: This review was made possible by a review unit provided by Lenovo. The company did not see the contents of the review before publishing.
ThinkPad X1 Yoga: Pricing, specs, and availability
Lenovo currently sells five X1 Yoga 8th Gen series variants through its official storefront and third-party retailers, including Amazon, starting at $2,649 MSRP for the entry-level Intel Core i5-1335U spec.
ThinkPad X1 Yoga Specs
Price: $3,039 (MSRP); $1,823.40 (reviewed at)
CPU: Intel Core i7-1355U
GPU: Iris Xe
RAM: 16GB DDR5-5200
Storage: 512GB PCIe Gen4 SSD
Display: 14-inch, IPS WUXGA
Battery: 13hr 54m (benchmarked)
Size: 15.53mm x 314.4mm x 222.3mm
Weight: 3.04 lbs (1.38 kg)
For this review, Lenovo provided me with its mid-tier model featuring the i7-1355U, which usually retails for $3,039; however, the price was discounted to $1,823.40 at the time of writing for a 40% discount. Packaged only with an AC adapter per region, it's available for purchase now.
Each X1 Yoga variation features an Intel 13th Gen U-series mobile CPU, prioritizing power efficiency for extending battery life. All five models use a 60Hz IPS touchscreen, include an integrated stylus pen, and support the modern Wi-Fi 6E wireless standard.
Memory and storage vary depending on your chosen model, though all RAM is soldered LPDDR5 clocked between 5200 to 6400MT/s. You'll always get a single M.2 2280 PCIe Gen4 solid-state drive, with sizes ranging from 256GB to 2TB. Intel Iris Xe Graphics takes care of the visuals for all models, and there's a fingerprint reader alongside the keyboard in each.
Going through the Lenovo website directly, you can buy one model with a much more powerful P-series processor, the Core i7-1370P vPro. Some of the other U-series also feature Intel vPro, which is important for enterprise deployment. All models also meet Intel's Evo criteria for features and efficiency. The Core i7-1370P vPro has 14 cores (instead of 10 with the U-series), including 6 Performance-cores (instead of 2) and 8 Efficient-cores. It also hits a max of 5.2GHz instead of 5.0GHz and uses 28W of power instead of 15W, which means it will do worse on battery life but garner much more performance.
Choosing that more powerful Core i7-1370P also unlocks upgrading to a massive 64GB RAM. Through Lenovo's site, you can also configure some models with 4G LTE (+$224) or 4G LTE and 5G (+$298) WWAN modules for an always-connected experience.
Maxing out all the hardware options, including Windows 11 Pro (+$60), that Core i7-1370P vPro, 64GB of RAM, 2TB SSD, and 4G/5G connectivity sets you back a hefty $3,327.
Lenovo ThinkPad X1 Yoga (Gen 8) Recommended Configuration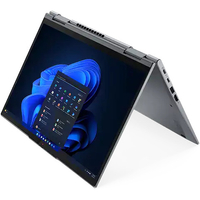 I was blown away by the specs on the i7-1355U sample unit with 16GB RAM, and I wouldn't hesitate to recommend it. 512GB storage might fill up eventually, but USB-powered storage is cheaper than springing for the 1TB X1 Yoga i7-1365U variant. Amazon Prime subscribers will appreciate the third-party option for next-day delivery, too.
ThinkPad X1 Yoga: Design and build quality
This is the first ThinkPad I've had hands-on time with since I usually carry a Microsoft Surface Laptop Go 2 for remote work, and the differences in aesthetics are immediately apparent. Lenovo clearly prioritizes functionality over style, evident in its almost retro design sensibility with the iconic red TrackPoint nub seated in the center of the keyboard, just like its notebook predecessors. That's not to say the X1 Yoga is ugly, but it's not trying to be a sleek fashion statement.
It's undoubtedly a business-focused device, but going through eight generations of style revisions and incremental component upgrades has worked for Lenovo. The screen opens with a single finger on a smooth hinge without raising the whole machine, and a tiny red LED nestled inside the ThinkPad logo slowly pulses to let you know it's ready to wake at a moment's notice.
The 8th Gen ThinkPad X1 Yoga features a chassis made from recycled aluminum, which doesn't seem to have significantly affected its build quality. There is an acceptable level of flex on the top, although there was a minor imperfection at the rear of the underside panel in my unit, resulting in a mild clunk when pressed gently. It's a mild annoyance when carrying the laptop, but closer inspection shows the cooling fans mounted underneath the flexible section are in no danger.
Its cooling vents are slim and discreet, the largest hidden in the hinge. Even at its most demanding moments, the fans aren't thunderous, but I didn't expect anything less from a skinny 2-in-1 laptop built around a low-power 13th Gen Intel -U series CPU. Fan placement options are undoubtedly restricted for a thin-and-light unit. Still, I'd have preferred a wider rear exhaust, given the underside vents are obstructed in tablet mode, but thermals seem fine.
ThinkPad X1 Yoga: Touch display and pen
Touchscreen laptops aren't new to me, but they have remained an unnecessary niche when built into traditional notebooks since I rarely need to use them. The X1 Yoga experience almost immediately sold me on 2-in-1 laptops, thanks to accurate input detection and Windows 11 software support. Folding the ThinkPad into tablet mode completely turns off the keyboard and touchpad, so resting against the keys causes no issues with accidental typing.
Lenovo defaults the Gen 8 X1 Yoga to 150% zoom for Windows, making it easier to pinpoint icons, but I mostly used 125% to gain more real estate on the screen. Swiping around websites and even light typing is a breeze with the touch keyboard, which automatically switches to handwriting mode if you switch to the stylus. The matte screen is somewhat of a fingerprint magnet, but they were quickly wiped away with a swipe of the microfiber cloth from my glasses case.
Handwriting detection is the main draw of using the stylus, and it works great on Windows 11 with its range of quick gestures to help repair errors or separate words it accidentally combines. However, the Lenovo Integrated Pen feels equally excellent for navigating the desktop and browsing the web with Microsoft Edge. Hovering above the screen shows a subtle cursor from a generous distance, and I found it far easier to use while in motion than the touchpad.
A low response time helps handwriting feel natural, and Windows automatically moves words along as you write them, keeping a healthy speed to text input. Signing documents is the big selling point for traveling business types, but annotating notes and making simple drawings feel excellent with the pen. Although you could technically use the X1 Yoga as an artistic drawing tablet and benefit from the two physical buttons on its stylus, I wouldn't necessarily recommend it due to an otherwise mediocre color response on its 14-inch panel.
Image 1 of 3
Swipe to scroll horizontally
| Setting | Brightness | Black | Contrast | White point |
| --- | --- | --- | --- | --- |
| 0% | 4.1 | 0.00 | 0:1 | 6900 |
| 25% | 55.3 | 0.02 | 2490:1 | 6900 |
| 50% | 94.3 | 0.04 | 2120:1 | 6900 |
| 75% | 206.4 | 0.11 | 1820:1 | 6900 |
| 100% | 421.4 | 0.23 | 1860:1 | 7000 |
Between 75% brightness and 100%, the X1 Yoga jumps from 206 to 421 nits, and I tend to stick around 300 nits in my home office, so I don't have any personal qualms here. Taking to the great outdoors shows the limitations of the matte panel, exposing fingerprints and struggling to remain visible in direct sunlight.
I started feeling jealous of AMOLED displays and their low-reflective coating, but the standard X1 Yoga's extended battery life feels like a reasonable trade. Plus, the dim 0% setting is appreciated for late-night work when I'm trapped in light-mode-only apps.
You could customize your X1 Yoga order via the official Lenovo store and opt for an anti-smudge OLED panel instead, but it's a cool +$209. Still, spending the extra cash could be pretty tempting if it solves my slim complaints about this panel. Since we're already pushing close to $2,000, I'd be happy to stick with the IPS screen, but you could argue the increase if it's a business expense.
ThinkPad X1 Yoga: Performance
From a complete shutdown state, the X1 Yoga Gen 8 takes roughly 18 seconds to boot to the Windows 11 lock screen. However, I couldn't find many legitimate reasons to send it to a cold boot besides applying firmware updates. Lifting the lid immediately wakes the laptop from sleep and triggers Windows Hello, and if the webcam is obscured, the fingerprint reader still works just as fast.
Improvements to touch and stylus controls on Windows make navigating and launching apps a complete breeze, using gestures around the screen for quick access to common settings and an auto-hiding taskbar in tablet mode. Running this Gen 8 variant through the usual benchmarks provided a mixture of expected results and surprising comparisons against the Gen 7 X1 Yoga we reviewed with its performance-focused Intel 12th Gen i7-1260P laptop CPU.
Generational improvements were evident in our usual benchmark tests, with an eye-opening jump for the Intel 13th Gen U-series CPU over the 12th Gen P-chip. Geekbench 5 may be phasing out its relevance, but seeing the Gen 8 X1 Yoga creep up its single and multi-core scores over the high-end Gen 7 is worth it. For the modern Geekbench 6 equivalent, Lenovo falls ever so short of the world-class Samsung Galaxy Book3 Pro and its 13th-Gen Intel i7-1360P processor (but, as noted earlier, you can order this laptop with a more powerful i7-1370P, which has 2 more cores and a higher max turbo frequency versus the i7-1360P).
Then again, the X1 Yoga Gen 8 creeps ahead of the Galaxy Book3 Pro notebook's CPU in the PCMark10 test while doubling as a 2-in-1 laptop. With the ThinkPad targeting the business crowd, it's not too surprising to see it succeed in a benchmark that ranks modern office performance, and there's not a great distance between them. Still, it's another plus for the efficiency of Intel 13th Gen -U chips.
The PCIe Gen4 SSD provides the read/write speeds I would expect, with a substantial generational leap over its Gen 6 and 7 X1 Yoga predecessors. Intel Iris Xe iGPU performance is never something to write home about, but the test shows it is keeping up with similar laptops in its range. I don't need to emphasize that the ThinkPad isn't designed for gaming. However, I'll confirm the processing power is enough to handle everyday audio/video edits since I used it to crop the photos in this review.
ThinkPad X1 Yoga: Battery life
It won't take long to explain how I feel about this X1 Yoga's battery life: it's phenomenal — coming in just shy of 14 hours in the PCMark10 battery test with the screen at 70% brightness and power profile set to 'balanced' about matches the real-world performance I've experienced during my time with it. Sure enough, sometimes I'll need to crank the display up to 100% brightness when I'm exposed to direct sunlight, and that naturally affects the lifetime, but it's still legitimately capable of all-day use.
The entire experience has completely shifted my intrigue toward efficiency-focused Intel 13th Gen mobile CPUs, previously assuming they just wouldn't be capable of handling my daily work tasks, but it's the opposite. Using the X1 Yoga makes my life easier as a Windows Central editor, with its tablet mode touchscreen genuinely suited to long-haul flights restricted to tiny tray tables and the traditional laptop mode for writing in any cliché coffee shop.
ThinkPad X1 Yoga: Navigation and keyboard
The ThinkPad X1 Yoga features slightly raised keys with deeper travel than the Microsoft Surface keyboards I'm used to, but I like it. You can quickly enable a backlight for typing in the dark with the function key and spacebar. Still, touch typing comes pretty naturally since each letter protrudes outwards, spaced evenly from one other, so I hardly ever used the lighting.
Rather than trying to squash a number pad into the keyboard, Lenovo opts for far more valuable inclusions, like arrow keys with uniform sizes, a dedicated print screen key, and a row of helpful albeit work-focused shortcuts on the F1 to F11 keys. The last F12 key shows a star icon and can be customized with the fantastic Commercial Vantage companion app.
Even common frustrations, like the left-control and function key switching places to my preferred layout, can be remedied with Lenovo's software, among many other customizable tweaks. Adjusting to top-mounted mouse controls might feel strange at first, but feels comfortable enough when using two hands to navigate the cursor and click accurately. The middle button, however, is designed to work with the elephant in the room: the red Lenovo TrackPoint nub.
It's my first real-world experience with the TrackPoint, and it's honestly the only physical aspect of the ThinkPad that I genuinely dislike. Rather than feeling like a smooth option to control your cursor, it's more like pushing around a rogue shopping cart with busted wheels. If you've ever tried to use the TrackPoint while traveling in the back of a car, as I did, you'll understand how relentlessly obtuse it is to control.
Plus, it offsets the printing on the B key, which mildly upsets my pattern-loving brain. It's not all terrible, however. The TrackPoint does act as another assist for touch typing, just like the raised notches on standard keyboards around the F and J keys, so at least I could type even easier in the dark on an overnight flight. At this point, the TrackPoint feels too iconic for Lenovo to drop it, but I wouldn't miss it if they did.
ThinkPad X1 Yoga: Firmware and apps
Not too different from the standard Vantage app, the ThinkPad X1 Yoga comes pre-installed with Lenovo Commercial Vantage and all the same benefits. Alongside offering critical firmware updates and a massive amount of tweaks for its various input methods and battery profiles, Lenovo breaks down the current health of its internal battery and a dedicated hardware scan to detect potential issues.
Each component is put through a series of checks, with a readout displaying either a pass or fail mark that can be forwarded to Lenovo technical support via a complete system snapshot. The main dashboard even displays your ThinkPad's warranty status with a start and end date for peace of mind, with a quick link to a list of upgrade options for extensions. Combined with general operating system improvements applied to Windows 11 regarding touchscreen and stylus control, the software experience matches Lenovo's premium hardware.
ThinkPad X1 Yoga: Webcam and audio
The Gen 8 ThinkPad X1 Yoga features a quad mic array like its Gen 7 X1 predecessor, a 1080p webcam, and a physical privacy shutter. Recording video with the internal equipment sounds decent through the internal speakers, thanks at least partly to including the Dolby Audio suite. Launching the Lenovo View app offers what it claims to be an image-enhancing filter for the webcam, but I'm not sure it's a genuine improvement.
Within the same app, you'll find facial recognition-triggered security options like privacy guard, which blurs the screen if unrecognized onlookers peer over your shoulder. These inclusions make more sense for the ThinkPad, promoting data protection over anything geared toward content creators. With this camera and webcam combination, you could host a video conference without subjecting your colleagues to terrible audio, so there are no real complaints here.
ThinkPad X1 Yoga: Competition
Compared to Lenovo's latest Gen 8 X1 Yoga range, Dell's 2-in-1 Latitude 9440 laptop offers a similar level of flexibility in its hardware when you order. Packed into a super-slim chassis with an aluminum or graphite-colored finish, Dell still offers a selection from the 13th Gen Intel Core i7 vPro CPUs alongside an active stylus pen and IPS touchscreen like the X1 Yoga.
The Latitude 9440 is Dell's new flagship business 2-in-1, and it launched in April this year with a higher starting price of $2,369. If you bulk up the hardware before ordering and add 5G mobile networking, the cost reaches as high as $4,350. Similarly, upgrading the X1 Yoga maxes its price out at $3,327.60, including 64 GB of LPDDR5X-7500 RAM and 5G support.
Dell boasts a few advantages over Lenovo, with the Latitude 9440's customizable haptic collaboration touchpad featuring backlit icons dedicated to controlling your microphone, camera, screen sharing, and more chat functions for Zoom calls, with Microsoft Teams functionality reportedly coming later.
It's undoubtedly winning in the design department, but whether that justifies a jump in price is up to you (or the company footing your bill.) Consider browsing HP's latest 2-in-1 EliteBook range as another alternative. They feature somewhat straightforward designs but offer the same customizable Intel Core vPro CPUs, a 14" touchscreen, and a stylus.
ThinkPad X1 Yoga: Should you buy it?
You should buy this if …
You're a traveling worker who relies on business-focused apps.
You want a versatile laptop suited to cramped spaces.
You regularly take long trips away from AC power.
You should not buy this if …
You primarily work with creative editing apps.
You crave cutting-edge design aesthetics with a visual flair.
You want the smoothest, brightest panel for regular use outdoors.
Lenovo has wholly shifted my opinion on the business-focused category, convincing me away from settling for gaming laptops that double up as work machines. The ThinkPad X1 Yoga scored well with our team each time Lenovo updated it, and the Gen 8 model sold me within a single day of use.
It might not be the prettiest laptop, but it's practically flawless in function and makes my day-to-day work more accessible. I wouldn't hesitate to take it on a long journey, solving the issue of cramped spaces in public transport with a transformation into tablet mode and a phenomenal battery.
Not every feature is perfect, and I thought I would be tempted to spring for a higher-end display. However, after using it for a week, I have no genuine disappointments with this X1 Yoga config, blissfully content with the accurate stylus and versatility of such a lightweight machine with all-day battery life.
Anyone looking for the best 2-in-1 laptops focusing on portable working will love it since Lenovo offers generous warranty coverage and software support. I'd choose it a hundred times over the company-designated machines I've been stuck with in the past.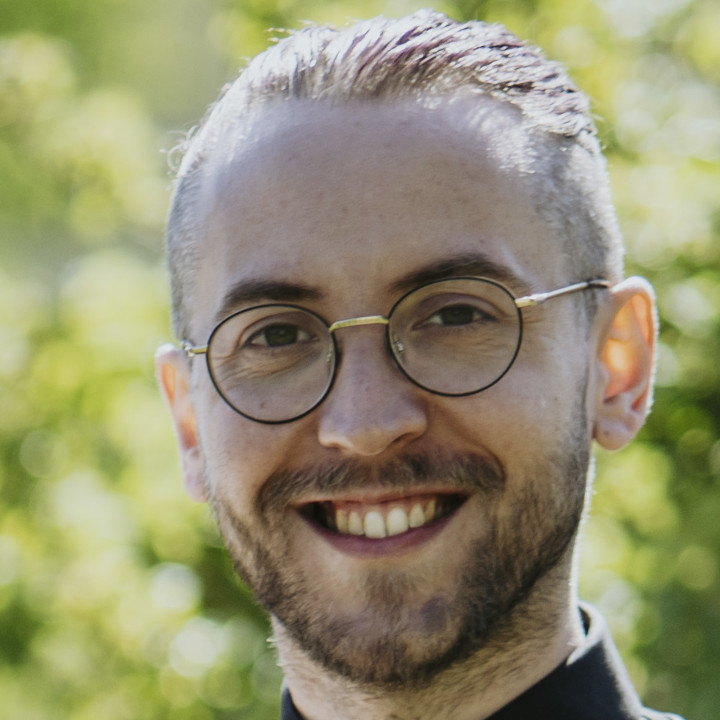 Ben is the channel editor for all things tech-related at Windows Central. That includes PCs, the components inside, and any accessory you can connect to a Windows desktop or Xbox console. Not restricted to one platform, he also has a keen interest in Valve's Steam Deck handheld and the Linux-based operating system inside. Fueling this career with coffee since 2021, you can usually find him behind one screen or another. Find him on Mastodon @trzomb@mastodon.online to ask questions or share opinions.