HDMI 2.1: Everything you need to know
HDMI 2.1 promises to deliver 10K video, 120 Hz refresh rates and much more. Here's everything you should know about HDMI's next revision.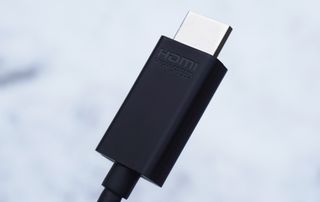 (Image credit: Windows Central)
Earlier this year "HDMI 2.1" was unveiled – the latest revision of the now commonplace audio and video cable standard across consumer electronics. And while still in its early stages, the final specification provides a new spectrum of high-end features, designed to deliver premium home entertainment experiences. With improvements focusing on both video consumption and gaming, HDMI 2.1 lays the foundation for clearer and smoother future. But what does this mean to you?
What is HDMI 2.1?
HDMI 2.1 is the latest revised specification of the HDMI interface, which is used for transmitting both audio and video across modern devices. Having become the go-to solution across consumer electronics, you'll have undoubtedly encountered previous versions of the cable or port over the last decade. And while using a visually identical connector, HDMI 2.1 delivers hardware refinements that push improved video and audio quality.
After its first unveiling at the Consumer Electronics Show in January 2017, "HDMI Forum," the body managing the interface's development, has created a specification for HDMI 2.1 going forward. As of November 2017, the specification was finalized, allowing manufacturers to begin adopting the technology itself.
HDMI 2.1's new features
Improved bandwidth
One of the principal developments with HDMI 2.1 is a boost in available bandwidth, allowing for transfer rates up to 48 Gigabits per second (Gbps) – a significant step up from the 18 Gbps available with HDMI 2.0. In contrast to the leap from the 10.2 Gbps offered by its predecessor, HDMI 1.4, HDMI 2.1 represents a significant advancement in the potential throughput. Not only does this allow for improved visual clarity, but other video and audio upgrades have been detailed that take advantage of this overhead.
Higher resolutions and framerates
For general consumers, one of the alluring promises is a leap in both supported resolution and framerates when using an HDMI 2.1 connection. Topping out at 10K resolution and 120 Hz at lower pixel counts, the new revision should provide more than enough flexibility for any consumer display hitting the market for the years ahead.
While 10K video won't be among the mainstream anytime soon, HDMI 2.1 also leverages its improved bandwidth to target lower resolutions. On supported displays, 8K (7,680 pixels x 4,320 pixels) at 60 Hz will be possible, as well as 4K (3,840 × 2,160) at 120 Hz. These resolutions also see the full benefit of High Dynamic Range (HDR) across supported content, with a wider gamut of colors and improved contrast ratio. Stepping up from the limit of 4K at 60Hz imposed with HDMI 2.0, resolutions can now be pushed even further without comprising fluidity.
Dynamic HDR
HDMI 2.1 also ushers in "Dynamic HDR," which extends the potential of existing HDR technology with improved color tuning. When the feature is in use, dynamic metadata is processed on a frame-by-frame basis, allowing color settings and brightness to adapt on the fly. The result is an improvement to how colors are displayed, depending on the current scene. While dynamic metadata is already available over HDMI 2.0 with "Dolby Vision," HDMI 2.1 aims to deliver this to the open "HDR10" standard.
Difference between HDR10 and Dolby Vision
eARC
In a move to continue simplifying household entertainment centers, HDMI 2.1 adopts support for enhanced audio return channel (eARC), which is used to deliver audio over an HDMI connection to soundbars and receivers. Building on the existing ARC implementation implemented in earlier HDMI specifications, this allows a single HDMI to send and receive audio, reducing the cabling between external devices.
eARC is an extension of this technology, making your TV the central hub for entertainment, rather than a traditional receiver. With support for integrated TV tuners, streaming apps and other devices connected to the TV via other HDMI ports, the TV can handoff essentially all audio to an external sound system. With support for Dolby Atmos and DTS:X, too, this delivers high-quality sound to audio-only receivers, soundbars, and amplifiers.
Other features of HDMI 2.1
While the most impressive features of HDMI 2.1 deliver improvements to visual clarity and color, several other additions are making an arrival with the specification. Tailored for video playback and gaming, these provide enhancements for more specific scenarios.
For gamers, one of the most promising features of HDMI 2.1 is support for "Variable Refresh Rate" (VRR) outputs. In essence, VRR adapts the refresh rate of your display to that out outputted content, reducing screen tearing and stuttering, without the input lag suffered when using a similar solution known as V-Sync. This makes for a much smoother overall experience for gamers on supported displays, although has few applications for other content types.
HDMI 2.1 also delivers support for a minor feature known as "Quick Media Switching" (QMS), which streamlines the process of changing media types on the fly. On traditional displays, changing framerate, resolution and other settings can result in a short blackout. If using a QMS-supported display, HDMI 2.1 will smoothen the process of changing source material, without dropping the signal.
Another welcome feature for gamers is support for "Quick Frame Transport" (QFS) – a relatively simple concept, which makes for a snappier experience. When using QFS, frame output latency is reduced, which delivers a much more responsive experience to displays and VR headsets.
To further enhance refresh rates comes "Auto Low Latency Mode" (ALLM), which automatically adjusts latency on the fly, to make for the smoothest, lag-free viewing experience.
Pushing more advanced visuals, "Display Stream Compression" (DSC) is also a part of the new specification, meaning devices can theoretically surpass the 48 Gbps limit on HDMI 2.1 displays. With this feature enhanced, video streams can be compressed on the fly, delivering improved visual quality to supported displays.
Getting started with HDMI 2.1
With the HDMI 2.1 specification only recently having been finalized, development of hardware utilizing the technology is still in the early stages. Despite using the same connector, the revised interface requires dedicated ports and cables designed for the latest specification, meaning there are no consumer setups available that offer its feature set.
To take advantage of all the new features offered by HDMI 2.1, a new "Ultra High-Speed HDMI Cable" will be required. Cables certified for use with the new standard will be built for 48 Gbps transfer rates and all the other features details with the revised specification. As of publication, manufacturers are yet to release cables that have passed the HDMI 2.1 Compliance Test Specification (CTS), however, they are expected to first hit the market sometime in 2018. But be warned – at first, these cables won't be cheap.
Some HDMI 2.1 features are accessible with other HDMI cables, but to get the complete range of features, you'll have to invest in an Ultra High-Speed variant. For example, eARC can be accessed using HDMI High-Speed Cables with Ethernet, while less intensive resolution and frame rate combinations can be output alongside Dynamic HDR using older HDMI cables. Ultra High-Speed cables are backward compatible with older ports, only with older features offered by the port.
The same concept applies to devices themselves, meaning both outputting and receiving devices must support HDMI 2.1 to take full advantage of the interface. Using the same connector means that implementing HDMI 2.1 shouldn't be too challenging for major manufacturers, but due to the infancy of the specification, it will once again be some time before these devices are in the home.
So, should you care about HDMI 2.1?
Not really, not yet. While HDMI 2.1 delivers some anticipated premium features, with the specification only recently having been finalized, the technology is still in early stages. It will still be some time before supported devices are available to consumers – and that's not even touching the fact that price will be a major barrier to entry.
4K displays are only just finding a place among the mainstream, meaning the technology showcasing the greatest benefits of HDMI 2.1 will come at a cost. Simply put, HDMI 2.1 is so future-proofed, displays simply haven't caught up to its capabilities. Once HDMI 2.1 is more accessible, there will be welcome improvements for both video and gaming experiences, but you'll have to wait for now.
Get the Windows Central Newsletter
All the latest news, reviews, and guides for Windows and Xbox diehards.
Matt Brown was formerly a Windows Central's Senior Editor, Xbox & PC, at Future. Following over seven years of professional consumer technology and gaming coverage, he's focused on the world of Microsoft's gaming efforts. You can follow him on Twitter @mattjbrown.