Hearthstone expansion Whispers of the Old Gods will awake from its sleep later this spring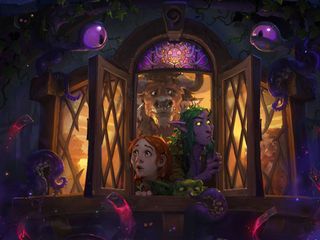 Blizzard's hit collectible card game Hearthstone: Heroes of Warcraft is getting its third major expansion pack soon. It's called Whispers of the Old Gods and it will be released sometime in late April or early May.
The expansion centers on the Lovecraft-themed creatures in the Warcraft universe. It will add 134 new cards to the game. Blizzard says:
Players can pre-order a 50 card pack for Whispers of the Old Gods starting March 14 for $49.99. Those folks will also get access to an exclusive card back as a bonus.
Windows Central Newsletter
Get the best of Windows Central in your inbox, every day!
It'll never be on Windows Mobile

Good. Hearthstone has turned into a pay to win game

try duelyst.. it's more interesting kind of like hearthstone meets the banner saga, much more strategic!

It would be so awsome if they gave this game a UWA treatment also... but will probably never happen...

Off topic.. But... I wonder when developers awake to work with project islandwood ;-)

I would actually pay the $50 if they put this on Windows Mobile. I stopped playing because they don't support WM at all.

Why dosnt Blizzard want to support UWP? Old beef like snapchat? It would be so awsome if they did a uwp app for hearthstone and made it the only available way to play it on PC. It would boost HS user and the uwp ecosystem. It would also urge Faithfull players to upgrade to W10.

The game is already on PC, and they don't care about Windows Mobile because hardly anyone uses it.

I don't mind actually, HS has been boring and annoying after 1 month of playing. I switched to Duelyst and I'm enjoying it.. in a nutshell: Hearthstone meets the banner saga, it's in the beta right now duelyst.com