A hefty Xbox One Preview update is bringing fixes for Cortana, Clubs and more
A large Xbox One Preview update is rolling out, bringing fixes for Cortana, the Store and more.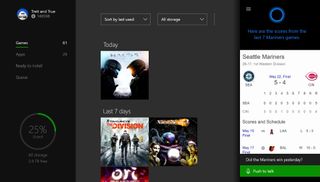 Microsoft is hard at work preparing the latest Xbox One Preview wave for public consumption, which will bring Xbox Clubs, Looking For Group, Arena, and more to console users everywhere. This newest update doesn't bring any new features, instead providing some additional polish to existing functions.
The most encouraging aspect of this update is a reduction of the time for Cortana to recognize basic system commands like "Pause," and "Watch Netflix." Hopefully, she'll become as usable as the legacy "Xbox" commands most of us are accustomed to.
Here are the details via the Xbox forum (opens in new tab):
DETAILS
OS version released: rs1_xbox_rel_1610.161021-1900
Available: 6:00PM PDT 10/24 (1:00AM GMT 25/10)
FIXES:
Store
Resolved an issue which could sometimes prevent the Store from launching.
Certain elements of the Store have been streamlined for an improved user experience.
Miscellaneous bug fixes.
Users with consoles set to the Singapore region (zh-sg or en-sg) should now see all appropriate apps while browsing the Store.
Guide
Resolved numerous issues with unlocalized text (strange text characters) appearing in Guide.
Cortana
This build includes updates to the console speech recognizer for US and UK users, which reduces time to recognize commands like "Pause", "Play", "Mute", "Yes", and "No". In addition, recognition has been improved for phrases such as "Watch NBC" "Watch FOX", "Go to Netflix", and "Open YouTube", and should revert to web or marketplace searches less often.
The See-It-Say-It timeout has been extended. This means users will have more time to make selections when saying "Hey Cortana, make a selection" or "Hey Cortana, select".
Home
Resolved an issue which sometimes caused the "Connect to LIVE" section to not appear on Home when no network connection is detected.
Uninstalled games and apps should no longer display in the most recently used section on Home.
Clubs
Fixed an issue which sometimes caused Clubs you're participating in to fail to display under "Your clubs".
When attempting to set an image as a Club background, recently created Clubs should no longer fail to display under "Choose a Club".
You should no longer encounter a "Something went wrong" or "That didn't work" error when attempting to access invitation requests or recommendations.
Every update brings us closer to a public launch of the latest features. Stay tuned for all the most up to date information from the Xbox One Preview.
Thanks ShatroFTW!
Jez Corden is the Managing Editor for Windows Central, focusing primarily on all things Xbox and gaming. Jez is known for breaking exclusive news and analysis as relates to the Microsoft ecosystem while being powered by caffeine. Follow on Twitter @JezCorden and listen to his Xbox Two podcast, all about, you guessed it, Xbox!
The Xbox team is on fire. It's bringing windows 10 goodies with fast pace and constant updates.

still not sold on Cortana on my Xbox my family uses the voice TV controls everyday and let alone the failed recognition of words... phone and tablets/laptop were all activating when trying to change channel or an app.

**Stops work to look for "Australia" under the Cortana updates** **Short second of disappointment.** **Resumes work**

Don't wory same thing here in Canada. I gave up on thinking its comming.

WC made an article a year ago I think about why Cortana hasn't been released to the whole world.

Microsoft made a whole video about it...Unfortunately many feel it's not just because of those reasons. Cortana development has slowed way down outside of the US even in regions that it's been available since WP8.1 Amazon seem to be picking up speed with their Echo and Echo Dot and getting it to more regions.

I wish they would start releasing some of these to us normal users. Still waiting to get a red achievement.

Just change your accent color on your console to red and every achievement you get will be red :)

In the beginning Cortana was difficult to use on the Xbox but the last update they pushed out a while back has made it work ok for me. It's responsive and it understands more of what I say. This up coming update may fix the issues I do have with it like it not being able to show the channel guide becuz it can't connect and stuff like that

It's definitely improved but I feel it still has a long way to go. Maybe it works better with a headset than with Kinect but that's not really convenient to as useful compared to an always on assistant via Kinect. Some more processing of common, Xbox specific commands should be done locally. Asking Cortana to Pause and having to wait a fee seconds for the command to be processed in the cloud isn't a great experience. In WP8.1 the original Cortana could do quite a bit locally and instantly

Updates are good. i should check to see if mine is updated.

Could someone be a champion and invite me to the preview program? My gt is DebatingRooster ☺

I wonder if Nadella has been very happy with how the Xbox has been going very well to consumers. There's not even a single enterprise thing into it. I hope Nadella doesn't even lay a single finger on the Xbox dep't or else it will be doomed.

I think you need to come back to reality.

Would love to be part of the test team, so if any kind person could send an invite to GT: Vanamilia

FINALLY! Now let's see if it is really better...

When is the update rolling out to normal users

This update has bricked my Xbox, going through the support process to wipe my Xbox! Be warned guys

Update has bricked my console as well, yay for resetting my xbox and losing all accounts and associations!

Cortana sucks on the Xbox... completely useless how slow and glitchy it is - I hope this is a big improvement.

Wish they would finally get the language issues solved in Belgium.... If I put my console language in English the menu's and such are mostly in French.... Très sad....

It's not just "Hey Cortana" being worse than the "Xbox" commands; the whole update is more glitchy, slower & prone to hanging than the old version despite all of the claims/promises. I feel like with Microsoft, we're all in a constant Beta and that as soon as things get close to working well...Microsoft move the goalposts by cancelling the product line or unnecessarily 'reimagining' it (see Windows Phone 7, 8 & 10, Windows 8 & 10, Microsoft Band for details)

So far no luck installing. It hung up at 91%. First update I have ever had trouble with. Hard rebooting. Fingers crossed.
Windows Central Newsletter
Thank you for signing up to Windows Central. You will receive a verification email shortly.
There was a problem. Please refresh the page and try again.