Here is the list of games that support HDR on Xbox One S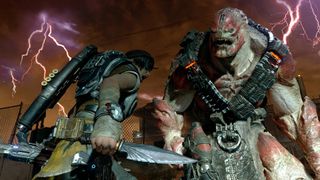 The list of games that either support or will support expanded color with HDR on the Xbox One S is slowly — but surely — growing. Alongside confirmation that ReCore will support the feature in 2017, Xbox's Aaron Greenberg took to Twitter to show off an updated (though not comprehensive) list of HDR games for Xbox One S.
Here's a look at either now support or will support HDR on Microsoft's latest Xbox console:
Battlefield 1
Deus Ex: Mankind Divided
Final Fantasy XV
Forza Horizon 3
Gears of War 4
Hitman
NBA 2K17
Pure Chess Ultra
ReCore
Resident Evil 7 Biohazard
Scalebound
World of Tanks
If you're unfamiliar with HDR, it's a relatively new bit of tech on newer TV that lets you see more pronounced colors and highlights than you would while playing the game without HDR enabled. In order for HDR to work though, you need a capable TV, along with content that's been made with HDR in mind.
Have you had a chance to try out HDR gaming on your Xbox One S yet? Let us know your thoughts in the comments!
Dan Thorp-Lancaster is the former Editor-in-Chief of Windows Central. He began working with Windows Central, Android Central, and iMore as a news writer in 2014 and is obsessed with tech of all sorts. You can follow Dan on Twitter @DthorpL and Instagram @heyitsdtl.
If anyone has found a 4k/hdr projector thats working properly, let me know. The Epson 5040UB 4k currently supports HDR with 4:2:2 chroma @ 24hz, not 50/60Hz, so no Xbox S support currently. Not sure if its a software fix or requires waiting on a completely different model projector.

Is this new? Cannot see any details online for Pure Chess Ultra

chess needs more lighting apparently

The problem with HDR gaming right now isn't game compatibility, but TV tech issues. If you have an HDR monitor, you are probably okay - but most 4k HDR TVs are having issues with severe lag when trying to game with HDR. Even the flagship LG G6 needs a firmware update before you can even think about trying to game on it (well - maybe chess will still work). Those sets are $6k for the 65inch adn $17k for the 75! The issue right now seems to be the additional processing TVs use for HDR. Most sets essentially buffer the throughput to the screen - which is fine for movies, tv shows, etc - but not good for games.

That's why so many people have been picking up the Samsung KS8000, myself included. It has some of the best picture quality and HDR quality available right now plus 20ms input lag in game mode, which does support HDR. I just got mine a couple days ago and it's amazing.

I agree with this. I'm blown away by my KS8000. GoW4 looks insane!

Yes! I bought and returned an LG 55UH6550 because of motion blur, washed out colors, no HDR in game mode, and high input lag on any mode except game mode. The Samsung KS8000 is well worth the extra money. The colors pop, input lag is around 20ms and can do HDR and game mode at the same time.

I haveThe 8500kS... lOOKS great

I have not seen any problems with my KS8000. I have not heard of many problems with the XB1s with those TVs. Often the processing that the TVs do in the backround to try to make the picture look nice (for 2:3 pulldown, etc.) make it look worse and cause other problems. Try turning off the processing and see if that helps. It is nothing specific to Xbox, you will see it with many sources. I know that with the PS4 pro people have not been able to use LG TVs without jumping through a bunch of hoops to get it working and you end up not being able to use 4K and HDR. And of course the "it is OK, Sony will release a patch sometime" excuses are being thrown out, which if it was Microsoft people would be demanding a recall for them. One of the problems is because the PS4 pro only outputs to one color format but TVs expect the other (RGB/CMYK).

I have a samsung KS8500 series, supports HDR1000, no lag from xbox s hdr titles .. Flawless... so your 6k$ estimation is way off.. 2K yes...

I have a Samsung UE55KS7000 with an XBOX One S with 10 bit colour enabled and have yet to suffer any lag...and that's with the TV in normal operation...NOT Game Mode. Battlefield 1 was an absolute feast of colour and clarity

If you're going to waste your time putting Scalebound in the list might as well put every confirmed Microsoft exclusive game on the list. No way they're releasing any new exclusives without HDR and 4K.

Anyone have a Samsung JS8500? HDR work as it should? Does it automatically play in HDR if capable and tv is set right, or is it something that needs to be set in the game or console?

4K and HDR do work on the PS4 Pro and the Samsung UHD player. In the TV settings you have to turn deep color on for the hdmi port you are using.

The JS8500 doesnt show to have HDR1000 support. my KS8500, I had to enable HDR support on specific inputs... If an HDR source is detected, the tv displays a banner" "HDR Content is now playing"

Can you turn off HDR at the console level? I would love to see the same game, on the same TV, at the same upscaled 4K resolution with just the HDR bit turned off/on for comparison

I know some PS4 games have the toggle in-game, don't about X1 but I'm guessing as well.

Can't wait keep them coming
Windows Central Newsletter
Thank you for signing up to Windows Central. You will receive a verification email shortly.
There was a problem. Please refresh the page and try again.