Here is what's fixed and what's broken in Windows 10 Mobile preview build 14267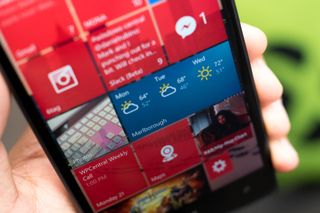 Microsoft has provided a list of what's been fixed and what is broken with the just released Windows 10 Mobile preview build 14267 for members of the Fast Ring of its Windows Insider program.
Here's a list of what is fixed in this preview build:
We fixed an issue where shape writing would ignore every second word when typing into a text box on a website in Microsoft Edge.
After installing the Polish keyboard, typing a word that should be accented now offers the recommended accented word. For example – if you type the word "milosc" it should properly autocorrect to "miłość".
We have resolved an issue where you could not hide the navigation bar in Windows Phone 8.1 apps like WhatsApp, Twitter, Weibo, Flixster and others.
We fixed an issue where videos recorded onto SD memory cards would result in a large number of dropped frames.
There should be improved app launch reliability and certain crashes that were causing the phone to reboot are also fixed.
We've polished the Live tile animations and improved the logic for refreshing Live tiles.
We've made reliability improvements for keyboards with large dictionaries such as the Hinglish keyboard.
There is one known issue with this preview build:
As we noted earlier, this build release is just for devices that shipped with Windows 10 Mobile, including the Lumia 950, 950 XL, 550, and Xiaomi Mi4.
Source: Microsoft
Have u installed it already?

I have and it is actually a LOT better. But MS Health doesn't seem to want to read my Lumia Motion Data anymore. My band still syncs but no phone data. And yes, I have checked all the setting MS for it. Everything is turned on.

I had that trouble before this build -950 here

I had the same problem too. Go the MS Health, settings and switch the toggle to read phone's motion data off and on. It'll start working.

i don't find any setting like this..

search for motion under the all settings of windows mobile not the Health app.

Where is this setting to turn it off?

Anyone have an issue on the dual-sim lumia 950, where after the update, "cellular and sim" crashes upon restart? I am unable to change my sim settings.

I had the worst build experience with my 950. I found out that this latest build is not compatible with dual sim phones if there are 2 sims installed. My Lumia 950 was unresponsive and I couldn't even use the phone for anything. Once I removed one sim card the phone became stable again but cellular internet takes a long time until it connects. I went back to .107

Same here. Can't open the toggle Cellular Data or open Data Usage. It just freezes. In addition, I can't find any WiFi networks.

Haven't had that issue (950xl dual sim), but only have 1 sim card in. I did notice that there is now another option in sim settings, "3G only" is added to the previous list of 2G, 3G, and 4G. Only issue I've noticed is calendar notifications repeat 4 times.

Hi, try this workaround: 1. start your phone with only one sim installed.
2. disable data under cellular and sim
3. turn your phone off
4. install second sim
5. start your phone
6. enable data under cellular and sim Note: disable data befor you reboot your phone ;)

Yep Same problem but on 640XL LTE Dual sim

☺
......
I understand why MS only released the preview for the newer devices sold with 10... It's definitely because of all the scrutiny they've been getting over releasing a half baked OS.. They want to straiten that situation out quickly, therefore releasing it just for those devices, so that they can see an influx of feedback from those users specifically... I think that's a good move.

Emoji's work in app now?!?!?!

But you can't edit comments after posting?

Seems like editing comments has been dropped in both old and new apps.

Not all, but some!... Also works from the old app now, which is weird...

Just so they don't orphan pre-10 devices by only allowing us to stay on the current pre-Redstone branch. That would be as bad as the 7.5/7.8/8.0 fiasco.

Nah, it's a real crap move... The 640 was sold with 8.1 but was billed as 10 ready!

When you swipe left to see all the apps the transparency is terrible, you can't see the names of the apps cause it's messed into one with the background. This has not been fixed since the first Windows 10 build.

That's the bug in All Apps list is ineed still exist, for some reason I don't know why this hasn't been addressed despite its so obvious for who use background wallpapers for Start screen+All Apps. The issue is the darken overlay in All Apps is lost after you open anything from All Apps and you go back/exit from the app. This always question me if there is any people in QA and the developmenet team of W10M that are responsible on checking the UI, User Experience, and the aesthetic of the OS. It seems they don't and it shows.

They said they know the issue and they're working on it

I have send that feedback over 15 times for every single build. And it is ignored every single time.

You're not alone. I seen these, submitted and voted similar feedbacks several times in the past. We now got new build and its still there. I'm also told that this was an issue in W10M ever since, and that's what's even puzzling to think about why nobody fixed this issue.

Lol I never actually noticed this... I guess I don't have too complicated a wallpaper... it's that hero windows logo... like it is bright when you go back to all apps but it never really bothered me

I didn't even knew this issue for a while too. I always use "Tile" option when applying wallpaper on my Start screen. This only when I decided to try Background wallpaper then boom, even my minimalist wallpaper is noticeable because the image in the All Apps isn't darker than it should be.

There are no QA in WM. That one guy can't do it all.

Not that's it's an excuse for this bug, but if you swipe back to the start screen then back to all apps the "darken overlay" comes back. A PITA, I know, but an easy enough work around until it gets fixed.

Interesting. I've not that on my 640. The wallpaper is sufficiently darkened and in the background.

Try a different background perhaps? One improves visibility? I haven't had this problem with any of my backgrounds.

Hiding the navigation bar should hv been in .107 as that's what likely to be rolled out to all. That's irritating.. :/

Release windows 10 mobile to former insiders ,we want to enjoy retirement benefits

This has nothing to do with this but has Audiotica work like it used to? Every time I open the app it says crash something and I can still use the app but the artist, song, etc selection is blank.

They have created another version named 'Audiotica Beta' exclusively for windows 10. You can find it.

I think the beta just came out to the oficial one. There's an update on the store and it looks like it's the beta.

They haven't because then very less insiders would test 10586.

Yeah MS and this white hair man is making us insane with his decisions

Are you talking about the availability?

Yes, their releases are each time for fewer devices. I remember when they were announcing w10 mobile for the first time: "all wp8.1 devices will be eligible for the upgrade" then it started leaving more and more phones out, and finally now it's only Lumia 950/550. I know the others are supposedly getting it too, but probably much, much later and slowering each day.

So, just like Android then? Each day it becomes harder to differentiate between the OSs.

Uh, no... I'm pretty sure it's not limited to Lumia 950 and 550, although right now

It may come to other phones, but it works like crap on almost all devices except the 50 family. I have a Lumia 930 and it's by far the most terribly phone I have ever owned since I installed Windows 10.

That's surprising. Actually it works very well on my L930.

Are you a Sigur Ros fan by any chance?

Really? Apart from the known bugs and Outlook mail app rendering, it works well on my Lumia 930

My lumia 930 is slow and bugy and everyday it fails on me. Restarts, can't record sound, camera is like a 3 megapixels camera and not 20, and it freezes like 2-5 times/day and that's just some of the bugs I have..

I hear you. I have rolled back my 930 to 8.1 because W10M was just terrible to use. Even after multiple hard resets. Had enough of wasting time and charging my phone twice a day. Back to 8.1 and battery lasts 1 day and a half, no more crashes or reboots. Couldn't be happier. Not even waiting for W10M anymore. I actually don't miss it.

On my Lumia 640 I've only comes across minor bugs like the darkened overlay bug in all apps list. Nothing big or deal breaking so it's not that it only works well on "the 50 Family". Maybe hard reset your phone and see if it fixes any of them? (ik there are tons of bugs still on WM10, I just mean it might help make the bugs less frequent.) But on another note MS really need to get the obvious bugs fixed that have been present for many builds.

Anything that will be upgraded to 10 will be eventually be upgraded to Redstone branch too (this build)... They have a lot of under the hood changes in this with onecore so they want to take it slow.

The edge and live tile fixes are very much needed. But the visual voicemail problem is really annoying. Calling voicemail seems really antiquated. Two steps forward, one step back.

I use ISeeVM. It's not carrier dependent.. Does what I need.

I haven't gotten visual voicemail on AT&T since I got my 950xl.

I've never gotten visual voicemail while on AT&T with any phone. It tells me I have it but it never loads.

Talk to AT&T and make sure your account is provisioned for vvm correctly. I've had AT&T vvm across my last five WP/W10M phones with no problems at all, going all the way back to the Lumia 900 with WP7.

I've had it and with preview builds at that. I'm hoping I get lucky and it still works despite what MS says lol.

I have AT&T and VVM works fine. I'm on a 950.

Well, to be fair it's a Fast Ring, bugs and issues even to most important aspects of a phone can be expected. Just hope that these kind of bugs won't make through to the production build. 950 series already had enough of backlash from bugs, we don't want to extend more.

I'm hoping it's broken so it can be fixed to work on Dual SIM phones. That's my hope.

Maybe I just never noticed before, but it seems I can now have more apps open before they close themselves. Right now I have 15 apps open in the background.

Even in the production releases, I find that I see like 7 apps in background but if I keep hitting the back arrow button, more and more keep popping up, yet they don't show the list of background apps when holding the arrow key.

Yeah, before was only 8 allowed.

Who uses voicemail anymore??? It is completely forgotten thing now...

What an ignorant post. Millions still use it, genius.

Unfortunately, now EDGE won't work at all on my 950. I think I better move back to the slow ring now that they are sending Redstone builds. I need this phone for every day use. Can't be playing around too much. Hope they fix this issue fast because I need the browser

1520 is never used to waiting man..

If you let the beast wait too long it gets angry ;)

Read my comment above with the ☺

Far and above anything else in Windows 10 Mobile, they need to work on/fix/polish the Edge browser. Plenty of other things to work on, but the Edge browser at present could use the most work.

Agreed. It's the single most annoying part of windows 10 mobile.

Agreed. Wonder if copy/paste is working yet reliably.

Agreed.. The pages get scrambled until I tilt the screen and again for it back.. And if I chose to pay online, it shows some error like cookies are not enabled although everything is on.. Don't know what the problem is.. Am not able to pay online with any app

Brace yourselves, "when in India" comments are coming.

I would ask " when will Windows 10 for phones work?"

Lol! When in India hahaha yeah been seeing those a lot. But oh well they're very enthusiastic for Windows gotta give em that

Pathetically squeezing out 3 articles out of 1 MS blog post...

Like the profile pic lol. Nice!

It's what they do with every major release: Initial announcement; new features; bug fixes

Commonplace, and I am happy with it.

"Improved the logic for refreshing live tiles". Glad to hear it!

Hopefully it means when you read your text, the little number 1 on the text tile will actually disappear. And when you have three voice mail messages waiting, the dialer tile won't still be displaying the number 1.

That's always been working for me.

I hope to see at least the Edge typing issue fix trickle down to build 10586.

Oh good! No fixes to skype and messaging. An app that crashes the start screen barely functions and is pretty much a sole reason to own a cell phone. Nbd

I only occasionally experience crash from Messaging app, but yeah its annoying especially the last time I want to send a photo and it crashed. Since Messaging app can be updated from Store, fixes should come sooner.

I haven't had the messaging app crash or mess up since .0

" (...)by clicking "…" > Settings > "Change more settings for Phone" > "Call voicemail" " Should not be easier, by default ?!

With AT&T, just dial your own number, and voicemail should come on. (Not happy about V V M disappearing for a while. Wish I saw that news item before startng the install!)

It's never worked on my 950. I bet it has to do with the IMEIs of unlocked devices not being recognized in AT&Ts servers which is by all means lame on their part. If the device supports it, it should just work.

Press and hold the number 1 in dialer.

Cool tip, never noticed that, since I've always had vvm, heh. I'm surprised Gabe's notes didn't just say to do that, as it's way easier.

Downloading now....these builds are like Christmas for my Lumia 950 XL :)

These builds (or production build) will hopefully come before Christmas for my Lumia 930...

Lmfao, that's quite an age

Why only for the Lumia 950, 950XL, 550 and Xiaomi Mi4????

because they launched with windows 10

Dafaq !! It is not our fault that W10M wasn't been released when we bought our phones !!

You should go buy a 950 so you can get this build, because it's AMAZING. It's so good that they should probably rename it Windows 11 Mobile. You're really missing out with that old WP8 phone!

Hahaha really? Missing what exactly?

So did the Alcatel OneTouch Fierce!

Very disappointed this damn phone can't get insider builds!

Acatel OneTouch Fierce XL launched with Windows 10 Mobile.

That's not a good excuse. I would be more okay with this subset of devices if the mobile builds were being released at a more rapid pace. However, the mobile builds are being released slower (around half the rate) than desktop which has tons more hardware configurations in the wild.
Also, Xiaomi Mi4 launched in 2014 with Andriod not W10 mobile. Seems like MS is giving some fans the short end of the stick :\
Yes... fans can buy a 950/950XL, but after all these empty efforts by MS on the mobile platform some will wait or jump ship instead of blindly throwing down money and hoping things work out in the future.

Yeah, I bought L930, because I'm not bothered to spend money on a flagship if the OS might be dead and buried in a couple of months. I'll see what pans out and then decide if to stay or jump ship...

The devices that shipped with WM 10 are ready for Redstone,it all about firmware thing,mi4 get update with firmware drivers designed for it,so ready for redstone.All old lumia's firmware development is not carried forward to MS because they laid off jobs.all devices shipped with WM10 firmware, is continuously in development with OEM&MS.but with the lumia that not the same case.Ex: recording 4k video on 1520 on sdcard drops frames where as 950/xl are firmware updated and thay catchup & fixed in this RS build,old lumia's are patchup with software and goes with Redstone build but there no firmware Updates like "Emarald" update,They already said Windows Mobile 10 need latest and higher hardware to run smoothly because of same "One Core System" on All Windows 10 devices.

Exactly, and the Mi4 is android MIUI flash to win10. Not even a windows oem to begin with. What about the rest of us insiders on the fast ring. Annoyed.

Well, seeing as how the DualSIM phones aren't able to use VVM anyhow, looks like its more of the same for us 950ies... =p

Mine has been good for a while now. Works best when you originally get your phone and start from scratch. I rarely restore from backup.

So wait will I still get a voicemail notification though? That is a deal breaker if I have to call my voicemail a couple times a day to check it. I really hope I am just misinterpreting.

Why someone leave voicemail??? I don't get it... Completely useless technology... Never leave single voicemail or receive it...

I don't call anyone back that doesn't leave a voicemail. If it was important they would have left a message...

I'll wait for VVM to be working again....I get 2-3 voicemails weekly that are kinda important, and well, I'm spoiled by VVM.

I recommend the excellent app ISeeVM. It syncs your voicemails between your phone and your PC. (Ideally, however, the Windows 10 voicemail app will one day do this too...)

Ditto. I've used YouMail for years for my VM which ISeeVM works with on my WM phone. I have the VM for all my phones going to one YouMail account. I have it set to send my voice messages to my email account. The message is converted to text and has the VM as an attachment. This is great when I'm overseas. Nothing worse than knowing you have a message and paying an international rate to check your message only to learn that it was a hang-up.

Thanks for the recommendation, Hankerin. I just signed up with the free 'essential' plan and it is working well.

Lot's of fixes, nice new feature set for a few quality of life improvements, and the only known bug is one that is irrelevant for an AT&T Lumia 950 XL user like me. I was initially just thinking I'd pass on this, but sounds like a nice little update. I guess I'll take the risk and make the plunge.

Yeah, a nice update, with lots for all.

Hopefully not too many unknown bugs. It'd be a bother to have to flash my device to get back on a stable build. But the update sounds nice, so I'll take the risk!

I agree with this sentiment. My only hang up is the stipulation about needing to be on 10586 when selecting Production builds and the lack of receiving the February firmware update yet. Edit: Looks like I misread http://answers.microsoft.com/en-us/insider/forum/insider_wintp-insider_install/windows-10-mobile-firmware-updates/48bea9be-8082-47ec-904d-cc60037461a7. I guess you can always go back into "Production" to keep getting firmware, even if above build 10586, you just won't (naturally) get anymore "production" builds and must go back into insider builds. Fear resolved :)

Corect me if m wrong...but Website Live tiles dont work in WM10 right ? the Long polling feed ones...for eg. Wcentral tile or the verge ?

Actually, they do, I have one for The Verge.

What about do you use for The Verge?

Do you mean what account?

I think it depends on the website and if the creators have a system for it? No idea but I know some sites that are pinned from edge have live tiles

Feeling in the not so fast ring anymore with my old 930. :-(

920 here too, but haven't found a reason to upgrade yet

I use the preview release updates and these looks fine

Can't believe been an insider since day 1. But can't get this update..

Finally they address the Live Tiles that is horrible bad. Stability etc, this looks like a important patch.

Still waiting to fix the bluetooth issue (950XL dual sim unlocked). It works fine except with the car... no problem to pairing, but 1 or two minutes after a call, disconnects and freezes (vanishe the bluetooth swicth...). My previous 920, 1020 and 930 Lumias without any problems with the same car... It's frustrating because i often need to make and receive calls in my car. Very very frustating, i love wm10 but this for me is basics...

I've never had that problem with Bluetooth on my 950xl.

More frustrating yet... i have this issue since i bought it... (version 10586 installed). No problem with any other device (band 2, speaker...), but with the car... i thought may be a hardware issue till i find in other forums same problem. I tried everything (recovery, hard resets, etc) and hoping the next build to fix... curiously, the 930 (actually with 10586.29 installed) works fine. (i'm in Portugal every devices bought here)

My 950 ds works great in my cars...u can say bmw 5 series and Hyundai verna..

I'm having the exact same problem since day one on my 950 XL and have yet to receive the latest firmware in my country. Not sure if this latest build would fix it. Already installed and will test and see...

Same problem here ... 950XL bmw 3 series... If its not fixed very fast its definetly going to make me change

with this build, no fix... i tried in the car again (5 series). well, lets do (another one) a hard reset...

So, another year of preview builds to get other bugs fixed.

As with anything, but it really is good enough as a daily driver.

Bugs fix should have a separate branch then new features (core and gui) and a higher priority, even on a SaS model. But that's not the case of W10M. I enjoy W10M more then WP8.1U2, but unfixed bugs and glitches ruin the entire expirience. I am not a MS emplyee so I cannot say what the hell are they doing on mobile division, probably they just need more nàzi-style supervvisors and less HCi bulls*** (yes I know what HCi is...), because the advanced technologies (there are many) and development divisions deliver always fantastic products.

What are you talking about? 10586 has been bug fixing only since november and this build is not in the production ring. It is already exactly how you wish it would be.

Why haven't they addressed the keyboard accuracy issues yet. We all know it exists yet Microsoft never talks about it. Autocorrect hardly works. In the previous sentence I typed out "talks", to which the phone read "twlks" and failed to autocorrect that. Didn't have these issues in 8.1. Wordflow keyboard also isn't as accurate as 8.1

Agreed. Word flow doesn't really save time since you have to go back and correct almost every word.

Ha! What they have done is break the camera - reboots after taking picture, which the either doesn't appear in photos at all or is only partially visible - congrats Ms!

Which phone? Camera works just fine on my Lumia 950. Just tried it after I read your post.

Same here, 950 XL dual sim. Works fine.

Sadly my 950 xl single sim doesn't. Reboot after every photo. Camera slow to start and Best Lighting doesn't work either. Oh well - I feel a reset coming on.

Odd - working again after fully charging phone. Will wait till battery drops and see if the behaviour changes.

Single sim 950XL works just fine too

No problem here. You shouldn't start beating on the big drum if it isn't for sure a bug that affect others.

A lot of these bugs don't affect others - that's why it's weird, there is no consistency. This is the first time a build has had a showstopper for me. What I'm intrigued about is what fixed it? I didn't even do a hard reset.

They really need to do something about Cortana+Bing...

Like bring back Bing Vision -__-

Agreed... the pivot-based one was so much better in WP8 than this embedded mobile site, especially for image searches. It's annoying not being able to zoom or switch to landscape on images, and that it reloads the index and sends you back to the top when you back out of viewing one.

Yeah, we lost the native Search UX in W10M for no reason. Its very clunky to do search in W10M which simply a web wrapper of Bing Search.​ If they coudn't make a new one, they shoud've at least retain the old but working WP8 Search UX, heck they could just even change the font and few icons then it will became much like native W10M UI. No, Microsoft have to go removing things just because of reasons unknown, then we got these poorly implemented experience in W10M when it was almost perfect/working well before.

And dear god, not only did they make it worse in W10M than WP8, but now in 14267 they've removed the Bing web wrapper and made Cortana just open Edge with bing.com for searches... UGH. They took something bad and made it even worse.

Actually W10M Search is worst period. Since WP7 we got this Bing dedicated Search UX that works very well, it was just unfortunate it wasn't largely changed ever since up to WP8, the only time we get Cortana and it got some slight changes. All other mobile OS now got their dedicated Search UI natively while here we got new shiny W10M without one. Where are all the good stuff from WP8.X? They seem all flushed in the toilet for no reason. Instead of gaining improvements, we lost several as we get new.

Hello, how are you today?

I lost glance! Not showing up in the store

U the app phone system updater to find glance again

Thanks. Turns out it was just disabled for a short while after upgrading. Found it in the settings instead of the app list.

Luck us in europe nobody uses voice mail

It's not correct... Swisscom (CH) works on iPhone and on Android, but not on WP 8.1 or W10m...

He said nobody uses it, he didn't say it didn't exists

Exactly!!! I don't understand how this could be useful

Always been amazed by how the US is where most innovations are born but then they keep using obsolete tech like sms and voicemail.

We have resolved an issue where you could not hide the navigation bar in Windows Phone 8.1 apps like WhatsApp, Twitter, Weibo, Flixster and others. Cool thing: Navigon runs full screen again (no taskbar, can be swiped away now)

Best damn fix in this build. Finally I can watch videos in Tubecast without the stupid navigation bar.

Finally, I can hide the nav bar in the Windows Central ap... aw, ****.

except the new app lets you do that now

That would be the gist of the joke I was making, yes.

messenger supports images now.

Hey, what is up if it keeps failing after trying to install the Windows Insider Configuration update? Cause mine downloads everything, prepares everything, goes to reboot and fails at the Windows Insider Configuration update​..

Ooooo sounds like a nice start

Bluetooth Audio Connection now fails now in my car after updating. It connects disconnects connects disconnects.... repeat repeat repeat.

Replying with the newest WC app! Awesome! The new build seems fine so far too

So the build jumps from 10586 to 14267?

You can now hide the navigation bar...man man man...now that's a great build for me

So cool, this is just what I needed today!!

I have lumia 950xl but there is no updates. I am a windows insider preview member. Even the last update, didn't show in my phone.

Go to the insider app and do the usual

Can we text to voice yet????

What particularly are you referring to?

When I receive a text, I can't have it read out loud anymore

Is it worth hard resetting after installing this build or does it function properly without hard resetting?

So far no issues without a hard reset.

Short list- broken: Windows 10 mobile. :(

Really nondescript. I'm running it on a 950 with no issues.

Yes and No. It's a mixed bag regarding the issues on W10M. There are still issues with W10M, weirdly some even have better experience with older devices than the later ones. The issues we still got are all inconsistent at best.

What I want is firmware update for my lumia 950xl (Cambodia)

Any one with a Bluetooth problem. It's freezes my phone every time I turn it on. I have to switch my phone off and restart it again

No issue so far, connected to my band.

Do you receive notifications of incoming calls or sms on your band with this build? Cause I dont

in windows 8.1 when we install apps it is asked this app will install in phone memory but in windows 10 it is not show after about 50% download then it's show error and then change location and intall apps.will it fix in windows 10?pls fix this at first

Can anyone tell if FIFA 15 is working on windows 10 mobile?

It crashes on opening for me

This is the reason I am still in WP 8.1

U have to install it on the phone, not sd card

Yeah music search icon is back... Couldn't figure out why the got rid of it.

Im done with this windows mobile platform. Support seems to keep going down.

lol on a post about a new insider build being released you are claiming no support? :) this is gold.

Battery life seems improved

Is it slowly rolling out?

I never used voicemail. So I guess the fixes won-over the breaks for me. And the good news is WordFlow is working again in Edge. That's a big plus for me. Will have to see about crashes...

When it comes for remaining lumias...

Fast ring... I get it. But we have VVM now - why did it go away, let's build on success not failure!

Maybe they're working on it to add dual sim support? They wouldn't just break it deliberately without having a reason.

Plzz remove that bug form messenger WhatsApp and in which type more den 230 it will slow down the speed of typing..

Having problems updating apps after installing latest insider build

No visual voicemail is a deal breaker.

What about battery improvement

I have decided to roll back windows 8.1 on my Lumia 1520

WM 10 is pretty decent OS but for us 8.1 is great . They make compatible with X20 series when they upgrade their newer series . I'm also using 1520 camera sucks

It said download not complete after stuck to install... What should I do now?

When will completed download

I wasn't planning on putting Redstone on my L950XL until end of March/early April. Just wanted to see the best that TH2 could be ie w/e the last build they make for TH2. But the many fixes to edge(word flow on browser and address bar) and finally being able to hide the navigation bar on apps like TubeCast and old Windows Central is kinda of a big deal to me. Those two annoyances are basically my biggest and most encountered ones.

My 950xl is good right now. I don't want to mess it up with this build. I think i'll wait until its official.

Still waiting for the update in the UK for wp10 on the 640

Is this build available to Insiders in Lumia 650 ????

I hope this will be released to slow ring on older devices so we can test it to low memory devices.

woohoo, maybe I can safely use apps like tweetium again that experienced 'every other word' issue..

off topic.....im loving this app :P

I on the other hand abhor it. But because data isnt provided in simple xml/rss/etc, i can't be arsed to make a custom parser for it so im stuck using the app. :(

Why my glance screen is not showing, lumia 550?

Even tho visual voicemail is supposed to be broken, the latest update actually GAVE me the visual voicemail option on my unlocked dual-sim 950 XL! Hopefully it sticks around!

Considering the update brings mostly just good news is a reason for me to update straight away, especially as I won't be missing out on visual voicemail (really wish Three would provide that service... it's the only downside of being with them).

I noticed that the Gadget app is broken after this update. Can't connect to accessories like DT-903. I can't remove accessories either. They will show up again after the app is closed and open again.

I'm happy they fixed Hinglish keyboard; was getting tired of adding words manually

How amazing this build is. I really need this on my Lumia 730 but will have to wait till the release. Thats annoying.

Have they fixed lock screen lag?

Wait. Drawing in edge browser on the phone? When did this get added?

this update doesn't show on my lumia1520. wt is the problem?
i m on the fast ring preview

Just read the damn article

It's only for 550/950 devices

I still don't have it. Do I have to redownload the Windows Insider app?

Are you using 950? If so just go to the app and tap insider fast again

The navigation problem is very huge in lumia 535 in windows 10 also when i use to play games and hide the navigation keys still a black strip remains there in place of keys and this disturbs the controls of games

I think the 535 didn't do that in 8.1

I was eagerly waiting for the last mentioned improvement.
Bcz while using Hinglish keyboard, the keyboard was not responding. Not even appearing.
But now i hope it won't happen again.
Waiting this build to be released to other Lumias (l720)

The only thing on I'm waiting for is double tab to awake! And a descent Facebook app.

Today has been a good one. New apps n build.

What about for slow ring? Posted via the Windows Central App for Android

My outlook app crashes pretty consistently since updating. Restart didn't help.

This is the worst build so far.... My office 365 business subscription stopped syncing. After removing account, there's no way to connect it again. The mail app can't find the settings and tells me that the policy prevents joining windows....
Start screen keeps crashing and resuming...

When is it coming to Lumia 520? God I hate edge works slow as hell

Is this only for new phones that shipped with windows 10??

When they are going to release and make windows 10 reliable to older phones I'm using Lumia 1520 still camera issues double tap wakeup isssue and many more

Cannot start and open Microsoft Edge at my 950 XL. When click on Edge, screen goes black and then in a second goes back. Seem like a big issue :-(

I just installed W10M on my daily driver yesterday and I quite like it. Except for these issues -
There's still a lot of polish needed.
1) Swype doesn't work well when using for a prolonged period. Words bug out and fluctuate.
2) Switching tracks from the drop-down is buggy. Holding the forward/back button doesn't seek the track.
3) My "Touch" from Extras in settings has completely vanished and I have no way to turn off the darn vibrating nav-bar.
4) Ringtone selection menu is bugged. It's in a loop or of some similar sort.
5) Text cursor needs to be like the one in Word and the cursor controller needs to be a bit more fast in skipping through sentences. It should be like a virtual Xbox joystick.
6) Hamburger animations seriously need some ironing. The Sliding-in animation to be precise in all of the apps.
7) The brightness shortcut in action center needs some work.
8) They shouldn't really let "Emoji gap" become a thing.
9) In - setting animations suck. A simple right and left slide in should make things much faster.

Off topic: I have 640xl with build .107. I get no sound when i receive sms/text messages. Are there more people with this problem?

Go to background app settings and enable your message app to run in background otherwise there is no notification shown when you receive messages....

I have the same issue on my 950 and 950XL for several builds now. No solution yet but I will try what ursmdnpavan suggested and report back.

I was so surprised that the phone can handle 15 open application at the same time as part of the multi tasking and it is so amazing unlike before it limits my 950xl to 8. I just received the latest update so far so good I just noticed some changes with the Microsoft Edge while watching YouTube the screen turns to black every time I use the landscape view.

(Having 15 open apps is probably why your XL is running hot)

My windows hello seems to have stopped working after the update. The infra red light no longer lights up and I have to use the pin instead :(

Try to hard reset the phone

My 950xl is getting really hot while I'm using it. Where is the liquid cooling??

I m not getting this new built on my lumia 730 whenever i check the updates it comes your phone is up to date i tried configuring device with windows insider thrice still it doesnt appear m on .107 built

READ THE ARTICLE. Specifically, the last paragraph...

When it will b available for lumia 730? :(

Where is Block and filter in lumia 1520?
Please help me

Glance screen not works with this insider preview

Hinglish keyboard? Is that a language?

yes....its hindi+english...writing hindi words in English language...

Hinglish? Really? I wonder why my Hinglish words are highlighted as wrong then. How to enable it?

You have to enable that in Keyboard option :)

Seems like i won't jump on. 107 is stable. Don't want to go back to hell.

Stable as hell for me, been using for last 24 hours, 950XL

VVM may be broken in this build, but for the first time, at least VVM shows up on my dual SIM 950XL on AT&T! As the change list indicates, it does not work, but the fact that it finally shows up tells me they are working on gettng it to work on Dual SIM phones, so that is good news for me! Hopefully the next build will get it working completely, and the feature I have missed the most will be back. Othewise it is too early to see how good the build is. The upgrade went very smooth. I was having random reboots with the last build (that I had never had before), so I a hoping that will go away with this build.

I wonder that either they have done that many improvements,fixes and given new features or that jump in build no. Is just for matching it with the pc build

Waiting for the 29th of Feb. I know its FROM the 29th of feb and a 920 user, well no idea when Ill get it. But wait till you see the drama in the comments. And yes "When in India?" Lol hahaha.

Does anyone know when are they releasing to older phones? Did they announce any pattern of some sort, like a week after? I'd love to jump on the new branch.

Hope it comes for Lumia 925 soon

Waiting for this build...

WARNING: Update brockes battery charging for 550 and 950. PS: SCREW YOU MICROSOFT

I think this update needs a format. I don't know why, but i have a fealing that without formating there will always be some kind of problems depending on devices and what they have installed.

Edge crashes every time now for me. So I lost Edge :(

why it is not lumia 535 why.

Because it wasn't released with W10M, you'll be next.

For me, Bluetooth seems to have taken a step backwards. When my phone does CPU intensive tasks, my Bluetooth audio severely stutters. Idk if it's because I don't have the latest firmware because I have a Lumia 950 from ATT but it's very noticeable and annoying

I too have an AT&T 950 and have experienced the stutter while using Bluetooth.

This is a very nice build. Did a format after installing on 950xl

Way to go MS! Now my Movie/TV app and store is broken opens up half and just hang while loading. Only way to get out is to push the power button! I am sick and tired of having to hard reset every single time there is an update!!!!!

Suggest you leave the insider program then ?? no point being in it, we ALL know there will be broken stuff, that is the idea ??

Wow u can actually now attach pictures in the universal messaging app, using skype, however when tapping on the pic your sent/receieved it asks you to purchase an app to view this that doesn't exist..

Hope they fix the device freeze issue ,happens a lot in Lumia 520

Its a good build. Insider hub is back but i have not noticed any change in live tile improvements

Waiting for others Lumia :D

Yeah. Im lucky to have the 950. I tezt it before it hits your phone

It's on my Lumia 640
Here's proof: https://onedrive.live.com/redir?resid=D4AEACE9F47C5497!144151&authkey=!A...

Main bug, report from other forums - Charging isn't working.

Since this update and maybe it's a one off but on desktop and mobile neither seem to retain my home WiFi connection and although it used to connect automatically, this doesn't happen anymore

When it's going to be released for Slow Insiders? Any Idea?

Anyone else still having issues w/ the "Ignore Text" feature when using Driving Mode?

Seems like the update is stable. Though I had problems after installing it. Could not get apps to install, and installed apps looked like they were pending to install. Had to reset the phone then it all worked.

Here drive doesnt work on the new build. Anyone also has a problem with navigation?
The official win10 navigation app works fine..

Here Drive looks to be working on mine. One issue that so far looks to be resolved is that when I hold the back arrow and clear all of the programs, they all seem to be cleared. With previous builds, even though I cleared them all, if I go back to the start screen and would press the back arrow, it would often still be able to go back to a previous program, and if I held the back arrow down, it would show more apps. I do not know if those programs were still running in the background or it was just showing history, but so far it looks like that is fixed.

Messed up my phone. Left the update running over night. Heard the notification wake me up about the update was done. Finally woke up to a extremely hot phone that was shut off. Powered it up, no data connections at all. No mobile data or wifi can be turned on. Did couple of reboots, nothing. Did 2 factory resets, the mobile data & wifi are still messed. Using Windows Device Recovery to roll back...

So is there any problem with just leaving the update on my phone uninstalled? No vvm is a deal breaker for me. Will it cause a problem later when I decide to install after there are more updates?

I postponed the .107 install for over a week without any issues.

Did they ever fix the Groove Music problem when changing songs on the lock screen the screen flashes, and the song title doesn't transition fluently? Posted via the Windows Central App for Android

Have they fixed the graphic problem when you're listening music on the lock screen ?

I have not tried wired charging, but wireless chargng works fine on my 950xl with the new load

Wired works fine on mine, and wireless

Man.... Wish I had read this before I just accepted the update this morning, I don't get a lot of voicemails, so checking manually it's going to be a pain, anybody have any idea when they will resolve this? I updated because the last build was just a tad tougher on my battery than builds in the past, so out of blind hope I broke my rule of giving it a few days.... Dammit..... :/ Text input is much better though! That in itself is worth it! But still.... I'm hoping they'll push out a fix much sooner than soon for the voicemail thing.....

What a POS!!! Broke my wifi on 950xl! I had to hard reset but it still cant find any wifi!!! STUPID RETARDED MS!!!!

I see people r posting wifi problems and others. I'm glad my patience kicked in and didn't get this update. ☺

I cannot see update on my Lumia 520. Im on build .107 fast ring.

Unless you do a registry hack, you can't get it yet.

Not getting updated India

After i installed, i cant charge my phone, It charges at 10% when is out of windows , when windows loads doesnt charge. What i can do? I cant do a roll back. Lumia 550

Lumia 550 owners have this strange problem

Did they resolve the quiet hours being broken, working shift work, its something i use all the time on my 920 ?

Alot of ppl having problems with this build i see Posted via the Windows Central App for Android

Photos won't open post update... Yes I forced a restart.

Well, it would appear that the live tile logic has helped the MS Weather app. It seems now to update based on location rather than requiring a launch. And I've had to re-pin my phone groups with all previous installations. They were still pinned with this release. Now if we can just fix web page rendering in Outlook and favorites in Edge, I will for the most part be satisfied with the OS.

Over three hundred posts, about w10 bugs and fixes. What was Microsoft thinking when they brought new phones out with a buggy OS?. Not the way to make new fans

Hence why it's on the fast ring...which clearly states that there will be bugs in the build.

Dan Rubino wrote an editorial a while back that you should probably read; Microsoft aren't after new fans at the moment... But I don't think there's anybody in this community who would disagree with you about Windows 10 Mobile not being ready to ship. It was one of those "rock and a hard place" situations for Microsoft. Windows 10 isn't going to be ready for primetime until probably late 2017, and Windows 8.x is way too unpopular to be the software face of the company until then. Just look at W10 adoption rates vs W8 and you'll realize that, as frustrating as it is for us early adopters, Microsoft chose the right strategy for their goals.

Anybody noticed that this update breaks the Gadgets app? I can't connect to my DT-903 (DT-904) wireless charger anymore. I also could not transfer contact from my phone to car audio bluetooth phone. Used to be able to do this in previous builds. I did a reset and the condition is still the same. I guess will be using WDRT to roll back.

Hey! This broke my Mobile & SIM when my primary sim is in my dual sim unlocked 950 xl

Win 10 mobile dev .. Plzz add this feature ....
"VIBRATE TYPING.".. Plz add this feature .. It feels good while typing .. Plzz add this.. Thank u .. I hope this feature might be there in next build ..

You do understand that this is just a blog owend by a wierd guy that has nothing to do with Microsoft, right?!!!

That seems cool, but you need to ask in the feedback app

I thin On Artical There should be mention what's Not Coming....
Cozzz everything is Updated in w10m except The LOCKSCREEN..

Here's what's broken, since downlosing this update my phone no longer charges WTF! Tried three chargers, nothing, again WTF!!!

If they actually managed to fix the shape writing in edge I'm gonna be doing backflips an hour or so from now.

Need battery fixes a.s.a.p.

I like this build. It is much more stable and fluid on my 950xl dual sim, but I can no longer sent text messages from my computer. Any ideas how to fix, or do we just need to wait for more updates?

Are you getting the 0x803f7000 store error?

Well guess what on this build Cortana is now reduced to a search launcher. When I enter a search term, it now searches in Microsoft edge

Anyone else got issues with Continuum being really slow/laggy/glitchy over wireless with this build?
Windows Central Newsletter
Get the best of Windows Central in in your inbox, every day!
Thank you for signing up to Windows Central. You will receive a verification email shortly.
There was a problem. Please refresh the page and try again.