Here's how to use Amplifi Teleport to bring your home network anywhere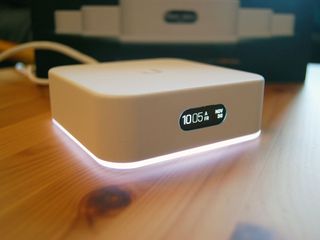 Any time you connect to public Wi-Fi there's a chance that someone else can be recording your activity. Luckily, if you have an AmpliFi router, you now have the option of connecting to your personal network from anywhere with an internet connection. Not only does this protect your data, it can also make it easier to stream video or access certain secure servers that check your location. Here's how to do it.
Products used in this guide
One of the sleekest mesh routers available: AmpliFi Instant ($90 at Amazon)
More traditional router: AmpliFi HD ($340 at Amazon)
How to connect to a home VPN with AmpliFi Teleport
Previously, the AmpliFi Teleport was Wi-Fi device that allowed you to connect through your AmpliFi-based home network when you were away. There are a ton of reasons why you may want to do this, ranging from getting access to your local network to being able to access streaming video sites abroad.
Recently though, Ubiquiti, the company behind the AmpliFi line, moved the Teleport into App form.
Using an app for this feature feels more modern and convenient than carrying a separate device. If you have an AmpliFi HD Mesh router or an AmpliFi Instant router, you'll be getting an update that lets you access your home network, securely, with this new app available on Android and iOS.
Follow these steps now or bookmark this page to get connected
You'll need an Android or iOS device with the AmpliFi app, the AmpliFi Teleport app, and an up-to-date AmpliFi router.
Check for updates for your apps and router.
In the top right of the AmpliFi app, go to the dropdown menu and select "Generate Code."
Switch back to the AmpliFi Teleport app and enter the code.
Use the AmpliFi Teleport app to check your connection status.
Wait, isn't this a VPN?
VPN services have gained popularity in recent years due to privacy concerns, specifically services that have a lot of fast servers and add a layer of anonymity to your connection.
AmpliFi Teleport is a personal VPN that runs from your home network. This can anonymize your connection as far as your home equipment. While it will prevent snooping from someone on a public open Wi-Fi connection, it doesn't do anything to change your connection at home.
If you are a Linux distribution aficionado and are looking to mask your connection from your ISP for your torrents, this is not that solution.
What if I need more privacy?
If a pure connection from your home isn't anonymous enough for you, you may be interested in a service such as NordVPN or PIA. If someone is willing to spend the time and money, they may be able to track some activity even through a VPN but this is about as secure as using the internet can be.
So why would I want AmpliFi Teleport
There are a lot of benefits to your computer thinking it's on your home connection, from better access to local servers to controlling smart home equipment. Also, some websites, like a bank site, may use some data from your connection to help verify your identity. This would be lost with a traditional VPN and may require more effort to sign in, such as two-factor authentication or answering security questions.
Sometimes it's just easier to be at home, at least as far as your internet is concerned.
Our top equipment picks
Easy Mesh
A small and expandable mesh

Get into mesh networking with the AmpliFi Instant. Easily add more points with a subtle appearance that can easily blend in anywhere.
Complete Mesh
The complete mesh experience

One of the most complete mesh routers around, the AmpliFi HD has four ethernet ports, a complete set of features, and a bright color display.
Additional Equipment
A VPN can be a great solution for getting online quickly and anonymously when you aren't sure of the quality and security of your internet connection. NordVPN is one of the most robust and complete VPN experiences available with apps available for almost every platform. Private Internet Access or PIA is another well-known VPN service with a ton of different servers and solid support for a lot of devices.
NordVPN (From $3/mo. at NordVPN)
NordVPN can keep your connection secure on public Wi-Fi or when traveling in a place that monitors web traffic. It works on all major platforms.
Private Internet Access (PIA) (From $3.33/mo. at Private Internet Access)
PIA is one of the most well-known VPN providers out there with a great reputation. It has servers in 32 different countries.
We test and review VPN services in the context of legal recreational uses. For example:
1. Accessing a service from another country (subject to the terms and conditions of that service).
2. Protecting your online security and strengthening your online privacy when abroad.
We do not support or condone the illegal or malicious use of VPN services. Consuming pirated content that is paid-for is neither endorsed nor approved by Future Publishing.
Get the Windows Central Newsletter
All the latest news, reviews, and guides for Windows and Xbox diehards.