Here are the U.S. banks that support Microsoft Wallet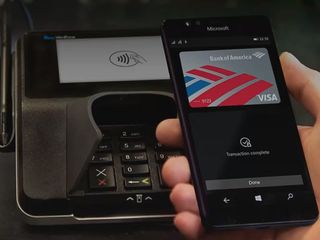 Microsoft has posted a list of banks and credit unions that either currently support the just launched Microsoft Wallet for Windows 10 Mobile or will support it in the near future.
The list comes from the offical Microsoft Wallet (opens in new tab) website. Here is the current list of banks and credit units that support the app right now:
Bank of America
BECU
First Tech Federal Credit Union
People's United Bank
PNC Bank
US Bank
Virginia Credit Union
Microsoft also listed a few of the banks that will support the Wallet app sometime in the future:
In addition, Microsoft Wallet holders can use its features at retailers that show either the Contactless Symbol or Microsoft Wallet logo. The NFC Tap to Pay features in the Wallet app currently only work on the Lumia 650, Lumia 950, and Lumia 950 XL smartphones in the U.S. While the app is available just for Fast ring Insiders in the U.S., it is expected to be made available for all Windows 10 Mobile users sometime later this summer, most likely as part of the Windows 10 Anniversary Update.
Download Wallet 2.0 for Windows 10 Mobile (opens in new tab)
Uh oh, no Wells Fargo? I may have to go back to BoA.

Back when Wells Fargo had a working WP app and BoA didn't, I almost switched. Glad I stuck around with BoA considering this and the great new BoA app.

Sucks because now we're still in that struggle to get our banks to support the platform. Mainly those of the thousands of credit unions in the US.. Not sure how that works around the world, but if I can't use the app with my bank, then it's the same damn situation with Windows as a mobile platform......... Waiting for support.

Is it really great, IYO, or do you say great just because it's there❓❓❓

It's very odd, because Wells Fargo was just praised for going "all in" with Windows 10. Only to not follow through with this? http://www.usatoday.com/story/money/markets/2016/06/15/wells-fargo-goes-...

It's still pretty early. I hope they come through with this feature.

guzfraba.. have some patience.In the mean time Wells Fargo will find other ways to rip off their customers.

I already made the jump. BofA is voted #1 for online and mobile banking and so far I can't disagree

No thanks to a massive government bailout at the cost of us tax payers. Ahaha Posted via the Windows Central App for Android

Hey, if bank of America didn't charge foreign transaction fees I would be with them for sure.

they have travel visa card with no foreign transaction fees...check it out.

It doesn't make sense, seeing as they are to release a new Windows 10 app soon. I have it setup on my iPhone and never use it, but I'd still like the option on my 950.

Wells Fargo will soon follow. Thats for sure.

Was hoping to see that as well. Please let it happen soon, otherwise I may make Chase my primary bank.

I came here to ask that exact great question. Where is Wells Fargo? They've always supported windows over the years. Plus, they've just announced the coming of their new app for Windows

Are they playing nice on purpose? ... Because if it's just a mirror of the card, basically, they can just do what they want, like coin... Which failed...

Just found my coin yesterday in my pile of Loyalty cards. Total waste. Worked about 20% of the time so you still had to carry all of your other cards.

Surprising not to see Wells Fargo since they said they are developing a Windows 10 app...

I'm suprised to not see them since they support every other tap to pay system out there.

WFB must be added soon...

Maybe they are going to launch all Win10 support at once.

BoA seems to now be a big supporter of Windows! Not bad BoA, all past wrongs are now forgiven :-)

I doubt it's out of the goodness of their hearts. This sudden huge push is indicative that there was probably a deal struck with BoA, by Microsoft. Probably involved a sizeable check, and a marketting push.

That's not true. I've met bank of America and they are nice people..... They hold my money for me ☺

Bank of America is one of the first enterprises switching over to the Windows 10 ecosystem. Releasing their app on the UWP seems to be a natural thing. Other banks will certainly follow over time.

Very surprising in deed!!!

Add Capital One & WF, and I'll be a happy camper. Hopefully those will arrive later in the year.

My thought exactly! While I do have a card with BoA that would work, I prefer my Chase Freedom card's rewards. Here's hoping that by the time this goes live for all users this summer (i.e. not Insider builds), all of the banks shown will be supported and that more are on the way (like, as many mentioned, Wells Fargo, who has been quite supportive on the Windows phone platform so far). Posted from Windows Central for Windows 10

And the way they handle this, no one will ever use it because they don't know it's actually in there. Hopefully they have some keynote or something to showcase how to use their phones like Apple does.

You're "average" wouldn't know it if they made a big announcement anyway. Heck, your average person doesn't even have a Windows phone.

Microsoft is a big ass company, I was expecting at least like 100 Banks, now. I can't use not even my American Express or my Chase card very well known Banks

That is because Chase is trying to push their own proprietary mobile payment app. They have invested many millions of dollars trying to assert themselves as the defacto standard. The issue is that I don't think there will be a standard for some time, if ever.

Let's not forget that when Apple (also a very large company with a much larger mobile userbase) launched their Apple Pay service, only two specific credit cards and one debit card was supported. Other banks followed quickly thereafter, so I would expect to see the list of banks increase rapidly over the coming months. Also, let's not forget that this service is currently only available to Insider Fast ring members and hasn't actually been released to everyone yet. Posted from Windows Central for Windows 10

Good points. It'll take time for banks and credit unions to get on board. Things seem to be looking up for Windows phones. I'm enjoying the progress so far in 2016.

That makes entirely too much sense. You are in the wrong comments section for that kind of behavior.

Chase, sadly, only supports Apple Pay. Android was left behind here and they have a larger installed user base than Apple at the moment. It's no surprise that they aren't supporting Windows yet, especially since they terminated their Windows Phone app and cut off all access to it. But, hey, there's always Chase Pay! /s Capital One doesn't even support Android Pay, yet, and they've been pushing their Capital One Wallet app for Tap to Pay on Android. And American Express just doesn't care about Windows.

Obviously you didn't try out the new AmEx app. They have had an excellent app for WM10 which is almost the same as the regular webiste. Try it out. One of the reasons I love AmEx. I called them up to give feedback many times and they are very receptive and you can see that the app keeps improving.

Yes, the AMEX app is great. Although it would be nice if they supported Tap to Pay. Of course, until there is a W10M phone on Verizon that supports it, I won't be using it anyway.

Yes I can't wait to use my AMEX everyday preferred with this!

Isn't Chase listed as one of the "coming in the future" banks though? so i don't think it should be all doom and gloom.

Well, now that Costco doesn't use AMEX anymore, I don't care about them either. lol

I use Android Pay with my Chase Visa card.

Wells Fargo would be a good addition to this program. It also looks like there's unspecified credit and debit card support from Visa and Mastercard... Hmm. Would that be with those that already support host card emulation?

Exactly. I use this for personal and business... they need to get on board with this stuff.

Hoping for PNC to support this.

I'm assuming they will, since they are on both Android and Apple pay. Really wish they'd do a Win app though...

Add Amex Serve and cap1 and I'm all good

Still said this app does not work on my phone, 950 XL with Insider fast ring

me neither using a 950 on fast ring. When I click the link to download wallet 2.0 it goes to the old wallet app which is installed already. Any thoughts?

Hi Jordan, it doing the same for me too.

USAA request that Members contact them via phone, chat, email or twitter @USAA and voice your opinion so that they can give the feedback to the "Voice of the Members" team and get the ball rolling.

USAA are usually pretty quick at this sort of thing and if enough people request it, I can't think of a reason why they wouldn't work to get this supported. I love USAA and can't wait to use this new functionality when they are supported

I've already chatted, emailed and tweeted lol.

Thanks for the info. I tweeted all 3 USAA Twitter accounts and got a response back: https://twitter.com/USAA_help/status/745329483004055552

Done...along with Navy Federal CU

My Lumia 640XL and 830 are a little sad

So it works at all sites that support android pay, but not with all cards that support android pay? Well I guess it's a good start either way.

I was able to add and use my US Bank Cash+ card just around noon today at Walgreens.

Lumia 650 is inferior to 640 in hardware but doesnt support tap to pay yet. Thats beyond dumb. Best part i have BB&T as my bank here. So cant use it anyway.

has nothing to do with hardware as our Lumia 920s used to have tap to payback in 2014...then google bought the company and killed the service.

Softcard used a special SIM from the carrier, bypassing hardware limitations.

So who wants to take a guess at how many people actually meet these criteria (at this time)? I'm so close: US (check), 950 (check), Fast ring (check), one of five obscure banks (whammie). Yes, BoA is a large bank but still...

Yeah, If local Banks wont make windows phone Apps then they arent going to work on cards for windows phone tap and pay.PNC for example..

Hey hopefully Capital One will be supported soon!

None of my cards will work, and my phone will probably never support it. :( I have the HTC one m8 and I have Amex, discover, and tdbank cards.

I wish SunTrust was on board but considering the fact that they refuse to create an app and have cut off Windows Mobile users from even accessing the mobile website via Edge, forcing you to pull up the desktop version, I don't think it'll happen.

Why complain about a service that is not fully released yet? If you you are in the fast ring, you are testing capabilities, and should expect some limitations. If the list of banks is that short at full release, by all means, complain away.

Heyyy first tech what's up. Unfortunately my 950 broke so I'm stuck with a 640 and no tap to pay.

The display was flickering one night so I planned on returning it under warranty, but then I dropped it and the display cracked. Not the glass, the display underneath. Huge bummer. I paid $600 out right for it

Not my credit union. Oh well.

That's the problem... We can't even get apps for our phones, why would our bank support this???? That is, unless, if W10 gains super amounts of market share, and our banks actually do pay attention to mobile.... But, once again the perpetual "If, When, maybe, one day, we'll see""""

The wallet 2.0 app is using Host Card Emulation which is a standardized payment channel and also used by Andoid Pay. There is very little effort involved for the bannks to enable a new app. This isnt like past attempts when each platform had proprietary and competing standards, so market share isn't really a major obstacle.

Better consider Lumia 930.

Well I hope chase bring an app, ii could care less about then being on the tap to pay list, I want them on the uwp app list!

Surprised Ally isn't on the list or have an updated W10 app yet.

Me too....they were one of the few to really stick with us and I am in love with the way they treat a customer. Really hope they break through onto the list.

Ditto, I am going to contact their support

I have been spamming Ally with feedback. But considering Android pay isn't supported by Ally I'm not sure how quickly they will support Microsoft Wallet

This has always been one of my problem with ms you guys are already 2 years late to the dance and you only have 5 banks at launch really

The Insider Preview Program is not, has never been, nor ever will be synonomous with "launch".

And when is launch if you don't mind me asking almost less than a month away right ? but let watch and see how it goes

So is this only going to be for those 3 phones going forward?

This it'll be perfect, but Wells Fargo pleassseeee join!

no AmEx or Discover...? :(

Nice to see a couple of credit unions quick to get on board.

I have a Lumia 950 in the Fast Ring and the store tells me "This app does not work on your device".

Install from library or check for updates.

I successfully added 2 US Bank Visa Debit cards without issue.

How did you get capital one to work? It said my card is not supported

Can't get my Bank of America card to take in the app. Keep getting "check your card details and try again"

I wonder if they will support American express because I know my bank will never support wallet because they are only in a few states.

Bleh. Just tried to set it up with BECU. Got the card on and everything, but when it came time for verification, I had to call my bank and the guy there had no clue that it was a thing. Like... I understand its day 1 and not everyone is up to speed, but could they please just do some sort of automated system so I don't have to be at the whim of a real person who may not have been educated in the partnership and how to handle it? :s

Follow up: Sent a message to BECU's support center online. Said that since the serivce has just rolled out, only a small amount of folk were trained on it being a thing, so they directed me to essentially their tier 1 support. Thankful that they're at least helpful when it came to the issue, but it still would be nice to have a method of card verification beyond just calling the bank.

I don`t want to look like a ******** type guy, I also know this thing Is new, but lots of things related to MS only works well in US, this is not really the way to go if they want to do stuff...

I have a credit card from a local bank and I found out a while back that it traces all the way back to U.S. Bank. As expected I was able to add it. It's the only card that will work, but at least it allows me to try it out!

tempted to go from release preview to fast ring just for this....

i did that and i can't get the app. I am in the US with a lumia 950 on latest fast ring and wen i go to the wallet app in the store it won't update to new version. You might want to hold off until that's fixed

Sweet, I use both B of A and Chase. Will this work though when I've travelling overseas? I am out of the US 2/3 of the year. Now I just need a Release Preview Redston build, hurry MS!

so if another phone with NFC tries to use this it wont work? (dunno which WP have nfc though)

This is making me want to switch back to bofa from pnc

Yes, please Ally! I have been spamming them with feedback, I really hope they support it

Is that the same "near future" in which "Cortana will be enabled in your region in the near future"? The same "near future", perhaps, in which man will establish a colony on Mars? And we'll all have robot maids and hoverboards?

Where is wells Fargo? Windows is my love , Android is the reality , I need apps that wp cannot offer

The usage of this feature will be almost 0 if they don't support more phones

"sometime in the future" bah humbug.

For other than one credit card, I bank with a local credit union. I have no use for big banks. I hope MS develops a way for us to add our cards without requiring a whole lot of local bank effort.


Hopefully USAA, Ally Bank and Etrade will soon support. I miss the old Money app were I could keep track of my investment accounts....they should add that feature to wallet..

My banks aren't there, yet. Us bank, cap one, navy federal CU and Barclays. Posted via the Windows Central App for Android

Navy federal credit union won't make an app due to a small % of people that has Windows phone I just got the email yesterday when I wrote them so I think you should write to Navy federal and tell them about the issues

They've had that template response for years. Ask them to review the decision.

What the heck....I hace an icon with Verizon. What do I have to wait...until hell freeze all over....for me to be able to use this...

Does a card-issuing bank need to support Microsoft Wallet or just the Contactless Standard?

Hope that list gets bigger fast. Really only one widespread bank on there at this point. Would have been nice if they had followed up on this 3-4 years ago when my 920 had Wallet and NFC.

I'm confused. Any Visa or MasterCard credit card won't work? I understand that a debit card or an account tied to checking or savings might need bank-specific support, but a Visa or MC credit card too?

So damn crazy my credit union BECU is supported. I'll activate it tomorrow and see how it works!

People who bank isn't on that list, please do and post in the feedback huh and let them know which one you want added!

The NFC support MS built in is the same as Apple's and Google's, so I don't understand why there's "NFC for every bank" support.
Hope that someone can explain all this nonsense....

Chase is particularly notable because they used to have Windows Phone support, then dropped it. If Chase comes back to Windows with an app it might just be enough to switch me back from Android

Microsof's Windows 10 main OS power in the Enterprise World will draw other banks to exept Windows 10 mobiles tap to pay tech through an MS "Universal" app. the growing number of MS Universal Apps will make Windows 10 mobile smart phones the best type to use with Windows 10 business Computers

Ask em. I'm bugging them about it.

Has anyone tested this on a 640XL?

Doesn't work on the Lumia 950 no update for the wallet im on build 14371 and my wallet app version is 1.1.16056.0 where is the wallet app 2.0 its not in the store grrr

yep i am in the same spot and i am located in the US, Rhode Island/Massachusetts to be exact

Yep. My bank ( simple) has no plans on supporting this in the immediate future. guess i will leave nfc disabled for now.

I have BofA. I used the tap to pay at Radioshack Openned wallet app tapped back of phone to the sensor. Cachier was like.. "oh, you want to use google payment? okay.. let me turn that on" Tapped again.. she got a boop message saying there was an error. My phone showed I had to enter my lock screen PIN for the wallet Tried to tap it again.. didn't get close enough Set the phone right on the sensor. success? Still had to sign. Cachier tried to sell me another thing (4th attempt).. "Sorry.. I'm just really bored." She admitted. There was no one in the store.

Hopefully, my bank will be on this list soon.
Windows Central Newsletter
Thank you for signing up to Windows Central. You will receive a verification email shortly.
There was a problem. Please refresh the page and try again.