Here's a possible fix for Surface Pro 3 owners who can't install Windows 10 build 10122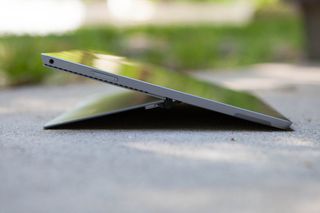 Earlier today, we reported that many Surface Pro 3 tablet owners could not install the new Windows 10 build 10122 on their devices when upgrading from the last public build, 10074. Now Windows Insider head Gabriel Aul has posted up a possible workaround that could solve these issues.
Aul wrote today on his Twitter account:
Yes, that does mean that you will have to run the Command Prompt exe, Aul later posted a follow-up message:
Hopefully, this fix will get your Surface Pro 3 up and running on the Windows 10 10122 preview build. Let us know if this workaround works for you in the comments.
Source: Gabriel Aul (Twitter)
Windows Central Newsletter
Get the best of Windows Central in in your inbox, every day!
Didn't seem top help me. I did the clean and the rundll. Twice. Will keep on waiting​ for something else... EDIT: Oh yeah! FIRST! :) LOL always wanted to do this and watch the hate ;) Love Windows Central, love Windows Central commenters :)

I'm sorry, getting the first comment on a windowscentral article is not a big feat.

This is why people like you shouldn't be able to comment ..

Here's the hate! ;) Posted via the Windows Central App for Android

I turned off bitlocker and ran the rundll three times. That seemed to finally make it work Posted via the Windows Central App for Android

Uninstalling the video drivers and doing this command worked for mine Posted via the Windows Central App for Android

Darn, just left for school without my Pro 3

That is what finally got it to install on my SP3.

I just converted the ESD to ISO and did a fresh install.

What program did you use? I've been looking for something to do that but I've had no luck

It seems MS killed the download for ESD. Have a trustable site with it?

If it downloads from windows update, you can find it in $windows.~bt (hidden folder on C:\)

I did see that folder and checked, but it's only 1.05GB and doesn't have an ESD or WIM file in it. c:\RecoveryImage has an older WIM from April.

I have a Lenovo Helix and was having the same problem reported by many SP3 users, stuck at 18%. This trick fixed it for me.

My PC doesn't even bother to download, just keep telling me to retry.

Yes, I've never been in slow ring since installed w10

Hmmm... not working. But finally I manage to install it. Apprently, I use BitLocker. By turning it off the BitLocker first (not by suspending, since that not working as well). :) I also did run that command line (I guess I run the CMD as Administrator). So I have no idea which actually help the solution. Than I enable the BitLocker again after installation.

Same here. Just worked right now after turning our bitlocker Posted via the Windows Central App for Android

I Salute all y'all for down-loading Windows 10 Preview.
You, the real M.V.P.....

Sorry pal, but NO. I got burned with Windows 8 and as a result lost everything off my Computer even though it was Microsoft that did the Remote upgrade.

Which build is the stable one? Just downloaded W10 last night and boy was it jagged and animations aren't smooth. Can't even tun Mischief because missing GL. Help, please?

I had previously gotten 10122 to install earlier today by wiping out all the partitions on my Surface Pro 3, installing 10074 from an ISO burned to a DVD, and then immediately selecting Fast Track so Windows Update would install 10122. After having it die at 18% five times yesterday, this worked for me. The one hickup is that at 30% the Surface Pro 3 got too hot and displayed the temperature icon and shut off. Luckily setup continued when I turned it back on after allowing it to cool.

Initially this didn't work for me. Then I ran disk clean and selected to delete all the windows update files. I performed this as a second step. Successful install.

Hi there. Once in command prompt do you put that entire command on one line? Or is there a sequence?

Just cut and paste the whole string

I also ran mine elevated (administrator)

Thanks man I did that and it didn't work. Then I ran as administrator and it is currently at 44 percent.

Thank you. After having it fail in standard cmd, I got my install to succeed after running the cleanup in elevated cmd. Appreciate the tip (though I should have thought of that in the first place. D'oh!)

Same thing worked for me. Thanks!

heyy, i dont understand the whole command prompt thingie or which files to choose in the disk clean. could you please help me ?

worked for me. thanks for posting this article and staying on top of all windows news!!

Unfortunately this did not work for me. My Surface Pro 3 just won't take this build.

Well, oddly my SP3 is fine. Though that might because I just refreshed it when the build was released (a coincidence) so it had 8.1, then 10074, and now 10122. Now my main workhorse laptop is experiencing the hung at 18% problem. So far, none of the work arounds have worked. Not a big deal, but curious.

Didn't work on my Surface RT

Worked perfectly on my SP3!

It didn't work on mine. Including turning the Bitlocker off. Automatically it went back to 10074.

Wish I would have waited I did a reset that took me back to win 8.1 then upgraded to 1074 then to 10122 without issues. A bit extreme but i don't keep much on my sp3 that's not easily reinstalled

This worked on my surface pro 1. After reboot, the system appeared to hang and was missing drivers (IE. Wireless, display). After forcing a shutdown and restarting the device, it booted normally.

I know its irrelevant, but when I saw sp3 in Aul's tweet, I found myself looking back to Windows XP SP3.

Still didn't work for me unfortunately, now it is just stuck in a "checking for updates..." loop. Flashes the update, back to "checking for updates..." Wash, rinse, repeat. Tried several different work-arounds that people have mentioned.

The posted work around did not work for me at all, same thing as before. I managed to get it installed fine by putting an iso onto usb, format the drive and install it fresh.

Converted it to ISO and still get the same error. Even after doing disk cleanup, run maxclean through CMD and uninstall my mouse and keyboard. I give up. Lol.

Hopefully this helps someone. I had trouble doing the upgrade, as well as doing things like connecting to my wifi, on my SP3 that I've dual booted. Turns out, having bit locker on your primary Win8 partition will prevent your secondary Win10 partition from doing much of anything (had something to do with TPM access). If you are dual booting, I'd recommend turning off bitlocker, that solved my problems.

How would I find out if I have bitlocker and how to remove it..? Posted via the Windows Central App for Android

On your Win8 install, go to Control Panel > System and Security > BitLocker Drive Encryption. From there you can disable if its on

This is always a problem like mine

This isn't just for the Surface . My Dell laptop also had this problem, and this fixed it.

Please review test chamber game

I am in Admin command prompt paste the whole string nothing happens

As long as you hit Enter at the end and there's no error, you should be good to retry upgrade

What worked for me (SP3I7): - Turn Off bitlocker - Cleanup disk - Execute the command from Gabriel Aul - Installed update without problem

Didn´t work. maxclean and disc cleanup, butdidn´t work twice.

Make sure your using an elevated command prompt (run as administrator) even if your already an admin.

It worked on an notebook Dell Precision M4600 !!!!

Eventually it did. Had to attempt the install multiple times and run this command multiple times, but I am on 10122 finally. Some posts are saying to run the command near or after the install, right before the reboot, but who knows...

Does not fix mine :( I'll have to wait for the iso to perform the update

They should bring a feature that we could access in settings (and who knows action center?) and activating it would optimize how apps SO web... work on one handed use

This fixed me up..Surface Pro 3 I7, 8gig 256 ssd

It worked for me after a few attempts. You must make sure to copy the entire command and paste it. It runs with no prompt. You have to be at 17% for it to work. I started at 11% and after a few attempts the number rose to 17% and then it upgraded okay. In each instance I ran the script.

This did not work for me. However, I reinstalled a clean version of 10074 from the ISO, and then the update worked. Feels like I had an app that caused issues.

I give up. I tried everying, my SP3I7 doesn't want to upgrade. Think I'll just wait for Microsoft to figure this one out. I hope 10074 is stable enough to use on this device.

Works!! But not on its own. First ran CMD\ net stop wuauserv, deleted all the update cache locations, then did Gabe's fix. On its own, it didn't work for me but finally got it done. Was thrilled to finally see 19% progress. Now to look around and see how it works...btw...SP3 I7 256.
Cheers to Gabe

No dice for me on my SP3. Tried 3 more times running the command line command and also getting rid of as many devices as possible. Still rolls back at 18%... :/

No dice, even tried the bitlocker trick that someone mentioned but still no success in updating.

Worked for me.
I opened the console in administrator mode just incase that helped.

Worked for me. Ran CMD as Administrator as well, ran the commands as listed and then it worked. For a minute I thought it would stop again, but it powered on through and fiished.
Windows Central Newsletter
Thank you for signing up to Windows Central. You will receive a verification email shortly.
There was a problem. Please refresh the page and try again.