Here are all the announcements from the first day of Gamescom 2015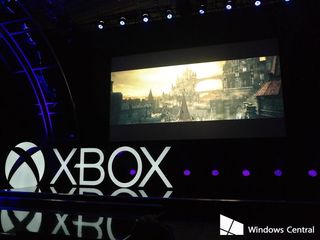 Missed out on all the announcements from the opening day of Gamescom 2015? We've got you covered. Microsoft got us underway with the announcement that Windows 10 will be coming to the Xbox One sometime in Novermber, bringing DirectX 12 to the console. Members of the preview program will be able to access it in September.
DVR, backwards compatibility and Chatpad:
During the briefing, Microsoft revealed that over-the-air DVR features will be coming to the Xbox One in 2016, with a dedicated section showcasing all the recorded shows. The feature will allow you to remotely schedule and record shows thanks to Instant On, stream from the Xbox One to Windows 10 devices, and download locally.
In gaming-related news for the console, Microsoft has announced that all future Xbox 360 Games with Gold titles will be backwards compatible, allowing you to play Xbox 360 titles on the Xbox One. If you have an Xbox One but not the Xbox 360, you can still claim the free two titles a month under the Games with Gold program and play them on your console. The feature is set to go live in November with over 100 games available at launch.
Microsoft also announced a new accessory for the Xbox One, called the Chatpad. The accessory adds a keyboard to your Xbox One controller, allowing you to communicate with your friends on Xbox Live with ease. The Xbox One Chatpad launches November 3, and is now available for pre-order for $34.99:
Pre-order Xbox One Chatpad for $34.99 (opens in new tab)
Check out the video below for all the announcements from Microsoft's Gamescom 2015 briefing:
Xbox One Elite Controller, Halo 5 bundle and Seagate's 2TB HDD
Microsoft had the Xbox One Elite Controller — which will retail in October for $150 — available for demo at the venue, and Richard Devine was able to take a closer look at the controller:
A second look at the Xbox One Elite Controller
There were a few controllers in Ford livery as well on display, with the only drawback being that they won't go on sale anytime soon:
Ford-themed Xbox One controllers
Microsoft also showcased a limited-edition black and silver Halo 5: Guardians Xbox One bundle, which is essentially a 1TB Xbox One with a custom paint job:
The latest game in the Halo universe, Halo Wars 2, was also showcased, with the game set to launch in the fall of 2016 on the Xbox One and Windows 10:
For those worried about running out of storage on their Xbox One, Seagate has announced a 2TB external hard drive that will be available later this month for $109.99:
Seagate's 2TB external hard drive for the Xbox One
Games, games and more games
Before the event, Microsoft teased that it would showcase the "greatest games lineup in Xbox history," and in that regard, the Redmond giant managed to deliver. Microsoft announced a series of independent titles that will be available for the Xbox One later this year. Upcoming games include Cities: Skylines, Train Simulator, Thimbleweed Park, State of Mind, Worms WMD and much more:
Forza Motorsport 6 is scheduled to launch September 15 as an Xbox One exclusive, with the game featuring over 450 cars and up to 24 players in multiplayer mode:
New trailers for Just Cause 3 and Rainbow Six: Siege were also released:
Minecraft developer Mojang — which is now owned by Microsoft — announced that it would bring Oxeye Game Studio's colorful platformer Cobalt to the Xbox One and Xbox 360:
Quantum Break, the action game from Remedy, will be finally released for the Xbox One on April 5, 2016:
A bevy of titles were also announced for the Xbox One preview program, including Sheltered, Ark Survival Evolved and We Happy Few:
Other titles that were announced include Killer Instinct Season 3, which will be available in March 2016, and Deep Silver's Homefront: The Revolution, which will launch its multiplayer beta this winter.
What has been the highlight of the conference thus far for you?
Halo wars 2 is my highlight. Waiting so long for it.

Yes, overall, it was a solid show for Microsoft (certainly much better than Sony's show), and Halo Wars 2 is exciting, but I was hoping for one more big announcement. They didn't really show anything suprrising. That said, their lack of announced Kinect games at E3 2015 and Gamescom 2015 has been vexing.

Sony's show? Did you watch it? It was awesome! PS: Sony didn't have a show.

We happy few gave me bioshock vibes

Don't forget tomb raider!

Crackdown 3!!!! Looks bloody ace!

There wasn't a single exclusive I am not looking forward to. Amazing.

I can agree with that! Which is unusual, as I usually only care for a select few games.

Scalebound! I was originally expecting something along the lines of DmC but it's looking to be more like Zelda with hit points. Hopefully they refine the character a bit so he doesn't sound like he was pulled directly from an edgy Pepsi commercial.

I'm actually excited for Quantum Break. I just wish it would come out sooner than next year.

Crackdown 3! And Scalebound look great.
Windows Central Newsletter
Thank you for signing up to Windows Central. You will receive a verification email shortly.
There was a problem. Please refresh the page and try again.