Here's what's been fixed and what's broken in the Windows 10 PC 14316 preview build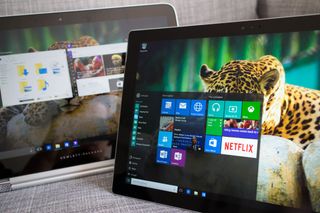 Microsoft has released a list of what issues have been fixed in the just released Windows 10 PC 14316 preview build for Insiders in the Fast ring, along with what is broken in the build.
According to Windows Insider head Gabriel Aul, here's the list of what's fixed in the build:
We fixed the issue where on some PCs with TPM chips, such as the ASUS Zenbook UX31, you may have experienced glitchy audio and jumpy movement when using the trackpad due to the "tpm-maintenance" task running constantly in the background instead of once per boot-up like it should.
We fixed the issue where if you use Hyper-V and have a Virtual Switch configured for your network adapter, you might see an error indicator (red-colored "X") for your network adapter in the notification area of your taskbar.
We polished the Wi-Fi flyout UI and fixed an issue where text entry into a Wi-Fi password field was noticeably top-aligned rather than centered.
We fixed an issue for where when using multiple monitors and full-screen apps like PowerPoint or Remote Desktop would crash Windows Explorer.
We fixed an issue where Cortana wasn't showing Settings pages in the search results.
We have updated the Windows Update notification after updates have been installed so now clicking on the notification will take you straight to your update history.
We fixed an issue where desktop (Win32) apps pinned to the Start menu would sometimes move after updating to a new build.
We fixed an issue where "Update and Restart" and "Update and Shut Down" wouldn't start an update.
The list of known issues in this build include:
The Visual Studio emulator for Windows 10 Mobile and Hololens will fail with "An authentication error has occurred. The Local Security Authority cannot be contacted". If you are a developer and require the emulator for building apps, we suggesting moving to the Slow ring and skipping this build until we can fix this issue.
We continue to investigate issues with Narrator and other screen reader apps that make them unable to read selected text in the Feedback Hub, Cortana, and other apps.
In Microsoft Edge, some large downloads may appear to get stuck at 99% completion. You can work around this issue by renaming the file in your downloads after closing Microsoft Edge. This workaround skips security checks on the file, so it should be used only with files from a trusted source.
In some cases, attempting to turn on Developer Mode on may crash the Settings app. If this happens, the workaround is to use these steps here to enable Developer Mode.
Some apps notifications may only show the icon – however the full text of the notification will be visible within Action Center.
Update:There may also be an issue that breaks typing into Tweetium after you switch away to another window then back, until you restart the app. May effect other apps as well.
Doesn't seem like too many bugs or issues. How have the other builds been running for people using the SP3? I want to take the plunge for all those great new features, but I want to remain cautious and avoid installing what's still pretty pre-release software.

If you have any issues, you can easily roll back

Backup your machine as an image. Failed to roll back in my case. Others have been successful.

Windows 10 Mobile emulator of Visual Studio not working. Is that a bug or a feature..

Is that sarcasm or stupidity?

maybe read the article next time.

I have been installing every build released to date on my SP3.

I have a huge issue with Microsoft Edge. After you start it, icon on desktop appears as though the app is not running. When you minimize the apps it appears like it's closed but it's running in the background. When you click on the icon it open a brand new window instead of a tab in the currently open window. Yeah, you better not install it on a daily driver at this point.

This is what I was looking for, thank you. I'll hold off for now, I don't really have a machine to spare at the moment.

Unfortunately it's not only Edge... it's all UWP apps :( only win32 apps show correctly in the task bar

I just noticed that a short while ago. I didn't know, up until now, Edge was a UWP..!

Is the XBOX Controller issue fixed yet? I haven't restarted my computer in days because of it. I'm still on build 14279 because of that issue. I know from my bro that when you plug in said device the computer locks up or slows down to a crawl.

Mine's been at a crawl since 2 builds ago. Tablet acting the same.

Ahh thanks for the confirm, this is a train wreck...

have had no major issues running on 5 different setups in quite some time, builds have been good.

That issue was fixed the build before this. I know cuz I heard the issue. My guess is it's still fixed in this one. For me I can't download any store apps so how that's fixed Maybe she's born with it, maybe it's Lumia 950xl

No it wasn't. The problem still exists. You don't know ****.

They slightly fixed it, but the computer either goes to a crawl and just breaks completely. Controller issue is still not fixed for some reason....

Did you ever get store working? 30mins into this build and I can't open the store app

Not fixed yet, just tried. This is getting ridculous.

Thanks for the confirm! I swear how you fix things and break things that were not broken. I swear the last thing i need is a power outage or my computer has to restart because it keep asking me to update and i refused it several times. Microsoft get this ish fixed and stop trying to be trendy with VR and dumb apps i can do with a piece of paper. I don't care about anything else, just get the controller issue fixed.....

You should send a tweet to Gabe Aul. Maybe, just maybe they will finally fix the problem. Looks like they don't give a crap about a ton of feedback in the Feedback Hub, on reddit, gaming forums etc. Thousands of people have been complaining about the issue for weeks.

Hell... worth a try i don't think they care about gamers who use controllers that they made ugh...

If these bugs are so problematic for you then why are you installing these builds?? It was said from the start that insider builds will be buggy.

No that's not the issue, the issue is that they had something working for several builds and all of a sudden plugging in a USB device such as a controller messes up your computer! Don't even think about saying it's my fault because i installed this, slow ring people will eventually get this issue. Microsoft only has a few months to fix issues before the official launch of the OS. If they can't fix a small issue like this, think about the major ones down the road.

It's not a simple issue. Try reading about how USB devices are detected and made to work, you'll realise exactly how complicated it is. Besides Windows is a very complicated piece of software. The company I work for makes auto billing softwares. Our software isn't 1/10th as complicated as windows but it still takes us weeks to track down errors cause an auto update in one table might lead triggers being fired on 15 different tables. Or as Microsoft said it regarding the surface book power issue "It's a hard computer science problem".

The reason this is problematic is because we have no ability to go back now without wiping our machines. Even the slow ring got the crappy build. I have been waiting for a stable build with controller support working so I can not update anymore.

My bro told me about a work around with the controller issues on the latest builds. Basically, there is an issue with the XBOX 360 Controller Windows 10 driver. So you will need to installed the Windows 7 driver for the XBOX 360 Controller. It's a pain to get the process done because the controller has to be active when rolling back the driver in the device manager, but it is possible if you get things pre-started and going from there. So, just use the Windows 7 driver until they fix the Windows 10 driver.

maybe you shouldnt be in the fast ring, that would be my advice.

And maybe you shouldn't post uneducated comments, that would be my advice. It's not just the fast ring. It's not just the insider builds. But I'm sure you already knew that. Or did you?

Can confirm it is still broken, lags rocket league after every button press.

Thanks another confirm case.... MS you have gone goofed and messed it for gamers. What's the point of releasing games like KI and Gears on pc if people can't play.

Because you are using software that won't be released for months. You should not be on insider builds.

you shouldnt be using these builds on a production device anyways, if you are using this for a daily driver an expect things to work all the time, this program is not for you.

Thanks for specifically mentioning Rocket League. Can confirm it caused me major game lag and hiccups in previous build 14925. Edge was also rather... bumpy, but I tolerated. However, I can't take having my currently favorite game be made unplayable. I'm disappointed it's not yet fixed in this build, either. When I found out, this one became a "do not install" for me, despite the awesome new features.

My bro told me about a work around with the controller issues on the latest builds. Basically, there is an issue with the XBOX 360 Controller Windows 10 driver. So you will need to installed the Windows 7 driver for the XBOX 360 Controller. It's a pain to get the process done because the controller has to be active when rolling back the driver in the device manager, but it is possible if you get things pre-started and going from there. So, just use the Windows 7 driver until they fix the Windows 10 driver.

My bro told me about a work around with the controller issues on the latest builds. Basically, there is an issue with the XBOX 360 Controller Windows 10 driver. So you will need to installed the Windows 7 driver for the XBOX 360 Controller. It's a pain to get the process done because the controller has to be active when rolling back the driver in the device manager, but it is possible if you get things pre-started and going from there. So, just use the Windows 7 driver until they fix the Windows 10 driver.

Are the bugs with surface pro 4 and surface book fixed?

Known issues aren't too bad. I may have to put this on my Surface Pro 2.

My VAIO failed to detect it :(

hibernation bug fixed? they don't even mention it anymore

I'm curious to see if Edge is any more stable in this build than 14291 and 14295, in which it would randomly refresh pages and finally fail to load pages that load up just fine. Unfortunately IE 11 was even more broken in those same builds, so you couldn't even fall back to that in a pinch. I'm surprised this isn't even mentioned in the known issues. I have one machine here on the Fast Ring and one on the Slow Ring—completely different hardware, and both have the same problems in Edge, running under different Microsoft Accounts on each machine. Posted from Windows Central for Windows 10

I'm still on the latest consumer release and I have issues with Edge all the time. Mainly unresponsiveness or slugishness. I have an old desktop with 8GB of Ram, Intel Core 2 Duo E6600, and a brand new Dell XPS 13 (9350) also with 8GB of RAM, but a Core i5., non-touch screen. Same refusal to close the last tab at times and same lockup while loading. I've reluctantly installed Chrome on the XPS and Firefox on the desktop just for something to fallback to. Actually forgot about IE so I might start using that again.

"I'm still on the latest consumer release and I have issues with Edge all the time. Mainly unresponsiveness or sluggishness." same here, the refusal to close tabs made me think it was network issues but it was not. Chrome installed as back up,

It's fixed!!! That was a rough few weeks. I have to say, speed is WAY better in this build too. Pages are also loading noticeably quicker than I've seen in any previous builds.

what about shutdown acting like sleep? has that finally been fixed? anybody who knows that? right now, when fast startup is enabled, shutdown just puts my surface pro in sleep, and, after a few seconds, turns it back on

I remember hearing about freezing issues for the Surface Pro 3 on previous builds and I was wondering if those issues have been fixed or not?

This build broke netflix, and thumbnails rarely load in tubecast. Otherwise, from a just using windows perspective, nothing really wrong with this build. I can't wait for an adblock plus extension though.

That happened for me on the last build

yet another build that gets stuck at 23% (would be 77% copying files in the old updater, 23% total). only way i have been able to install any of these builds is a clean install. Looks like I'm waiting for the ISO again...

Kaspersky not working again

You should add the Windows Central app to the list of broken things. It's not working on my laptop now.

Warning: [SP3 i5] I'm experiencing *serious* overheating on my surface pro 3 since this update. It even dropped out to a thermometer splash screen (like the low battery screen) - never seen this before. Looking at processes I have OneDrive and Cortana Background processes eating up over 54% CPU usage.
(Reported: feedback-hub:?contextid=532&feedbackid=bc3173b3-31e9-4d77-80d6-5cae58a10b17&form=1&src=2 ) Anyone else had this/similar?

Rocket League is still broken when using xbox controller in this build!! game starts to stuttering after a couple of minutes of gameplay.. then eventuelly stops again... unplugging the xbox controller and the issue is gone! using just the steam controller no issue at all... never...

i guess i found a workaround/solution... go to device manager and update the driver... then use existing drivers in the wizard... i had 4 different xbox 360 drivers there... i tried a few.. and one (the top one) had following version/date: 2.1.0.1349/13.08.2009 with that driver the issue are gone!

Oh nice!!! In that case I may give this build a shot after all. I hope that resolution will work for me too. RL is not a keyboard+mouse kinda' game, and I don't have a Steam controller.

Blue screen of death during installation. Twice already on Surface Pro 3... pretty disappointed about this. Am I the only one?

Not the only one, 2 BSOD's on usb related drivers, they really screwed those up. feedback hub not working either. :/

What about new Live Tiles? Any difference?

Here is some news about this update: It killed my SP3 ... would boot, logon then just freeze after a few seconds :/

Me too.... cant install any new build since 14279... really sucks..

Totally killed networking on my Yoga 2 Pro. The WiFI adaptor could not get an IP. I reset it and tried a few other things, but it did not help. I uninstalled and let Windows reinstall the adaptor and after that it no longer showed up in Control Panel\All Control Panel Items\Network and Sharing Center​ as a devcie even thoguh it did show up in the device manager. I figured no problem, I would just plug in my USB 3 to GigEthernet adaptor and found that it showed up in the device manager, but it too did not show up as an adaptor in the Network and Sharing Center. I went to another machine and downloaded software for both devices. The WiFi adaptor installer did some work and prompted for a restart, but ultimately teh device still never showed up. The USB adaptor software install reported I was already using current versions so I got nothing going there either. In the end, sadly, I had to revert. I was kind of looking forward to playing around with some of the features on this release. I should also add that I have hyper-v so my machine is one of the machines which was showing an incorrect network connection icon. Apparently when they fixed that they broke my entire network stack.​ I would rather have a network showing the wrong status when I am connected rather than have the network icon accurately show that it is not connected.

Broken: Child account time limits seem to not be in effect with this new build. Anyone else seeing this?

My Cortana no longer works. And my computer freezes now.

Anyone experiencing this issue when you open a modern app the icon doesn't show in the taskbar?

I'm getting chopped playback in Edge for fullscreen Flash based video playback. Works in IE, though, but I can't remember ever having this problem in any previous build.

+1 on the video. And Edge feels very "sluggish" to me in general.

Chrome crashes on sites with flash or any other content ( Edge is fine). Normal Skype crashes on startup.

Anyone else having issues with logging in using PIN code or fingerprint?

After updating from previous build, my windows live login went away ... only possibility to log back onto laptop was using the local admin account I had created way back when I got this machine :/ Tried to add new account but "ops, something went wrong" when trying to add it again ... so something is weird in this build ... seriously considering rolling back to the 14279? or what it was ...

Hey Borge Kristoffersen, I had the same problem.

Looking at the feedback hub, many otherpeople seems to have this issue. Might be worth mentioning in the article.

On my PC, I cant acces to the pin code and connection options in my setting

Same here, I had to use my password. Also can't access the connection options. And even worse, I can't access the user account settings in the control panel. Which means I can't tone down the F**** UAC that came back with that update without asking. Thanks MS really..

Kaspersky Internet Security 2016 broken with the latest build.

My user account just vanished after the update. Had two user accounts configured on my laptop and, after installing the build 14316, the administrator account is gone. There is a restore point to cancel the installation of build 14316 ?

Im in fast ring but nothing.... yesterday night I set it to fast ring(it wasnt enabled insider) BUT NO UPDATE!!!!

I had previously read that it could take a day after initially signing up. I don't know if that's true or not. I've signed up for fast ring on phone and it seemed to be fairly immediate. Just the same, try again after 24 hours and see if it updates.

Did you see the note in there that says after changing rings, there may be a delay in seeing updates? Anyway, try explicitly checking for updates now.

Edge crashes for no apparent reason during any browsing session, and the downloads bug is a super pain in the as%. Reverted back to 14295, much more stable. Liked allot of the new features though, will upgrade again for the next build, hopefully they will patch the Edge issues before then.

My experience has been the complete opposite. I found Edge to be close to completely unusable in both 14291 and 14295. After updating last night, Edge has been surprisingly stable. No more random, repeated page reloads. Super fast page loads. Pleasantly surprised by this build overall.

Guess your a lucky one then, I have found this issue on 3 different systems, Desktop, tablet and laptop. Seems very unstable in a few different places, all of which I depend on. Have switch all back to 14295, and everything is back to the smooth and stable state I was used to. Will opt out of anymore Insider Updates for a bit. Good luck with your experience...hope it lasts.

She might be lucky indeed because it's been reported everywhere (I did too) that all UWP apps are not working properly, they do not show in the taskbar as opened apps nor can you switch back to them with Alt + Tab once minimized, but they're still running on the background. My WiFi seems to have been affected by another bug in this build too because I cannot connect (no error message, just "re-enter your user and password") unless I do it through a wired connection... I like the new features but the NOT known bugs make this rather useless for a main device :(

I was having problems with Edge closing for no reason. I opened a command prompt with admin rights. ran chkdsk /F /R /X c: choose run on next reboot and after it finished, Edge doesn't crash anymore. Been about two hours. Before it was closing about every ten minutes. Hope this helps someone.

Installed build and the Start > Power doesn't bring up any power options(Restart, Shutdown, Sleep). If you hover over the general area you'll get the tool-tip for the option that should be there. Anyone else?

i had to remove the build , as I could not longer use my Surface Pro 3 for more than 3 minutes on boot. Would straight up freeze. I recommend going back; this one is rough

Just checked - mine's working fine. Maybe something in your resource cache is corrupt? Perhaps making a change to your theme and changing it back might help... I hope, anyway.

Well, after about 10 hours, all of my flyouts are now working. So very strange.

When I bring up the touch keyboard, it hides/closes again after a second, so I can't use it. I only use it for Emojis though, so not a big deal, but it's annoying

How to install this build?

Hi guys, I tried to update for this preview but it is not showing up for me in windows update. (yes, i am a part of windows insider program). Any Idea?

Had to revert to 291 on my surface pro because it would completely freeze up after about 15 seconds after boot up. Barely had enough time to start the revert process. Turned in feedback. Just beware. Posted via the Windows Central App for Android

I feel, that despite all of the features added (and maybe because of them) this build is a giant step backwards in terms of stability and performance. Everything just feels sluggish especially the Start Menu (when it works). I know that being on the Fast Ring has its headaches but this has probably been the worst build in my experience. Hopefully a new build is around the corner.

I see an issue installing these insider builds, where it just reverts to previous version and essentially wastes time. There isn't even a usable Windows Update log for now... it has GUID errors :(

One problem i am experiencing with the build and i believe a lot of other people is norton internet security, don't think there is a compatibility issue because starts up and runs fine, but one thing not working in it is the quick scan, crashes computer giving error - eraserutilrebootdrv.sys

I was having a terrible experience with build 14295 and Norton. My pc kept freezing for no apparent reason and I ended up re-installing 8 - 10 times. A couple times it froze and left the drive in a "live" or "mounted" state and couldn't be restored, repaired, or installed over/to. I had to use a live ubuntu cd to boot, then completely format the entire drive so I could re-install Windows to it. Norton combined with Windows 10's hibernate feature locks it up tight. I had two systems on this pc, Windows 10 Pro and, Windows 10 Pro Insider Preview build 14295. Norton was installed to drive (C:) with Win 10 Pro. No problems. Drive (D:) without Norton but with Win 10 Pro IP build 14295, no problems. UNTIL I accessed drive (C:)Win10Pro From drive (D:)Win10Pro Insider Preview to import files to drive (D:) from drive (C:) (or from the retail version of Windows 10 Pro to the Insider preview version of Win 10 Pro). As soon as Norton had access to that drive it naturally did what Norton does and scanned that drive. It froze the very next time I tried to Boot. I performed a clean install of build 14295 and purposely installed Norton before anything or any other apps or software. It immediately froze as it was being installed because as soon as it can and before the install is finished, Norton starts a scan of the system and the scan causes the freeze. I am now running Windows Defender as my only A-V and both systems are up and running almost perfectly. I now only have a couple smaller bugs like some others have mentioned. The interesting part is that it can lock BOTH systems from just one of them.
Windows Central Newsletter
Get the best of Windows Central in in your inbox, every day!
Thank you for signing up to Windows Central. You will receive a verification email shortly.
There was a problem. Please refresh the page and try again.