Here's what's fixed and what's broken in Windows 10 PC preview build 14328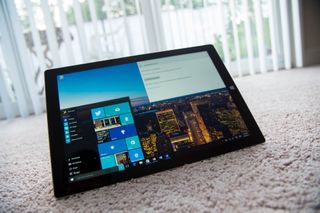 Microsoft has released a list of what's been fixed and what known issues are in the just released Windows 10 PC preview build 14328 for Insiders in the Fast Ring:
Here's what's fixed, according to Microsoft's Windows Insider head Gabriel Aul:
We fixed the issue causing the Visual Studio emulator for Windows 10 Mobile and Hololens to fail with "An authentication error has occurred. The Local Security Authority cannot be contacted". Developers should be able to use the emulator on this build.
We fixed the issue causing the Xbox One Controller to lag and become hard to use when connected to your PC.
We fixed an issue where the two factor authentication dialog wasn't formatted correctly after an error is received.
When you open a second app in tablet mode, it will appear side-by-side with the first app (split-screen). When you close one of these apps, it should become full screen.
We fixed an issue where default column widths for Task Manager were too narrow on high DPI devices.
We fixed an issue where restarting your PC might become stuck on "Restarting…" screen rather than prompting "Are you sure you want to Restart?" when unsaved work is present.
We've updated the Shutdown Windows dialog to use a modern icon.
We fixed an issue where you couldn't see the Chinese Input Method Editor candidate list while in full screen mode for games, as well as resolved an issue where using it in the Settings search box would cause Settings to crash
We fixed an issue that might result in a notification that cannot be dismissed.
We fixed an issue resulting in overlapped icons and clipped text in File Explorer when display is using a very large font size.
We fixed an issue causing Quicken to not launch. However, you will need to uninstall and reinstall Quicken to get out of a bad state.
Here are the list of known issues in the new PC preview build:
After upgrading to this build, there may be some cases in which when your PC enters Connected Standby, it may have a bluescreen (bugcheck). For more information on how to mitigate this issue if this happens to you – see this forum post.
We are continuing to make changes to our extension datastore schema in Microsoft Edge. As a result, after updating to this build any extensions installed in Microsoft Edge will be removed. You can reinstall these extensions to get them back.
Feedback Hub is not localized and the UI will be in English (U.S.) only, even with language packs installed.
Feedback Hub takes about 20-30 minutes after updating to this build to download and hydrate itself. If Feedback Hub is not fully hydrated, if you receive a mini-survey notification it will take you nowhere in the app, search in Feedback Hub won't show results, and if you click to go to Feedback Hub from another app or setting, Feedback will not open.
The Desktop App Converter Preview (Project Centennial) will fail to run on the Windows 10 Insider Preview Build 14328. If you are a developer utilizing the converter tool to convert your desktop app to UWP, we suggest skipping Build 14328 until we can fix this issue.
All Tencent online games no longer work in current builds from the Development Branch.
The updated UAC UI (mentioned above) breaks the ALT + Y keyboard shortcut to choose "yes".
If you are in an app and click on a link with a URL longer than 260 characters, it will bring up the "Open with…" dialog instead of opening with your default browser.
We are aware of situations in which Groove Music will crash on launch at the splash screen and working to get a fix out soon. As a workaround, you can use Groove Music online.
Playing music in the Groove Music within 2 minutes after logging into your PC will result in 0xc10100ae playback errors. If you wait more than 2 minutes after logging in to play music in Groove Music you will avoid this issue.
In Microsoft Edge, some large downloads may appear to get stuck at 99% completion. You can work around this issue by renaming the file in your downloads after closing Microsoft Edge. This workaround skips security checks on the file, so it should be used only with files from a trusted source.
If you have BitLocker/Device Encryption enabled and try go back to a previous Insider Preview build via "Go back to an earlier build" under Settings > Update & security > Recovery – the app will crash and you will be unable to rollback. To work around this issue, disable BitLocker/Device Encryption and try again.
Settings will crash if you try to pin one of the pages to Start, resulting in page not being pinned
You may see square boxes in certain apps when using some of the new emoji – we're still getting things set up, this will be resolved in a future build.
If you upgraded from 14316, you may see stuck apps in the Store. Those apps will also be duplicated in Start's all apps list (one real, one pending). To resolve this: 1) Start downloading some other app. 2) Pause the download, then go to the downloads and update view. 3) Click the "Resume All" button. Once everything has downloaded, the issue should be resolved.
Microsoft also released a new preview build for Windows 10 Mobile for Insiders but the company did not break out what's been fixed or any known issues in that version.
i was thinking service pack 3

I need led notification in redstone release. Thats why i bought 730

LED notifications on the Surface then :)

lol you will have better chances of finding a Bluetooth led accessory for your 730 that works

That's not happening through a software update. Need a firmware update. Posted from Windows Central for Windows 10 with a Nokia Lumia 730

Seems that the issues are ok for me but still lags(I no its beta) Sent from Lumia 550, HTC Desire 816 or Dell Inspiron 5122

What's the current Slow Ring build? I'm thinking about getting preview builds for PC again but not sure if I want to deal with fast ring issues. Sent from my Toaster Oven (Lumia Icon)

There is no RS in Slow AFAIK

Yes there is, it's been on RS1 branch builds for ages now, usually a few steps behind Fast. If one doesn't want RS (TH2 instead) but still wants pre-release sw, that's what Release_Preview ring is for.

Ah yes I thought they only released that to slow ring for mobile but it is for PC too Sent from my more personal computer

Lots of new features to test in this build! DOWNLOADING..

more bugs yay. can i sit this one out? i think when redstone 1 is officialy released i will drop the preview program then.

That's what I've told myself after every major release, but I always join back up :P

Request denied. You will download this build and be happy about it.

looks like lots of new bugs... but if my XBox controller works again then I will be a VERY happy camper. Very tempted to try this build on my convertable laptop... but maybe the next build as they start cleaning up more bugs and slow down on the feature rollout

Some patience required with this PC build. It was stuck at 32% for nearly 20 minutes during the "preparing to install updates" segment. It's quickly moved on now and is at 90%

Thanks for the heads up. :-) Posted from Windows Central for Windows 10

What'oh! this one seems to have lots of broken stuff. Oh well. Installing now.

I'm on the fence about installing this update on my Yoga 2 Pro. 14316 broke every part of my networking. I ended up having to revert to 14295.

Unfortunate, but if you want you can report it to Microsoft as an Insider and it may help not only you but millions of other Yoga users out there, just in time for the first stable release (in the best case scenario, I mean - a big "maybe"). I myself have tried to report everything I can found on my Lumia 1020 being faulty with Windows 10 Mobile. PC users have a more convenient experience, though, in regards to the typing experience on a computer versus a small phone, so the actual reporting task is easier.

After rolling back from 14316 I reported it with a good amount of detail and I got a couple of upvotes on my report so I was clearly not alone with my difficulties. I'm going to give it a try now with 14328. Hopefully it works out. If it doesn't I'll roll back and report it again :)

As it turns out this build (14328) seems to work perfectly on my machine. I'm sure there are some issues, but at least nothing like what I ran into with the 14316 :)

Did not see this update on fast ring... i skipped the previous one because it wouldn't install.

It's on there, I can download from 10586.218

it seems not much changelong for Mobile ?!

"Notification cannot be dismissed" is the most annoying bug for me. Its great they addressed it.

Cortana works on mobile build without location turned on.. Wow . I was looking forward to this

Yup.
Video playback doesn't flicker anymore.
Think the notification just got better..
Settings for Extra, just had an extra step....

Well it's done, took a couple hours to complete. Hasn't broken anything and some new features like Ink and the new start menu seem interesting. Not sure why windows explorer was removed from the taskbar by default, but easy enough to pin it back. Seems quite stable from early usage, so a thumbs up from me with this update.

My laptop always confirms whether I want to shutdown/restart even when there's nothing unsaved remaining.

I'm downloading on my pc while I'm of to work, going to install when I get home

Like seriously the number of known issues are more than fixed issues and am not surprise the connection bug had extended to PC. No single change for mobile as far as am concern, cellular data bug still remains nd battery drains pretty fast too, it's a nightmare as I reply heavily on data and @gabeaul isn't saying nothing. I just wasted my 650mb downloading this build Posted from windows central for windows 10 mobile

Perhaps being an Insider is not the correct choice for you.

Is two finger tackpad scrolling jerky for anyone else? SP3 w/new fingerprinnt keyboard cover. It was smooth forever, after updating to this build, scrolling feels laggy and jerky for some reason.

Guys my camera is not working on build 14328.1000?? Anyone plzzz helpp

VPN and Wi-Fi didn't work properly so I had to roll back to the previous build.
Overall, the new features are cool but buggy so not for daily use.... The new dark theme is really cool but the UI is not properly unified. Posted via the Windows Central App for Android
Windows Central Newsletter
Get the best of Windows Central in in your inbox, every day!
Thank you for signing up to Windows Central. You will receive a verification email shortly.
There was a problem. Please refresh the page and try again.