Hitman Episode Two: Sapienza debuts April 26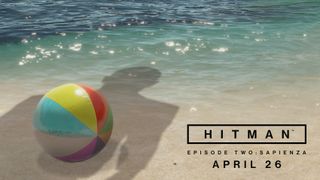 Square Enix and IO announced that the next episode in the Hitman franchise, Hitman Episode Two: Sapienza, will make its debut on April 26.
IO has also released a 1.03 update for the console versions of Hitman. The patch will be rolled out to the PC shortly. Here's the breakdown of what's new in 1.03:
The Vampire Magician Challenge Pack includes 10 new challenges that were inspired by how our community have been playing the game.

Each challenge requires you to wear the Vampire Magician disguise while taking down targets using a range of different methods.

Continued improvements to load times

The improvements will be most notable when loading The Showstopper mission in Paris and we're already working on improving all loading times even more.

Improved responsiveness for in-game menus and image loading

We've implemented an image caching system that will improve responsiveness and loading times for all images in the game menu.

Fixed issues with scoring

Primarily, this fixes an issue that resulted in many players earning a "0 second" time bonus and an incorrect score of 210,000. A leaderboard reset will be implemented at a later date.

Continued improvements to connectivity

Server stability improvements.

Missing 'Requiem Pack' items have been restored

For those affected, these items will now be available to choose from the planning screen again.

Fixed numerous issues that were causing crashes

General improvements to game stability.
Who's excited for the upcoming game?
Can't wait. I completed the Intro and Paris missions and now I want more. Went back to play Blood Money on PC too - This new episode will be something to look forward to (As well as Quantum Break) when I get back from Holiday
Windows Central Newsletter
Get the best of Windows Central in in your inbox, every day!
Thank you for signing up to Windows Central. You will receive a verification email shortly.
There was a problem. Please refresh the page and try again.