Untappd and beer fans should download Hoppd from the Windows Store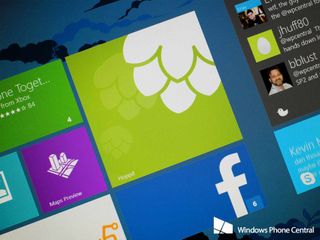 There's about seven months to go until we hit October. Which is a great month for a little thing called Oktoberfest. We've started practicing and should be good to go hard when the festivities roll around. One way we keep track of all the beer we consume is a social network called Untappd. It's a great place to connect with your fellow beer aficionados. We've looked at the official app before, but now we're looking at a third-party app for Windows 8. We can nearly guarantee you'll be downloading Hoppd when we finish this post. Let's check it out.
We'll give you a quick recap of Untappd (www.untappd.com) if you don't remember the particulars. Untappd is a social network for the world of beer. Think of it as Foursquare, but specifically for beer. You can rate beers, share what beer you're drinking, 'toast' your friends drinks and more.
The official app on Windows Phone is a PhoneGap port. Which means it's serviceable, but could be better. We actually had better for a few hours when Tapped came to Windows Phone. It was a third-party app that was native and worthy of Windows Phone. Sadly the team behind Untappd revoked the token due to a few API issues. Everyone lost there, especially fans of Untappd on Windows Phone. But now we're getting a very nice Windows 8 app to help us get over the loss of Tapped.
Head into the Windows Store and you'll find an app called Hoppd. We'll be the first to admit that the reception of the design will probably be split in the community. But we'll go on record and say we really like it. At first glance it might come across as cluttered. Spend some time with it and you'll realize it's just a more efficient spin on the metro design language (I'll call it the metro design language till the day I die).
In terms of functionality, Hoppd does everything you'd want in an Untappd client, though we are missing a few little features that you get in the official app. For example, you won't find support for image uploading when you check in with a beer. Other than, we like it a lot.
Download Hoppd, launch Hoppd and sign in with your Untappd account to get the party start. You'll be greeted with the default view where you can at a quick glance see you what your friends are up to, what's happening with the local beer community around you and a map of all the action.
To the left you'll find where you search for and learn about beers. It's also where you check in with what beer you're drinking. And like Untappd, that section of the app is a great place to discover great beers to drink. To the far right of that main page you'll see news from Untappd, recent badges earned on the social network and any Untappd notifications.
Performance is solid and everything works as advertised. Again, the biggest drawback would be the inability to upload a photo when you rate and share what brew you're drinking. Small quibble to a great, unofficial Untappd app.
Hoppd is a free app for Windows 8.1 with plenty of Windows 8.1 features. Look forward to a large Live tile and support for multiple window sizes. All of this for free in an app with no ads.
Now's the chance to give a shout out to your local brewery. What beers should we try the next time we're in your neck of the woods?
Download Hoppd from the Windows Store (opens in new tab) for all the Windows 8 machines in your life.
Windows Central Newsletter
Get the best of Windows Central in in your inbox, every day!
Now if it was for Windows Phone.. I gave my phone with me in bars, not my laptop

Use this when you're home! Plus Windows Phone apps and Windows 8 apps are on a collision course...Anything is possible in the future ;)

Then you can't check in or post photos

Hi, dev behind Hoppd here. The sad part in posting photos to Untappd is that they haven't opened the APIs to do that to us 3rd party developers. So until Untappd decides otherwise, I'm not able to add photo upload to Hoppd.

The best part of Untappd is swapping photos with your buds of your drinking hijinx.

Just realized this isn't for WP. Who brings a tablet or laptop to the pub?

Have you never ever had a beer in front of your PC? Never ever?

Always :) At least every BF4 and Titanfall session :) and I always use the untappd app on my 1020.

I typically don't try a new beer at home.

Rarely, usually enjoying a beer with friends in pub.

My favorite beer-- Red Hook ESB. It's no longer a small time local operation, but it's damn tasty!

This tip was from Mary Jo Foley.

This comment is underrated!

Coincidence, just opened a bottle of Founders "All Day IPA" as I started reading WPCentral. Btw. the Oktoberfest in Munich is in September and not October.

I really love beer. I'm having a relationship with it right now. Mmmmmm...beeeeer!

Victory Dirtwolf Double IPA, that is all

Oktoberfest is in September, only running until the first weekend of October.

It would be great if we could upload photos

oktoerfest is in september. just sayin'

I love Hoppd on my Surface and emailed the developer to let him know and ask about making a Windows Phone version. The issue with that was the API usage restriction. The developer doesnt want to hit the 3rd party developer cap that untapped has in place on their API. The developer was open to looking at porting to Windows Phone as the situation developes, so i still have hope. Like most developers, feedback is motivational, so if you like the app, let the developer know that their work is appreciated. Untapped realy needs to open up their API or develope a decent offical app. The offical Untapped app is terrrible.

Spot on. It's been quite a struggle with Untappd's 100 requests/hour limit. Initially I implemented Hoppd to keep things up-to-date automatically with some other useful requests done in the background, but that basically ended up hitting the limit so easily that I had to to take them of. That's why the refresh button appeard and why some other things disappeared. Untappd is still not allowing photo upload anywhere else than in official apps, so that's that for now. Windows Phone version of Hoppd most likely happens when these platforms get closer to each other. At the moment, I'm looking forward to see what Windows Phone 8.1 SDK will offer me.

schlafly hefeweizen, from STL http://schlafly.com/

Damn. Misread it as Windows Phone 8. FML.
Windows Central Newsletter
Thank you for signing up to Windows Central. You will receive a verification email shortly.
There was a problem. Please refresh the page and try again.