How to add or delete a payment method from the Store in Windows 10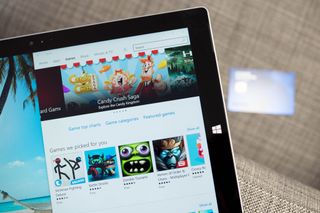 While there are several free apps and games at the Windows Store, eventually you're going to want to buy something. When you buy an app, game, movie, music, or TV show from the Windows Store, you'll need to add a payment method to your account. We'll show you how.
1. Open the Store and tap the user icon on top. Tap or click payment options. This opens the web browser where you can add or remove payment options.
2. To get started, tap or click Add payment option. Enter your credit card or PayPal information, and then click or tap Next.
3. To remove a payment option, tap or click an existing card and then select remove. A confirmation message pops up, so you can double-check if you really want to remove it.
That's it! Next time you try to buy something from the Store in Windows 10, you can use your preferred method of payment. You can also change or add a payment method from the purchase screen, but you can't remove. Tap or click change under the payment method and then select a different card or add a new payment method.
For more tips, we have many more posts like this one in our Windows 10 help, tips, and tricks page.
Lost the ability to not have to put un Microsoft account password before purchase

Are You saying that when You leave your pc without locking your desktop anybody who has access to pc can buy for you at that moment?

The Store also requires your Pin or password before you can purchase

What about the cards that are tied to an active subscription(eg. Xblg)

Every time I try to add a card, PayPal, what ever it keeps saying server error, on my phone and pc
Windows Central Newsletter
Thank you for signing up to Windows Central. You will receive a verification email shortly.
There was a problem. Please refresh the page and try again.