How to add new Cortana search file locations on Windows 10
If some files are not showing up on search results, it's probably because Cortana doesn't know where to look. Here's how to add alternative search locations on Windows 10.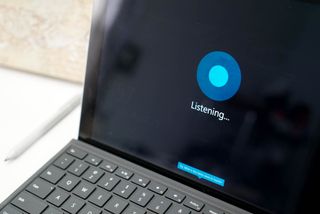 Cortana is your personal digital assistant in Windows 10. It's a feature designed to help you accomplish many tasks, including reminding you of important appointments, track packages and flights, and sync notifications between devices.
In addition, Cortana shares a deep integration with Windows Search and search on the web using Bing. If there is anything you need (e.g., image, document, or another type of file), you simply enter the query in the search box in the taskbar, and Cortana will return the best results based on local and online searches. However, if you store files on an external hard drive or in different folders other than the defaults (Downloads, Documents, Music, Pictures, etc.), you'll notice that the digital assistant will never bring up those files in the results.
The reason is that Cortana relies on Windows Search for local files, and Windows Search uses a set of default configurations that specify which folders are indexed for search. And these default settings don't include additional storage locations you may have added to your computer or alternative folder paths.
In this Windows 10 guide, we'll walk you through the steps to enable Cortana to search all your drives connected to your computer, and how to remove those locations you want to prevent from indexing.
How to add new storage locations for indexing on Windows 10
Use the following steps to modify the default local search configurations, which Cortana can use respond accordingly to your search queries.
Use the Windows key + X to open the Power User menu and select Control Panel.
Change the view to Large Icons.
Click on Indexing Options.
Click Modify.
Click Show all locations .
On Indexed Locations, select the folders and drives you want to give Cortana permission to search.

Quick Tip: If you have sensitive files (or videos), in this step, you can also exclude the locations you don't want Cortana to use to show search results.
Getting Granular: If you want to index a folder, but you don't want a subfolder to be indexed, expand the folder and remove the checkmark for those files and folders inside it you don't want Cortana to consider during a search.
Click the OK button to complete the task.
Once you completed the task, Windows 10 will automatically begin indexing the new files, but it may take some time. If you don't want to wait, or it's been too long and search isn't working correctly, while in the Indexing Options settings page do the following.
Click Advanced.
Click Rebuild.
Click OK to confirm.
If you have encrypted files stored on your computer, you always want to check the Index encrypted files option under Advanced Options.
You can even go to the File Types tab and configure which files extensions you want to see in search results.
Once you completed your new customization, click the OK button to commit the changes.
Wrapping things up
As you can see, Cortana may know many nifty tricks, but when it comes to search certain options have to be customized manually before getting the best results. If you have been wondering why certain files didn't show in search -- well, this is why.
Do you think that Cortana should be able to search your entire computer by default, or this is the right approach? Tell us what you think in the comments below.
More Windows 10 resources
For more help articles, coverage, and answers on Windows 10, you can visit the following resources:
Windows 10 help, tips, and tricks
Mauro Huculak is technical writer for WindowsCentral.com. His primary focus is to write comprehensive how-tos to help users get the most out of Windows 10 and its many related technologies. He has an IT background with professional certifications from Microsoft, Cisco, and CompTIA, and he's a recognized member of the Microsoft MVP community.
Great Tip! Thanks I have tons of photos, music etc. on an external drive

Thanks supporter's. U r the best .. It's help's a lot

Yeah finally...f..k cortana not available in my region, lol ofc

You can use it in English in any region

We know, but don't want to switch to English only for Cortana.

You mean f..k Microsoft because they don't care about your region?

Sort of, but want cortana and keep my language....not english settings... sort of. Lol

Quick Tip: If you have sensitive files (or videos), in this step, you can also exclude the locations you don't want Cortana to use to show search results.
​ ROFLMAO

Good tutorial... Cortana should be allowed to search my entire drive(s) if she is enabled on my computer. At the very least, when configuring her, make this a selectable option for the user.

What about mobile? Many files aren't appearing there too. Can you post another article later?

I don't think it really is necessary for mobile. You can just open file explorer and search. Doing it through Cortana would take longer.

Any improvement is welcomed. I got tired of the app gap so I downloaded Leapdriod on my Windows 10 PC and haven't looked back since. It's a shame that I can download any app directly from the Google Play store from Leapdriod and have it work with Windows 10 without any issues what so ever while Microsoft has spent the better part of two years with its bridge to iOS and Project Astoria developments and have yet to produce any tangible results for the mass market.

I'd like to do this later, but w.central is not offering "save favorite articles" which is a shame.

Yes, offline reading would be awesome Edit: All articles should be cached for offline reading since build 14. My bad!

Thanks for the tip Mauro. One day I hope to be able to ask Cortana how much free space I have on my hard drive or stuff like how much space my mp3's are using and get an answer.

Why going to Control Panel and switching to icons view? Just press Windows key or press the Windows Button and type "index options".

I want Cortana to know where I've been on my computer and index those locations.

I was using Cortana on my laptop for a few months but I shut it off because, frankly, I don't trust it being safe.

Do you need a tin foil hat?

After the Anniversary update my searches via the cortana search bar always opens Internet Explorer instead of Microsoft Edge !!
What do I do? Any way to solve this other than a format ? Thanks. :)

Great... Love to see similar option for mobiles.

Just an FYI -- with the Anniversary Update Cortana Search now CAN include network locations if indexed. This is a huge improvement over the prior version of Windows 10, where Cortana would only search local folders, even if the network locations were indexed.

Can you explain how to set this up? I have the Anniversary Update but I do not see my mapped network drive in the Indexing Options. A Google search did not reveal anything either. Thank you.

@Gator5000e, to make sure you get LOCAL indexing (as opposed to server or remote indexing) for network locations, you need to first make those locations available locally. I do think this is still a limitation of Cortana -- she seems to only search files that are locally indexed (I confess I'm not certain this is needed, but based on reports from others, this seems to be the common factor determining whether or not network searching works). This does mean you need to have the hard drive space to create a local replica of the network files you may want to search, which could certainly be a deal breaker for some. If you have the spcae on your local drive, just navigate the network locations through Explorer until you get to the folder you want to index locally, right click on it, and select "Always available offline." It will take some time to create the local replica and index it (could take a whole day depending on size, network speed, and hard drive type where an SSD will be must faster than an HD). Then, click in the Cortana search box and type "index" and open "Indexing Options." You should see "Offline Files" in the list of Indexed locations. If you don't, click on Modify and select Offline Files. On the upside, after doing this, your access to these files will always be faster and will work even if the computer is removed from the network and you now have an extra backup copy of all of those files. I'm surprised more people don't use Offline Files as part of a diverse backup and roaming strategy to keep files in sync across multiple PC's. OneDrive is great, but it's all handled over the Internet. Unless you're on a 100Mbps+ Internet connection, it will NEVER be as fast as the LAN.
Windows Central Newsletter
Thank you for signing up to Windows Central. You will receive a verification email shortly.
There was a problem. Please refresh the page and try again.