How to restore the old desktop icons in Windows 10
Windows 10 still features the OS's traditional desktop icons, and it's relatively easy to bring them back. Here's how.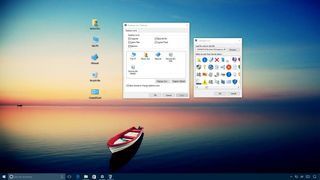 If you've been using Windows for a long time, you probably remember that until Windows 7, the desktop included a few default icons for quick access to Computer, user-account folders, network, Recycle Bin, and Control Panel. On Windows 10, you only see an icon for the Recycle Bin.
Although the traditional shortcuts are not part of the desktop anymore, they are still part of the OS. If you feel a little nostalgic, or you just find them useful, you can still bring those old icons back to your Windows 10 desktop.
In this Windows 10 guide, we'll walk you through the easy steps to quickly bring back the desktop icons on your computer.
How to restore the old Windows desktop icons
Open Settings.
Click on Personalization.
Click on Themes.
Click the Desktop icons settings link.
Check each icon you want to see on the desktop, including Computer (This PC), User's Files, Network, Recycle Bin, and Control Panel.
Click Apply.
Click OK.
You can also customize the desktop icons from the same settings page. Use the instructions above, but on step 5 you can select any of the icons and then click the Change icon button to select a new icon style.
Quick Tip: If you prefer to call the desktop icon "Computer," like in Windows 7, instead of "This PC", you can quickly right-click the icon and choose the Rename option. Once you change the name, you'll see the new name through the OS, including in File Explorer.
Once you complete these steps, the icons should appear on the desktop and you'll have quicker access to common locations.
If you don't see any icons on your desktop, it's probably because you previously configured Windows 10 to hide them. You can quickly make them visible again by right-clicking an empty space on the desktop, selecting View and clicking the Show desktop icons option.
More Windows 10 resources
For more help articles, coverage, and answers to common questions about Windows 10, visit the following resources:
Windows 10 help, tips, and tricks
Mauro Huculak is technical writer for WindowsCentral.com. His primary focus is to write comprehensive how-tos to help users get the most out of Windows 10 and its many related technologies. He has an IT background with professional certifications from Microsoft, Cisco, and CompTIA, and he's a recognized member of the Microsoft MVP community.
Before Windows 7 was Windows Vista and this OS also have Recycle bin icon on desktop by default

Gorgeous wallpaper! Love it!☺

Here you go :) https://is.gd/HCDgSi

I miss Microsoft Plus! it made desktops fun. https://en.wikipedia.org/wiki/Microsoft_Plus!

It sure was yet I used many third party enhancement and visualization software that gave amazing experience although it slowed down the pc significantly. I don't miss those since Windows 10 happened.

I actually rename the Computer/This PC icon to "My Computer" on all my computers because I've been used to that for most of my life.

I rename it to the unique name I've given to each of my devices.

Link to the wallpaper please?

Wait, you mean some people don't restore those icons on every install?

Wait, you mean some people don't restore those icons on every install? It's something I do on each and every MSWin install: put back/fix all the boneheaded things MS broke. And the list of things I have to fix gets longer with every release.

I actually try to have as few icons as possible on my Desktop and in my Taskbar. I installed ClassicShell and then put most of my desktop icons in the Win7-style Start menu. I have a single folder on my desktop for my printer/scanner, Notepad memos, and a few other things that don't quite fit in any of the main Library folders (Documents, Pictures, etc). I do this because it looks neater and minimalistic. I also do it because i like seeing my wallpaper.

The only icon on desktop is Recycle Bin by default ever since Windows XP
Windows Central Newsletter
Thank you for signing up to Windows Central. You will receive a verification email shortly.
There was a problem. Please refresh the page and try again.