How to connect your Xbox to a hotel wireless network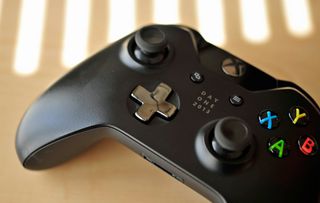 So you decided to bring your Xbox along with you on your road trip, so you could catch up on "Game of Thrones" or unwind with some Peggle 2 when your sight-seeing expedition had come to an end for the day. But when you fire up your console and try to connect to the Wi-Fi that you so easily hopped on with your phone or laptop, you realize that it isn't quite as simple with your Xbox. The reason: You cannot log in or accept the terms and conditions via your browser, like you can on your other devices.
Fear not, traveler, for not all is lost. Like the countless roads under construction in Massachusetts, there is a detour you can take to once again find your way to the internet. And all you will need is a phone, tablet or computer and a little bit of know-how.
You see, most hotel networks base their Wi-Fi leases on a devices MAC address, a unique 12-character code that is assigned to each and every device with a network interface. When you accept the terms and conditions on their landing page in their browser, the hotel keeps track of that MAC address, so it knows that you have gone through the authentication process.
The trick is to make the hotel's network think your Xbox should be allowed to connect, even though you haven't gone through the proper procedure to do so. In order to do this, you need to make your Xbox mimic a device that has properly authenticated. It may sound complicated right now in theory, but it is extremely easy in practice. Here's what you need to do:
Connecting up an Xbox to a Wi-Fi Hotspot
Choose a phone or other device to mimic, then find its MAC address.On a Windows phone, you can find the MAC address by going to Settings > System > About, then clicking the More Info button.For a Windows tablet or PC, you can open up a command prompt (CMD.exe), then type ipconfig /all and press Enter. Under the Wireless LAN Adapter, you want to use the Physical Address.
Connect to the hotel's Wi-Fi and authenticate and/or accept terms through the web browser
Disconnect the device from the network – Its work is done
Tell your Xbox to act like your other device by mimicking its MAC address
On Xbox 360, go to System > Network Settings > Wireless Network > Configure Network > Additional Settings > Advanced Settings Alternate MAC Address
On Xbox One, go to Settings > Network > Advanced Settings > Alternate MAC Address
5. Enter the MAC address of the device you previously connected with and save the settings
Once the changes are saved, you should be able to successfully run a network test to the internet.
Though I spent most of my time out and about seeing the sights, this got me up and running on Netflix while on a road trip this past weekend. It's first time I've brought my Xbox along with me when traveling, and it didn't get a lot of use, but it was nice to have the option.
What about you? Do you ever bring your console with you on trips, or is it a welcome break from gaming and media? Be sure to let us know in the comments section.
You're not hardcore unless you travel with your Xbox in hand. Just saying ;)

Yeaa its right.... will some one carry Xbox while travelling?

I would never use a hotel WiFi without a VPN. I have sat there before and collected peoples passwords and watched what websites they were going on while sitting on my Backtrack installed laptop.

"Backtrack installed laptop"

Hahaha...thought the same thing. Lol

This is your Xbox though. Are you really that paranoid on a game console?

the problem would be that alot of us rely on the same MS account for our phones and win8 login... so if he got a hold of that password.... *shudder*

Assuming your password is in the clear. Which it isn't.

What about https sites? And wouldn't you need to login to a VPN?

I do for work, I have to. Or in some cases I get a new one at arrival. But i also use this trick.

Oooooh I recognize this Twitter nickname :)

Oh damn, I used the same name here too ;) u are the 3rd one who noticed it. Me and fellow Microsoftees are everywhere. EDIT We are everywhere :)

Working in IT at a timeshare resort, I once saw that someone brought their entire desktop setup with them... Tower, monitor, peripherals, everything. Posted via Windows Phone Central App

Good article. I had to do this a couple years ago while grinding through finishing Mass Effect 2. I just couldn't leave it home while I traveled. :D

i travel with my desktop in hand

Ha! I was just coming here to mention that this isn't the most popular article based on the amount of comments. Glad I came, got a chuckle out of this. :faster:

I'm hardcore to the max I work for a tour company and I stay in hotels every night that I'm not home so I take my ps3 sometimes and my ps4 other times and my psp,lol

For computer illiterates like me, don't add the colons ...

Upvote. Thanks for the info!

You can defiantly cast yourself as having major issues caring Xbox to a hotel.

Kudos to our happy camper!

Bet it works for campgrounds, too. Will bring the Xbox along for movies in the RV.

Speaking of Xbox One and Game Of Thrones... I wonder when HBO GO will be avaliable for Xbox One.

Never tried it, but damn I didn't realise how tricky it could be. You can probably tell that I don't use hotels too frequently. Oddly, before reading this, I would not have realised Tha the One even let you use an alternate MAC address. On a slightly related topic, can't wait for the Games With Gold offering on the One. I assume they are waiting until E3 to do the update. May even be the odd sneaky new feature? Or possibly just not finished the update yet.

Been using this technique for the past few months. Works great but will not connect to xbox live multiplayer games though. Got mine in a Gaems PGE case

Why not just also use Wi-Fi sense from your windows phone.

On a windows computer just open a command prompt and type getmac. Hit enter and it will tell you what each MAC address is. Problem with ipconfig /all is it contains a ton of info you don't need for this trick.

Exactly what i was thinking. One of those commands that people probably dont know about

i just noticed a problem with that trick, the Transport Name isn't something easily understood by the average joe, unless you want to try each one, but then again most people would have at most 2 ~ 3 MAC so it shouldn't be too bad (i have 7 right now... damn virtual machines...)

Brilliant! I can't believe this hadn't been thought of before! And I am hardcore...Xbox goes with me on business trips and to the campgrounds for family vacations!

This is silly. Buy a $20 travel router that supports WISP and you'll have a secure wi-fi network for all of your devices.

Where do you get a $20 travel router at?

Amazon, Newegg, Tigerdirect, even Walmart online. It doesn't have to be a mini router, just one that supports wireless ISP mode so that your network is isolated and secure. These days wi-fi is more common than wired ports in hotels.

As good of an idea that is its a little long winded to just get that far. If you travel alot try a portable router most of these include a hot spot repeating function. Or for w7 & above try wireless hosted network(theres also a unsupported addon by MSR for xp)

Oh we had ad-hoc connection in XP and that was truely straight-forward compared to the CLI mess they have in 8/8.1 to create a simple, persistent ad-hoc connection.. :S

This has been a bone of contention on a couple of trips to the point we do not bring it with us. Such a simple trick will definately try next time we are on the road with the Xbox One :)

Um, I think my surface is enough for me...PC games and about most of the entertainment apps that can also be found on Xbox? Yeah, I'm all set. ;)

Can you actually play games online with hotel Wi-Fi tho? Movies I'd one thing but gaming is another.

Never knew you could do this, but of course I don't travel with my Xbox either.

using the command getmac is easier than ipconfig /all

Easier way: Call the hotel tech support and have them manually add the Xbox. Trust me, lots of people travel with xboxes, you don't be the first person to make that request.

lots of people travel with xboxes

Seriously? That sounds crazy - in fact I thought the whole premise of the article was rather crazy given that you could just travel with a thin/light laptop and still catch up on GoT or play games, or even get work done. Further, I'm guessing that a Xbox traveler is probably also traveling with his/her laptop, tablet, and phone... which is just over the top imo.

Ah. The day Microsoft gave us devs a free Xbox One in San-fran (build conference), I took that baby home hooked it up at the hotel I was staying at but couldnt connect to the internet due to that verify broweser thing. Great article but a bit late, Its good to know for a next time.

I just carry a Cradlepoint. It can be the wireless bridge or a router. It's small and fits in the bag. They also have versions that support USB dongles (att, Verizon, etc). Once I authenticate with my PC or phone, everything else behind it works too.

I travel with one of these mini router/hot-spot devices anytime I'll be staying in a hotel. I join it to the hotel wired network if they have one, or the Wi-Fi if no wired connection is available. When you go though the registration process on the hotel's network it only sees the MAC of the router so you can join as many devices to its repeated Wi-Fi signal as you want. http://www.dlink.com/us/en/home-solutions/connect/routers/dir-505-shareport-mobile-companion

HARDCORE GAMERS SALUTE!!!!

i dont have a windows phone all i got is a Ipad-2 & 3 ,Chromebook,Note3 an iphone 6pluse will any one of those work an if so PLEASE HELP

Just want to say thank you so much for this article! It really helped a lot!
I didn't think it'd work, but it worked like a charm on the very first go.
Decided to bring my Xbox One S out on this trip for the first time, and now am
currently in my hotel room, streaming Netflix and doing other online stuff.
This was so much more easier to follow, than outdated youtube instructional videos I've come across.
Had no issues whatsoever following this how-to article, can't thank you enough again! :D
Windows Central Newsletter
Thank you for signing up to Windows Central. You will receive a verification email shortly.
There was a problem. Please refresh the page and try again.