How to customize notifications on Windows 10 to make them less annoying
By Mauro Huculak published
Are notifications starting to annoy you? Use this guide to reduce the number of alerts you get from apps and services on Windows 10.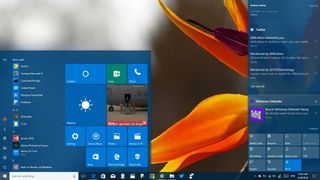 Action Center is a new feature that Microsoft included in Windows 10 to collect all system and apps notifications in one central place, and keep you from missing any important event.
However, as more apps and services begin to connect with your devices, you can become overwhelmed with so many notifications, and you need a way to control all these alerts coming your way all the time.
In this Windows 10 guide, we'll be looking to the different ways in which you can easily customize notifications to make them less annoying, including on specific apps, such as Mail & Calendar and Microsoft Edge. Also, we even show you how to stop displaying badge notifications on taskbar buttons as well as on the Action Center button.
Disclaimer: While many of the customization options we're detailing in this guide are available in the official release of Windows 10 (version 1511), some others are features part of the Anniversary Update, but they are also available in the latest Insider preview of the operating system.
How to customize notifications on Windows 10
Since Microsoft introduced notifications with Windows 8, you're able to control various aspects of how they behave, but in Windows 10, and even with the Anniversary Update, you now have even more control to make notifications less annoying on the desktop.
To customize your notification experience use these steps:
Use the Windows key + I keyboard shortcut to open the Settings app.
Click System.
Click Notifications & actions.
Once in the notification settings page you can do the following:
Under Notifications, you can turn off various global configurations to reduce the number of alerts you receive on the desktop. For example, you can stop showing tips about Windows, and you can stop showing alarms, reminders, or incoming call on the lock screen.
If you often show PowerPoint presentations or another kind of slides, one feature you want to turn on is the "Hide notifications while presenting". (The last thing you want is to get interrupted by a toast notification in the middle of a business meeting.)
Under Show notifications from these apps, you can manually turn on or off which apps show notifications.
If you want to get more granular, you can also click an app to customize different types of notification features for a particular app.
For example, you can turn off various settings, including the ability to let the app receive notifications, but suppressing the banner, which will only make them available through Action Center. Or you can set it to only show banner while stopping notifications from appearing in Action Center.
Also, if you have an app the gets a lot of notifications, such as the Mail app, you can also choose to stop playing a sound when a new notification arrives.
Starting with the Windows 10 Anniversary Update and later, Microsoft is also adding the ability to configure the number of notifications an app can display, and you can also set their priority inside Actions center.
The default number of visible notifications per app is three, but you can set a minimum of 1 or a max of 20. For priority, you can choose between three levels, including Top, High, Normal (default).
More notification options
There are additional notification options that you can configure, but Microsoft is listing them in different sections of the Settings app, or they are built into specific apps.
How to change the time on notifications
If toast notifications are being displayed for too long for your liking, you can change how long notifications are shown by using these steps:
Use the Windows key + I keyboard shortcut to open the Settings app.
Click System.
Click Ease of Access.
Click Other options.
Under Visual options, select for how long you want toast notifications are shown. The default option is 5 seconds, but you can choose up to 5 minutes.
How to change Mail & Calendar notifications
While you can customize many options through the Settings app, perhaps you only want to reduce the number of notifications from a particular email account, but you may not want to disable necessarily all notifications globally.
The following steps will show you the how to customize notifications on each email account in the Mail app:
Open the Mail app.
Click the Settings button.
Click Notifications.
Select the account and customize whether you want to show notifications in the Action Center, show banner, and play a sound.
How to disable web notifications for specific sites on Microsoft Edge
In the Anniversary Update for Windows 10, Microsoft is introducing web notifications that also show up in Action Center. And similar to the Mail app, you can easily manage these notifications after you allowed websites to show banners and alerts.
Open Microsoft Edge.
Open the browser's menu and select Settings.
Scroll down and click Advanced settings.
Scroll down and under notifications, click Manage.
In this section, you'll see listed all the sites currently allowed to show notifications. Either turn off the site that you want to stop temporarily seeing alerts or hover over the site name and click "X" to delete the site.
How to disable badge notifications on the taskbar
Badges are a new type of notifications that appear on supported Universal Windows Platform (UWP) apps and on the Action Center button in the taskbar to notify you of any alert on a particular app.
Although they are quite useful as you don't have to open Action Center, Start, or the app to see alerts, Windows 10 is attacking you with notifications on all fronts, which can make badges in the taskbar a little too much for some people.
If you prefer to disable these notifications, then do the following:
Use the Windows key + I keyboard shortcut to open the Settings app.
Click Personalization.
Click Taskbar.
Turn off the Show badges on taskbar buttons.
The previous steps will stop badges from showing up in the taskbar, but not in the Action Center button. If you also want to disable the badge and app icons for the button, then right-click Action Center button in the right corner of the taskbar, and select Don't show app icons and Don't show number of new notifications.
It's worth pointing out that badges are new to Windows 10, but they're not unique. Apple OS X and iOS have included support for badge notifications for a long time.
Wrapping things up
Of course, remember that for those times when you need a total pause from notifications, you can always open Action Center (Windows key + A) or right-click the Action Center button in the taskbar to enable Quiet Hours.
While Windows 10 can overwhelm you with tons of notifications by default, the operating system incorporates different customization options to reduce the number of alerts you get in your devices. And as we've looked in this guide, you can control notifications globally in your computer and per app.
How do you have set up notifications on your Windows 10 device? Let us know in the comments below.
More on Windows 10
For more help articles, coverage, and answers on Windows 10, you can visit the following resources:
Windows 10 help, tips, and tricks
Mauro Huculak is technical writer for WindowsCentral.com. His primary focus is to write comprehensive how-tos to help users get the most out of Windows 10 and its many related technologies. He has an IT background with professional certifications from Microsoft, Cisco, and CompTIA, and he's a recognized member of the Microsoft MVP community.
To be honest, I turned them off altogether on my laptop. They got extremely annoying, and I don't really see the point of having them on my computer. Phone? Sure. Laptop? Nah. Posted via my BlackBerry PRIV

Irrelevant but I'm planning on updating my Nokia Lumia 920 to w10 preview. What are your suggestion should I do it or it's not worth it???

I've heard it isn't very good on the 920. Can't speak from personal experience unfortunately as my 920 died a while ago.

The toasts for messaging on mobile are obnoxiously big now. -Mach 8 Solutions, LLC a software company.
Http://mach8solutions.com

Can I stop notifications from alt+tabbing me out of games without turning them off completely?

Right click the action centre icon, choose turn on quiet hours

I got the "No threats were found" Windows Defender notification for the first time last night and I just shook my head. Do I really need to be informed of that? That nothing is wrong! Next there will be toast notifications telling me a web site just loaded, that my computer is running or that my Internet is working --- Microsoft is really starting to make this OS bloated --- here rate this app! Did you like the calculator?!

Aw come on now. This feature is still in it's infancy, so it will get better with time. As to asking for feedback on apps, how do you think Microsoft knows what to improve on next? It's by feedback. So quit complaining.

Insiders are already willingly providing feedback --- that's what we signed up for. You don't have to annoy us about it.

I don't think you're looking at it in the right perspective. It's informational in the sense you now know your Windows defender is running periodically and effective. It's better than it not running and never knowing.
It's also easier to create toast notifications and lighter to toast notify sucess than to continuously poll for information. If anything, it's less bloated since I'm sure notifications is a modular single subroutine used across.

Inform me when it's NOT running...inform me when it DETECTS MALWARE....otherwise it should be silent.

good point, did you provide this information as feedback to Microsoft? Complaining here will never get it changed, providing feedback via Feedback Hub may get it fixed for you.

What I don't get people hated 8 so they changed it to 10 now know mater no what they do people complain. What Microsoft needs is feed back from the change. From what I've seen people are more secure get less viruses and there pcs are lasting longer... I hate to say it is guess this is why apple is so popular they take for ever to make change... Posted via the Windows Central App for Android

I like notifications on PC, what I can't stand is that dismissing them on PC does not dismiss them on my lumia... :( This feature was in the works or am I wrong?

One of the things that bothers me is after resuming the PC, or when quiet hours ends on PC/Mobile - the OS cycles all of the notifications (with sounds!). To me it is the single worst aspect of the notification experience tight now. MS needs to provide a better experience for notifications after being away/busy/asleep, particularly when many notifications were missed. They have a perfectly good virtual assistant (Cortana), a simple, single "While you were away" or "Here's what you missed" notification is all that's required.

They need to automate this. You cannot expect an average user to spend time configuing their device so that it is "less annoying". It should not be annoying out of the box. For example, it should suspend non-critical notifications when user is presenting, or playing music or videos. You really do not want to be told you should upgrade to windows 10 in the middle of a movie. There was a TV station which had upgrade to windows notification pop up on air during weather. MS needs to put that AI to some good use. Instead of predicting NFL draft would be better to predict when not to annoy users.

Most annoying one being the firewall disable

The real question is how do you disable the notifications that say you have user account control turned off? I intentionally turned of UAC i don't need a reminder every 30 minutes that its turned off. It's not one of the options in the notifications settings so I have no clue how to disable the notification for it. I called mirosoft and for $60 they would have possibly given me a solution but they didn't know if they even had one. Microsoft needs to step up their customer service. I should have to pay for customer service when there is an error on Microsoft's end that needs fixed.

Sadly the Settings app does not show every app actually using the Action&Notification Center. As an example, my kids' child account alerts every time they log on with the "your parents knows what you're doing" text (kinda), and every single notification gets recorded and accumulated in the Notification Center. But no, the Family Safety app isn't showing in the Settings, so nobody can literally shut it up..

I wish there was also a feature to allow notification banners, but turn off the banner bombardment after login from a computer start. That is simply an awful behavior in the OS. dingdong-dingdong-dingdong-dingdong. And apps like the cnn app shouldn't be so ruthless with breaking news banner bombardments, often 4-6 pings in one go. One ping for breaking news is enough.

Notifications are really annoying.. Turned them off within a week. Posted via the Windows Central App for Android
Windows Central Newsletter
Get the best of Windows Central in in your inbox, every day!
Thank you for signing up to Windows Central. You will receive a verification email shortly.
There was a problem. Please refresh the page and try again.