How to disable Flash in Edge for Windows 10
How do I disable Flash in Internet Explorer and Edge for Windows 10?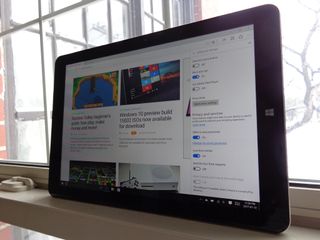 Flash is dying a slow death on the internet due to security issues, increasing incompatibility, bugs, and the improving capabilities of open web standards. Microsoft Edge is taking the initiative in the upcoming Windows 10 Creators Update by automatically blocking Flash content. According to Microsoft, "sites that support HTML 5 will default to a clean HTML5 experience."
For sites that rely on Flash alone, you'll instead see a prompt pop up that asks you whether or not you want Flash content to run. Until the Creators Update is officially released, however, you still have to go into Edge's settings to manually enable and disable Flash.
How to disable Flash in Edge for Windows 10
You probably won't even notice Flash is disabled, as most major sites have migrated to HTML5, but if you find you can't load your favorite destination, you can always go back into settings and turn it back on.
Launch Edge from your Start menu, taskbar, or desktop.
Click the More button in the top-right corner of the window. It looks like •••
Click Settings.
Click View advanced settings. You might have to scroll down a bit to find it.
Click the switch beneath Use Adobe Flash Player so that it turns Off.
How to disable Flash in Internet Explorer for Windows 10
If you still like to use Internet Explorer on your Windows 10 PC, you can also disable Flash within. Here's how to do it.
Launch Internet Explorer from your Start menu, taskbar, or desktop.
Click the Tools button — it looks like a gear and is located in the top-right corner of the window.
Click Manage add-ons.
Click Shockwave Flash Object.
Click Disable.
Click Close.
What's your stance on Flash?
Do you disable Flash, or do you keep it enabled? Let us know in the comments section!
Senior Editor, Laptop Reviews
Cale Hunt is a Senior Editor at Windows Central. He focuses mainly on laptop reviews, news, and accessory coverage. He's been reviewing laptops and accessories full time since 2016, with hundreds of reviews published for Windows Central. He is an avid PC gamer and multi-platform user, and spends most of his time either tinkering with or writing about tech.
I leave it on, it doesn't bother me.

And wait for CU to do it.

For Internet Explorer there's a policy and registry key to disable it globally on the machine: Under "HKEY_LOCAL_MACHINE\SOFTWARE\Policies\Microsoft\Internet Explorer" create or set a DWORD "DisableFlashInIE" with value 1. Unfortunately there is no such policy for Edge.

Each modern browser has a toggle for Flash, so while inconvenient to do it multiple times, you only have to set it once and forget it. That is if the browser doesn't already disable Flash by default.

Sorry, I don't get your point...

Sorry, I'll try to be a bit clearer. Your posts sounds like the registry change will make it so Flash won't be enabled in any browser. My comment was that modern browsers (Latest versions of Firefox, Chrome, Opera, Edge) have toggles in the settings to enable Flash. Many if not all of them disable Flash by default. IE is a different matter since it's an out dated browser, so modifying the registry is one way to disable it. However, couldn't you uninstall Flash to prevent it as well? I'm not a fan of registry changes.

Right, this is what the setting does. I am happy that there is one for this outdated browser, as it is more difficult to remove the ActiveX version of Flash included in Win8 or Win10 than to apply the policy/registry tweak. Just try that simple toggle switch on 100 PCs and prevent their users to re-enable it, each new user has it enabled by default in the "modern" Edge... I am no fan of the current scenario. Luckily only a few people use Edge in my company - including myself. ;)

I have been turning Flash off in Edge on all my computers for a long time now. The surprising thing is how few websites actually use it for anything important. It is very rare that I'm doing something where I need to go into settings and temporarily turn it back on. Edge seems to work better and use less memory without it on as well (I think).

Same for me: Turned it off here in my small company a long time ago and nobody ever complained. :)

I have ALWAYS hated Flash. But, sadly, there are plenty of sites that absolutely are married to it. My wife, the avid scrapbooker, has a Cricut Explore Air 2, and the Design Space software that works with it is actually a web app at Cricut.com...which requires Flash to function. Sadly, Edge does NOT work with it. I have her SP4 configured to keep Flash on, yet the website tells her she needs to download Flash. The program/site works fine with IE11. And, Flash turned on or not, we do NOT get that notification popup. So, I'm not sure what's missing with the latest Insider build, but we don't get that Flash popup.

Now if only websites around the world would catch on and switch from flash to HTML5... Honestly, I won't miss it.

Its slowly happening, now there aren't a huge amount of websites that use it now compared to the number of HTML5 websites

This is true, not fast enough for me though. I've always hated flash. Buggy, resource hog that it is 😜

Yeah haha. I'm happy to see it go. never had a good use for it personally and it also always riddled websites with security holes for malware
Windows Central Newsletter
Get the best of Windows Central in in your inbox, every day!
Thank you for signing up to Windows Central. You will receive a verification email shortly.
There was a problem. Please refresh the page and try again.