How to disable notifications while presenting on Windows 10
Are notifications keep interrupting at the wrong time? Use this guide to configure Windows 10 to stop notifications while in the middle of a presentation.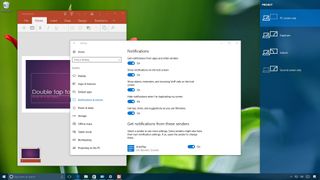 Notifications on Windows 10 keep you from missing important alerts, but it can be annoying having them pop up at the wrong time. Like when you're giving a presentation at work or school.
Fortunately, if you get a lot of emails and social media notifications, which keep interrupting in the middle of a presentation, Windows 10 includes a feature to disable notifications, without the need to turn off the feature entirely.
In this Windows 10 guide, we'll walk you through the steps to prevent notifications from appearing while you're giving a presentation.
How to disable notifications while presenting onto a second screen
If Windows 10 keeps interrupting with notifications while doing a presentation on a second screen, but you don't want to turn off the feature completely, then do the following:
Open Settings.
Click on System.
Click on Notifications & actions.
Under Notifications, turn on the Hide notifications when I'm duplicating my screen option.
Once you completed the steps, every time you are giving a presentation and you're connected to a projector or secondary monitor, Windows 10 will not show notifications. This option will only work as long as you connect using the "Duplicate" option when projecting (Windows key + P). If you're extending or using only the secondary display, the notifications will continue to flow.
How to disable notifications while presenting onto a single screen
If you're giving a small presentation and you're not not using the second screen, then the above steps won't work. However, you can use Quiet Hours to prevent notifications from appearing at the wrong time.
To turn on Quiet Hours, do the following:
Click the Action Center button in the bottom-right corner of the screen.
If you don't see the Quiet Hours button, click the Expand button at the bottom of Action Center.
Click the Quiet Hours button to stop the flow of notifications while presenting to complete the task.
Once you finish your presentation, you'll to need turn off Quiet Hours manually using the same steps mentioned above to see toast notifications again.
Quick Tip: You can also right-click the Action Center button in the Taskbar to turn on or off Quiet Hours on Windows 10.
More Windows 10 resources
For more help articles, coverage, and answers on Windows 10, you can visit the following resources:
Windows 10 help, tips, and tricks
Mauro Huculak is technical writer for WindowsCentral.com. His primary focus is to write comprehensive how-tos to help users get the most out of Windows 10 and its many related technologies. He has an IT background with professional certifications from Microsoft, Cisco, and CompTIA, and he's a recognized member of the Microsoft MVP community.
Quiet hours is awesome for that. Watching sports through your laptop to your tv? Turn on quiet hours and watch the game with no risk of notifications popping up.

Not a fan of this feature. Really wish it worked like it did prior to the Anniversary Update. I do not duplicate my monitor for presentations, and no one really does either. It's always "Extend", so why PowerPoint doesn't tell Windows "hey, I'm presenting" and Windows then pauses notifications is beyond me. Yes, I have provided feedback on this in the Feedback Hub.

And if anyone cares to upvote, please do that here (new feedback item): https://aka.ms/Yr2xlv

Because MS don't use or try their own software. Idiots, yes.

And while talking about Quiet Hours as well, anyone else miss the feature where Quiet Hours would take your calendar into account as well? For instance, we used to be able to put a calendar item in that was set as Busy or Out of the Office, and Cortana (aka Quiet Hours) would kick in for the duration of that calendar item.

How stupid. Apple solved this simply by adding a toggle called, unsurprisingly, TURN OFF NOTIFICATIONS. Pretty simple and obvious really. Just put this in the ready access winkey-A menu. As an side, Apple notifications auto turn on again the next day in case you forget.

And you can turn on Quiet Hours as well, manually. Yes, it doesn't automatically turn back on after a few hours. But if you have Quiet Hours enabled for a schedule, it will happen just like Apple.

Tsk tsk, Cortana should when you are presenting and do this for you automatically.

Does anyone else get "ghost notifications" for notifications configured to not shop pop-ups? They do make the pop up animation but it's transparent, the only giveaway is you notice a single line of pixels on what would be the left side of the notification's rectangle. It's really weird, and to be honest, pretty sloppy.

Yup. I know exactly what you speak of

I still like the Presentation Mode menu that lets you turn off notifications but also disable screensaver, background, sound volume, etc. all with a single click to toggle after you've set things to your liking. From Cortana or Start / Search, just search for "presentation", click "Adjust settings before giving a presentation"... Enjoy!

truthfully now that i stream i have dissabled notifications 100%. it would be nice to have them again and be able to mute for 30 min or 4 hr. it would be nice to have a mute option with a time slider. :D yes ive sudgested it.

Didn't know what "Quiet hours" was made for.
Thanks.
Windows Central Newsletter
Thank you for signing up to Windows Central. You will receive a verification email shortly.
There was a problem. Please refresh the page and try again.