How to disable tab preview on Microsoft Edge on Windows 10
If you find Microsoft Edge's tab preview not being a useful feature, in this guide we'll show you how to disable it with a small tweak in the registry.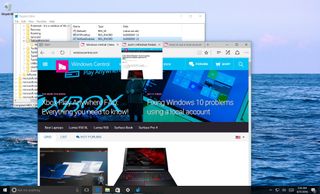 While Microsoft Edge still has a few miles to go to catch up with the competition, Microsoft has done great work on bringing new features, improvements, and making the web browser more power efficient.
Among all the features in the default web browser for Windows 10, you'll also find tab preview. This feature allows the browser to show a small thumbnail (very similar to the thumbnail for apps in the taskbar) that gives you a peek as you hover the mouse over open tabs without the need to move away from your current page.
This little feature can be useful for some, but it can also be distracting for many users, as it can get in the way of elements of the web browser. Fortunately, there is an easy way to disable preview for tabs on Microsoft Edge by modifying the registry.
In this Windows 10 guide, we'll walk you through the steps to disable tab preview on Microsoft Edge.
How to disable tab preview on Microsoft Edge
Important: Before you make any changes to the registry, make sure to understand that these type of changes may cause irreversible damage to your current installation if they're not done properly. It's recommended that you do a full backup of your computer before proceeding. You've been warned!
Close Microsoft Edge.
Use the Windows key + R keyboard shortcut to open the Run command.
Type regedit, and click OK to open the Windows registry.
Browse the following path:HKEY_CURRENT_USER\SOFTWARE\Classes\Local Settings\Software\Microsoft\Windows\CurrentVersion\AppContainer\Storage\microsoft.microsoftedge_8wekyb3d8bbwe\MicrosoftEdge\TabbedBrowsing
Right-click on the right side, select New, and click DWORD (32-bit) Value.
Name the new key TabPeekEnabled.
Click OK.
Double-click the newly created key and make sure it set to 0.
Click OK.
Close the registry editor to complete the task.
Once you completed the steps, start Microsoft Edge, open multiple web pages, and hover over the tabs, and you should no longer see tab previews. Instead you'll only see the name of the web page as a tool tip.
At any time, you can turn on tab preview on the web browser, simply follow the steps mentioned above, but on step number 8, make sure to set the key from 0 to 1.
Finally, it's important to note that changes made to the registry may get removed during a new feature update rollout like after installing the Windows 10 Anniversary Update or equivalent release. As such, make sure to bookmark this page for future reference.
Do you find tab preview on Microsoft Edge to be a useful feature? Tell us in the comments below.
More Windows 10 resources
For more help articles, coverage, and answers on Windows 10, you can visit the following resources:
Windows 10 help, tips, and tricks
Get the Windows Central Newsletter
All the latest news, reviews, and guides for Windows and Xbox diehards.
Mauro Huculak is technical writer for WindowsCentral.com. His primary focus is to write comprehensive how-tos to help users get the most out of Windows 10 and its many related technologies. He has an IT background with professional certifications from Microsoft, Cisco, and CompTIA, and he's a recognized member of the Microsoft MVP community.
I stopped using Edge after the Anniversary update. I endured all of its shortcomings since day one, but I just couldn't stand that news feed which Microsoft shoved down my throat without an obvious way to disable it. Now using Opera and I'm enjoying it. I'm deeply disappointed with Microsoft trying to force me to look at that newsfeed which by the way is not related to my country and I can't put any country that's even close to mine. Sometimes I just wonder what is Microsoft thinking, and why do I keep using their services... Posted via the Windows Central App for Android

Go to new tab page, click the gear icon on the right side of "top sites", pick blank page, save. Badabing. I agree that it's an ugly default landing page and MSN news is down there with the worst sources, but it's a bit rich that you blame MS because you didn't think to click on the symbol that's ubiquitously understood to be "settings"...

I have found that, and I don't want to have blank page and then have to type every time I want to visit some sites. See, most of the time I visit the same few sites and I need that fast dial. Now I cannot use it without seeing that newsfeed. Not to mention that I am limited to a fixed number of sites and I can't manually add them like I can in Opera. So why do you assume that I wasn't able to find settings in Edge? Anyway, bye Bing and Edge, hello duckduckgo and opera. Posted via the Windows Central App for Android

Fast dial as in choosing the "Top Sites" option, whereby it doesn't show you the news feed? Where you can then add and delete websited manually if the default most visited list isn't sufficient? That's why I assume you couldn't find the settings. If you want to use Opera, go for it. I honestly couldn't care less. I'm no Edge evangelist and I use Firefox primarily. But what you said was that A) you were forced to see the news feed and B) you can't add sites to the speed dial. Both of those are false. As for bookmark export, Edge can sync your data via your MS account and other browsers can detect it and import from it without saving them to a file. So if you're moving to a new machine, all you have to do is open Edge before you import your bookmarks. Again, if that's not good enough for you, fine. But the average user doesn't regularly (if at all) export bookmarks to a file...

I also used Firefox before windows 10 came out, so I couldn't find care less for Opera. I've been using it for like two weeks. I tried top sites but it still shows me the news feed. I must've missed the option to manually add sites, or maybe they added it in anniversary update? Posted via the Windows Central App for Android

Open New Tab.
In that New Tab PAGE Top Right Corner "GEAR" button. Click it. Customize: Page Display settings:
- Top Sites and news feed
- Top Sites < SELECT This one.
- A Blank Page.
Hit save. To add new sites on the top sites Hit the "+" Button.
Add whatever site you want.
Don't like existing top Apps, Hover your mouse over it and hit X. I'm using Win10Pro AU. The above settings Modify NEW TAB Looks.
To set it as a default when you launch EDGE.
Open Edge > got to the ... > Settings >
Open Microsoft Edge with > "New tab page" instead of "Start Page" I use Chrome as my default browser because of Win7 compatibility (still have to use PC with Win7), but been using Edge more and more on Win10 machine because of it's undeniable performance compared to Chrome.

And where is that bookmarks export? Firefox had it for years. Like I said if you want to use Microsoft services and products you need to deprive yourself of many common things. I have been their fan for so many years but sometimes it's just too hard to justify every missing feature. Posted via the Windows Central App for Android

I enjoy msn news. If something is happening in the world that catches my mind I click on it. I knew I can add my own websites that was simple.

Edge is awesome, especially after the Anni Update, but this feature is one that always gets in my way. For some reason the tab preview will get stuck on occassion and i have to mouse over it again in order for it go go away. I don't ever look at the preview so thanks for this guide! Posted via no body cares what you posted with.

I get it every time. I think it's a useful feature, but needs to close if i move my pointer away. I end up having to hover over it again to close it. Been that way since day dot, even reinstalling doesn't fix it.
One of my biggest annoyance's

Gets stuck here all the time too, so glad i can turn it off!

i find edge unusable at all tried 7times to make it primary but all the time it ends as noone...

Its not that its not useful, they just keep getting stuck all the time and covering the adress bar. Very typical windows 10. Beta! Thx for this tip!

Turning it off really should be an option in Edge settings; shouldn't need to have to tweak the registry.

Same comment as others - the feature itself is great, and would be useful if it worked consistently. Even when my cursor is nowhere near the tabs random tab previews will appear. Happened before the anniversary update and still does. I like Edge but even now it still feels like a beta. Microsoft should be rolling out monthy meaningful feature updates. I mean, it still doesn't even render their own emoji right. The past week I've also noticed it burning through my RAM and being super sluggish. I did install the Amazon extension though so gonna remove that and see what happens.

I think this is an unpatched memory leak/run away process thats floating over builds and it seems to stem from numerous processes called 'Microsoft Edge Content Process' evident in Task Manager which on my PC can consume anywhere up to 250MB per process on a 4GB laptop! and 30%+ CPU usage. Not sure if others have fed this back to MS i know i have but for some reason it hasn't been fixed, probably due to not enough up votes, which seems to be how issues get resolved this days.

Didn't even know we had tab preview, will give it a try before I think about removing it, cheers for the headsup

Microsoft should add regular option to disable tab preview. They should also add an option to disable swipe back/forward on mobile.

Thank you! I absolutely HATE this feature. Now, if someone can find a way to completely get rid of Notification Center....!

Sad you have to do this through registry. Come on MS this should have been in settings from day one this feature came out.

I find the title of the page appearing way more useful than the tab preview. Too often I have tabs that look the same in the preview and I need click on them all to find the one I want.

IMO Edge has the prettiest and smoothest Tab Previews from any browser. Why would someone disable them? Though agree, an option should be in the menu.

I want to like/love Edge, but it is problematic for me. Oddly enough the website I have the most issues with is WindowsCentral... like clockwork I can receive a "WindowsCentral.com is not responding..." error and then the "Recover Webpage" button every time I browse WC. Just now in fact, so close Edge open Chrome. I really like Chrome, but just wish Edge worked period.

LOL, been having a problem with WC site for over a year now on PC and Mobile. It just destroys EDGE! Edge is still slower than IE on my PC and my Windows phone on 8.1. Does disable this preview add any speed boosts! Also every time I use Edge, I have multiple entries show up in task manager. Only one entry shows the tab or tabs I have open. How can I keep multiple entries from opening?

Enable AdBlock extension. All issues go away. Shouldn't be like that, but it is.

Is anyone having memory spike when using edge? Its nice and smooth but uses alot of memory. I tried turning value of a file from 1-0 but no help

Thanks God, somebody found this workaround eventually!

This is a useful feature of Edge but there is a bug in Edge that caused the preview to be displayed dispite not hovering over the tab(s). Hopefully this will be fixed in future builds.