How to edit music metadata info on Windows 10
If a song or album is showing the wrong info, you can use this guide to update its metadata on Windows 10 without having to use third-party apps.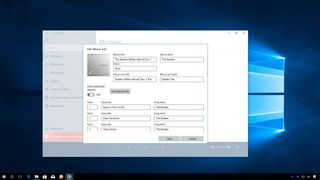 On Windows 10, music files include album art and metadata information that media player applications use to display details like song name, artist name, or genre.
Usually, when you rip music you own or buy from a music service (opens in new tab), this information updates automatically or comes embedded in the files. However, there will be times when this data may show up wrong or appear missing for a song or an entire album.
If you ever need to edit these details on music stored locally on your device, there are at least two different ways you can do so without having to resort to third-party apps.
In this Windows 10 guide, we walk you through two easy ways to update song or album metadata using the built-in Groove music app and File Explorer.
How to edit music file metadata using Groove
Perhaps the quickest way to update songs' metadata information and album art is to use the built-in Groove music app.
Update album info
To edit album information, use the following steps:
Open Groove.
Click on My Music.
Under "My Music," use the "Filter" menu, and select Only on this device option.
Right-click the album with the tracks you want to update and click Edit info option.
In the "Edit Album Info" tab there's a lot of information you can edit, including basic information like album title, artist, and genre. You can even click the pencil button to update the album thumbnail image.Additionally, within this experience, you can edit song titles and artist information and reorganize tracks if they're in the wrong order.Quick Tip: Turning on the Show advanced options allows you to change the song soft title.
Click the Save button.
In addition to updating the album information manually, if most or all the information is missing, you can click the Find album info button to allow Groove to download the correct information for all the songs automatically.
Update song info
To edit song information, use the following steps:
Open Groove.
Click on My Music.
Under "My Music," use the "Filter" menu, and select Only on this device option.
Click on the album with the songs you want to update.
Right-click the track, and click Edit info option.
In the "Edit Song Info" tab, you can update the metadata information of a particular song, including title, artist, track, disk, album title, artist, genre, year, and sort title (if the Show advanced options toggle switch is turned on).
After updating the metadata information, click the Save button.
Once you complete these steps, you'll need to repeat the instructions to edit the metadata information for another song or album.
How to edit music file metadata using File Explorer
Alternatively, you can edit metadata information in virtually any file format, including music files, using File Explorer:
Open File Explorer (Windows key + E).
Browse the location of the songs you want to edit.
Right-click a song, and select Properties.
Click the Details tab.
Everything you see in the "Details" tab is part of the metadata information, and you can quickly edit most of it by clicking the value field next to the property. Some of the information that you can update includes song title (not the file name), album name, artist, genre, publisher, mood, and much more.Quick Tip: Under the "Content" section, you can figure out if the song is using Digital Rights Management (DRM). Just look at the "Protected" field. If the value is set to No, it isn't a protected song. If the value is set to Yes, then the file is protected and you may not be able to update its information.
After updating the metadata information, click the Apply button.
Click the OK button.
If you have to edit the same information of an album (such as year, album name, and artist), you can select all the files, right-click the selection, click Properties, and on the "Details" tab, you can edit this info as a group, instead of having to modify the same data on each file separately.
Wrapping things up
While you have more than one way to update metadata on songs and albums, if you're unable to change any information the files are either not DRM-free or you may be trying to update a song that isn't stored locally on your device.
If you're using Groove, you can edit most audio formats, including .mp3, .aac, .m4a, .wav, .wma, .ac3, .3gp, .3g2, and .arm, but you can't update information on tracks encoded using a FLAC format. However, you can use File Explorer to edit metadata in .flac file format. Also, using Groove, it is not possible to edit music stored on OneDrive.
More Windows 10 resources
For more helpful articles, coverage, and answers to common questions about Windows 10, visit the following resources:
Windows 10 help, tips, and tricks
Windows Central Newsletter
Get the best of Windows Central in in your inbox, every day!
Mauro Huculak is technical writer for WindowsCentral.com. His primary focus is to write comprehensive how-tos to help users get the most out of Windows 10 and its many related technologies. He has an IT background with professional certifications from Microsoft, Cisco, and CompTIA, and he's a recognized member of the Microsoft MVP community.
I love to use MP3Tag by Florian Heidenreich because it allows me to edit FLAC and add album art

I haven't heard this program referenced in years! When I found this app it was a dream come true back in the day. I'm still using Winamp, because it really whips the llama's.... LOL. :)

Mp3tag is superior and much faster to use.

If you're serious about accurate metadata, definitely check out MusicBrainz Picard. It's by far the most accurate and complete tool for getting ALL the correct info into your files that i've found. https://picard.musicbrainz.org/

I want to be able to edit the artist pictures in Groove, many are wrong or missing

i stopped storing music on my hd thx to streaming, before streaming i used to have tagscanner

It is another example of how pre-mature Groove is, as Genre should be on the Song level and not on the Album level.
Take a look at "EZ CD audio converter" for all of this and format conversion. It is not for free, as it is top stuf.

Another positive vote for MP3Tag, been using it for years, very powerful and its still in active development. You can also of course still use Windows Media Player though they deprecated batch tag editor some time ago.

You can tag it all correctly (Mp3tag is the best) and then Groove decides to either put incorrect artwork for the artist, or none at all. It's unfuriating that it then doesn't let you edit that. Grrrr. It'd be better if it asked to look in the folders you have your mp3s stored in, for any Artist thumbnails, and/or fanart....ala Kodi.
Windows Central Newsletter
Thank you for signing up to Windows Central. You will receive a verification email shortly.
There was a problem. Please refresh the page and try again.