How to fix launch issues with Age of Empires: Definitive Edition on Windows 10 (with Candy Crush?!)
Another high-profile UWP PC release is once again suffering bugs on Windows 10, any surprises?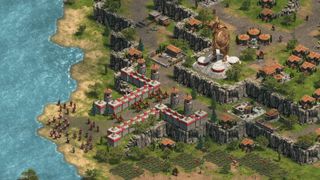 I probably should have seen this coming, but the Windows 10 Microsoft Store is once again in the spotlight for its inability to distribute PC games adequately. Microsoft seemingly hasn't learned from the launches of Forza Motorsport 7, Gears of War 4, and beyond, because now it's Age of Empires Definitive Edition that seems to be struggling with its UWP launch on the Microsoft Store.
Users are reporting issues with the game failing to launch, simply disappearing once you have clicked the play button. There are a couple of things you can try to get the game running properly while we wait (probably in vain) for Microsoft to make the Windows 10 app store anything less than a truly painful experience. It's a shame, because the game is truly awesome.
Things to check
First of all, make sure you have set up your Microsoft Account for use with Xbox Live. You can do this by opening the Xbox app, by searching "Xbox" in the Start Menu.
Make sure the game is fully downloaded from the Microsoft Store.

(opens in new tab)

Make sure your antivirus software isn't blocking the program (or better yet, just uninstall it and use Windows Defender.)
VPN software reportedly can also interfere with the game launching.
The game might also fail to launch on Windows Insider builds.
Download Candy Crush Saga (wait, what?)
Seriously, downloading Candy Crush (opens in new tab) or any free game on the Microsoft Store reminds the Account system that you do, in fact, have entitlement to download games on the store. It's an odd issue affecting certain builds of Windows, but it does seem to work for some. Use the link below to give it a try. If it doesn't work, try some of the other methods further down.
Download Candy Crush on Windows 10 (opens in new tab)
Start (or restart) the Windows Store services
According to some reports, forcibly starting or restarting the Windows Store services can also help with some issues pertaining to the Windows Store, such as a greyed out install button.
Type Services into the Start Menu.
Click on the Services app.
Scroll down to Windows PushToInstall Service.
Click Start the service or Restart the service if it's already running.
Scroll down to Windows Store Install Service.
Click Start the service or Restart the service if it's already running.
Reset Age of Empires DE game data
If the game is installed but failing to launch, resetting the game data might help.
Open the settings menu by typing Settings into the Start Menu.
Click on apps.
Click on Age of Empires Definitive Edition.
Click on Advanced Options.
Click on Reset. This will reset Age of Empires' cache data, potentially fixing issues preventing launch.
Reinstall Age of Empires DE
This is the nuclear option, particularly if you suffer from data caps, but reinstalling the game in addition to resetting the game data seems to have fixed the issues for some.
Open the settings menu by typing Settings into the Start Menu.
Click on apps.
Click on Age of Empires Definitive Edition.
Click on Uninstall.
When it's done, use this link to download and reinstall

(opens in new tab)

the game.
While we wait for Microsoft to solve the teething problems with games on the Windows 10 Microsoft Store, these methods will have to do. Microsoft has at least acknowledged that there are problems running Age of Empires DE in certain situations, so hopefully more robust fixes are in the pipeline.
Thankfully, we ran into no issues running the game when we conducted our review, and found it to be a truly remarkable exercise in remastering a classic. The issues with the game's distribution reflect more on the Windows Store and UWP than anything else, which is still, sadly, far from being a stable, pleasant experience for PC gamers.
Age of Empires: Definitive Edition is available now exclusively on the Windows 10 Microsoft Store for $19.99.
Buy at Microsoft Store (Digital) (opens in new tab)
Updated February 21, 2018: Included new methods as per email tips! Thanks everyone!
Windows Central Newsletter
Get the best of Windows Central in your inbox, every day!
Jez Corden a Managing Editor at Windows Central, focusing primarily on all things Xbox and gaming. Jez is known for breaking exclusive news and analysis as relates to the Microsoft ecosystem while being powered by caffeine. Follow on Twitter @JezCorden and listen to his Xbox Two podcast, all about, you guessed it, Xbox!
Ok, so a game that so many have waited for, and what does MS do? FAIL again. PATHETIC! That app store is pure junk, and this proves once more why devs won't bother with it.

Agree 100%, it's pathetic and embarrassing how much of a train wreck the Windows store is for gaming.

Never had any problems with it lol :D

I think most of its problems come with big games (especially during 1st week of the launch. Like Gears of War 4, Forza 7, launch weeks)

It works great on both my SP3 and my 2014 high end 17inch Asus laptop. No issues whatsoever! Both not meeting the recommended RAM requirements...

Cannot palm my face any harder right now. I spent the weekend listening to a PC maker telling me how awful it was when they were running a booth somewhere on Microsoft's behalf, having to download Gears 4 to like a dozen demo PCs. Imagine the horror.

I had the same issue with Cuphead and a few other XPA games I installed on my SB2. They would launch fine the first time but then fail the 2nd+. Same behavior, start to open and then they would disappear. I had no problem with Steam games. Reinstalling fixed it but I haven't played any of them in a couple weeks so I should try again to see if it's permanently fixed.

Another consumer failure, Phil Spencer should try using the store himself maybe then he might direct some resources towards resolving this shambles...

Purchase Steam, Microsoft...and be done with it.

I want the MS Store to succeed, but they need to stop letting stuff like this happen.
If they released it now but with the "Preorder and get access to the open beta" tag, with an official release next month, this wouldn't be story.

Starting to download a free game and then cancelling the download actually solved the start issue for me! The game itself is really nice and even runs nicely on a 3 year old Intel HD chip.

I will NOT BUY anything from MS store, maybe I would consider it on steam. We know how MS treats its customers, so thanks, but no thanks. Another remark already made previously by others: XBOX UI IS PURE JUNK!!!!!!! Worst UX ever.