How to force Windows 10 to set apps as default
Is Settings not letting you set apps as default? In this guide, we'll show you the steps to get around this problem on Windows 10.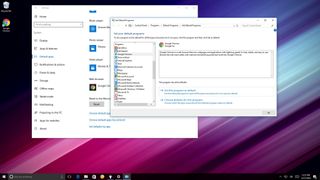 Windows 10 bundles a number of default apps, including Microsoft Edge, Groove Music, and Movies & TV as your default web browser, music, and video player — just to name a few. Although, if you prefer to have other apps as default, you can use the Settings app, sometimes the new configuration won't apply, or you may even get an error that won't let you set your own default programs.
Indeed, it's something that Microsoft has to spend more time trying to fix, but there is a workaround to this problem. You can simply use Control Panel to set your apps as default.
In this Windows 10 guide, we'll walk you through the easy steps to set default apps using Control Panel when the Settings app fails to apply your configurations.
How to set default apps on Windows 10 using Control Panel
Assuming that you have already tried to set a particular app as default, but the Settings app on Windows 10 isn't applying the changes or an error appears, do the following:
Open Settings.
Click on System.
Click on Default apps.
Click on Set defaults by app.
Control Panel will open on Set Default Programs.
On the left, select the app you want to set as default.
On the right, click Set this program as default to have the app control by default all the file formats the app was designed to support.
Click OK.
Close Control Panel to complete the task.
If you only want to set an app a default for certain file types, you can follow the same steps, but on step 7 select the Choose defaults for this program, and the extension your app should handle.
How you ever encounter a problem trying to set an app as default on Windows 10? Tell us in the comments below.
More Windows 10 resources
For more help articles, coverage, and answers on Windows 10, you can visit the following resources:
Windows 10 help, tips, and tricks
Windows Central Newsletter
Get the best of Windows Central in in your inbox, every day!
Mauro Huculak is technical writer for WindowsCentral.com. His primary focus is to write comprehensive how-tos to help users get the most out of Windows 10 and its many related technologies. He has an IT background with professional certifications from Microsoft, Cisco, and CompTIA, and he's a recognized member of the Microsoft MVP community.
Had issues with Magnet links. Defaults to Torrex.

Give me this ability in mobile so I can set people hub default for contacts and xodo for pdf. Annoying

Download and install interop tools,it can change the default apps through the registry on mobile ;) But yeah, MS should implement this.

I don't see that app in the store

Because it is not (yet?) available in Windows Store. Explore XDA Developers for more info.

Because it isn't in the Store, you have to sideload it on your phone ;)

Ok thank you but I would not know how to do that

What Microsoft needs to do is get rid of the useless setting app. Stop bouncing us around to chg. settings. Just use the Control Panel....
Yes, yes, yes,....allow changing of default apps in the mobile platform, as mentioned above

They should leave control panel/old UI when you are on desktop mode. When you are in tablet mode, then use the settings app/new ui.

I've learned that everything in the control panel is available from within the settings app, and faster.... just use the search bar in the settings app. The control panel is a primitive mess,,,, IMO

Try adding multiple IP addresses to an interface using this app. It is not a rocket science. Overall, network settings and customization are like the worst entries is this app. By simplifying everything to the point of stupidity(it actually can't do squat except for "connect to wifi, if dhcp is there"), they actually destroyed usability.

Could not agree more. The old Control pannel just worked and worked well, Most users of Windows for a long time know the control pannel very well and it's very easy to find settings for things. The basic layout from the control pannel has not changed from WIndows 95 (got head, LOOK) and there is a reason for that, It just works. They made more of a mess of it needing to change different settings in different control pannels... This is one of the WORST parts of Windows 10. Everything else seems upgraded (for the most part) but, the control pannel feels like an after thought.

You can also use power shell to import/export default app settings...

So i simply enable godmode...

I've always chosen my default apps by right clicking on the file I want to open, choosing "open with," and then setting that program as the default. Hasn't failed me yet!

This doesn't work. I have set PSP as my default for RAW files 100x and the system always reverts most of them back to Photos, or (i.e. no app association). I just gave up, and I don't even try anymore. I may try downgrading to Windows 8.1 Pro and see if that fixes the issue. I burned the install disk and did a full disk image, downloaded all of my 8.1 drivers, etc. I'm just too lazy to do it at this specific moment... But the app defaults don't seem to work properly for a lot of apps. The system randomly drops them, or changes them back to Microsoft's defaults. I really wish I could uninstall apps like Edge, Photos, Groove Music, Movies & TV, etc. to stop that from happening.

I keep having this issue when trying to change my web default browser. Before uBlock Origins, Edge wasn't worth my time, I tried setting Opera as my default browser via the settings app to no avail, had to go through Control Panel just like this to fully set it as the default. Same thing happened after uBlock Origins landed for Edge when trying to set Edge as my default browser... Also, the Settings app doesn't allow setting of portable applications as the default. For example, I have portable Opera that works fine, but I can't set it as the default browser in Windows 10. In Earlier versions of Windows, this is easily initiated from within the application or can be done my selecting "Other Application" from the list of choices and browsing to the browser's executable.

You guys should do a 'How to force WC app not to crash on your phone' article. I'd love to read one of that!

I've already done it, but to no avail...

Off subject, but does anyone know why my notifications won't sync between devices?... I have everything turned on in Cortana on my phone, "2/1", and laptop..... ?????????? Any ideas?

I can't figure out how to stop Cortana from opening searches done there through Internet Explorer. I'd prefer Edge and never IE. Any ideas?

Why would anyone want to force Windows 10 to set default for Apps, I'd rather select which Apps open which files. Microsoft recommends using Microsoft Edge for almost everything now, and frankly Edge SUCKS and rarely works, the more they add to it or try and fix it, they screw it up worst. They should REALLY abandon Edge as they do so much of their other products and concentrate their efforts in making Internet Explorer better. As if stand for me right now, Google's Chrome is a better browser. I do notice that once in a while Windows will automatically change Apps back to the defaults as determined best by Microsoft, you need to tell people how to stop Windows from doing that and leave the Apps selection to the end user.

Just a comment, i will never use that sh&t of chrome neither under torture

I have had many issues with setting default app for calendar and mail in Windows 10 through the lifetime of Windows 10. But they have now removed calendar and mail seems to stay visible now.
Windows Central Newsletter
Thank you for signing up to Windows Central. You will receive a verification email shortly.
There was a problem. Please refresh the page and try again.