How to get a Pride flag reaction on Facebook
Here's how to share some love on Facebook during Pride Month!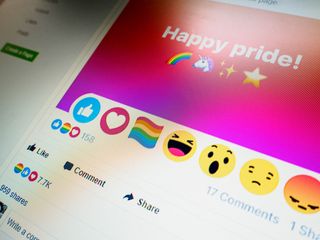 At Windows Central, we love all of our readers, and as such, we wanted to show our support for anyone celebrating Pride Month. If you're celebrating and have a Facebook account, you've probably already seen some of the account tweaks you can add, such as temporary profile banners. If you want to go a little deeper, Facebook now lets you share the Pride flag as a reaction to both posts and comments. It's an entirely unique reaction you can share!
Here's how to enable it.
How to enable the new Pride reaction on Facebook
Like many other custom reactions on Facebook, you can opt-in by liking a specific page. In this case, liking the LGBTQ@Facebook page will enable the Pride reaction for your account. This works on the web as well as the Facebook mobile apps.
Once you've liked the page, if you hadn't previously liked it, wait about five minutes and you'll see the rainbow option appear on both mobile and the web. This will probably only be around for the rest of the month, so enjoy it while it lasts!
Step-by-step instructions for enabling the Pride reaction:
Open Facebook either through the app or browser.
Search for LGBTQ@Facebook in the top search bar.
Like the LGBTQ@Facebook page.
Wait five minutes.
Spread delightful rainbows as far and wide as you choose.
Got it? Great! Have fun, and remember...
Get the Windows Central Newsletter
All the latest news, reviews, and guides for Windows and Xbox diehards.
Russell is a tech nerd who chases the best of everything, from phones to game consoles to laptops and everything glowing or beeping. He's the Managing Editor of gaming content for Mobile Nations and can be found contributing to all of the Mobile Nations sites. Reach out on Twitter!