How to install a Windows 10 update when you don't have enough free space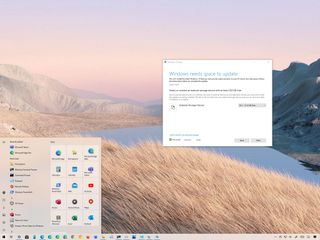 (Image credit: Windows Central )
Whether you use Windows 10 on a tablet or laptop with limited storage, or you have managed to fill up your hard drive, the lack of available space doesn't mean you can't upgrade to a newer version. The truth is, you can install new releases of Windows 10 on virtually any drive. You just need a pair of USB flash drives.
Although there is a feature known as "reserved storage" to set aside a percentage of available storage to avoid problems during updates, it's not available on every installation, which means that you'll still need to use this workaround in many cases to proceed with the upgrade.
In this Windows 10 guide, we'll walk you through a few easy steps to install a new Windows 10 update on devices with low disk space.
How to install new versions of Windows 10 on low storage devices
The process to install a new version of Windows 10 on a device with limited storage is straightforward. You'll only need to connect an external drive with enough storage and bootable media.
Hardware requirements:
Before you can install Windows 10 on a device with low free storage space, you will need a few things:
Create a Windows 10 installation flash drive
This process requires a USB flash drive with the latest installation files of Windows 10, which you can create using the Microsoft Media Creation Tool.
To create an installation media, connect a USB flash drive to the secondary computer, and use these steps:
Under the "Create Windows 10 installation media" section, click the Download tool now button to save the file on the device.
Double-click the MediaCreationToolxxxx.exe file to launch the tool.
Click the Accept button to agree to the terms.
Select the Create installation media (USB flash drive, DVD, or ISO file) for another PC option.
Click the Next button.
(Optional) Clear the Use the recommended options for this PC option.
Select the correct language, architecture, and edition of Windows 10.
Click the Next button.
Select the USB flash drive option.
Click the Next button
Select the USB flash drive (or click the "Refresh drive list" option to make it available).
Click the Next button.
Click the Finish button.
Once you complete the steps, the tool will download the files and create an installer with the latest installation files, which you can then use to upgrade a device with limited storage capacity.
Install a new version of Windows 10 from USB flash drive
To install a new release of Windows 10 on a device with limited capacity, use these steps:
Connect the USB OTG cable or the USB hub to the computer to be upgraded (as necessary).
Connect both the USB flash drive with the Windows 10 installation files and the other empty USB flash drive.
Open File Explorer.Quick tip: You can quickly open File Explorer from the Start menu or using the Windows key + E keyboard shortcut.
Select the This PC tab from the left pane.
Under the "Devices and drives" section, double-click the USB flash drive with the installation files.
Double-click the setup.exe file to launch the Windows 10 setup.
Click the Next button.
Click the Accept button.
Under the "Windows needs space to update" section, use the "External Storage Device" drop-down menu and select the empty USB flash drive.Quick tip: Windows 10 also allows you to use a secondary hard drive if available and if it has enough available space.
Click the Next button.
Click the Open button for "Recycle Bin," "Downloads," and "Storage Use" to free up space on the device to continue with the installation (if applicable).Quick note: Although you can use an external drive for temporary installation storage, the primary hard drive still needs some minimum room to proceed with the upgrade. If the options offered by the setup is not enough, you may be able to clear up more space with these instructions, or you can also use the Compact OS tool (see below).
Click the Refresh button after clearing some storage.
Select the Keep personal files and apps option (if applicable).
Click the Next button.
Click the Install button.
Continue the on-screen instructions to complete the installation process (if applicable).
After you complete the steps, the upgrade process will complete successfully without the need to go through the out-of-box experience (OOBE) since this is technically an upgrade.
Shrink current setup (optional)
If the device still needs more space, you can also use "Compact OS," a command-line tool designed to compress and reduce the footprint of the Windows 10 installation and apps on devices with limited storage.
Warning: This is a friendly reminder that modifying system files are risky, and it can cause irreversible damage to your installation if you do not do it correctly. It is recommended to make a temporary full backup of your PC before proceeding.
To shrink the size of the Windows 10 setup, use these steps:
Open Start.
Search for Command Prompt, right-click the top result, and select the Run as administrator option.
Type the following command to compress the installation of Windows 10 and press Enter:compact.exe /compactOS:always
After you complete the steps, the process will reclaim around 2GB of storage without affecting performance significantly.
When the feature is no longer needed, you can always revert the changes using the exact instructions, but on step No. 3, make sure to use the
compact.exe /compactOS:never
command.
More Windows 10 resources
For more helpful articles, coverage, and answers to common questions about Windows 10, visit the following resources:
Windows 10 help, tips, and tricks
Mauro Huculak is technical writer for WindowsCentral.com. His primary focus is to write comprehensive how-tos to help users get the most out of Windows 10 and its many related technologies. He has an IT background with professional certifications from Microsoft, Cisco, and CompTIA, and he's a recognized member of the Microsoft MVP community.
Ohhh , thanks . This will help's tons of valued users. Thanks Microsoft

What PC is that in the article photo? (white one, with keyboard stand)

Can you just use microSD card?? Most if not all of those "small laptops" have this option...

I'll echo that. It was how I upgraded our 32GB (storage) Win 8 tablets to Win 10.

I have a cheap Winbook 7" tablet with 16Gb drive and was able to use a MicroSD card and it works fine.

What's the device in the photo?

Wow be easier to backup all you don't need.

You only need 1 USB flash drive (or SD Card) for this process, and it DOESN'T need to be bootable too. In my own case I copied the files from the windows 10 iso image to a folder on my Tablet, then launched the setup.exe
I used my phone's 32GB SD card (with about 12GB free) as the additional storage needed for the anniversary update on my Tab. My guess is, if you have an empty 32GB flash or SD card, it should be able to act as both the:
- location of the windows setup files (from ISO)
- and additional required storage.

Yep, one USB drive needed to complete the update (or microSD). I only used a 32GB memory stick with the Media Creation Tool executable file saved on it, cleared my storage on my tablet to 8GB of free space and then ran the tool from the stick, using the same stick for the 10GB free space too. Worked absolutely fine and now my HP Pavilion X2 10in is running the Anniversary update.

The worse thing after doing all this is redowloading, repairing and reinstalling all the broken apps on the Start screen. I'm doing this right now. Can someone fire Myerson ???

Yeah, update time is the only time I have a problem with my 640's measly 8 GB. SD card and OneDrive suffice for the rest of the time.

That's what I was wondering. I had trouble with my 640XL when it was on Insider every time a new build was released. All possible apps were installed to the microSD card, but every time I tried to update, I had to uninstall a few apps that required to be installed on internal storage. At one point, there was a glitch with the system reserved storage taking up much more space than it should. I had to do a factory reset before I could install the available update build because I couldn't free up any more space on the internal storage to complete the download.

It could be great if all of the picture thumbnails could be erased from the picture hub. I believe that is what takes more space in the phone's memory besides the usual apps that can't be installed at the sd card. I haven't found any instructions on how to do this. 8gigs is just barely enough. 16gigs is much better. I wish I could just download the update to the sd card.

Thanks! This is exactly the set of instructions I needed to update my and my brother's WinBook TW700 tablets. I was struggling with it for a while, but the media creation tool wouldn't acknowledge the extra space from the 2 attached drives (a USB and a micoSD) that I was using. I will try again with this procedure and let allzyallz know how it goded!

I also did update easy with single usb and .iso anniversary update file from win site...

Actually cool and useful articles. Thanks bunches

I've encountered this on my kids' HP Stream laptops (32GB base storage). My last attempts failed, as I had an SD card with plenty of free space, and the USB drive with the install. Maybe things have changed... I'll have to test.

My Surface Pro 3 and SD Card are completely full. Thanks for this workaround.

Does the Media Creation Tool download W10 RS1 or is it still the Original W10?

Ha! Where was this article yesterday when I spent all day trying to get the anniversary update on my HP Stream 7? I finally used the media creation tool (was using the Win10 update assistant app. It wanted 16gb of space. Media creation only needed 8). Don't know why I didn't think of the media creation tool sooner, but I finally did and got the update on late last night!!

Aww man, where was this article 4 days ago when i barely managed to update my Win10 tablet to that big ass yearly update. I barely did it after deleting alot of stuff on my tablet :(

There's a much easier option. If you have either a USB flash drive or a memory card slot on the PC, download the Windows 10 ISO to the storage device. Double click on the ISO to mount it as a virtual DVD drive and run setup.exe in it. The installer runs with no problems, even on a 16GB tablet.

Great! I will try your method. I have a tablet for which I have had this same error.

I really needed this for my windows 8 tablet. I had to figure it ot on my own.

I'm glad there are alternatives to having such small storage space in tablets. I may have to repost in case I encounter any problems. Thanks everyone☺

The first reboot doesn't mean you can unplug the OTG to charge the tablet. I did it and it showed me a message asking me to insert the storage device...so, don't unplug! Hope my tablet didn't damage.

The Media Creation Tool would download the anniversary version of win10?

Tried this on my tablet and still need more space in my Drive C even though i used my empty usb stick.

I did install anniversary update with just 3GB free on my laptop's SSD. But the problem now is about the data that I require to operate my office functions.

Why need a separate bootable USB drive? When the ISO just do the same work as bootable USB. And for the required space only one USB drive is enough or a SD card having at least 16GB space.

For these small tablets just keep your files in OneDrive and do a clean install. All you need is one 8gb flash drive initialized with the Windows Media Creation tool.

I do it oldshool: "format C:\" - there you got pleanty of space

Hi..read this and thank you so much but I'm wondering if I use my sd card , will it wipe out all data from the card?
Windows Central Newsletter
Get the best of Windows Central in in your inbox, every day!
Thank you for signing up to Windows Central. You will receive a verification email shortly.
There was a problem. Please refresh the page and try again.