How to launch apps automatically during startup on Windows 10
Do you always work with the same apps and files on Windows 10? In this guide, we'll show you the steps to launch apps and files automatically during startup.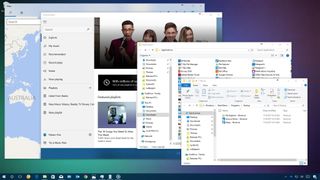 While a number of apps you install on Windows 10 feature an option to launch automatically when your computer loads, you can also configure any app whether the option is available or not by simply adding its shortcut to the Startup folder.
Also, you're not just limited to desktop applications. You can set Windows Store apps to start automatically as well as files, folders, and websites.
In this Windows 10 guide, we'll walk you through the steps to automatically launch apps, files, folders, and websites on startup to speed up your daily tasks.
How to launch apps on startup
If you work with the same apps or launch the same websites on a regular basis, then use these steps to get them started automatically as you sign in to your Windows 10 account:
Use the Windows key + R keyboard shortcut to open the Run command.
Type the following command to open the Startup folder and press Enter:shell:startup
Click OK.
Use the Windows key + R keyboard shortcut to open the Run command.
Type the following command to open the Applications folder, which contains shortcuts of all your installed applications (including Windows Store apps), and press Enter:shell:AppsFolder
Click OK.
Snap the Applications folder to the left, and the Startup folder to the right.
Select the app you want from the Applications folders and drag and drop to the Startup folder.
Repeat step No. 8 for all the applications you want to launch after signing in to your account.
Once you completed the steps, every time you access your account apps will open automatically. If you want an app to start maximized, just click the maximize button, and then the app will remember the window size.
In the above instructions, we show the steps to add an app, but you can also add files, folders, and shortcuts to websites. For example, if you usually work with an Excel spreadsheet, you don't need to add the shortcut to open Excel. It's easier to right-click, drag, and drop the spreadsheet file in the Startup folder and select the Create shortcut here option from the context menu.
Just remember that each shortcut you include in the Startup folder will cause Windows 10 to take a bit longer to load, as such it's only recommended to keep the list of items small as possible. (You can also refer you our guide to manage apps on startup.)
More Windows 10 resources
For more helpful articles, coverage, and answers to common questions about Windows 10, visit the following resources:
Windows 10 help, tips, and tricks
Mauro Huculak is technical writer for WindowsCentral.com. His primary focus is to write comprehensive how-tos to help users get the most out of Windows 10 and its many related technologies. He has an IT background with professional certifications from Microsoft, Cisco, and CompTIA, and he's a recognized member of the Microsoft MVP community.
This is great, thanks for the info.

I need to know how to copy my Games from one win 10 pc to another instead of redownloading everything again. Anyway to do this?

Store games? No way to do that in any simple way.

Not that I'm aware of. Maybe if you create a system backup it'll sve them, but it'll probably save placeholders like it does if you restore your Windows 10 computer. After a restore you tap or click the game to download it. It might auto download, but that's how I did it.

A minor typo it seems: In step 9 it says to "Repeat step number 7 for all the apps..." instead of "Repeat step number 8...".
Thanks for the article though. Pretty handy. 👍🏽🙂

This is one of those things that I definitely knew about years ago but completely forgot I could do. I always open Chrome and Outlook as soon as I turn on my work computer (along with other apps which had options already to load on start).

This is a cool tip. It would be nice if there was a built-in UI setting page that allowed setting this up too. Its the little things that matter the most in life... :p

What apps? There are actual usable apps on W10?

sure I think so: Netflix, NPR one, CBS, Disqus, Funimation, Accuweather, Mytube. just some :)

Hulu, PayPal Here, Facebook, Messenger, Instagram, Crackle, Twitter, Sling, VLC, Fitbit, Enpass, etc. Plenty of apps and for W10 devices that I use, most likely used with mouse and keyboard so the browser works well for others not found. Oh and I love using the Teamviewer app.

Unfortunately, this doesn't always work.
I place a shortcut to Taskmgr.exe (start minimized) and it rarely opens.
I also have an Outlook shortcut there, but it always opens up.
Maybe it has to do with the start minimized part?
JJ
Windows Central Newsletter
Get the best of Windows Central in in your inbox, every day!
Thank you for signing up to Windows Central. You will receive a verification email shortly.
There was a problem. Please refresh the page and try again.